If you are planning a bathroom remodel or renovation, it is very important to have a plan. A solid plan of what you want to replace will help you stay on schedule and within budget. In this quick blog, we will take a look at 5 areas to make improvements during a bathroom remodel project.
---
1. Replace Cracked Floor Tiles
Whether it is one trouble spot or the whole floor, a bathroom remodel is the perfect time to replace cracked or outdated tile. This is also a good time to inspect your grout and caulking, as gaps can lead to water leaks and mildew. Even if you tile is in good shape, this can be a great opportunity to give your bathroom a new look with updated tile or a trendy design.
---
2. Install A New Bathroom Vanity
Like we discussed in the last blog, your bathroom vanity is the center piece of the room's design. And so, a bathroom remodel is the perfect time to upgrade your vanity. While you want to repair or replace any damaged element of the vanity, you may also want to consider if you need to add storage. If your vanity box is still in good shape, you may consider replacing the faucet and cabinet doors to give it a new look. Another way to add storage is to install a shelf near the vanity, or install a larger countertop for more space. Either way, now is a time to consider if your bathroom is meeting all your needs, and if not where you can improve it.
---
3. Luxury Fixtures
Whether it is an old toilet or an outdated bathtub, replacing these larger items in your bathroom will have a huge impact. Replacing these will also save money in the long run as newer versions are often more water efficient. Additionally, whether or not you are replacing your vanity, this can be a great time to upgrade your sink. Upgrading just your countertop and sink can be a great way to make your old vanity look new without having to replace the whole thing.
---
4. Paint and Wallpaper
To give your bathroom a more luxe look, opt for wallpaper. Available in various texture and patterns, you will find a wallpaper to suit your taste. If you already have wallpaper in your bathroom, this is the perfect time to upgrade and replace it.
Alternatively, you could give your bathroom a fresh coat of paint. Painting can be a great way to quickly and cheaply change the look of a room. Be sure not to go too dark, as this will make your bathroom feel small and claustrophobic.
---
5. Lighting and Loose Ends
Lighting can have a huge impact on your bathroom, especially if you have low natural light. You can now replace your dull and dim lighting with modern bathroom lighting. The correct lighting creates the illusion that the room is bigger than it actually is. For natural lighting, you can install a skylight or make the windows in your bathroom bigger.
Besides the bigger replacements, don't forget about the smaller details. Replacing things like mirrors and shower curtains also adds to the look of your bathroom. Once all the larger items are in place, you can start planning all the decorative touches you want.
---
Finishing Up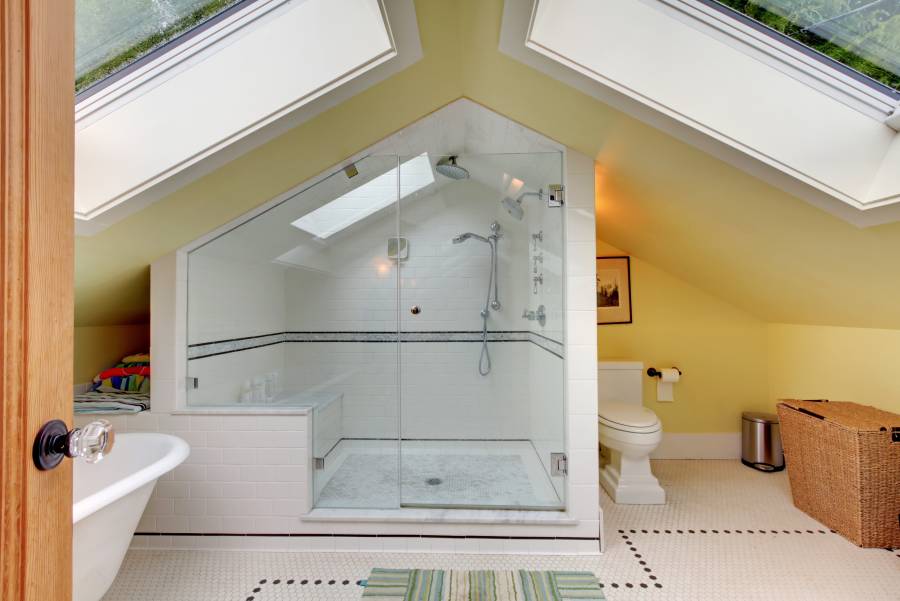 A bathroom remodel or renovation can feel overwhelming if you don't know where to start. Hopefully, our quick blog gave you a few ideas so you can get started on a plan. If you are ready to start ordering, or if you have more questions, feel free to give us a call at 1-855-669-5222 or an email to info@cabinetnow.com. Our trained experts would love to help you with everything from measuring to ordering.