With so many incredible options, designing your kitchen cabinetry can be a time-consuming process with multiple decisions to make. For the sake of convenience, most homeowners go with the standard row of upper cabinets with another row of cabinets below. Additionally, the lower cabinets often have a set of doors with one drawer. Even though this is the easiest option to go with, you can do so much better for yourself and your kitchen. Get creative with cabinetry and add some flair into your kitchen by merely adding more drawers instead of cabinets. But are drawers better than cabinets? In this blog post, we breakdown why drawers are better than lower cabinets and the many benefits that come with getting them.
The Benefits Of Having Kitchen Drawers
Even though cabinets and drawers are both excellent options for your kitchen, drawers have become more popular over the years. They are more practical, efficient, and even family-friendly. To help make your design decision between cabinets and drawers easier, here is why we love adding drawers to any kitchen.
Everything in Drawers is Easy to Access
Have you ever needed to quickly grab something out of the back of your lower cabinets? If you have, you know this can be a tedious task. You'll need to unpack your cabinet, grab what you need and then repack. With lower cabinets often being two-feet deep, your kitchen utensils and cookware can easily get lost, forgotten about, or broken. But with a drawer, you can simply pull it out and access to everything you need, even if it is at the back.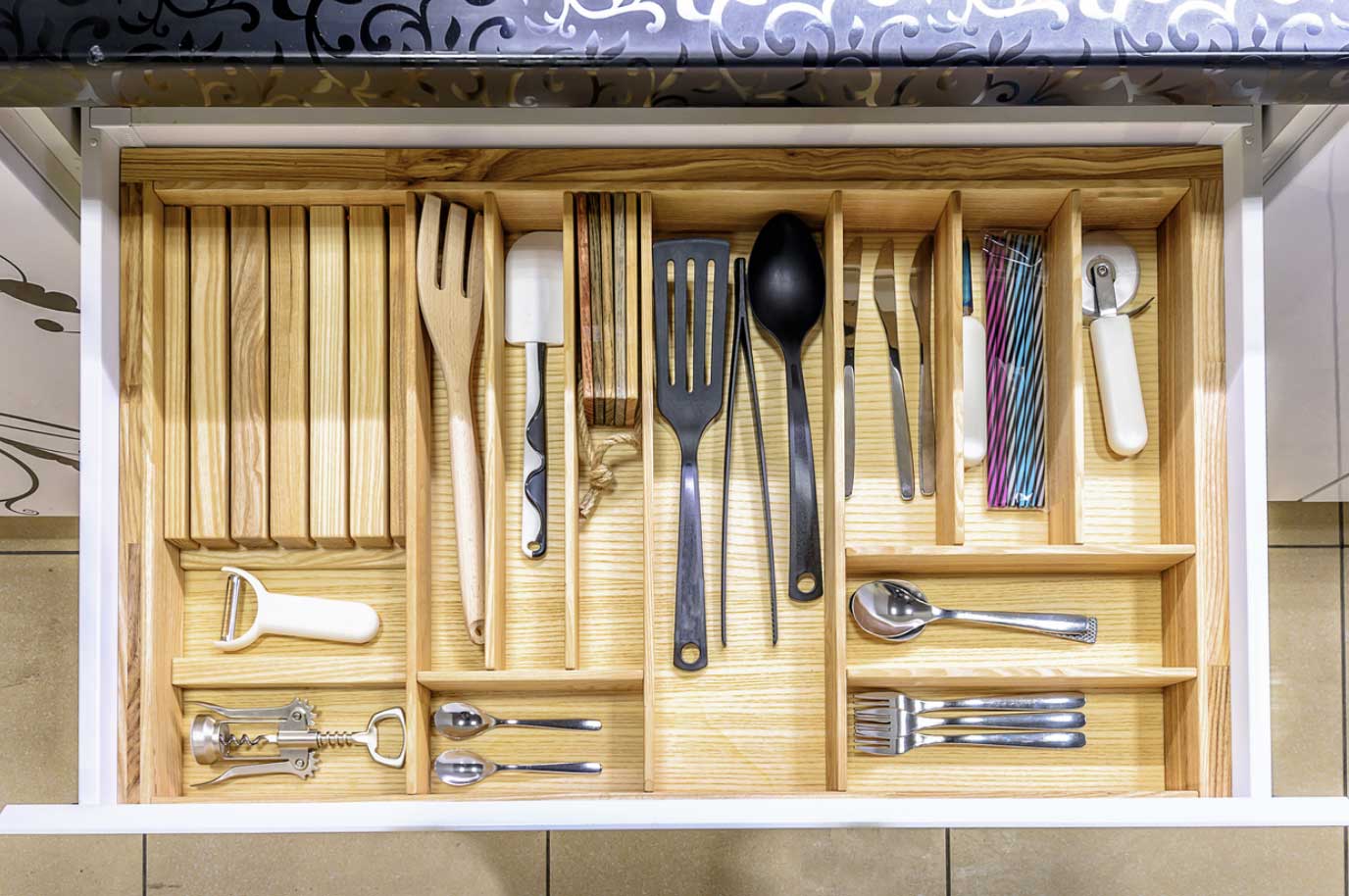 Easier to Organize
Cabinets can quickly turn into a terrifying jumbled mess that makes takeout sound like the best option. Is there an avalanche in your kitchen every time you pull out a pan? Try replacing problem areas in your cabinet storage with drawers. They are much easier to organize even when they are absolutely full. Use dividers so you can easily fit everything into its own spot.
Great Use of Space
No matter how much square footage you have in your kitchen, it is essential that you make the most out of your kitchen storage. With plain cabinet boxes, your appliances, utensils, and cookware are often stored towards the cabinet's opening. Even though this makes for easy access to your kitchenware, it can become unpractical and a waste of space. Unfortunately, this leaves a lot of unused space towards the back of the cabinet.
With drawers, every square inch of the drawer box is used as it slides out and allows you to access everything within it. Therefore, opting for a drawer will allow you to fit a lot more stuff into the same amount of space. For an extra upgrade, opt for the more expensive drawer runners that extend fully and let you see everything.
Aesthetically Pleasing
Depending on your kitchen's design, cabinets and drawers can both be visually beautiful. If you're looking for a modern, simplistic look and feel for your kitchen, opt for drawers where you would put lower cabinets. Drawers, if installed correctly, can look fantastic in any kitchen. Having rows of drawers installed next to each other, you can create clean horizontal lines across your kitchen.
Family-Friendly and Easy-to-Use
Get your young children involved with cooking meals or doing chores by storing everything they need in the lower, easy-to-open drawers. For older people, drawers allow them to be more independent by asking for less help and quickly accessing everything they need. As we get older, having a kitchen that works the way we do is essential. Drawers, unlike lower cabinets, are easy-to-use, no matter how old you are. With a one-handed motion, drawers can be opened and simply come out to meet you. Even though you'll have to lean down to access the things you need, you don't have to bend down and twist to get the items you need at the back of your cabinets. This makes drawers kinder on your back and knees.
Storage For Heavier Items
If you do have heavier cookware and appliances in your kitchen, the best place to store them is in a low drawer. Not only are they easily accessible, but it is also much more convenient than keeping it in the higher cabinets. The last thing you want to do is drop a stack of plates or a heavy appliance while trying to get it out of a tall cabinet or shelf. Having drawers that pull out all the way, it will easy to lift out blenders, pots, bowls, and so much more.
See Everything
Unlike a cabinet, when opening a drawer, you'll be able to see everything that is stored inside it. You'll never forget about an appliance or non-perishable food that gets put at the back of a cupboard. It also reduces your wastage as you can see exactly what is in your drawer by just opening it.
Great Accessories
To make your drawers work for you, add additional drawer accessories. These accessories help you to store your kitchenware easier as well as keep it as organized as possible. From pots and pans to plates and cutlery, there is a drawer accessory for all your needs. Here are a few great options for you to consider:
Moveable Dividers: For drawers where you keep smaller items, opt for moveable dividers. These dividers work well in shallow drawers to store things like baking accessories.
Silverware Organizers: Without a silverware organizer, your drawer can end up being too messy. Divide your knives, forks, spoons, and other kitchen utensils with these silverware organizers, and keep your drawers looking clean and organized.
Knife Block & Cutting Board Pull-Out: Store your knives and cutting boards in a safe and practical way with a knife block and cutting board pull-out. This unique pull-outis a great accessory to have in a drawer that is out of reach of young children.