The look and feel of our surroundings play a large role in how we feel day to day. And so, it can be beneficial to your mood to refresh your environment periodically. One of the easiest ways to give any room a makeover is by changing up the cabinets. By adding some paint, texture, or unique hardware, you can transform the look and feel of any room. One room where this is especially true is in the kitchen. Here are 10 ideas to spice up your kitchen cabinet doors.
---
1. Fresh Coat of Paint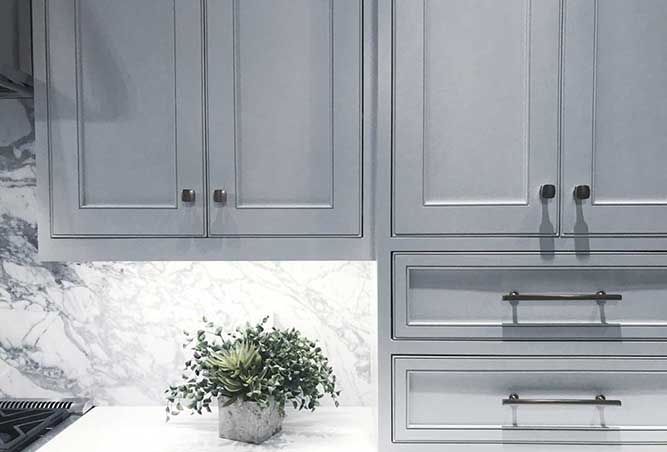 One of the easiest ways to makeover your cabinets is by adding a fresh coat of paint. If your kitchen is feeling dark and drab, opt for lighter colors like whites or off-whites to get the biggest change. A fresh coat of paint, whether on the cabinets or walls, can do more for less money than just about anything else. Plus, it can be a DIY project you knock out over a weekend!
You can do so by doing the following:
Remove the cabinet doors and drawers.
Remove any dirt and grease with trisodium phosphate (TSP), and sand away any nicks and cracks.
Prime your cabinets and let them dry (2 coats).
Paint your cabinets (2 coats).
---
2. Wallpaper Your Cabinet Doors
Even though wallpaper is meant for your walls, it can also be used on, or in, your cabinets. If you live in a rental or don't have the budget for a renovation right this moment, wallpaper can be a great, non-permanent solution for you.
Add color and awesome designs to your cabinet doors or to the interior of your cabinet boxes by doing the following:
Paint your doors with a semigloss interior latex paint and let it dry.
Cut a piece of wallpaper /contact paper to fit the recessed panel of your cabinet door.
Apply spray adhesive to the back of the wallpaper or just peel and stick your contact paper. Carefully smooth it onto the recessed panel.

(Optional) You can now use a paintbrush to apply a thin coat of decoupage medium over both the wallpaper and the rest of the door.

---
3. Add Door Trim

By adding an exciting trim around the doors of your cabinets you give them a dimensional look. Detailed molding and trim can highlight your cabinet doors as displays of art. To do so you'll need to do the following:
Measure your cabinet doors to determine how much molding you'll need.
Use a miter box to cut your molding strips to size.
Paint the cabinets and molding the same color and then let it dry.
Use wood glue to glue the molding to the cabinet and clamp it in place. Let the glue dry.
---
4. Remove Your Cabinet Doors
Ever thought about open shelving? A simple way to give your kitchen, bedroom, or even bathroom a fresh look is by removing your cabinet doors. By doing this, you automatically extend sight lines, increasing the sense of space in a room.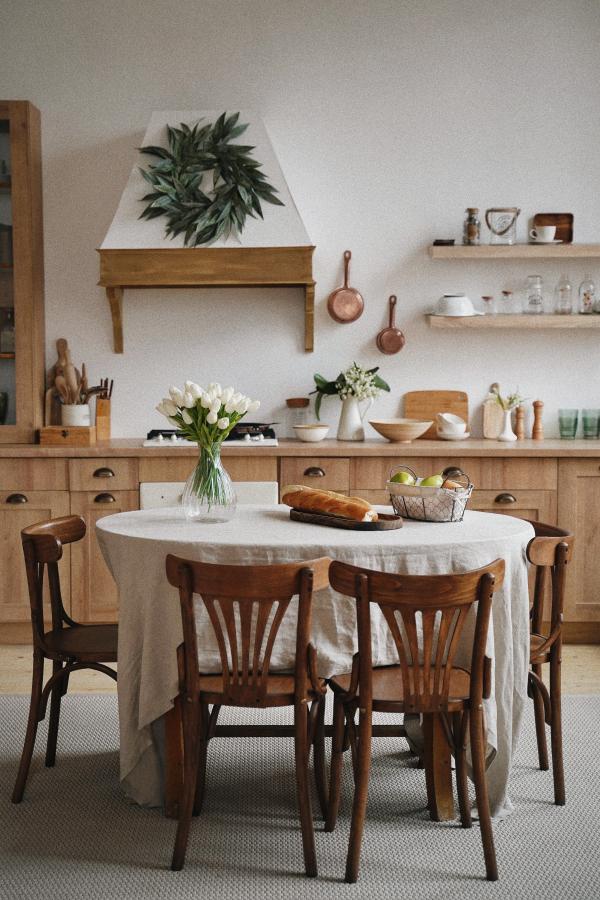 Alternatively, if you have the wall space, floating shelves are another way to achieve this effect without needing existing wall cabinets. Floating shelves are a stylish and trendy way to display your items.
---
5. Add Texture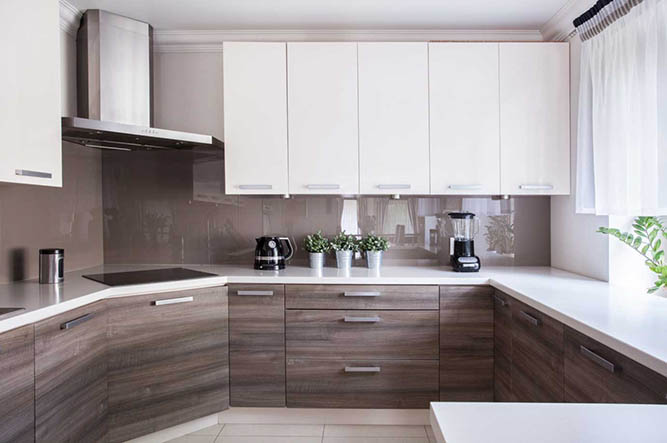 Adding texture to anything transforms the look. Whether it's ribbed glass or grooved/ beading panels for your cabinet doors, your space now has a built-in decoration in an otherwise "hard to decorate" room. Plus, some of these textures can have added benefits like making your cabinets appear taller. An example of this would be cabinet door panels that feature vertical beading or grooves.
---
6. Get Bigger Cabinet Doors
Have some appliances you would rather not be showcased to the world? Extra-long cabinetry panels keep large appliances from being an eyesore. With the right hinges and hardware, you can have that big pantry you have been dreaming about, or a cleverly-hidden refrigerator and dishwasher.
---
7. Wire Up Your Cabinets
Lightweight chicken wire may not sound glamorous, but used correctly it can make your cabinets look open and airy. If you are a fan of the farmhouse modern or rich country style look this idea is for you. You can have it by itself or use it under glass for a sophisticated, classic cabinet look.
To do this makeover you'll need to do the following:
Remove the door face (or order a door cut for glass)
Replace it with chicken wire cut to size.
You can attach the chicken wire with a staple gun.
---
8. Add Unique Hardware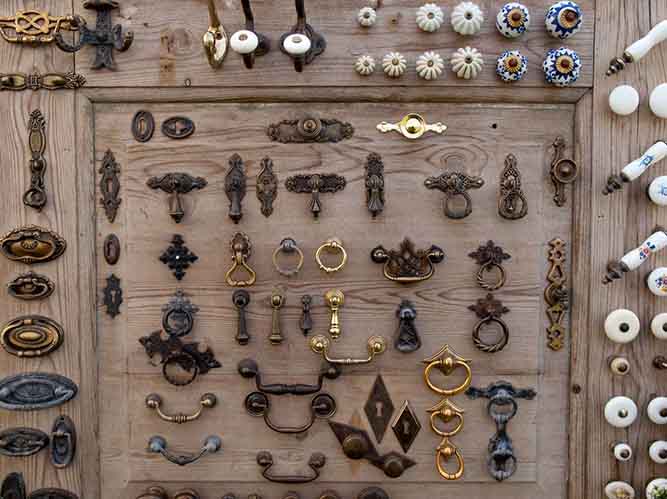 Transform your cabinets by replacing or refreshing your decor hardware. Whether you elevate your existing hardware or purchase something special, it is a simple and easy makeover.
---
9. Glass-Front Cabinets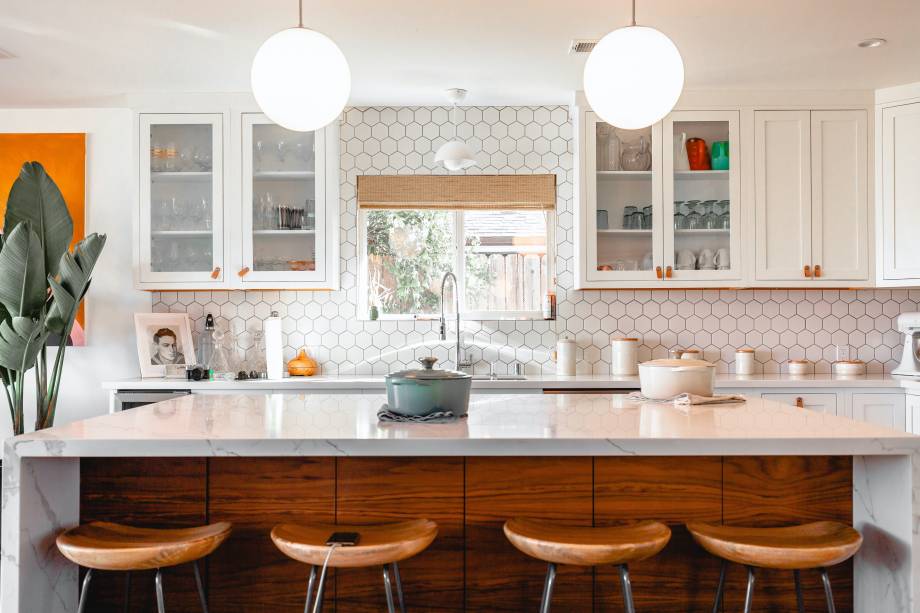 People often want to hide their dishes and appliances but what if you want to display them? Glass front doors not only still help with condensing what you have but also organizing it as well. They help reinforce a stylish color scheme and the best part is if you have seasonal items you can swap them out for a quick new look every time.
---
10. Use Chalkboard Paint
Make your kitchen work harder for you by painting your cabinets with a chalkboard. This is both practical and trendy. It is not ideal to paint all your cabinets with this paint, but adding it in specific areas can be useful. If your household needs an area to write a list of chores or what to buy at the grocery for the week this idea is for you.
---
Finishing Up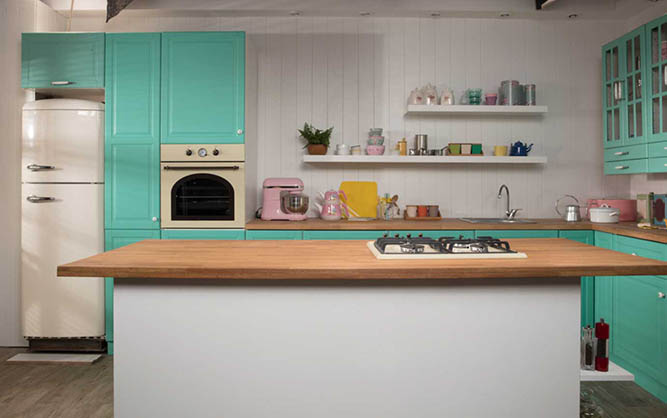 And there you have it! 10 quick and easy ways to update your kitchen cabinet doors. A fresh coat of paint can be the best place to start since it can make such a huge difference without a major time or financial commitment. If that doesn't do it for you, then you may consider some of the other projects or taking on a larger project to really change the style of the space.
If you are ready to start ordering or if you need assistance, please feel free to call us at 1-855-669-5222 or send us an email at info@cabinetnow.com. Our team of cabinet experts is here to help with everything from measuring to ordering.