5 Best IKEA Hacks for Replacing Cabinet Doors
We have carefully hand selected the best variety of our custom style cabinet doors and drawer fronts that can be used for the SEKTION line of IKEA cabinets to ensure there is a high quality selection for every project! Everything from modern, classic, sleek, and simple we are sure there is a choice for customizing each unique project.
Our replacement doors for IKEA cabinets have a variety of styles and materials which range from wood, thermofoil, laminate, shaker and MDF options.
Choosing custom cabinet doors is a great way to go because they are affordable and widely available. We chose the SEKTION line of cabinets because the selection of cabinet styles ranged widely from traditional to modern and everything in between. This line made the most sense because there is an option for every unique person's taste.
---
Here are a few things to consider when replacing your IKEA fronts:
CabinetNow offers replacement doors and drawer fronts for IKEA cabinets only for the SEKTION line, meaning our selection for replacement doors are not made for any other line but SEKTION. With that being said, we do not sell IKEA cabinet boxes either so we just have replacement cabinet doors and drawer fronts made to fit the SEKTION line cabinet boxes.
All of our cabinet doors are pre measured to fit the SEKTION cabinet boxes with a full overlay. In the dropdown menu of a replacement IKEA cabinet door on CabinetNow, you will have a variety of options to select for the dimensions of the doors and drawer fronts you will need based on the dimensions of your SEKTION cabinet box. Each dimension has been carefully measured out to fit a standard IKEA cabinet box.
To save you time and money, we have given you the option to pre-bore to accompany IKEA hinges. For a standard IKEA cabinet box, you will select the standard option. Additionally, we offer pre boring for lazy susans.
Each replacement IKEA SEKTION cabinet door has matching drawer fronts you can choose as well to complete your project!
CabinetNow's replacement doors for the IKEA SEKTION line are customizable, simple, effective, and user friendly! Learn more about how you can use our line in any project upgrade.
---
Table of Contents:
---
Traditional Cabinet Doors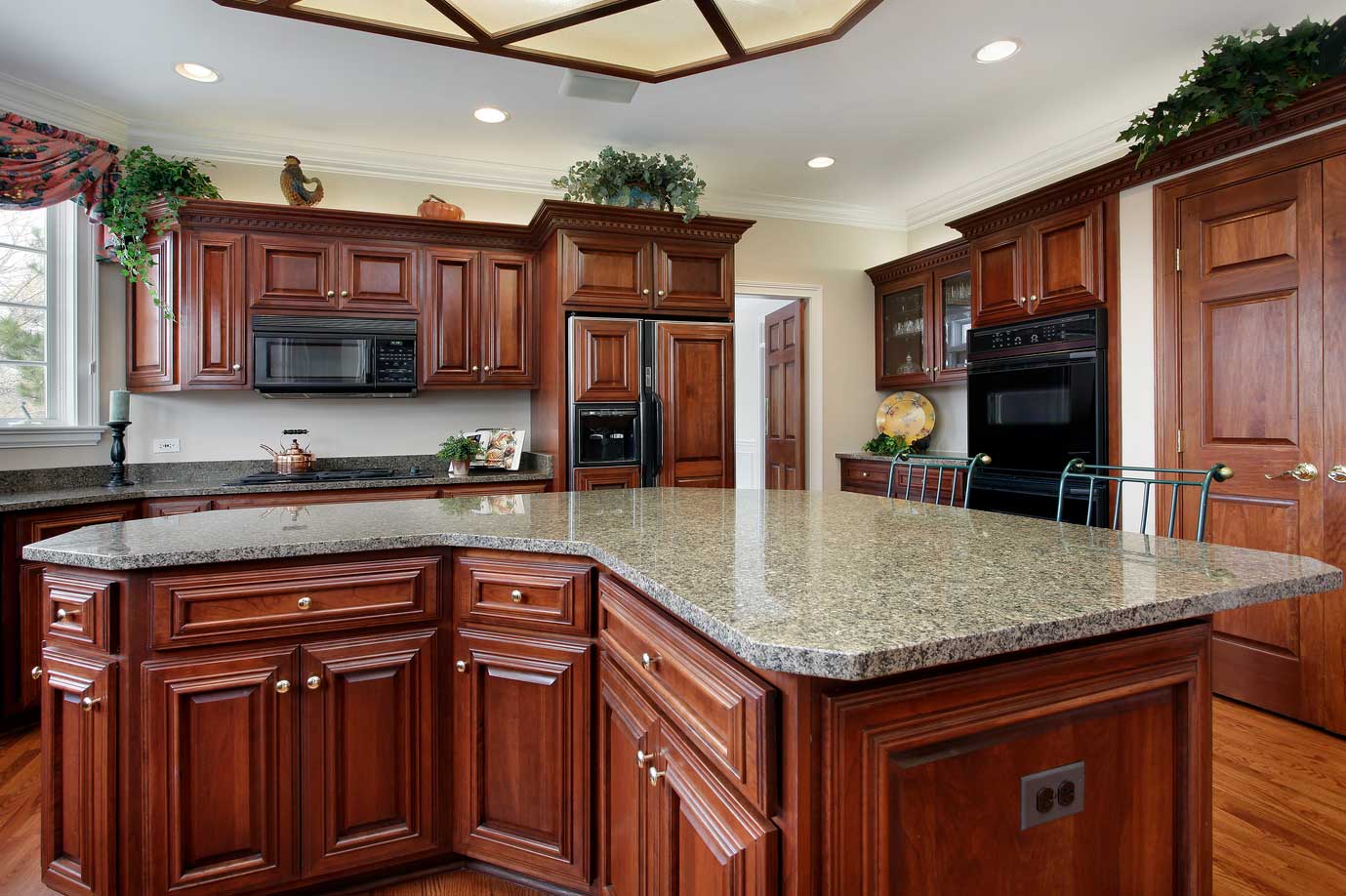 Traditional kitchens are timeless, elegant, and classy. To get that traditional look and feel, unfinished wood cabinets with a stain is the way to go. The replacement unfinished wood cabinet doors for IKEA offers a variety of styles and wood species to choose from.
A traditional kitchen has components of classic elements including granite countertops and the wood grain showing through a clear coat or stain.
When purchasing unfinished wood cabinets, it is easy to elevate the appearance of them through a simple cleat coat. And the great thing about a traditional kitchen is that they never go out of style and the classic look typically compliments most kitchen appliances, backsplash, and countertops.
Wood Materials for SEKTION Cabinet Doors
We offer 13 different materials to choose from for each unfinished solid wood door. These wood species include birch natural, alder natural, pecan select, alder select, red oak natural, maple paint grade, red oak select, rustic knotty alder, maple natural, cherry natural, maple select, white oak select, and cherry select.
What is the difference between natural grade and select grade wood?
A natural grade more closely imitates the natural wood species grain, while the select is typically considered a higher grade wood and has less color disparity. Both are great options, it just depends on what aesthetic you are looking for. Typically, the natural grade is used for a more rustic, naturalistic design, while the select is used for luxury cabinet designs. Both are paintable!
Wood Cabinet Door Styles
When choosing a replacement wood door for IKEA, you can choose a flat or raised panel, square, or arched shape, and include a variety of embellishments and grooves to have a unique, timeless ambience to your home.
While there is so much versatility when going for wood cabinet doors, it's important to know your desired aesthetic before choosing the right style for your cabinetry project. The Revere cabinet doors are a fan favorite for replacing doors for the SEKTION line because not only is it a great price, but it offers that traditional feel to any home. If you are looking for more of a mountain, rustic aesthetic, the Freedom cabinet doors can give you that. Want a farmhouse style? Check out the Colonial cabinet doors. Cowboy western style? Try the Highpoint cabinet doors. Going for a Retro attraction? Check out the Berrington cabinet doors.
Bottom line, each cabinet door style for the SEKTION line can be custom to any home project. In general, solid wood cabinets can make your kitchen look premium and professional because they are high quality and will last you years.
---
Save Thousands With MDF Cabinet Doors
If you are budgeting, you might want to consider choosing an engineered wood material such as MDF wood. MDF cabinet doors are suitable for painting and are a fraction of the cost of a solid wood cabinet door. If doing a full remodel, you can see how much you can save by checking out the price difference between a single unfinished MDF cabinet door and an unfinished solid wood cabinet door.
| | |
| --- | --- |
| | Average Price (14.875"W x 29.875"H) |
| Unfinished MDF Cabinet Door | $60.92 |
| Unfinished Solid Wood Cabinet Door | $89.13 |
What Is MDF?
MDF is short for medium-density fiberboard. In comparison to typical particleboard, medium-density fiberboard is three times more dense giving it high-quality durability but still significantly cheaper than solid wood cabinet doors.
MDF cabinet doors can also be a great option for projects in places that aren't used as regularly as a kitchen such as your garage, closet, shed, or laundry room.
Our Replacement MDF Cabinet Doors For IKEA
The SEKTION line of replacement MDF cabinet doors offers many different styles that can fit any project. Whether you are going for a simplistic, polished, or classic design in your home the MDF doors have many different features to suit your personal preferences.
If you are going for a simple cabinet style you can choose the Baltimore MDF cabinet doors that are similar to a shaker style. We also offer slab styles such as the Arlington MDF cabinet door for a sleek cabinetry look. Or, the Charlotte MDF cabinet door can be used to create a traditional, vintage aesthetic.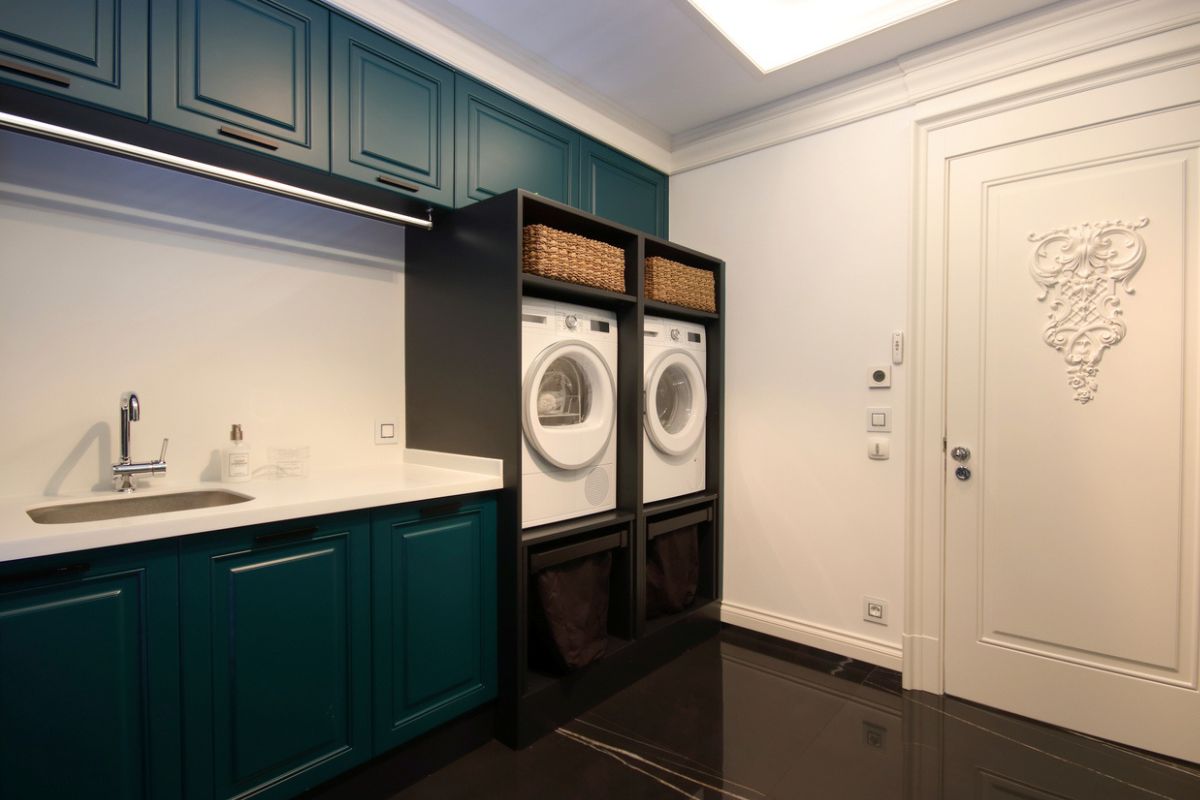 DIY Unfinished MDF Cabinet Doors
Our replacement MDF cabinet doors for the SEKTION IKEA line are perfect for a DIY home project. MDF is paintable just like solid wood cabinets. With any cabinet door or wood you want to paint, it's important to prime them if you want them to last for a while.
Your best bet when priming MDF cabinets is to use a solvent-based primer. Using a water-based primer may cause a headache because MDF does not react well to water and could cause the MDF wood to swell.
Once the doors are primed, you can begin painting with any solvent-based paint of your choice! After painting, a clear coat is a great idea in order to seal the paint in and ensure the painted MDF cabinet doors last you a while.
---
Simplistic Shaker Cabinet Doors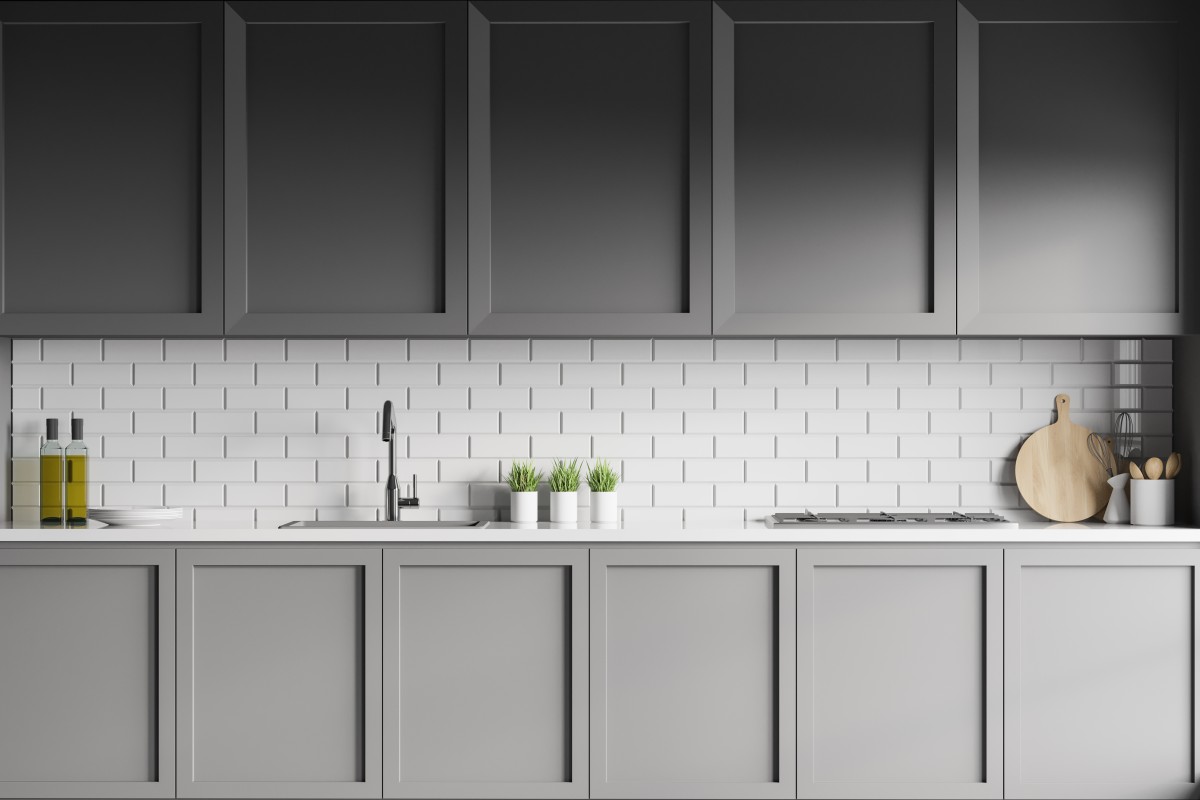 "There is beauty in simplicity." A famous quote from Leonardo da Vinci, the artist himself. When designing a kitchen, it doesn't have to be over the top. Simple cabinetry can be elegant because it is not getting lost in over the top features. And simply put, some people find simple styles to be more tasteful than extra embellishments.
Shaker cabinet doors have become extremely popular in the past few years and quite frankly, will never go out of style because of the versatility these doors illustrate. They portray a modern aesthetic and are customizable to any kitchen. You can also add cool door knobs to spice your cabinets up or leave them plain.
Shaker cabinet doors are easily paintable to match your backsplash, countertops, appliances, and decor. Not to mention these doors are very affordable.
Replacement Shaker Doors For SEKTION Cabinets
The replacement shaker cabinet doors for the SEKTION line offers unfinished cabinet doors ready to prime and paint as well as a clear coated shaker cabinet door. The clear coat is a solvent based semi gloss clear coat. Both are great options and are perfect for a DIY project because they arrive at your door ready to paint or stain!
Materials
The custom replacement shaker cabinet doors for the SEKTION line offers 11 different materials you can also choose from including red oak natural, maple natural, red oak select, alder natural, alder select, maple select, white oak select, cherry natural, cherry select. The last two materials you can choose have little to no upcharge which include the MDF panel with a paintable hardwood frame and a paintable veneer panel with a paintable hardwood frame.
---
Trendy & Modern Thermofoil Cabinet Doors
Remember when green cabinets were the trend of the 60's? Yeah, well they are back and better than ever. While wood grain cabinets are timeless, colored cabinets are in style around the world.
Whether you are looking for sage green cabinets for a vintage vibe or a creamy white for a modern feel, the color choices for replacement thermofoil cabinet doors for SEKTION IKEA cabinets have you covered in any cabinetry project.
What is Thermofoil?
Thermofoil is a laminate material that is heated and pressurized onto an MDF core. Thermofoil cabinet doors are a great alternative to solid wood cabinets because they are less susceptible to scratches and scuffing like paint can be. Not to mention, thermofoil is highly affordable since its core is medium-density fiberboard.
Replacement Modern Thermofoil Doors For SEKTION Cabinets
The replacement modern thermofoil doors for the SEKTION line have a vast amount of styles and colors you can choose from. What sets modern thermofoil cabinet doors apart from other cabinet doors are the endless color choices with over 90 different materials. And, you can't really go wrong with any of them!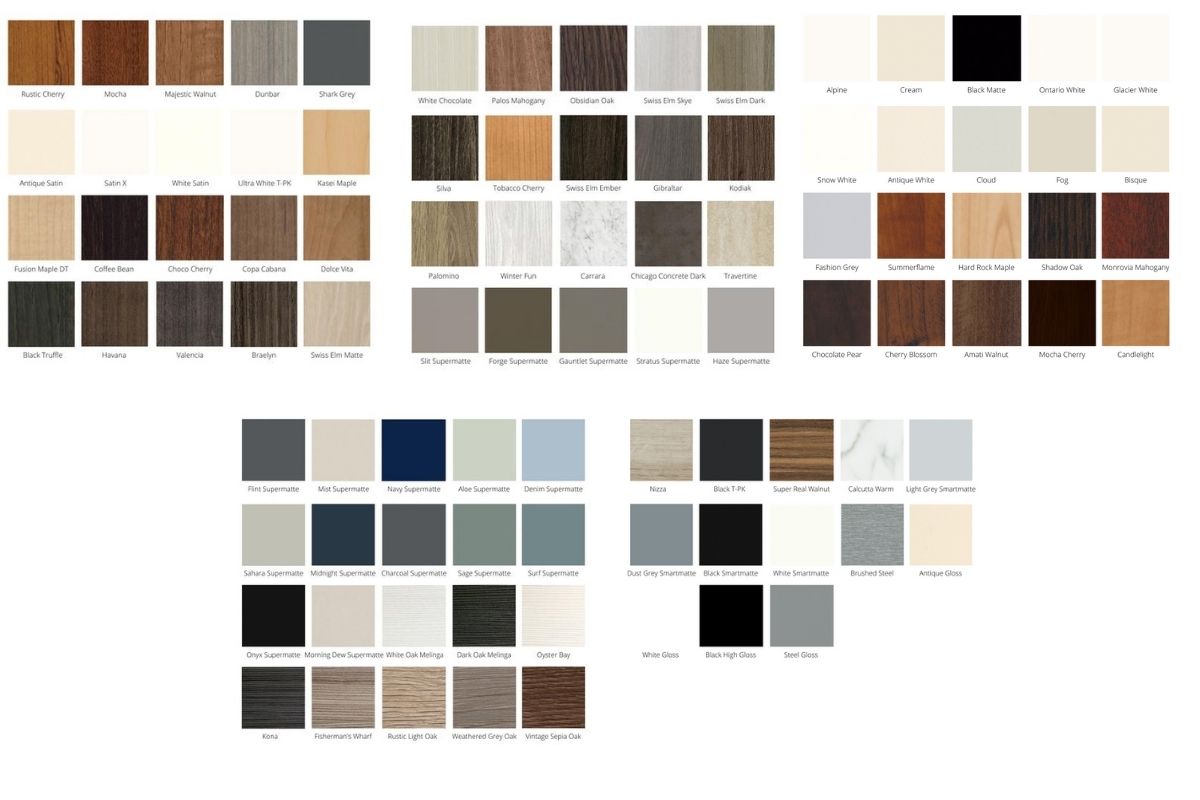 If you are looking for a simple, sleek appearance in your kitchen, we recommend choosing the Modern Turino Thermofoil Cabinet Door or Modern Shaker Slim Thermofoil Door. Conversely, if you are looking for modern and unique cabinet doors, we recommend choosing something like Modern Amesbury II Thermofoil Cabinet Doors or Modern Shaker Louvre Thermofoil Cabinet Doors just to name a few. No matter what style and color you are looking for, we offer a wide variety of custom modern thermofoil doors that can tailor to your cabinetry project's needs.
---
Sleek Laminate Cabinet Doors
A sleek, classy cabinetry aesthetic is an enduring atmosphere for your kitchen or bathroom. One of the best ways to create this aesthetic is using laminate cabinet doors. The smooth surface of laminate cabinets gives your cabinetry a clean and shiny look which is perfect for achieving the sleek kitchen.
What Are Laminate Cabinet Doors?
Thermofoil is a type of laminate that is used to cover MDF cabinet doors. The difference between laminate cabinet doors and modern thermofoil cabinet doors is the variety of styles and materials. Although, they are both constructed the same.
Laminate material is described as a thin piece of wood heated and pressurized onto an MDF core, which is an engineered material. Laminate is less susceptible to excessive wear and warping because of its smooth and sturdy construction. And the great thing about laminate cabinets is the wide variety of style and material options to choose.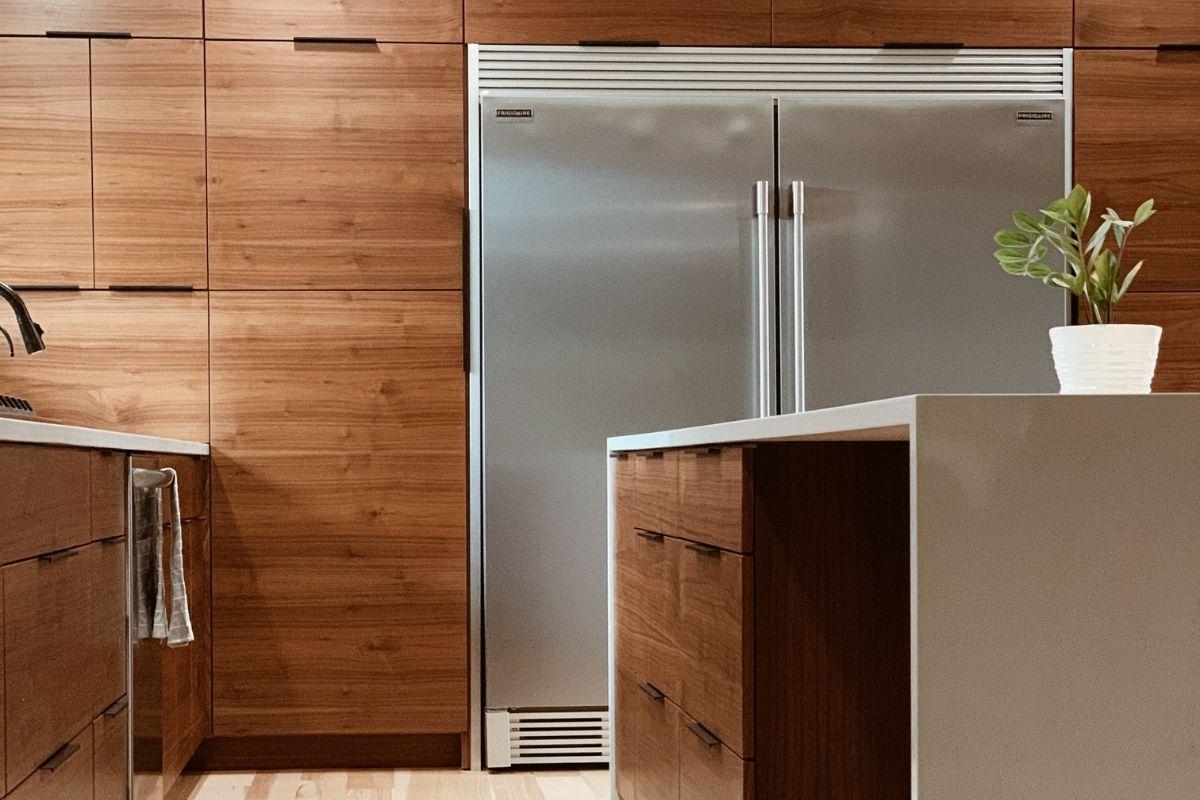 Laminate Doors For SEKTION Cabinets
The replacement laminate doors for the SEKTION line are perfect for a cost-effective, custom project. While the modern thermofoil cabinet doors have more modern features and colors, the laminate cabinet doors have more classic and traditional options with a variety of materials to choose from. There are two choices for the laminate cabinet doors which are the luxury line and thermofoil line.
A fan favorite from the laminate cabinet doors is the slab style which is just a flat panel with no panel. If you are looking to create an inset cabinetry design, check out the Slab IKEA luxury laminate cabinet door or Tampa thermofoil door. European-style cabinets are classy and when I think of the perfect cabinet style for an Italian kitchen, cabinet doors with an arched panel like the St. Louis thermofoil cabinet door is an exquisite choice. Want a traditional look with a modern twist? Check out the Tesoro IKEA luxury laminate cabinet door.
Bottom line, there are a variety of affordable laminate cabinet door options available if you are looking to replace or add doors to your SEKTION IKEA cabinet boxes.
---
Replacement Drawer Fronts For SEKTION Drawer Boxes
We also offer high quality, USA-made drawer fronts for your IKEA SEKTION drawer boxes. When replacing cabinet doors for your SEKTION cabinets, it is important to match the drawer fronts with the doors to complete the desired cabinetry design.
It has never been easier to replace your drawer fronts because they are pre measured to fit standard drawer box sizes for the SEKTION drawer boxes. You can even reuse your hardware! All you have to do is measure your existing drawer fronts, choose a boring pattern, and then order.
---
Wrapping up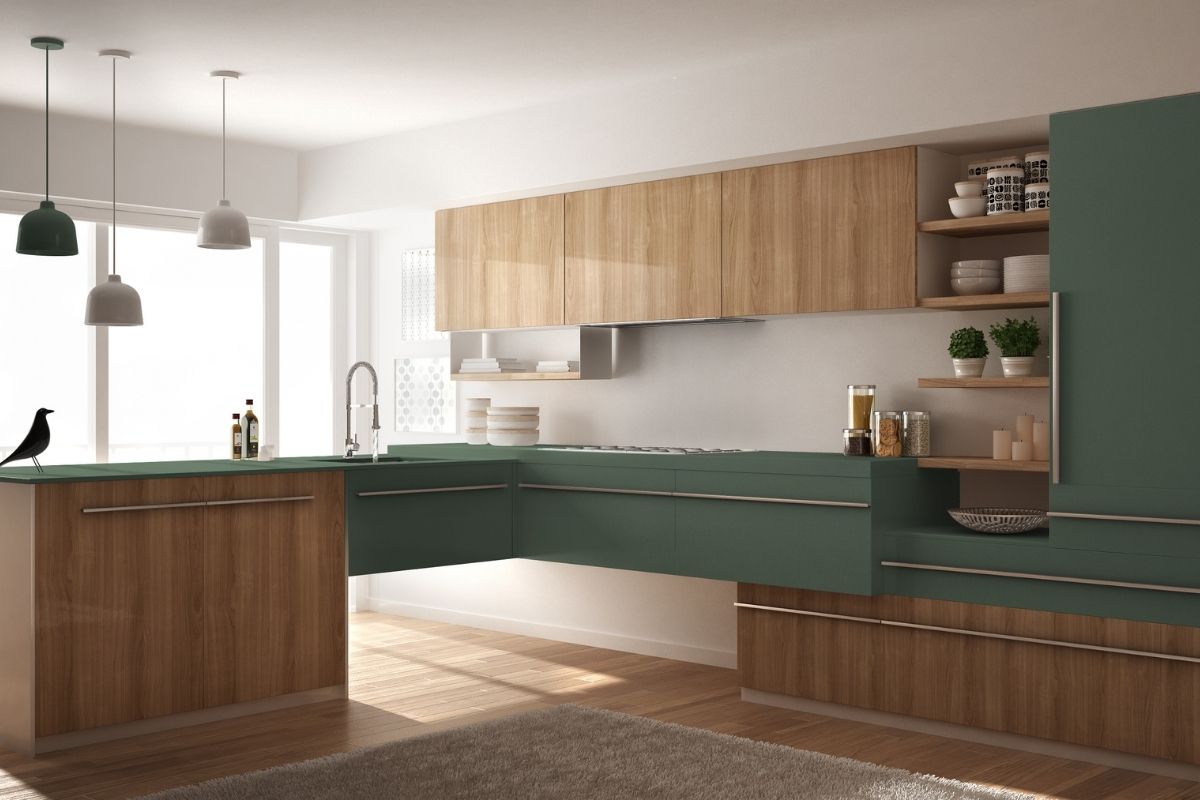 The choices for replacing cabinet doors and drawer fronts for IKEA cabinets can feel limited, that is why we are here to help broaden your options to fit any unique taste. The variety of materials and styles should give you a custom design to fit your budget, taste, design, and efficiency.
If you are ready to start ordering or if you need assistance, please feel free to call us at 1-855-669-5222 or an email to info@cabinetnow.com. Our well-trained sales staff can help you with everything from measuring to ordering.