From classic to contemporary, blue cabinets are a timeless feature to add to a kitchen because of the versatility of shades and styles. Whether you are looking to add a darker or lighter ambience to your kitchen, the color blue has a calming and alluring effect. If you are looking for a pop of blue in your kitchen cabinets but are stuck on the design, check out these eight blue kitchen ideas to inspire your cabinet refacing project!
---
Coastal Living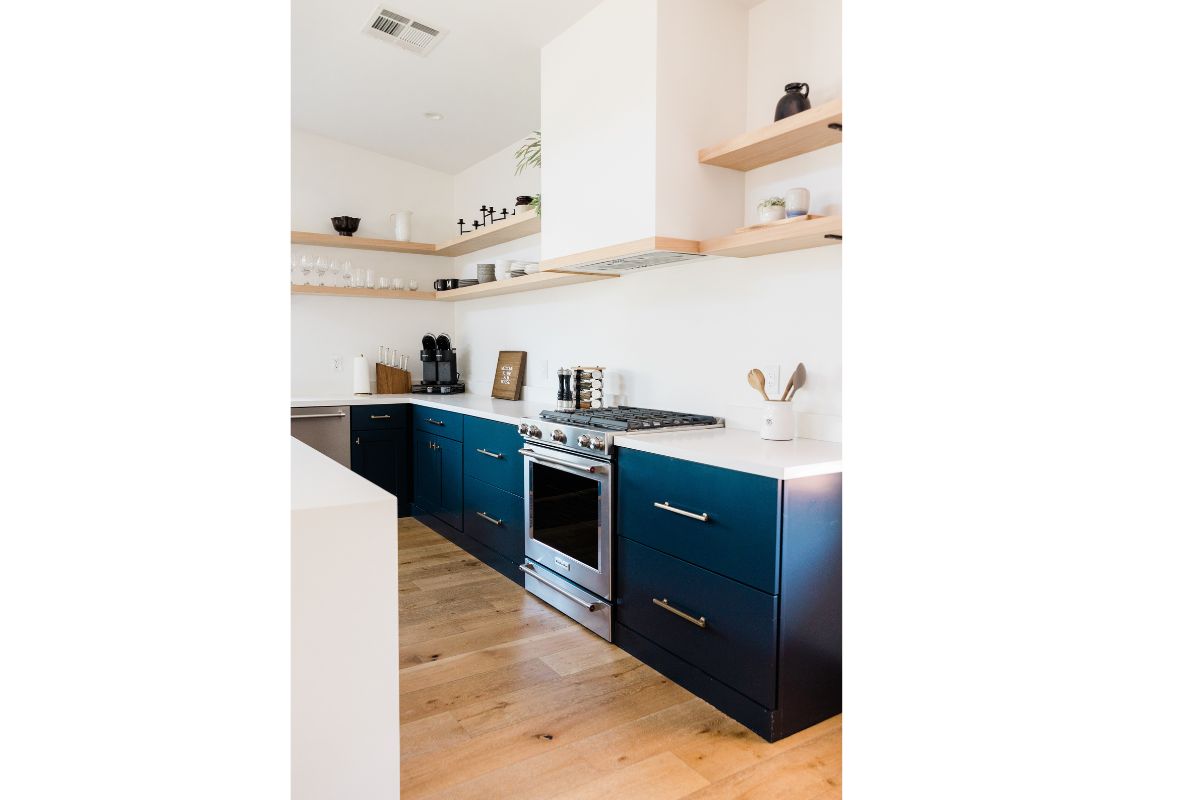 Blue is the perfect color for a coastal kitchen as it represents the color of the sea. Navy blue, specifically, is a timeless shade of blue seen in beach-style homes. Paired with airy open shelving, light maple flooring, and white countertops, navy blue cabinets will complete your seaside inspired kitchen. The CabinetNow navy supermatte cabinet doors add a deep sea touch, while the light maple flooring adds a sandy feel. You can't go wrong with this simple beach-style kitchen design.
---
Moody and Sleek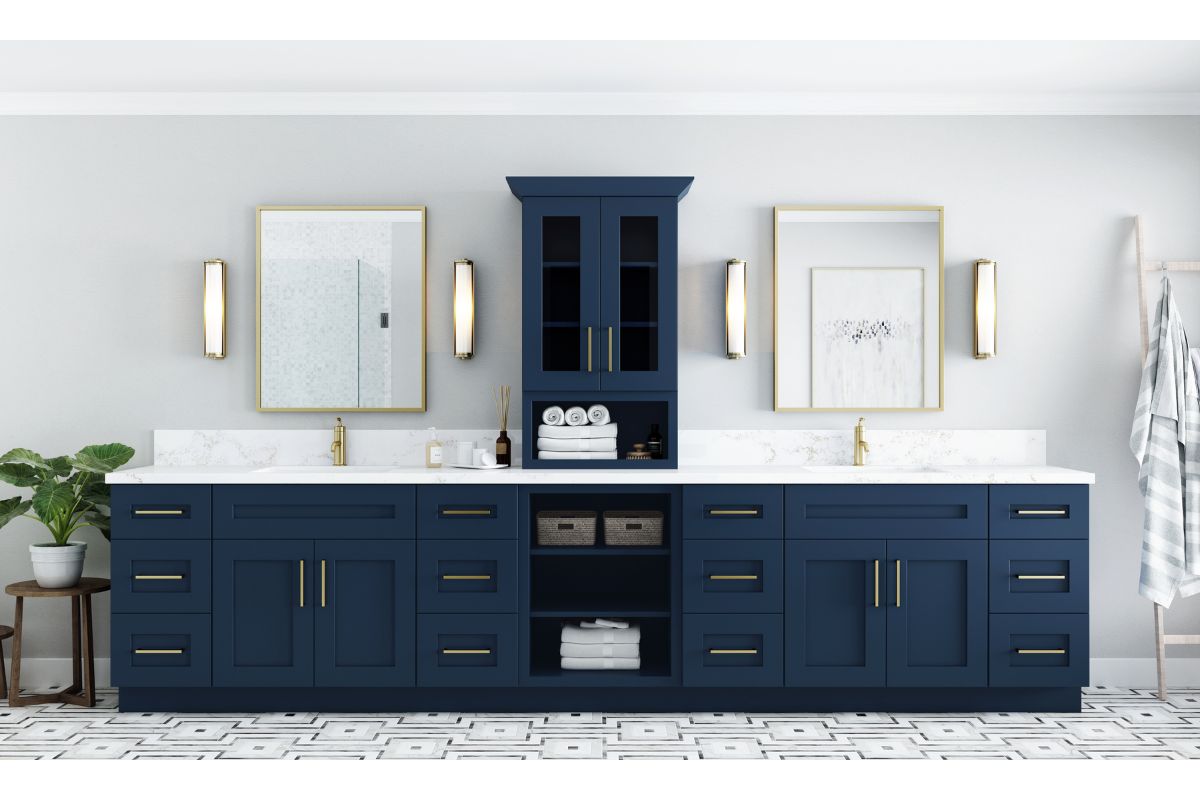 A kitchen doesn't have to be painted all white to be classy. Dark, moody cabinets are timeless and when paired with sleek countertops and hardware, you can make blue cabinets look classy. Dark blue cabinets paired with golden hardware and white countertops create a polished ambience for your kitchen or bathroom. The Nassau doors in mythic blue are a new feature to CabinetNow. If you are interested in this elegant style and color please fill out this special order form!
---
Light and Breezy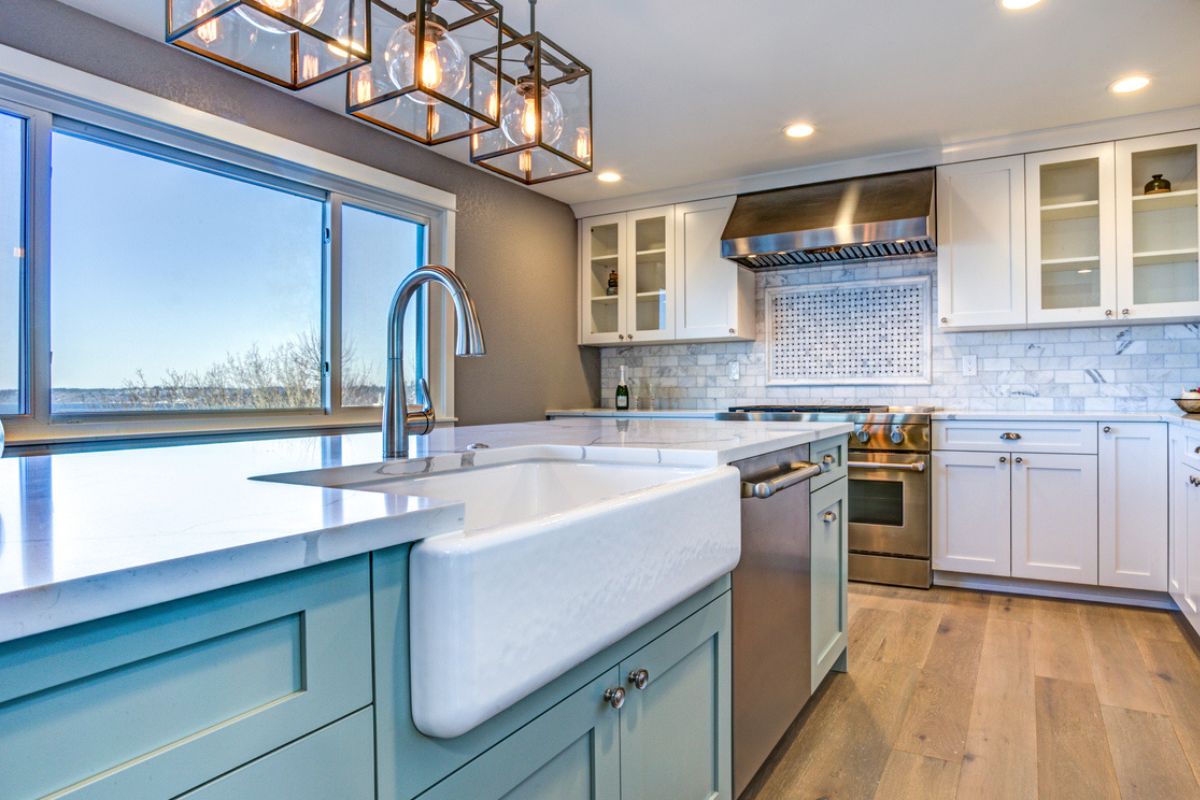 Light blue cabinets can create a light and airy ambience in your kitchen. Light blue pairs exceptionally well with light wood flooring such as light maple and light oak. CabinetNow's Denim Supermatte cabinets add a calming atmosphere to your space and are the perfect choice for a light denim blue kitchen. This shade of blue for cabinetry is an ideal duo with silver hardware and appliance. Plus a white countertop and farmhouse sink pull together this look for a chic appearance! Additional features to enhance light blue cabinets are glass panels and plenty of natural light for a airy farmhouse appeal.
---
Weather Approved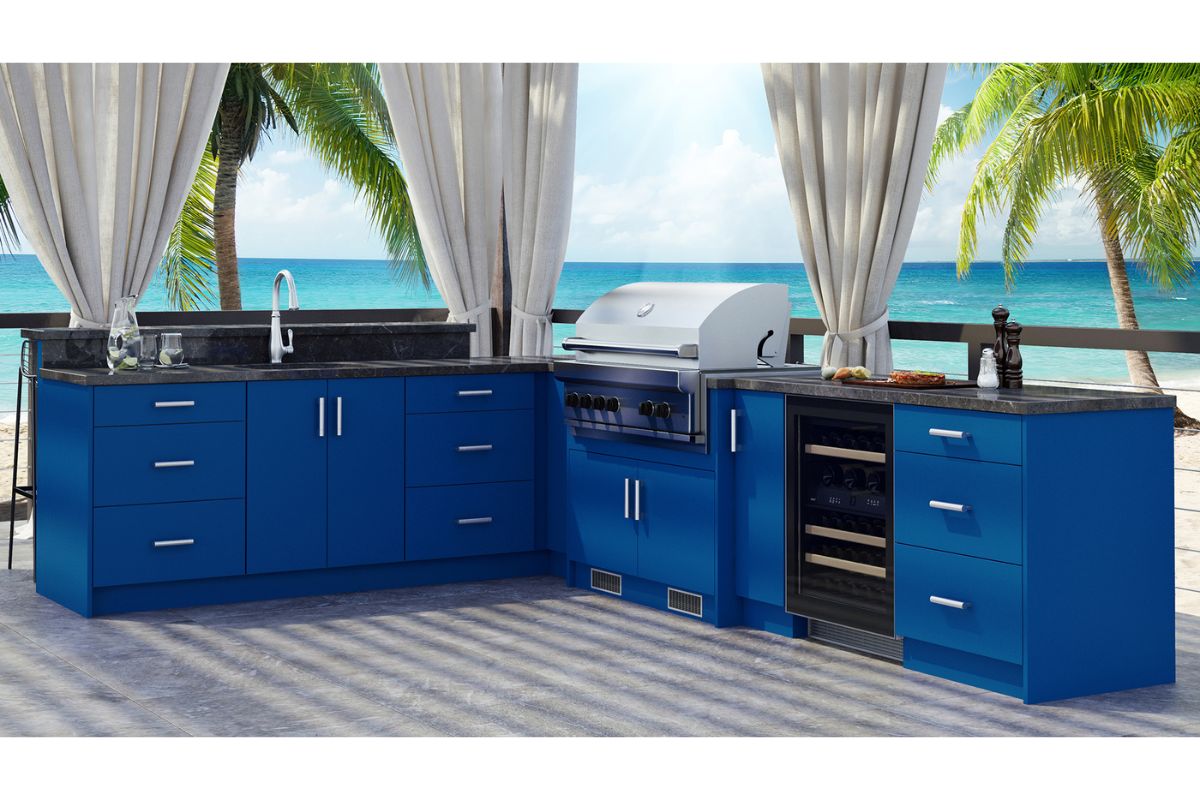 You can make your backyard a vacation every day with weather proof cabinets. Our new line of WeatherStrong Cabinets are the perfect choice for outdoor cabinetry. From creating an oasis on your back patio or a poolside bar, weather proof cabinets are a great option, because they are designed to combat any weather conditions. WeatherStrong Outdoor Cabinetry is made in the U.S. and use3⁄4" All‑Weatherboard® composite material to prevent wear and tear from rain, shine, and snow. The reef blue cabinets come in several styles and are the perfect choice for an eccentric ambience on your backyard patio. The reef blue weatherproof cabinets are a new addition to CabinetNow so if you are interested in learning more please fill out this special order form!
---
Bold and Sophisticated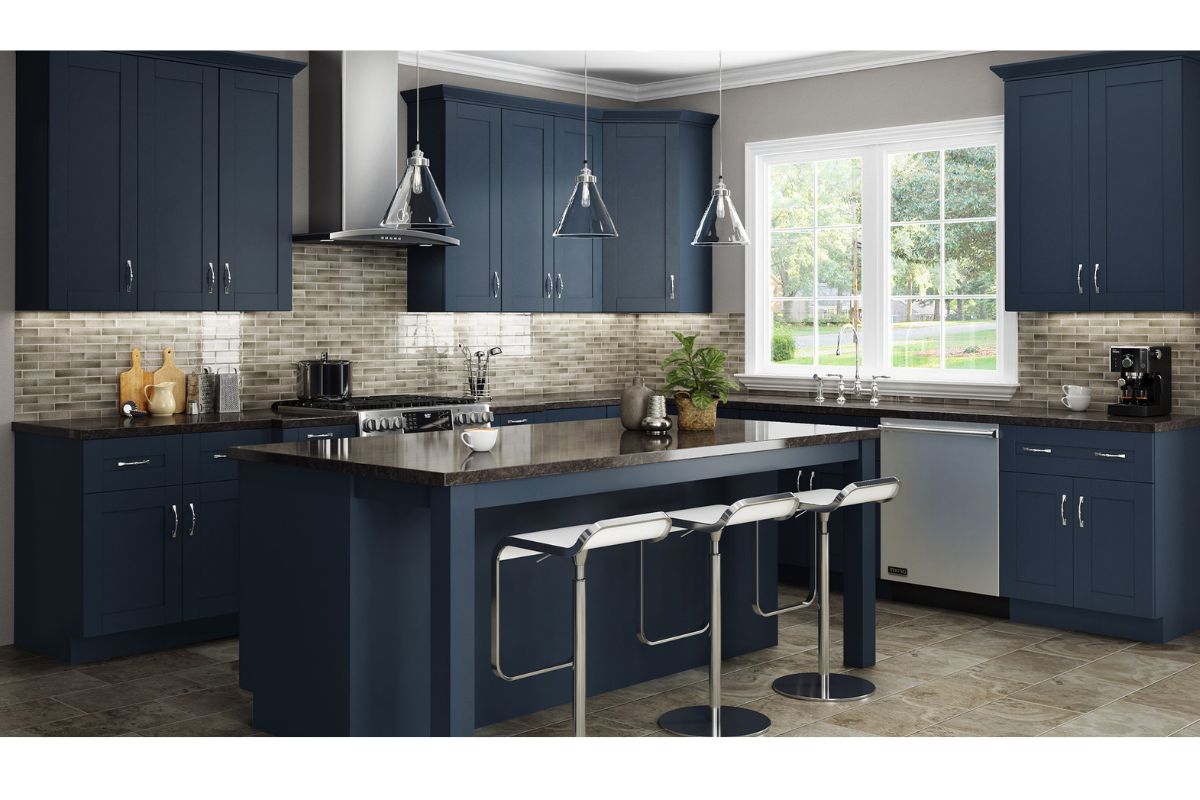 If you are going for a bold and sophisticated look, the Wichita mythic blue cabinets are the perfect color and style for you. The Wichita style is a modern shaker style door with a sleek look. When choosing a darker color for cabinets, simple cabinet styles are the way to go. If you want dark cabinets, but black seems too risky, navy blue is a timeless color to pick. The mythic blue shade is a classic deep navy blue that will never go out of style. For a bold, sophisticated style, don't be afraid to partner the dark navy blue cabinets with dark countertops. If you are interested in this elegant style and color please fill out this special order form!
---
Two-toned Elegance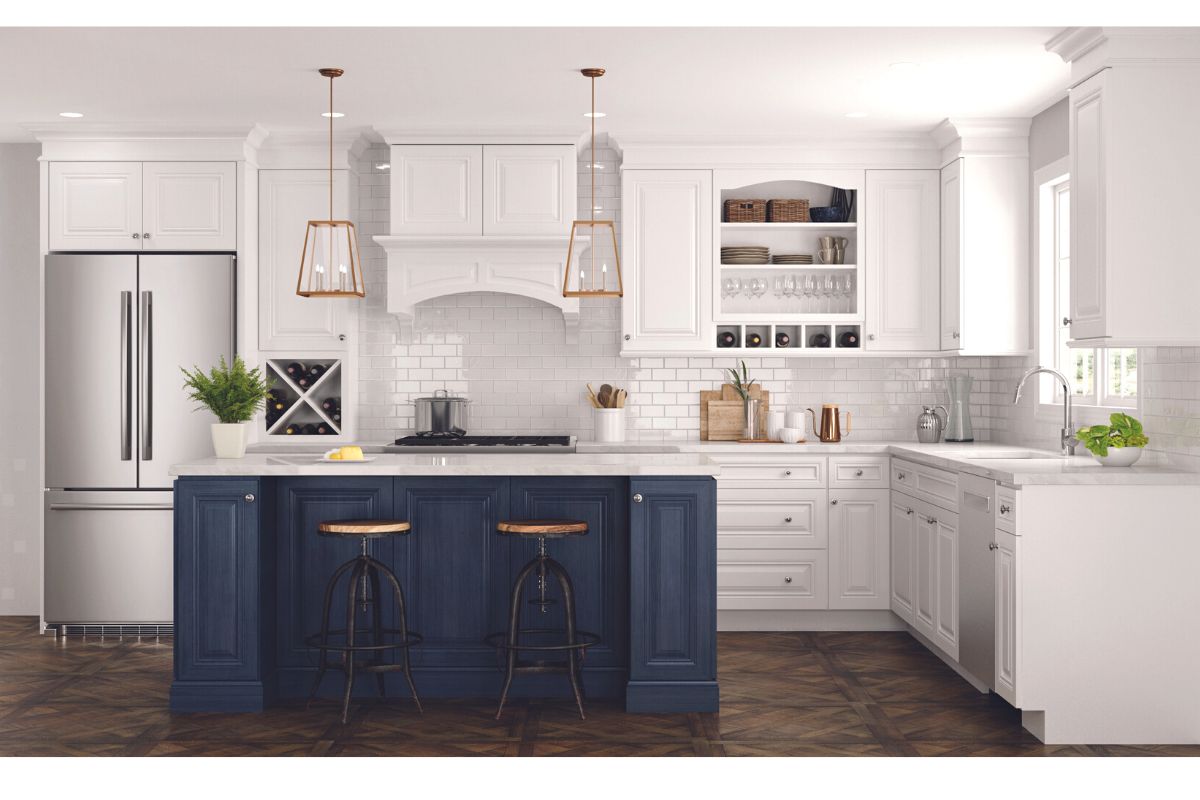 Stuck on deciding between two colors? A two tone kitchen is an ageless design for cabinetry projects and adds a fun twist to traditional cabinetry. There are countless ways to design a two-tone kitchen:
Two different tones on upper and base cabinets
Two different tones on either wall of the kitchen cabinets
One tone on a separated island and one on standard cabinets
In this image, the accent color is centered in the kitchen island with the park avenue ocean blue cabinet doors. The ocean blue shade compliments the white standard cabinets to add a classy and modern atmosphere.
---
Soft Pastels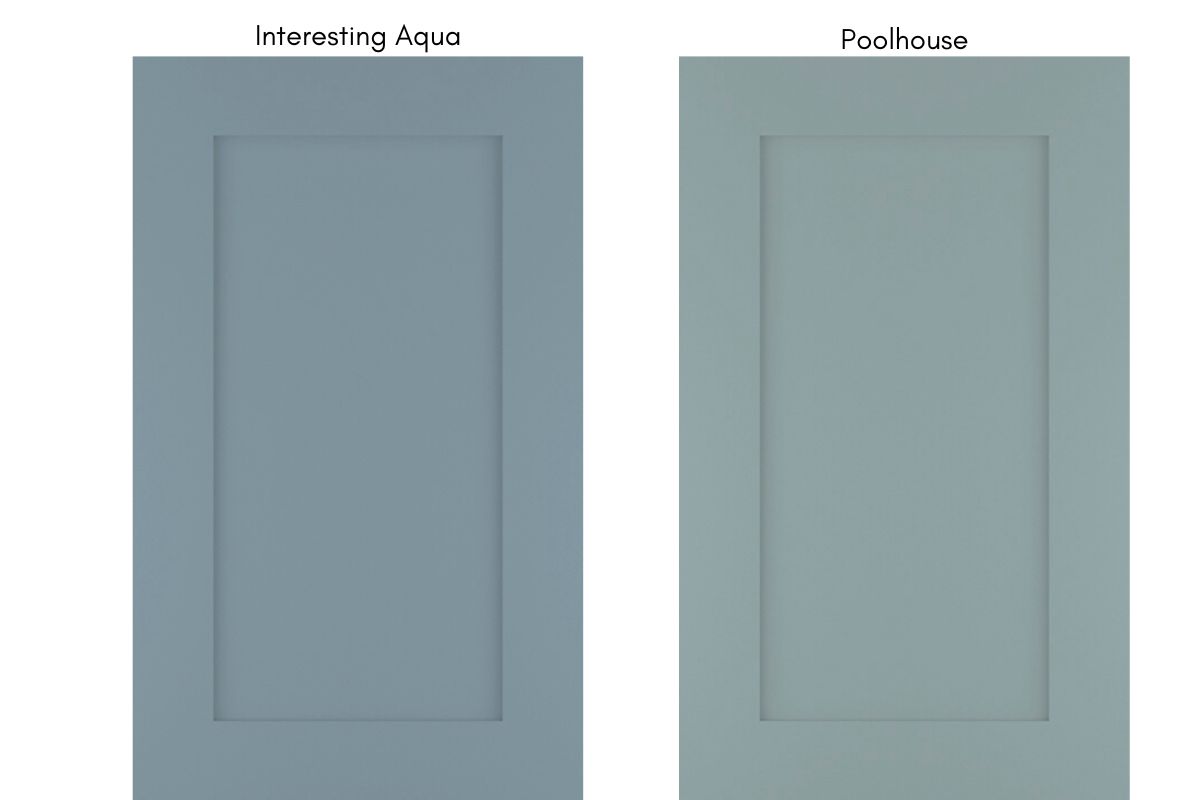 A soft pastel kitchen can illuminate your space to create a light and welcoming ambience. Architecture Art Designs says that light blue shades can make your kitchen have a calming effect and appear more youthful. Soft pastel shades like CabinetNow's newest additions, Interesting Aqua and Poolhouse, are perfect choices to create delicate looking kitchen cabinets. Interesting Aqua and Poolhouse resemble a sage green color because of the muted shade but with blue undertones. To style a pastel kitchen, choose simple features such as white and wood accents.
---
Midnight Ambience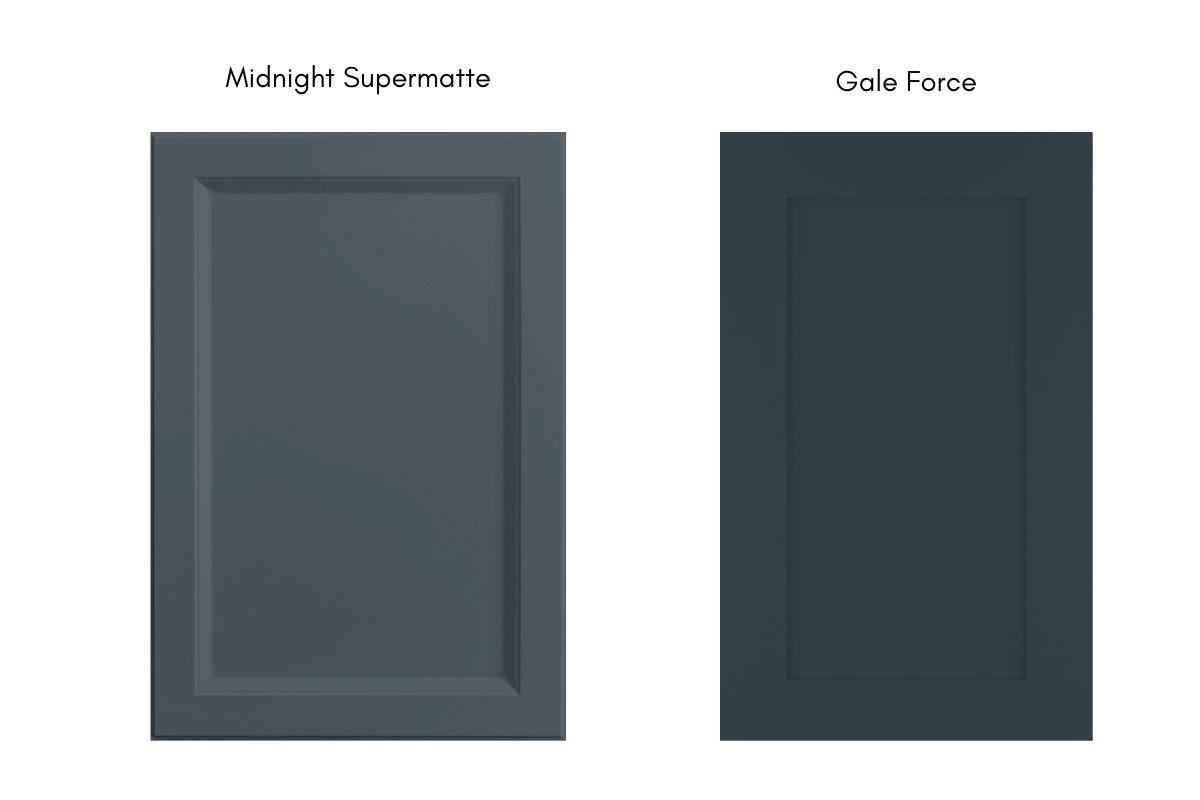 You can create a dark kitchen without choosing black. Dark, muted blue cabinets are a great choice to revamp your kitchen using CabinetNow's midnight supermatte cabinets. Unlike the rich navy supermatte, the midnight supermatte cabinets have a more dull tone to the navy blue which creates a mysterious ambience to your space. Another great option is CabinetNow's new color, Gale Force, which is an even darker, muted navy blue. A midnight ambience in your kitchen compliments dark hardwood flooring and granite countertops very well.
---
Wrapping Up
Adding color to your kitchen can seem intimidating, but with the right design and decor you can create an ageless masterpiece. Whether you are looking for bright and airy or dark and moody, blue cabinets are the way to go.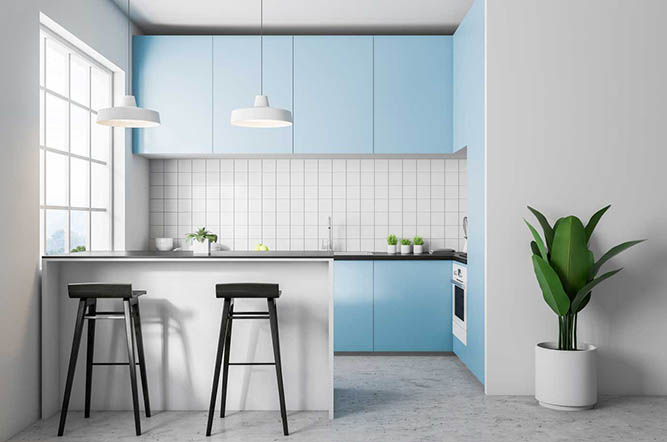 If you are ready to start ordering or if you need assistance, please feel free to call us at 1-855-669-5222 or send us an email at info@cabinetnow.com. Our team of cabinet experts are here to help with everything from measuring to ordering. You can also fill out our custom cabinetry request form for a free quote which includes a 3D render and layout design from our professional designers!