9 Ways to Make a Small Kitchen Feel Larger
A small kitchen space can be optimized to feel larger with the right design techniques. You can expand your kitchen floor plan without going through the hassle of a full remodel just by following some of these design tricks. We have put together 9 ways you can make your small kitchen space feel larger everywhere from choosing the right color to integrating appliances.
---
1. The Brighter, the Wider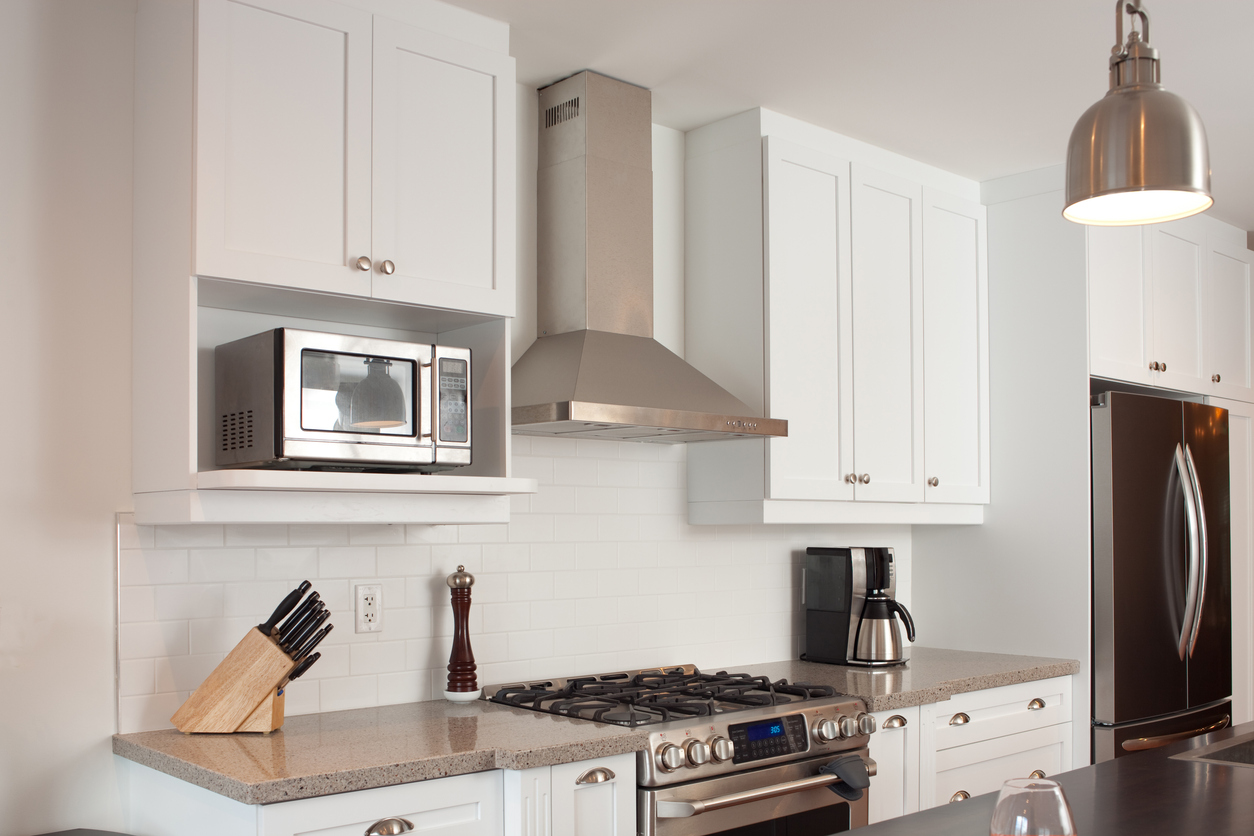 The colors you incorporate in your kitchen can create all the difference in how it is perceived. Lighter colors can give you the illusion of a larger kitchen by creating an airy and open space. Dark colors can make your kitchen look more packed. Choosing neutral light colors such as a bright white, creamy white, pale gray, or beige are great options to expand your kitchen.
There are many ways to incorporate lighter shades to open your kitchen including:
Light colored cabinets
Light colored walls
Light colored backsplash
Light colored countertops
---
2. Minimal Contrast
While lighter shades can completely transform your kitchen with an illusion of being larger, how you incorporate and position those lighter shades is important as well. The goal is to diminish as much contrast as you can to make your kitchen feel more spacious and illuminated. Decreasing the contrast will help your kitchen feel less filled.
CabinetNow's designers agree that one of the best ways to do this is by creating a low contrast between your walls, cabinets, and countertops. How you do this is by choosing a light shade for all three. This will diminish any dimension to make your kitchen appear more open.
For example, choose a light beige for your walls, a bright white for your cabinets such as CabinetNow's cabinet doors in extra white, and a light wood countertop such as white oak.
---
3. Transparent Components
The colors you choose for your cabinets can drastically change the appearance of your kitchen, but you can also add elements to make your small kitchen appear larger. Adding transparent components open the space and create a breezy ambience.
Our designers say the easiest way to create a larger look in a kitchen is to add glass panels to your cabinets. Houzz explains that glass panels add depth, while allowing light to bounce off and reflect which gives the illusion of a larger kitchen. You can also fill the glass panels with white dishes, clear glasses, and lights to appear brighter.
Having windows in your kitchen is another way to add transparency in your kitchen. Windows not only look great, but can also allow the natural sunlight to expand your tiny space.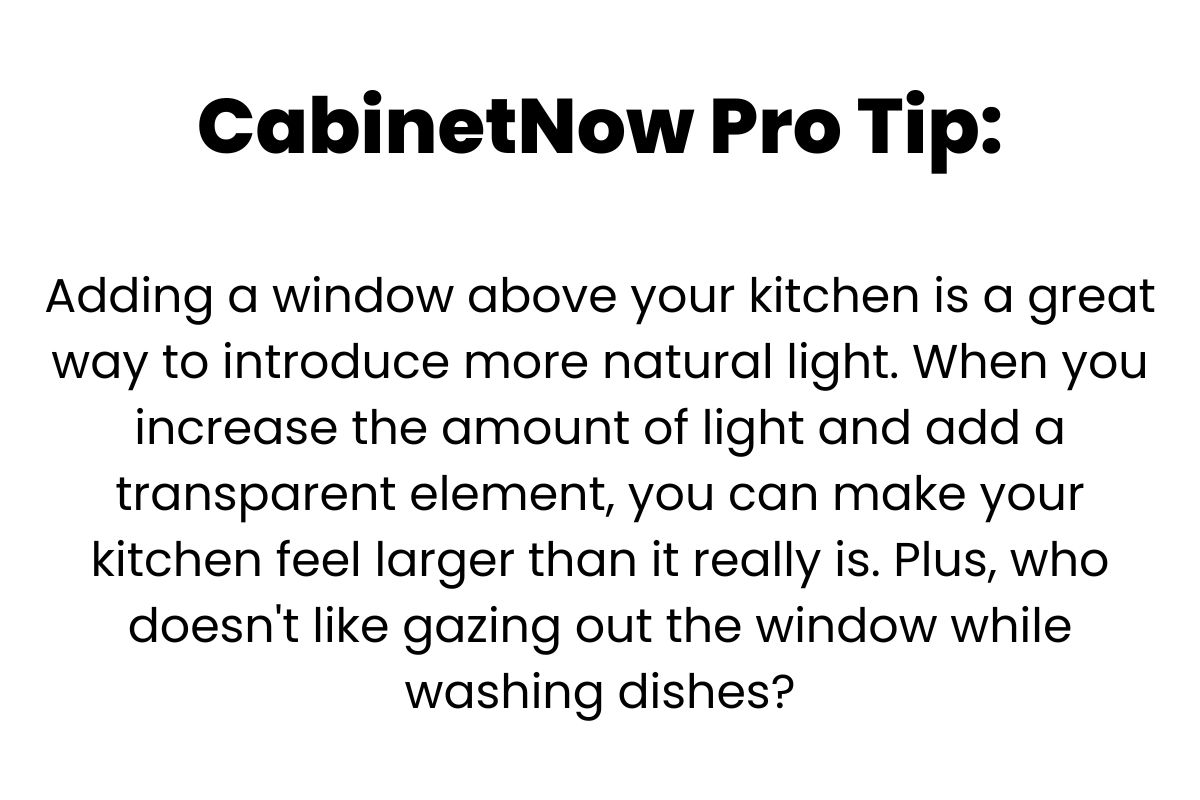 If you want to get creative and add a nostalgic feel, a great idea is to add a passthrough in your kitchen. A passthrough is a hole in your wall to pass items from room to room. This not only adds a unique touch to your kitchen design but can open it up and add depth to your tiny space.
---
4. The Mirror Effect
Have you ever been through a mirror maze? If you have, you might remember feeling lost because they appear to be never ending. This is an illusion.
The mirror effect in interior design terms is a technique to make a tiny space feel larger. In fact, any reflective surface can have this effect. So why not add mirrors in your tiny kitchen to create that illusion! Mirrors are a stunning decorative addition to any space and believe it or not they look fabulous in kitchens.
---
5. Open Shelving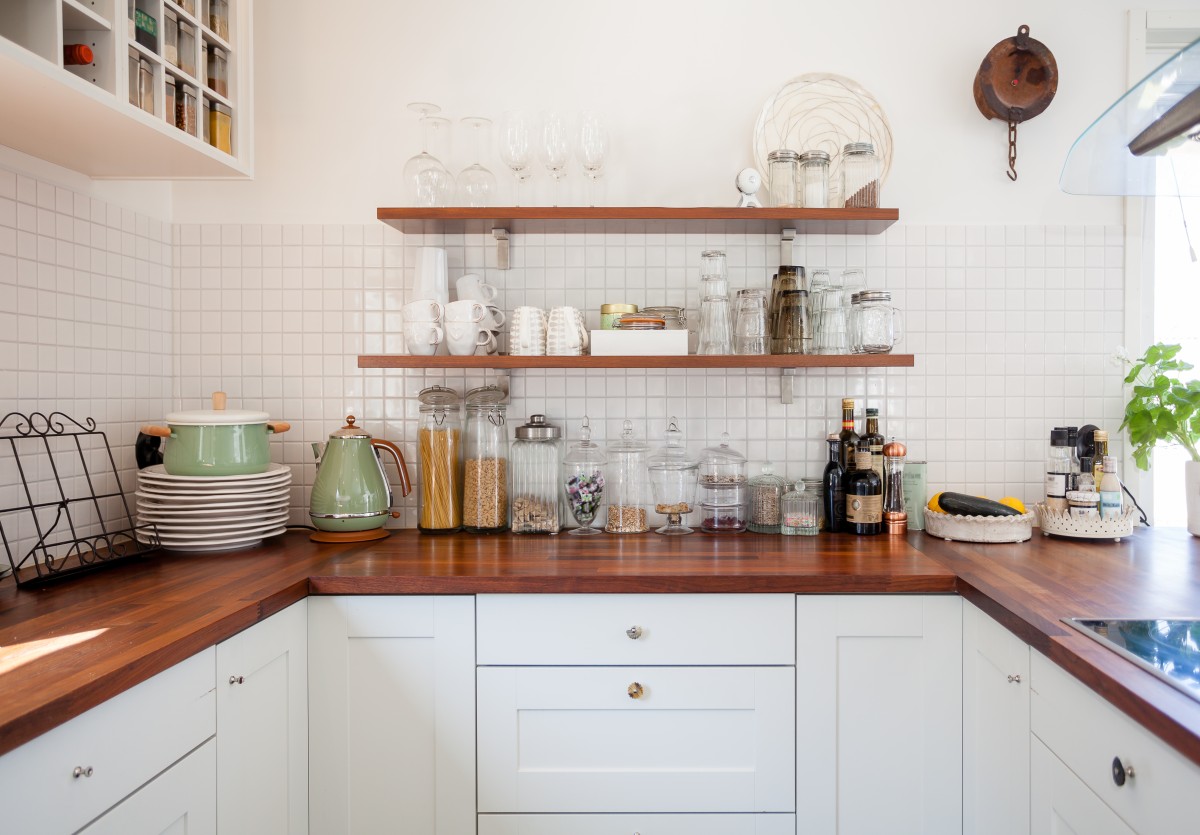 Open shelves are a great alternative to upper cabinets in order to make a tiny space feel larger. By removing the excess bulkiness and dimension of regular upper cabinets, floating shelves can create a more open atmosphere in tighter spaces. Not to mention, they are great for storage!
---
6. Create Spacial Rhythm
When designing your tiny kitchen, consider what geometric patterns you are incorporating whether it is on your walls, countertops, backsplash or cabinets.
Mansion Global explains that the rule of thumb to keep in mind is any large scale patterns mixed with bolder colors will create a more prominent look that may take a little bit longer to process, while more small scale patterns with softer colors are more easy on the eye.
CabinetNow's designers suggest that when creating the illusion of a larger kitchen in a small space, it is best to keep patterns simple and colors softer to create that airy and open look.
---
7. Beauty Lies in Simplicity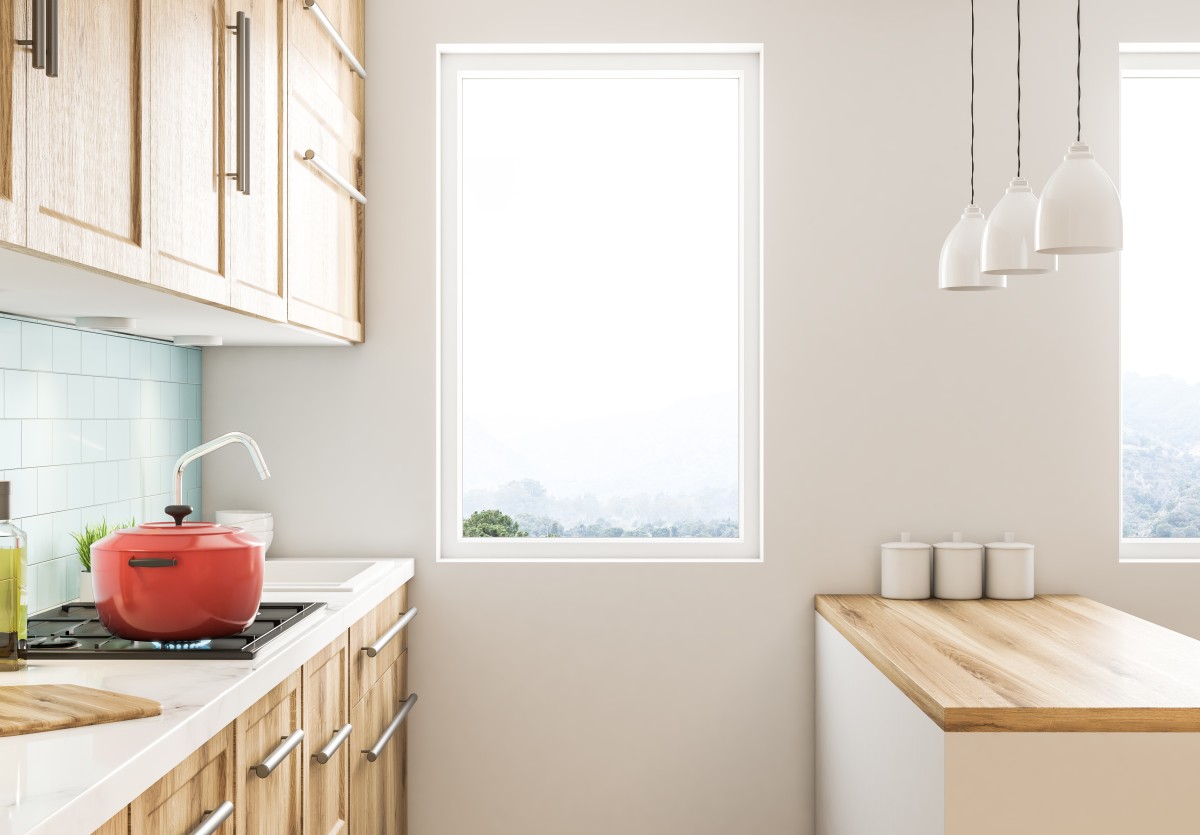 CabinetNow designers say that a simple kitchen is the way to go for a small kitchen. Too much decor, texture, and patterns can make the space feel overcrowded. One way to do this is by using minimalist decor. Home Tarkett says that minimalist decor has clean lines and a monochromatic color palette.
Simple cabinets can also make your tiny kitchen feel larger by using slimmer cabinet styles such as CabinetNow's shaker slim and slab cabinet doors. This can cut out a lot of excess volume in your space to create a more open kitchen layout feel.
---
8. Innovate With Your Appliances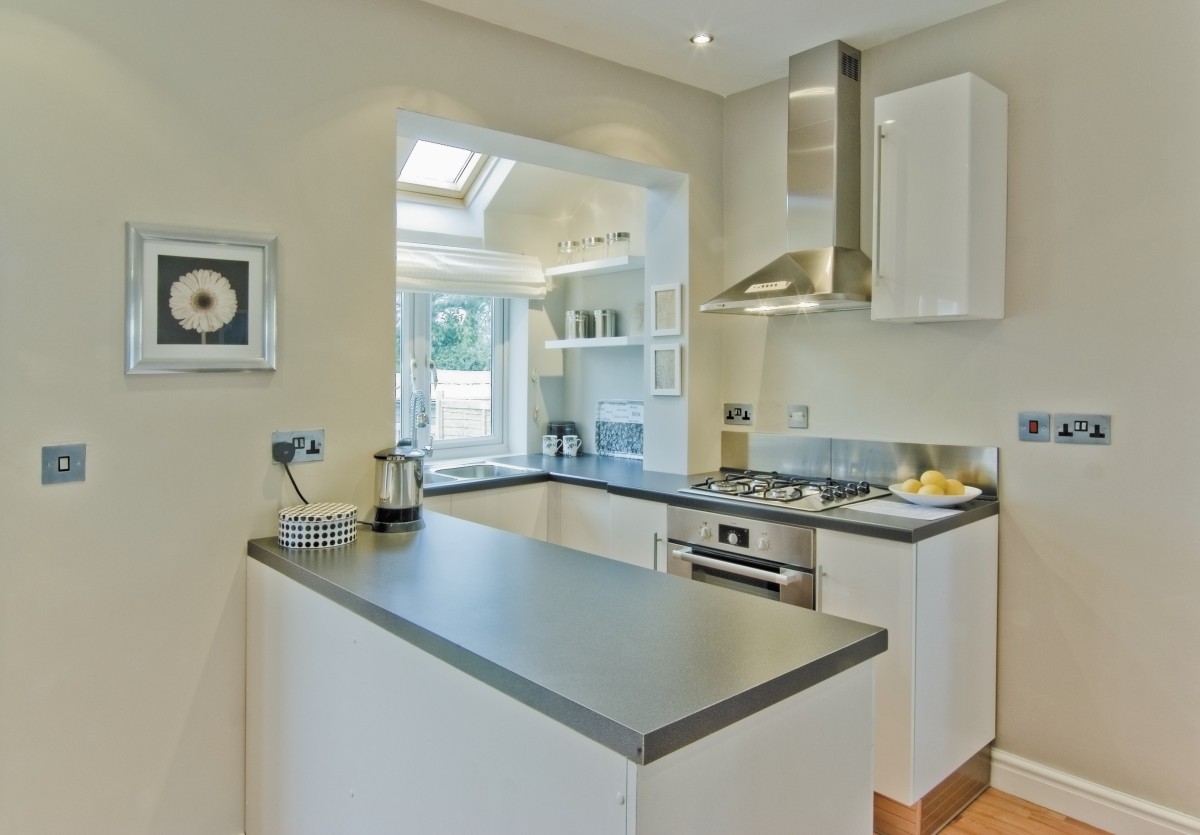 Today, kitchen designs are endless. Kitchen cabinets and appliances are two industries that go hand and hand. To optimize your kitchen space, you can now integrate appliances in your cabinetry including your refrigerator and dishwasher.
Another great way to cut out excess fat in your kitchen is by using a hood over your stove instead of adding your standard cabinet. And the great thing about this technique is that hoods are back in style! This will help your space feel thinner.
---
9. Sculpt Out For Storage
Storage in a tiny kitchen can feel impossible, especially pantry storage. While larger floor plans for the kitchen may opt for a tall pantry cabinet, a tiny kitchen may not be able to fit an extra cabinet box in their space.
Alternatively, a great way to store food and other kitchen essentials is by sculpting out space in your walls. This not only helps add extra space for storage, but it can add depth to your walls which can extend your overall tiny kitchen space. Or perhaps you already have an indented space in your home like the picture shown from our valued customer, that you can utilize to add custom sized upper and base cabinets for extra storage!
If sculpting out space in your walls seems unattainable, then try hanging baskets, floating shelves, or racks for optimal storage.
---
Wrapping Up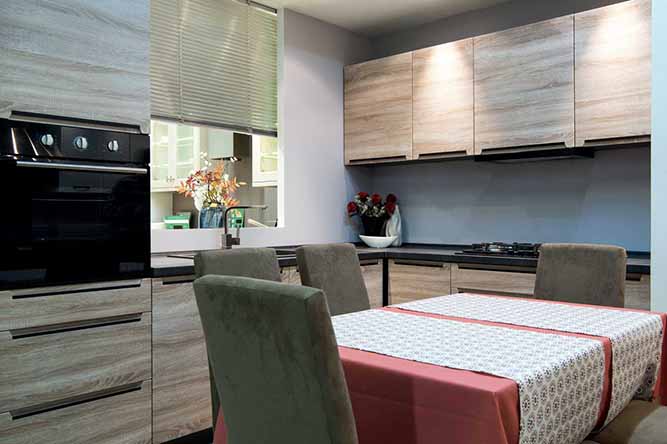 In today's home improvement world, there are endless design hacks for creating your dream kitchen. Everything from the color, patterns, design and elements you choose can make a world of difference in your floor plan no matter the size!
If you are ready to start ordering or if you need assistance, please feel free to call us at 1-855-669-5222 or send us an email at info@cabinetnow.com. Our team of cabinet experts is here to help with everything from measuring to ordering.