Beautiful White Oak Veneers Transform This 18-Year Old Pantry Cabinet
With a passion for DIY home projects, Jeff had been on a 18 year quest to improve their home. A year ago they began their kitchen project. Their last step was to upgrade the pantry cabinet and that is when they discovered CabinetNow.
After completing their kitchen renovation, he had a vision for how he wanted his pantry doors to look and needed custom cabinets for the custom sizing and precise wood material to match their existing cabinetry.
The DIY Project
Jeff needed to upgrade his pantry cabinet doors to match his existing cabinetry and wanted large, sturdy cabinet doors. He purchased 8 of CabinetNow's Aries cabinet doors ¾" which is a popular slab style for a sleek aesthetic.
His existing kitchen cabinets were a beautiful white oak so he easily made the decision of choosing our white oak select wood material for a perfect match. When the doors arrived, he added a stain over the oak veneers and finished them with wax.



"They were a precise and perfect match with our existing cabinetry!"
-Jeff
Jeff's Biggest Challenge
Jeff is a very experienced DIYer. Although, he described his biggest challenge of DIYing this project were the "wonky jambs!"
In this case there are three things that Ideal Home suggest you to do if you are having trouble with having issues with your cabinet doors sitting flush within the cabinet box.
Remove any loose splinters with a putty knife
Use wood filler to fill any unwanted holes or dents
Carefully sand the wood area
With a quick fix, he was able to set the cabinet doors flush in no time.
Use Custom Cabinets To Top Off Your Project!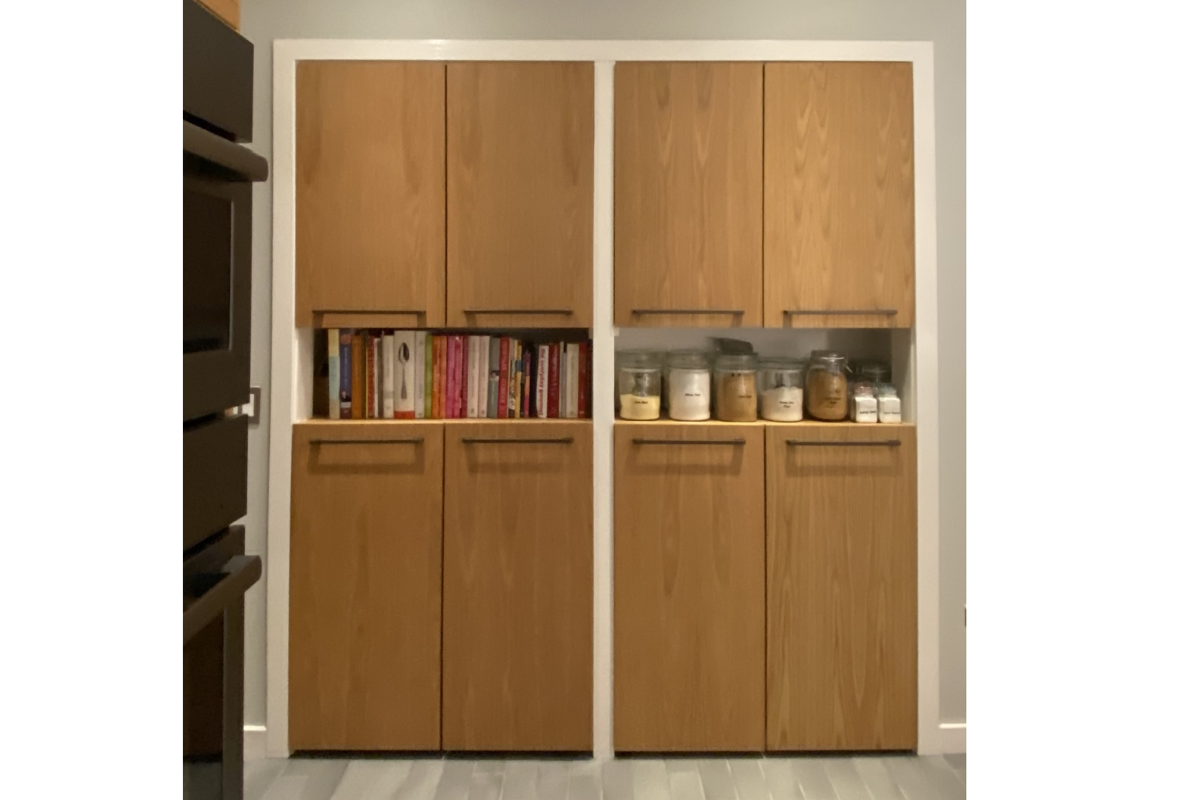 Not only did the beautiful white oak veneers level up his pantry cabinet, but the new design also improved the functionality of his kitchen.
Other words from Jeff,
"Your customer service was a state of art!"
We value our customer's feedback when they purchase our custom cabinets and we love to see before and after photos of their cabinet projects. We dedicate this article to Jeff and his family and thank them for sharing their photos with us and hope this is inspiring for your future cabinetry project!
If you are ready to start ordering new cabinets today please contact us or fill out a custom cabinetry request form to get connected with a designer!