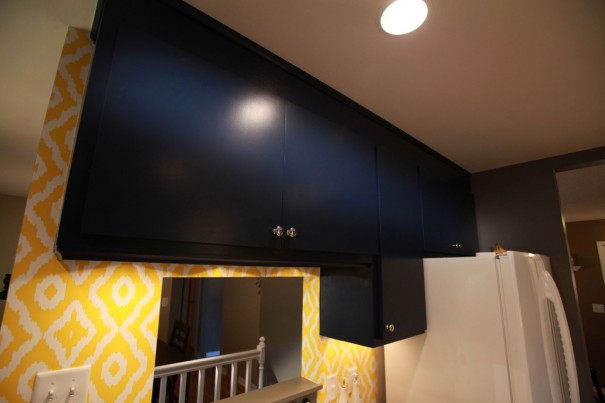 Pictured here are CabinetNow.com's plank cabinet doors in paint grade maple, painted navy blue. Contractor/Host James Young says "Navy blue is the new grey when it comes to cabinet doors".
Last Tuesday's episode featured Shelly, a young homeowner that bought a 1950's fixer-upper because she figured it was "a good investment". After fixing up and remodeling most of the house she found herself unsatisfied with the "chaotic", "outdated" and "disorganized" kitchen. Shelly shares her house with three roommates and they all agreed; the kitchen was old, cramped and in need of a renovation. Cue James Young, the kitchen specialist and U.S. Army veteran, and we have a wonderful premise for a show.
Shelly's New Kitchen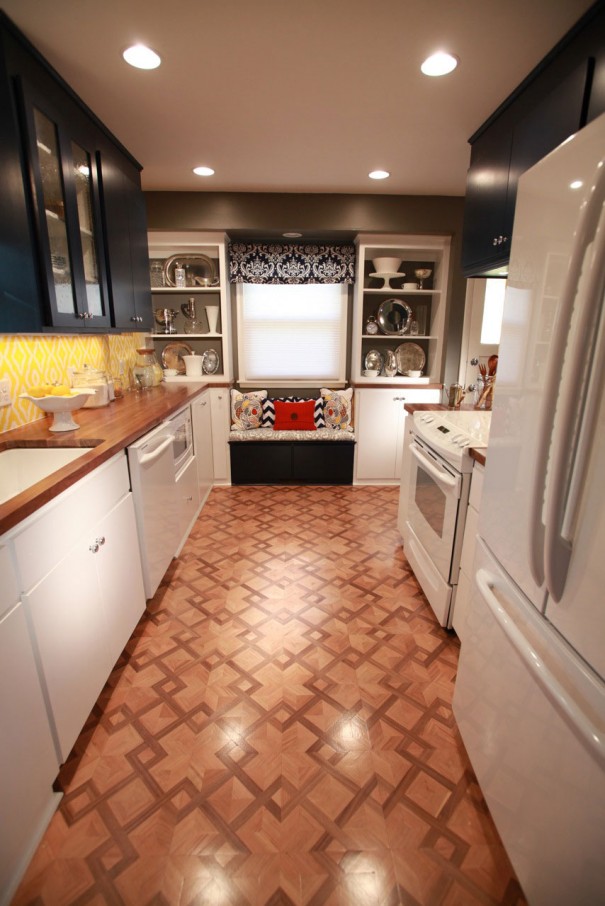 A long vertical shot of the freshly renovated kitchen. At left you can see CabinetNow.com's shaker glass cabinet doors.
Cabinet Refacing Vs. Whole Cabinet Replacing
"To save on our budget, we'll use the existing cabinets but upgrade the doors with sleek, modern, maple flat panels" said contractor James Young.
"We're replacing the the cabinet doors instead of replacing the whole cabinets. We're going to save thousands of dollars" said Young when talking about CabinetNow.com's cabinet doors. "These are smooth flat panel doors--it gives you that contemporary look. We saved some money because we didn't replace your cabinets, just replaced the doors" Young said. Shelly chimed in "they look great!".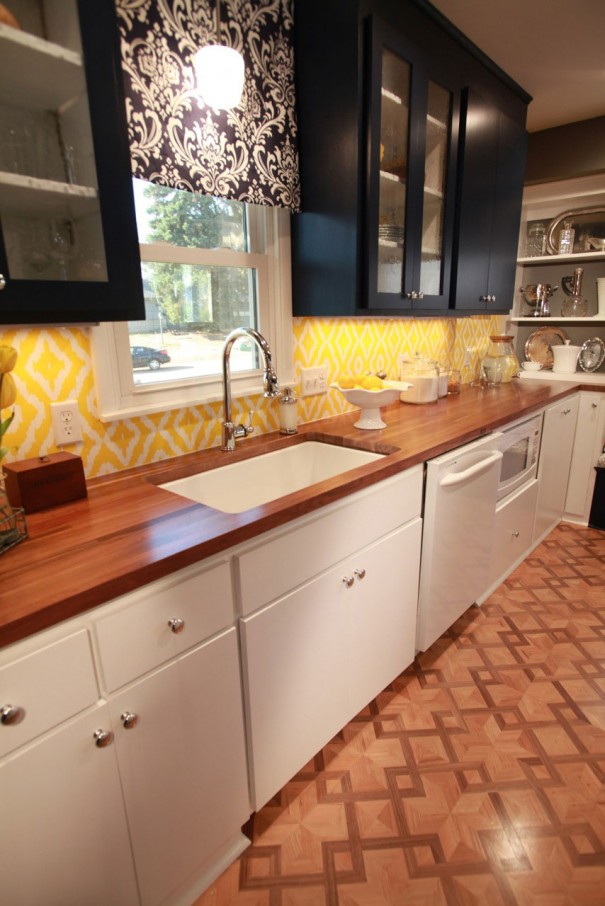 CabinetNow.com's solid paint grade cabinet doors and drawer fronts painted white with polished silver knobs for a modern look. Shelly, owner of the kitchen said she was looking for a "cottage modern style" with a little vintage inspiration. Notice the seeded glass in the cabinet doors, pretty spiffy!
Seeded Glass For The Cabinet Doors Adds Detail
For additional detail in the kitchen, Shelly and James decided to use seeded glass for four of the cabinet doors to give a fresh twist to the traditional cottage look. The four pieces of glass cost $135. To install the glass James Young used homemade wood cleats and silicone instead of rubber stops. CabinetNow.com sells rubber stops for $5, but the wooden cleats work just fine, are easy to install and hold the glass in place quite well. According to Shelly the hardware for all the cabinet door and drawer fronts cost about $50.
"I really like the glass cabinetry. It's so neat to be able to display items and the modern style doors just ties everything together" Shelly said.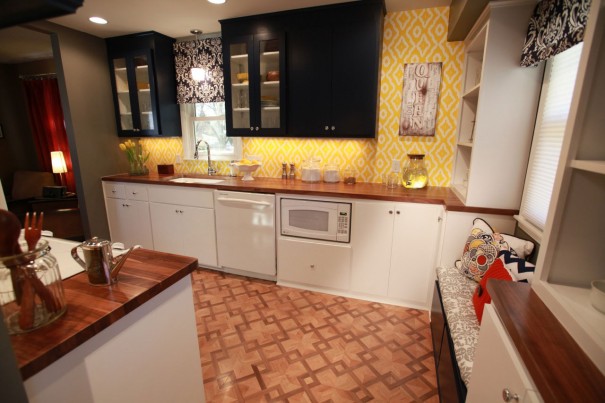 Parquet inlay flooring, new appliances, walnut countertops and two-tone cabinets and doors round out the final design of this beautiful kitchen.
In The End Shelly And Her Roommates Were Very Pleased
In total the cabinet doors and drawer fronts cost about $1500. Considering Shelly's budget of $20,000, brand new custom cabinet doors and drawer fronts for $1500 is a just a fraction of the cost (CabinetNow.com even offers free shipping on all order over $1500). For the entire renovation, the project cost came in at about $18,000, so they were under budget and on time, and that's music to any renovators ears.
"Beautiful" said Shelly's roommate Amanda. In the end Shelly and co. were very satisfied with their sparkling new kitchen thanks to James Young and a little bit of elbow grease.
Show Synopsis
When a financial planning assistant, Shelly bought her 1950's fixer-upper, she was certain it would be a good long-term investment. She's tackled many updates herself, and practically doubled the livable space, but the kitchen remains a sore spot for Shelly and her 3 roommates. With a limited budget, licensed contractor James Young shows them how to get the most bang for Shelly's buck. By reusing the existing cabinetry, coming up with creative storage solutions, and adding stylish, budget-friendly features, James helps them to get a chic, functional kitchen without breaking the bank. -From DIY Network
Photos courtesy DIY Network.