Designing a two-tone kitchen can be a fun and creative way to add some personality to your cooking space. By using two different colors for your kitchen cabinets, you can achieve a unique look that is perfect for your home. This blog post discusses some crucial tips for designing spaces with two tone kitchen cabinets.
---
Determine Level of Personal Involvement
Some people get excited at the mere thought of tackling another home improvement project. Others cower in fear or groan with annoyance. Regardless of how you feel, it's also important to consider your skill. The last thing you want is your cabinetry to fall off the wall with all your late grandmother's expensive china.
Ask yourself these questions to help you determine how much of the project you intend to tackle yourself:
Will you design the two tone kitchen cabinets yourself but commission someone else to build, paint and install them?
Will you get the cabinetry made and then paint it yourself?
Do you plan to handle the process of mounting it to the walls?
Do you have the skills and tools to get the job done efficiently and safely?
---
Find Qualified Professionals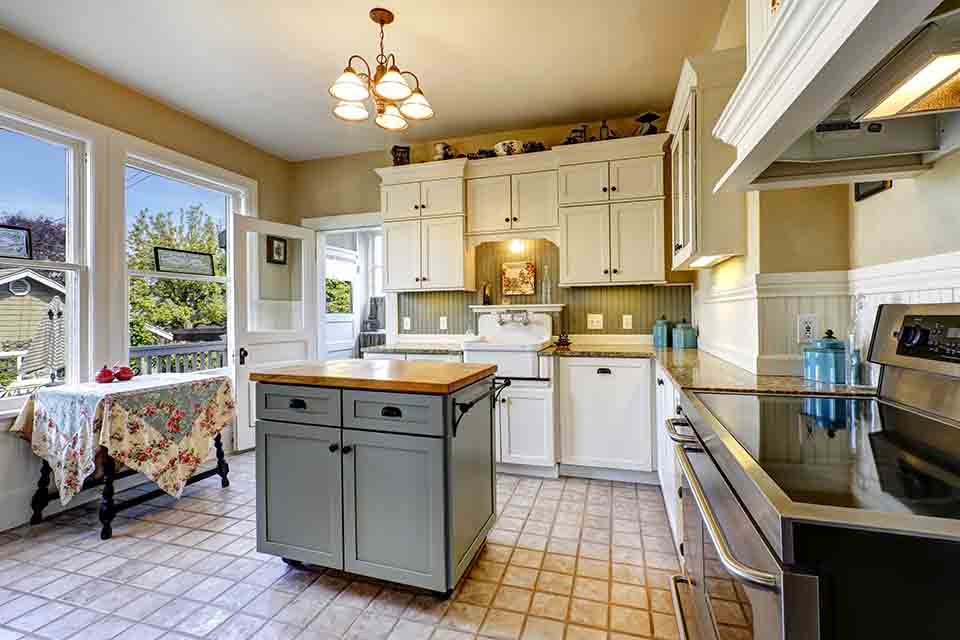 If you decide to hire professionals, do your research to ensure you find the right person or company for the job. If you're not comfortable installing the cabinets yourself, it's best to hire a professional that can handle these elements for you.
---
Create a Budget for Two Tone Kitchen Cabinets
HGTV estimates that kitchen remodels can cost anywhere from as little as $4,000 to tens of thousands. Determine how much you can afford to spend on your kitchen update. Remember to reserve 10% as a contingency to account for unexpected challenges.
If your budget is less than you need, there are several great ways to boost the funding. One standard method is to take out a home improvement loan. Homeowners with equity in their homes can also take out a home equity loan.
If you're thinking of buying a house that needs updated cabinetry, look into a construction loan or fixer-upper financing options. These mortgages include the potential cost of fixing or building the kitchen into the overall loan, so you have the capital you need.
---
Consider the Home Decor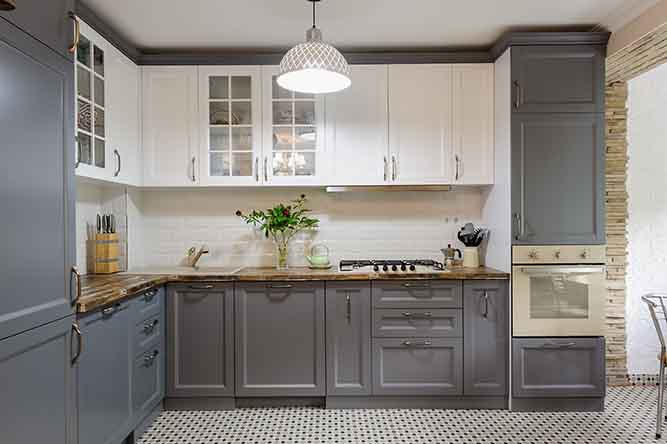 Whether you are renovating the entire home, updating only the kitchen or just adding two tone kitchen cabinets, consider the final product you have in mind and then plan the decor of your kitchen around this end product. For example, even if you already have a mid-century modern home, create an industrial kitchen if you plan to renovate the whole house in this style.
Here are some common home styles and how to spot them:
Contemporary: Sleek lines, bold colors, and simple decor
Traditional: Classic cabinetry with intricate details
Mid-Century Modern: A mix of vintage and contemporary styles characterized by clean lines and minimalism
Industrial: Exposed pipes, Edison bulbs, and concrete details
---
Review Design Options
Determine exactly where you plan to buy your two tone kitchen cabinets and narrow down the look you have in mind. Some kitchen cabinetry you can repaint, while the finish on others could make repainting or restaining a pain. Your best bet is to get a custom piece created to meet your needs.
There are also a wealth of other options to consider. For example, do you want soft-close cabinetry? What about the kinds of fixtures or even child locks? Are you looking for a matte or gloss finish? Do you prefer to see the wood grain? Knowing the answers to these and other questions can help you narrow down your preferences.
Choose Your Two Tone Kitchen Cabinet Colors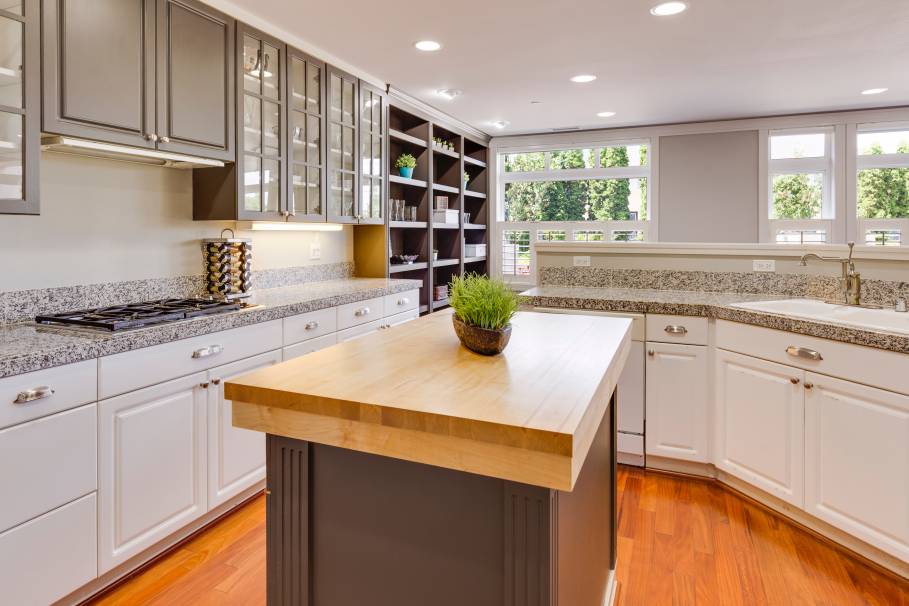 Check Pinterest or your favorite home improvement website for two-tone kitchen ideas. Visit your local home improvement store once you have a general idea of the two-tone color palette you like. Compare different options in the color schemes you have in mind until you find two that match.
Black and white is a familiar mix for two tone kitchen cabinets. Gray and white is another typical combination. Some people choose bolder options, such as blue or green. When selecting your colors, be sure to consider the overall palette. That includes colors used in the backsplash, floors and appliances.
---
Choose Your Two Tone Color Placement
More often than not, designers put a darker or brighter color on the bottom and a lighter or more neutral color on top. However, there are other ways to combine colors. Consider the following options:
The island counter is different from the rest of the kitchen cabinetry.
The island counter and the top cabinetry match, while the rest is a different color.
The cabinetry on one particular side of the kitchen is different from the rest.
The open shelving is a different color from the rest of the closed cabinetry.
Cupboards that run from bottom to top have one color, such as for pantries and appliance garages.
The second color in the cabinetry is in the centerpiece of the cupboard doors to create a framed look.
---
Choose Complimenting Appliances & Hardware
The colors of the two tone kitchen cabinets you choose will help set the tone for the rest of your kitchen appliances and hardware. Consider using stainless steel appliances with sleek lines if you want a modern look. For a more traditional look, opt for antique brass hardware.
Consider additional items, such as drawer pulls and faucets. These little details come together to create the perfect two-tone kitchen.
Get Started With Two Tone Kitchen Cabinets
Kitchen renovations can seem overwhelming, whether you plan to do it yourself or hire help. However, if you never get out of the planning phase, you'll never get anything done. Use this guide to get started so that you can finally have the kitchen of your dreams.
---
Finishing Up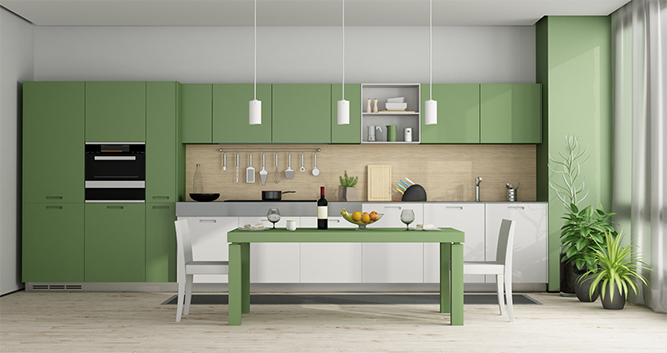 Now that you know how to tackle your two tone kitchen cabinets design, it's time to choose your cabinetmakers. At CabinetNow, we create high-quality cabinetry to meet your unique needs and to fit virtually any dimensions.
If you are ready to start ordering or if you need assistance, please feel free to call us at 1-855-669-5222 or an email to info@cabinetnow.com. Our well-trained sales staff can help you with everything from measuring to ordering.