How To Install Floating Wood Shelves in Your Home
If you follow current trends in home decor, you've definitely come across floating shelves. Unlike a traditional shelf, floating shelves have no visible supports and appear to hover stylishly on the wall. Of course, the magic trick is clever construction and mounting hardware. The metal brackets that hold each shelf to the wall are completely contained within the body.
Because of their simplicity, floating shelves work well with any design scheme in any room of your home. They add flair to a hallway, provide storage space in living areas and are the perfect finishing touch to an open concept kitchen. Plus, they're easy for homeowners to install. In just a few hours, you can have floating wood shelves that are worthy of a magazine spread. Proper installation is vital to making sure the shelves stay in place, so make sure you follow the proper process from start to finish.
Disclaimer: This blog post contains affiliate links and we may receive a small commission for purchases made. These are products we highly recommend.
---
What Options Are There for Floating Wood Shelves?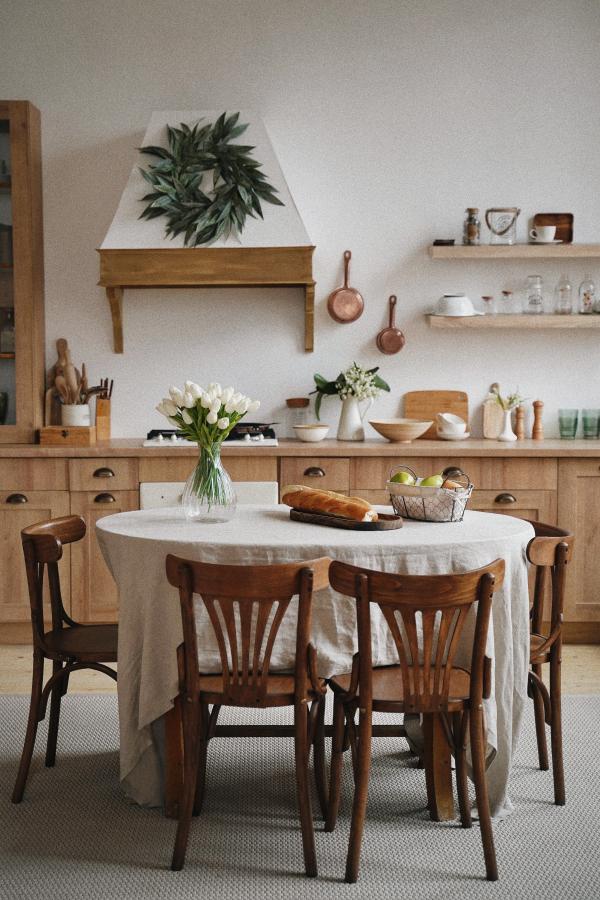 Before we walk you through installing your shelves, here are a few tips on making the best selection for your home.
Wood Type
If you're going to be painting your shelves, opt for paint-grade wood. This grade is less expensive since the grain won't be visible. If you want to showcase the wood's natural beauty, consider how the wood you choose will mix with the room's color scheme and decor.
Cherry adds delicious warmth, while maple works well with cool and neutral tones. Mid-tone woods, such as white oak, meld beautifully with softer wall colors. If your existing furniture or cabinets are in one type of wood, that doesn't mean your shelves necessarily have to match. Contrasting different wood types in one space can create a rich, visually textured design.
Cut
Did you know that the way floating wood shelves are cut from the log determines their grain pattern? Plain sliced wood is cut into planks parallel to the center of the log (think of a loaf of bread but cut horizontally). The resulting pieces have large, sweeping arch patterns in the grain. This is the most common cut and what most people think of when they envision a wood grain.
Plain sliced isn't your only option, though. Quarter cut wood results from the log being divided into quarters before it's sliced into planks. Instead of the wide arches seen in plain sliced, the grain lines in quarter cut wood are more uniform and narrow.
Rift cut wood is similar to quarter cut, but the angled pattern of the slices once the log is quartered results in even tighter grain lines. It's a popular way to cut high-quality oak.
All of these cuts will make beautiful shelves. However, since floating shelves won't have any elements visible except the wood, the cut significantly impacts the finished look.
End Type
You can also decide the grain pattern at the ends of your floating wood shelves. Horizontal end grain runs parallel to the top and bottom of the shelves, while vertical end grain runs perpendicular. There's no better or worse option; it all comes down to personal preference.
---
Should You Use Studs or Anchors?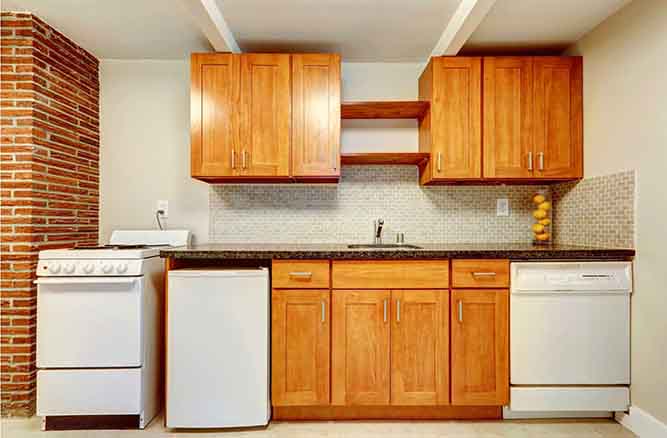 Once you select your perfect shelves, you may be wondering if they need to be installed on studs or if you can use wall anchors instead.
It's important to install floating wood shelves on wall studs for maximum strength and stability. Ideally, all your brackets should be placed directly on studs.
If one of your brackets can't fit on a stud, use a heavy-duty wall anchor rated for more weight than you expect the shelf to hold. Caution will pay off here, as you don't want any sagging or sudden collapses.
Some basements may have metal studs instead of wood, and unfortunately, those can't hold as much weight. To solve this problem, you can reinforce the metal stud with wood to ensure the strength and durability of your shelves.
---
What Do You Need?
Before installation, make sure you have everything you need on hand:
---
How Do You Install Floating Wood Shelves Step-by-Step?
Find your studs using a stud finder.
Mark the stud locations on the wall and check that your marks are level.
If using anchors, use the bracket as a guide to mark the placement of anchors on the wall.
Secure the bracket to the stud with long, high-quality screws. To give the bracket a test, give it a gentle pull. It should feel strong. If using anchors, firmly secure the bracket with those instead.
Move to the next bracket, double-checking each time to ensure all your brackets are level.
Repeat steps 3 through 6 for all of your brackets.
Slide the floating shelf onto the brackets.
Repeat until all your new floating wood shelves are installed.
---
What Are the Weight Limits?
Once your shelves are on the wall, be sure not to exceed their weight limit. How much weight can a floating shelf hold? That all depends on the strength of its brackets. The metal brackets included with CabinetNow's premium floating wood shelves can support 10 pounds of weight per linear foot. It is very important that you take the time to ensure that you do not overburden your floating shelf or use the wrong anchors, as CabinetNow is not responsible for any damaged caused by improper installation.
---
Where Can You Buy Floating Shelves?
Floating wood shelves are a surprisingly easy way to bring a touch of modern style to your home. They deliver practical storage while also lending a sense of airiness and openness to any space. Though they may appear tricky to secure, installing these shelves is well within the scope of the average homeowner. CabinetNow.com offers floating shelves in a variety of beautiful hardwood veneers.
---
Finishing Up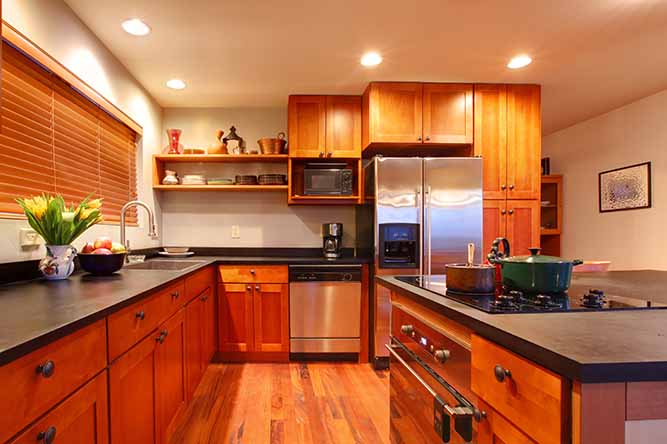 If you are ready to get going on your home improvement project or if you need assistance getting started, please feel free to call us at 1-855-669-5222 or an email to info@cabinetnow.com. Our well-trained sales staff can help you with everything from measuring to ordering.