When your client's kitchen cupboard breaks, finding one that fits their space and needs can be a pain. Even if they just want to update the room, the problem is almost always the same. It feels like every cupboard is designed for people with either half or twice the kitchen size. Use these tips to order a beautiful set that fits the space perfectly.
---
1. Measure the Space
Measure the width, length and depth of the space. Account for all obstacles, such as outlets or pipes. Once you have your measurements, add an extra few inches on each side for wiggle room. You don't want the cupboard to be too snug against the wall.
---
2. Measure the Existing Kitchen Cupboard
If the client has existing cabinetry, consider measuring this as well. Doing so will give you an even better idea of what size you need to order. Depending on how it fits in the spot, you can also adjust the measurements to get the fit you need.
---
3. Confirm the Budget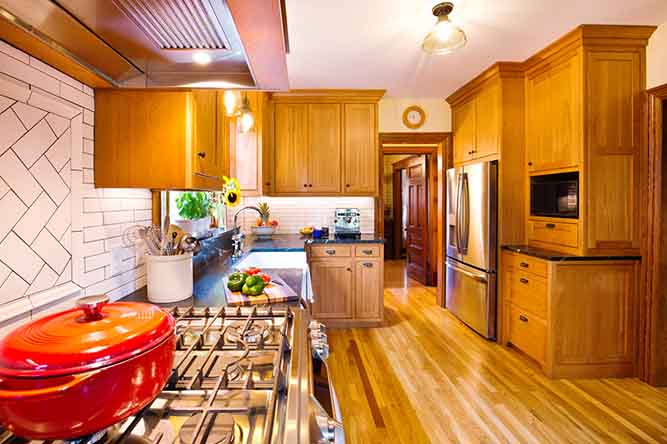 How much is your client willing to spend on a new kitchen? Forbes recommends budgeting for about $150 per square foot of renovated kitchen space. Note that you get what you pay for when it comes to cabinets. Cheaper cabinetry, for instance, is often unfinished or lacks desirable features. Quality features include the following:
Modern fixtures
Gloss or matte finish
Soft-close doors
---
4. Choose a Style
There are many different styles of kitchen cupboards, so give your client time to browse through all of the options. Keep the overall aesthetic in mind. It is perfectly possible to mix and match complementing designs, but combining too many elements can get chaotic. Encourage your client to choose one or two styles and stick to them. Country farmhouse, contemporary and modern are some common kitchen styles.
---
5. Take Your Time
Don't rush the process. Take the time to consider all the potential elements. Doing this will improve the likelihood of finding a kitchen cupboard choice that is as functional as it is beautiful. It also reduces the chances of making mistakes along the way.
---
6. Work With Professionals
A good cabinetmaker will be able to take your vision and turn it into reality. They can also create custom cabinetry that meets very unique needs and fits into unconventional spaces. Choose a cabinetmaker with a history of providing quality products.
---
7. Get a Kitchen Cupboard Quote
Get a quote from a cabinetmaker to ensure they can meet your requirements at the right price. The quote should include the following:
A detailed description of the work that they will do
The estimated time frame for completion
The total cost of the project
Any warranties or guarantees offered by the contractor
Instructions on how to place an order
---
The Bottom Line
Finding the right cabinetry for your client's kitchen doesn't always need to feel like a chore. With these tips, you can make the process a lot easier. Are you looking for premium kitchen cupboards in just 10 days? Order a CabinetNow.com sample today.
If you are struggling with getting started, or you have a list and are ready to talk style and material, feel free to give us a call at 1-855-669-5222 or an email to info@cabinetnow.com. Our well-trained sales staff can help you with everything from measuring to ordering.