Ever wonder why some cabinets cost more than others even if it is the same style? This is because cabinets are made out of many different materials. Cheaper cabinets are made out of materials that are less durable and higher-end cabinets are typically made from more durable and long-lasting materials.
When it comes to choosing durable wood for your next cabinetry project, it ultimately comes down to one thing which is the type of wood species and the finish.
With so many different cabinets to choose from online it's hard to decipher which cabinets are more durable than another. A main factor that determines the durability of a cabinet is the wood species. If you don't know the wood species used for the cabinets you have, you can take a sample to a local lumber yard to find out. Typically, you will need to look at the color, grain, and texture of the wood to be able to determine the species.
---
Types of Wood Species
Imagine being in the Amazon Rainforest surrounded by billions of trees, yes that's right billions! There are thousands of wood species known as of today, both exotic and domestic. Wood is an essential component to our everyday lives. It is used for burning fuel, making paper, and building shelter. So you can imagine there are specific wood species for different purposes. In this case, furniture. For cabinetry purposes, CabinetNow uses domestic wood species to build our cabinets.
We offer 14 different domestic wood species to choose from. These include Rustic Knotty Alder, Alder, Walnut, Cherry, Maple, Pecan, Red Oak, White Oak, and Hickory.
CabinetNow's Wood Species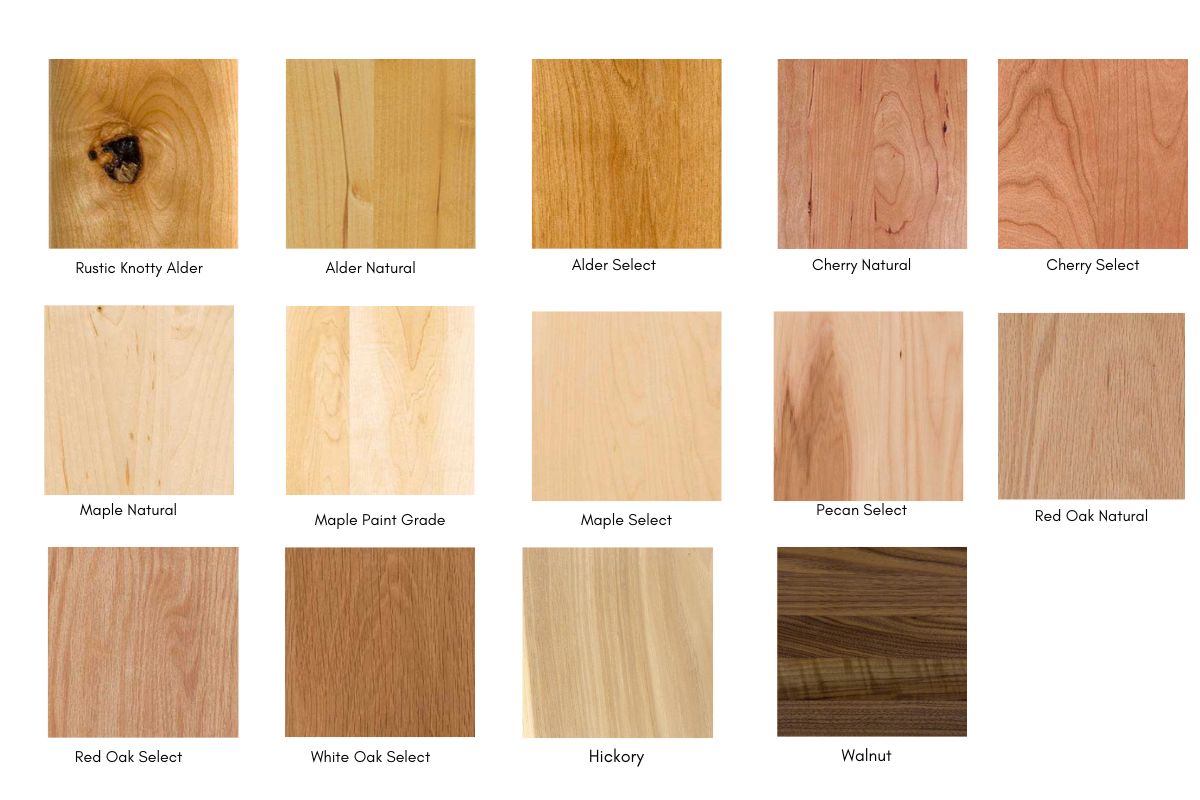 Each domestic wood species at CabinetNow is unique and can be custom to any refacing or remodeling home project. On our materials page, you will find that there are different options for the same wood species such as an alder natural and alder select. They are the same wood, with different cuts.
Natural Wood VS Select Wood
Natural wood has a more natural appearance to it including more knots, color variations, and texture.
Select wood has less color variations and little to no imperfections. Select wood is typically best for painting.
[wood species]
| Wood Species | Grain, Color, and Texture Description |
| --- | --- |
| Rustic Knotty Alder | Rustic Knotty Alder is a soft wood with a blonde hue that has dark brown knots throughout the wood grain. The wood grain is a straight pattern giving the mix of dark brown knots and grain pattern a rustic aesthetic. |
| Alder Natural | Alder is a type of softer hardwood tree that grows in a cone shape. Once exposed to the air, the hue changes from a dark brown to light brown. Alder natural has a consistent grain pattern and texture making it suitable for domestic purposes. |
| Alder Select | Alder select has a tan color with a linear grain pattern and a fine-grained appearance making it a good choice for painting. |
| Walnut | Walnut is a heavier wood species with a deep dark brown hue. While Alder wood is a softer wood, Walnut is a more dense hardwood with a fine grained pattern. It has a veneer-like, polished finish. |
| Cherry Natural | Cherry Natural wood has a hue that ranges from a light-pinkish brown to a light red brown based on exposure to sun and time. Cherry Natural is a softer hardwood with an overall uniform grain pattern but some natural characteristics such as pin knots and color variation. With a softer hardwood, the texture is smooth. |
| Cherry Select | Cherry Select has a hue that ranges from a light-pinkish brown to a light red brown. While Cherry Natural contains more natural characteristics such as pin knots and color variation, Cherry Select has a consistent color and grain throughout the wood. |
| Maple Natural | Maple Natural is a hardwood that has a very light, creamy hue which is why most people choose Maple wood for painting. It has an overall uniform grain pattern and texture which is not very visible because of the light hue. |
| Maple Paint Grade | Maple Paint Grade is maple hardwood that is meant for painting. It has little to no knicks and knots, a consistent grain pattern, and smooth texture great for painting. |
| Maple Select | Maple Select has the same light shade and less color variations than maple natural with a fine-grained pattern and smooth consistency. |
| Pecan Select | Pecan Select is a hardwood that has a golden hue with reddish undertones. It is a dense wood with a linear grain and more coarse texture |
| Red Oak Natural | Red Oak Natural is a hardwood that is heavy and has a linear grain pattern with a coarse texture. The hue ranges from a light brown to red brown. |
| Red Oak Select | Red Oak Select is similar to Red Oak Natural except it has a more uniform texture and grain pattern. |
| White Oak Select | White Oak Select is made from an oak tree just like red oak. White Oak has a linear grain pattern and coarse texture to it. The hue ranges from a light brown to tan. It is an extremely dense hardwood. |
| Hickory | Hickory comes from a hickory tree. It is a hardwood that is dense and has a reddish brown hue. Hickory has a linear grain with a coarse texture. |
---
Cabinet Durability
The durability of cabinets depends mainly on the type of wood species you purchase. So, how do you know which wood species is the most durable? You determine if the wood is either a hardwood or softwood. This determination is identified by the tree the wood originates from. But, don't worry we have broken down each domestic wood species and ranked it from the most durable to the least durable. But first, what is the difference between hardwood and softwood?
Difference Between Hardwood and Softwood
There are two groups of wood which are hardwood and softwood. Home Depot explains that the wood industry specifies which wood is the most durable using the Janka Rating System which determines the density of wood. Hardwood is if the tree breeds hard coated seeds, while softwood produces cones and needles. If you press your fingernail into wood and it dents, it is softwood. If you press your fingernail into hardwood, it will not dent.
Softwood trees grow quicker than hardwood so the supply is greater, making softwood a cheaper option. Although hardwood is more durable than softwood.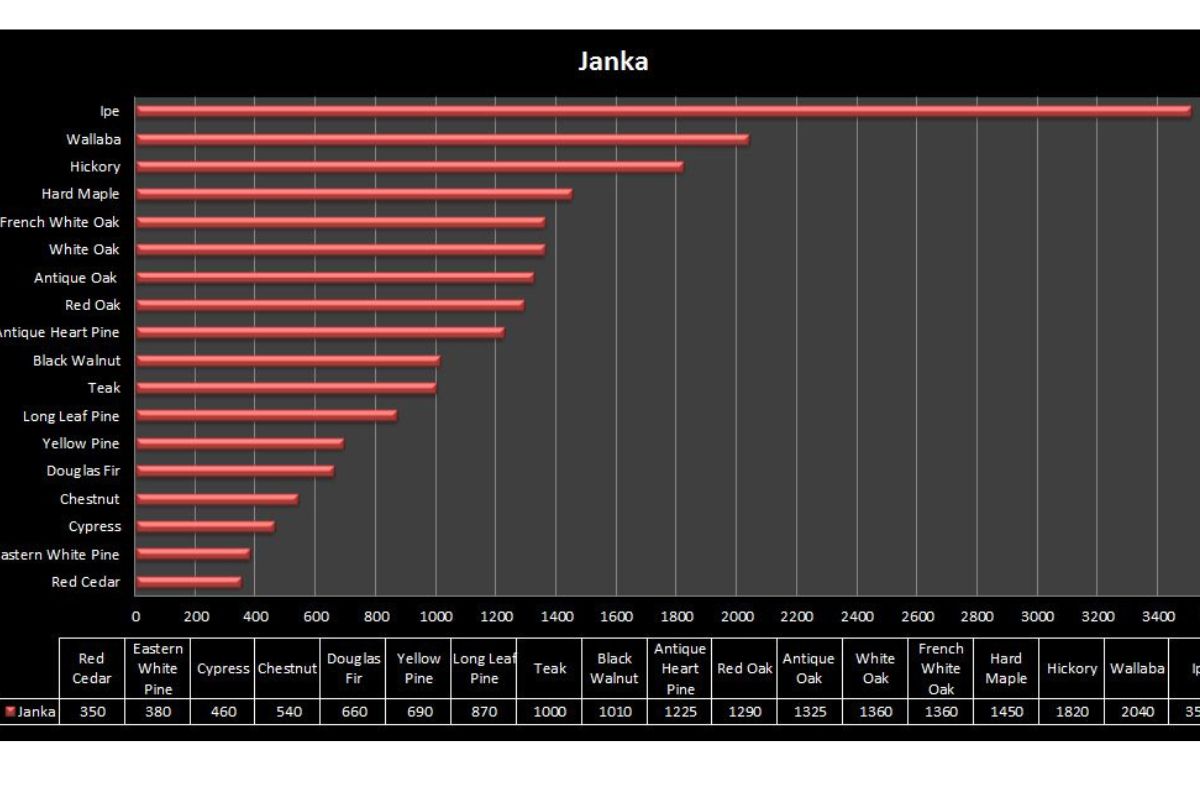 [source: Woodco.com]
CabinetNow's Most Durable Wood Ranked
While most wood is durable enough to be used for furniture or specifically cabinets, there are certain wood species that rank higher in durability based upon if the wood is hardwood or softwood which determines the density of wood.
The density of wood is the total amount of wood in a unit volume. MT Copeland explains that the density of wood is measured by taking the ratio between wood that has been exposed to air for a period of time which allows time for moisture to evaporate and dividing that by freshly cut wood that holds a great amount of moisture to find the water capacity of wood which helps determine the density. The higher the density of wood, the more strength the wood can withstand. The lower the density, the less strength and durability.
1. Hickory
Hickory is the most durable domestic wood. Hickory is the one of the strongest domestic wood species you can invest in because of its hardness and strength. It typically is more expensive because it is considered a higher-end wood species. It can combat water damage, scratches, and cracks. This hardwood is a great investment if you want your cabinets to last you for decades because it has a long life-span.
2. Pecan
Pecan is in the family of hickory because it derives from hickory trees. It is also considered a high-end, expensive wood because of its durability. Pecan is a hardwood used in many projects which is why it is commonly used for kitchen cabinets. Pecan wood is an ideal choice for long-lasting cabinets and can resist decaying, scratches, dents, and moisture.
3. White Oak
Oak is the one of the strongest hardwood you can purchase for cabinetry. The grain of oak wood is defined enough to be seen through a stain and white oak is a great choice for modern kitchens and cabinetry projects. If you want to avoid wear, tear, and moisture damage white oak is one of the most durable wood species for domestic purposes and it has a long life expectancy.
4. Red Oak
Red Oak is in the family of oak trees and species and is one of the most durable wood species you can use for just about anything, especially furniture. Red oak is a hardwood that is heavy and resistant to any damage. It is a top tier wood you can purchase for cabinets.
5. Maple
Maple wood is one of the strongest domestic hardwoods. It can withhold a lot of weight and is resistant to knicks, scratches, and has great moisture resistance. The density of this hardwood is very high, making it a durable option for cabinetry and lasting for decades.
6. Walnut
Walnut wood is one of the most dense hardwood species making it a durable option for furniture, specifically cabinets. While it isn't as hard as oak, hickory, or maple it is still a hardwood that has an impermeable barrier great for moisture resistance and can avoid ordinary scuffing and dents.
7. Cherry
Cherry wood is considered a softer hardwood meaning it is less dense than a harder hardwood. Nevertheless, cherry cabinets are considered trustworthy cabinets because they still have strength to them. Being a softer hardwood, cherry wood is more susceptible to dings and scratches but the colors in the cherry wood help to blend scratches in easily.
8. Alder
Alder is considered the softest of all hardwoods. It is lightweight, but still a durable option for cabinets because of its uniform wood grain and even texture. While it can be more at risk for dents and scratches because of the softer wood, it is surprisingly still a sturdy choice for cabinet doors, specifically.
---
Finishes For Durable Wood
Adding a finish to raw wood cabinets does not only elevate the appearance of your cabinets, but it can also protect the wood. While wood species is the number one important factor when choosing a durable wood for your cabinetry, another key factor to consider is the finish you choose for your cabinets. A finish like a clear coat, stain, primer or paint seals and protects the wood from any scratches, stains, knicks, scuffs, decaying, and water damage. There are many different ways you can add a finish to your cabinets.
Ways To Add Finishes to Wood Cabinet Doors:
Clear coat on unfinished wood door
Stain wood door
Primer, paint, & clear coat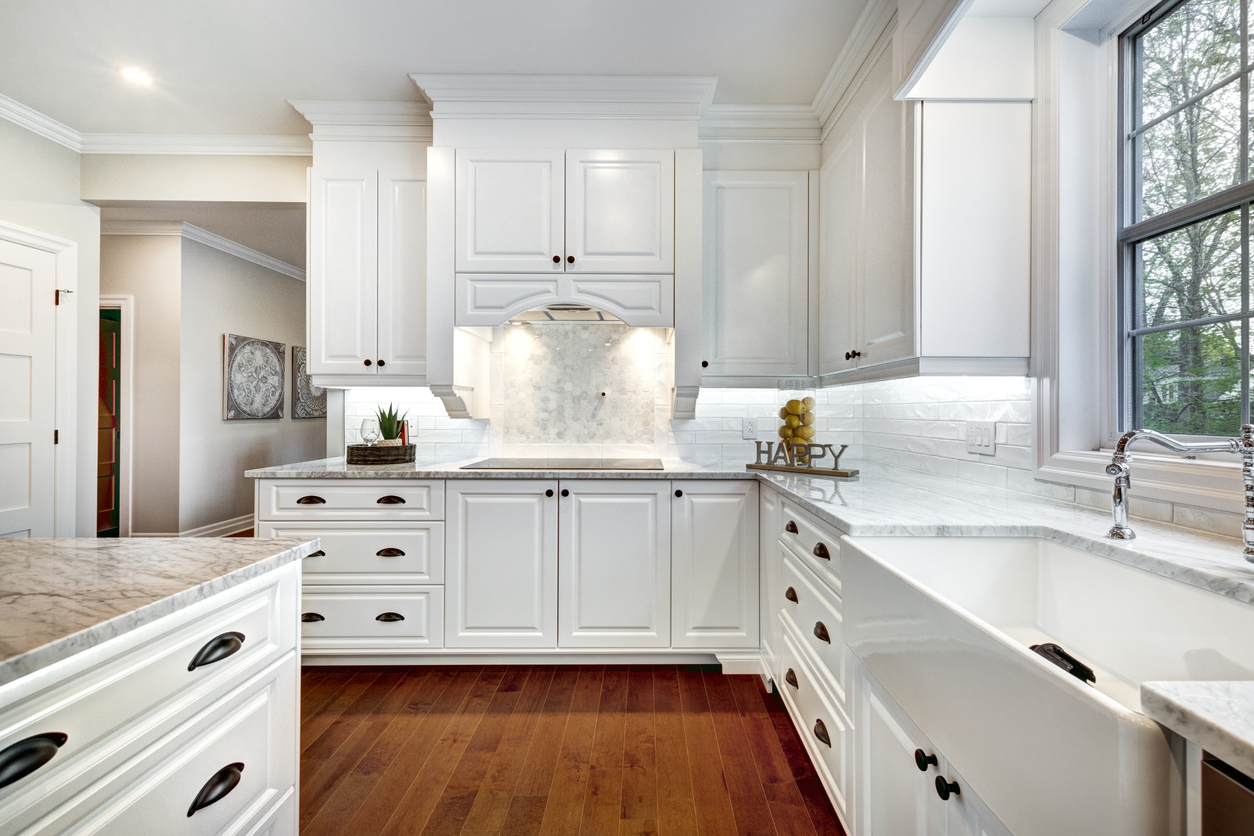 CabinetNow offers unfinished wood doors that you can add finishes to yourself. Or you purchase finished doors. We offer wood doors with a clear coat already painted on, white pre-primed wood doors ready for paint, and fully finished doors with a primer, paint, and clear coat using Sherwin Williams paint colors.
Wood is interesting to study. It is a fibrous, organic tissue that is derived from a living tree. The material of wood is sensitive to exposure to sun, light, and air. Once forestry cutting practices are used on the trunk of a tree, the wood is susceptible to change since it is not connected to a living tree. Chiltons describes that all hardwood go through an organic development of aging where the wood color changes slightly. When exposed to light and air, lighter woods age to a darker hue and darker woods age to a lighter color.
Naturally, wood will age but a finish can help slow down the aging effects, because it acts as a barrier between the wood and air. Investing in a good finish is an ideal option because in the long run this will help prevent the wood from decaying.
Adding a finish not only slows down the aging process, but can also prevent scratches, knicks, scuffs, stains and water damage. If you have a lot of activity and movement in your home, having an extra barrier between the raw wood and external influences can save you a lot of trouble because it will protect your raw wood from wear and tear.
To prevent water damage, polyurethane, varnish, and lacquer all have great properties for moisture resistance when searching for a finish for wood.
When choosing which finish best suits your project, a stain with a clear coat to top it off is a great option if you want the natural wood grain to show through. A primer and paint finish topped with a clear coat is an ideal choice if you want a specific color on your wood cabinet doors and custom cabinet boxes.
---
Why Does Wood Durability Matter
Due to the amount of time and money you are investing, it is important to do your research to ensure you get the best value. Every cabinet project is custom to each individual. What makes a cabinet good is the quality which is why we are here to inform you of the facts so that your cabinets can last you decades.
The durability and density of wood matters because it can help you determine which wood species is best for your project based on external factors such as the location, people, and economy surrounding your cabinetry project. Whether you are looking for longevity, durability, or budget saving wood, durability matters.
---
Conclusion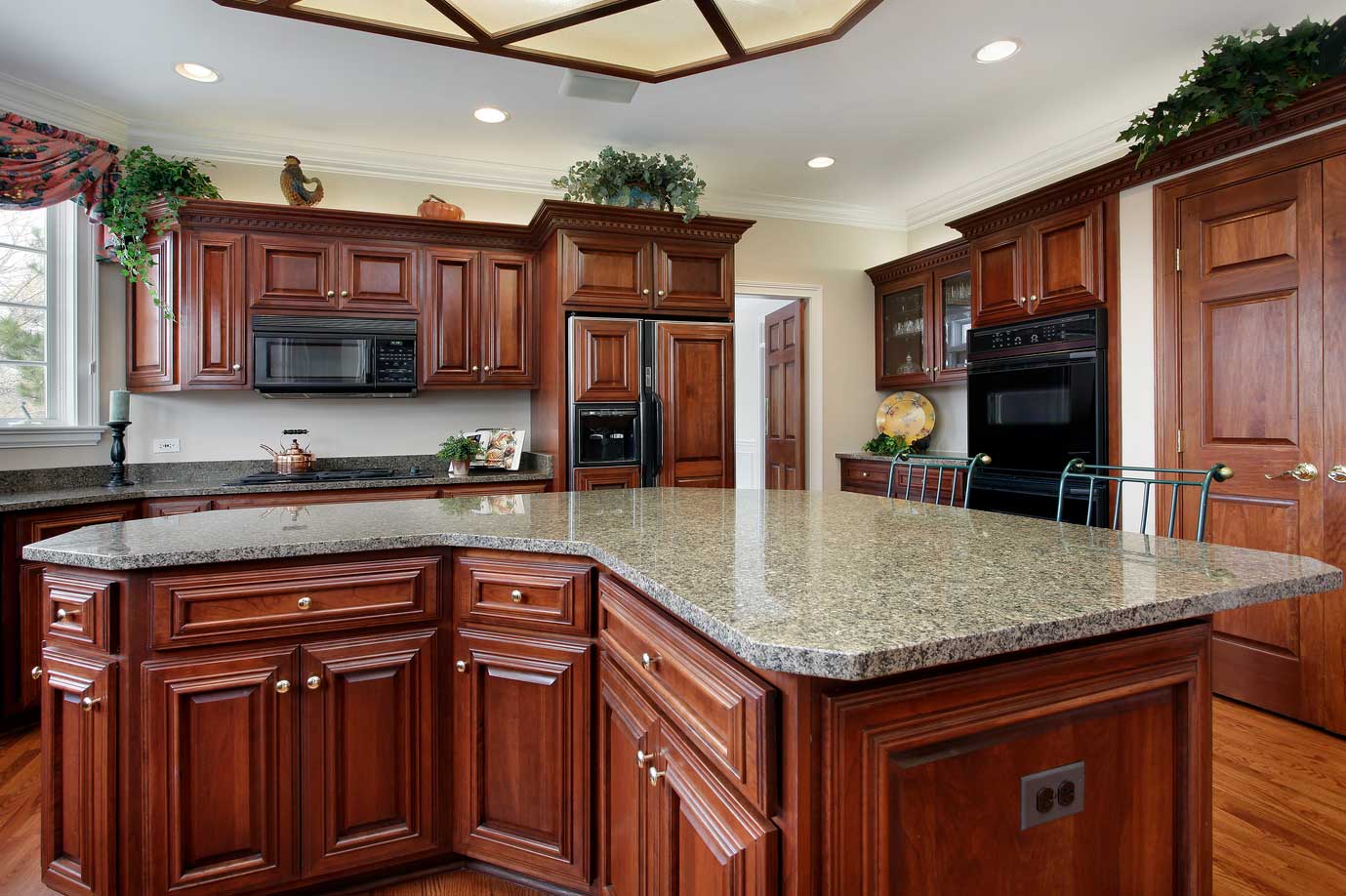 Cabinet durability is often overlooked when replacing or browsing for new cabinets but this factor is important. Each wood species is unique and has its own properties that determine the density and durability of the wood itself. While oak is one of the most durable hardwood and would benefit a project looking for decades of use, alder is the softest wood that might benefit someone looking for a more cost-effective solution. It all comes down to personal preference!
If you are looking for premium and durable wood cabinets, choose a hardwood such as oak, hickory, or maple and top it off with a finish and you should be set for years to come!
If you are ready to start ordering or if you need assistance, please feel free to call us at 1-855-669-5222 or send us an email at info@cabinetnow.com. Our team of cabinet experts are here to help with everything from measuring to ordering. You can also fill out our custom cabinetry request form for a free quote which includes a 3D render and layout design from our professional designers!