Mudroom Ideas That Add Storage To Your Space
Whether your entryway is tired and in need of an update or you want to create a whole new organized space, you need mudroom ideas so you know what is possible. CabinetNow is here to help. We have cabinets, doors, and drawers that can take your mornings from chaotic to serene.
Imagine no more scrambling for backpacks, keys, boots, shoes, sports gear, or homework when trying to leave the house. Envision a stylish entrance to your home that you aren't embarrassed for others to see. Know that everything can have a place in a room that adds to the ambiance of your home.
Top Mudroom Ideas
Every homeowner or family may use their mudroom differently. For homes in colder areas, this space is vital for protecting the other parts of the house from tracked rain, snow, mud, or salt. Others may live in more temperate climates but still need a place to house all the daily necessities for school, work, and sports. No matter what your needs are, CabinetNow has the solution.
Organization Is Key
When organizing your entry area, consider everything that you typically need when leaving the house. Alternatively, it may be easier to remember all the things dropped in front of the door in the afternoons! Your plans need to include different solutions for various items, such as:
Backpacks, briefcases, and bags
Schoolwork
Keys
Boots and shoes
Coats
Sports gear
Hooks
Bags and coats need hooks. This solves two problems. The first is keeping these belongings easily visible and accessible. The second is giving them a place to drip dry when they have been in wet or snowy weather.
Many homeowners also like having their keys in a central place, particularly if there is a shared vehicle. Hooks are a handy way to store a keyring near the entryway.
Baskets
Baskets are another great option to add to your mudroom ideas to organize open shelving. They are ideal for small items like keys if you aren't comfortable with them being visible near doors. If you have remotes for detached garages or storage room doors, this is another way to keep them in a central spot where they won't be lost or misplaced. You can even label the baskets for items like papers or homework that needs signing.
Don't Forget the Seating
No one wants to be hopping around on one foot trying to remove or put on boots. You need seating that allows for a secure place to sit and remove footwear. You can have it padded for comfort or leave it bare to serve double-duty as extra storage when not needed for seating. It also gives you a place to wait on that family member who puts everything off until the last minute, leaving everyone lingering by the door.
Extra Storage Is a Must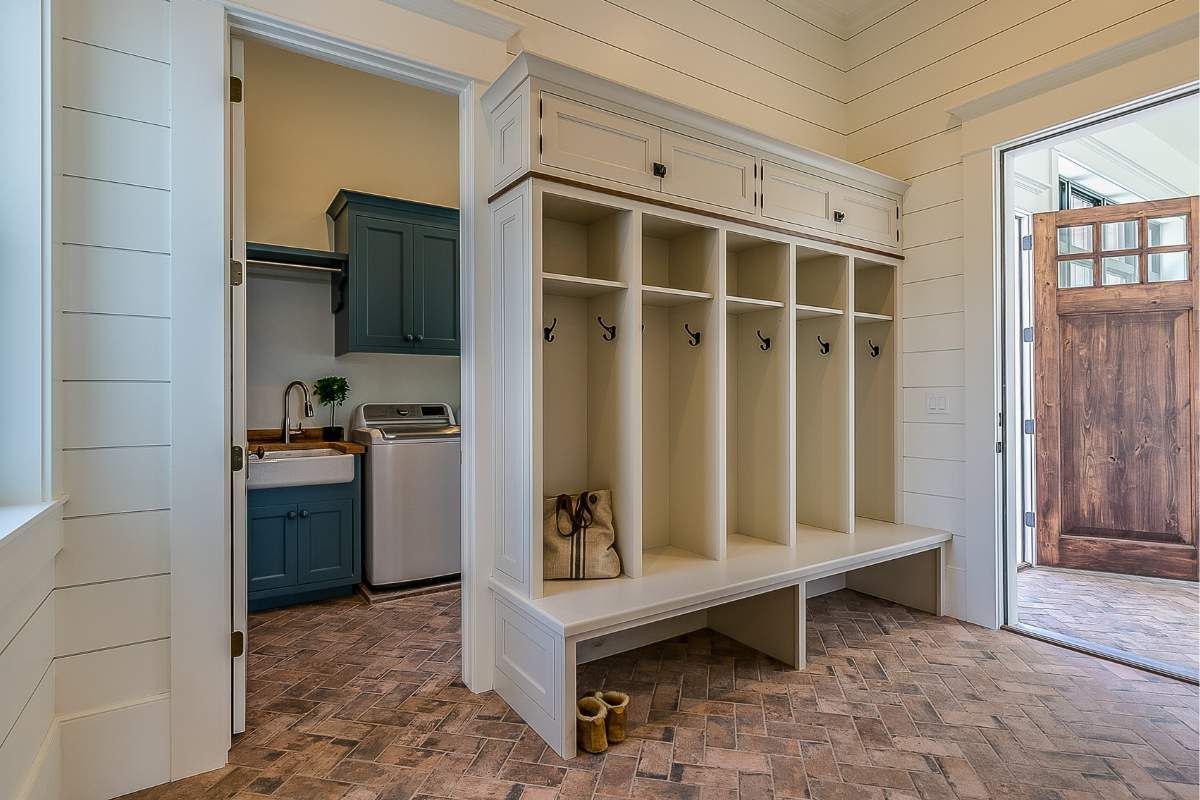 Storage is one of the most important considerations when collecting mudroom ideas.
Drawers
Drawers come in a variety of sizes, from small to very large. They give you a way to keep seasonal items tucked away until you need them. They are a great alternative to cabinets when you have several stacked items that you need access to, such as linens, placemats, or towels, to keep them where you can see and reach them without moving something else.
Cabinets
Built-in cabinets are key to a beautiful, clutter-free mudroom. CabinetNow has many types of cabinetry to give you a wide variety of storage solutions. You can mix and match open cabinets and cabinets with doors.
Adjustable shelves are another great idea for your cabinets. As your family grows, needs can change. Being able to place shelves further apart or closer together can preserve the functionality of your cabinets. You may also want some cabinets without shelves for tall boots or other items like brooms, snow shovels, or hockey sticks.
Style Is an Important Element of Mudroom Ideas
Whether you are sprucing up a dated mudroom or building a new one, don't forget the style elements. You can easily modernize the look of outdated decor by installing new cabinet doors. CabinetNow offers many options to fit your design aesthetic with a custom look without breaking the bank.
Cabinet Doors
Our cabinet doors are available in wood, laminate, and MDF. They come in styles that range from shaker to flat, solid to glass, and painted to thermofoil. You are sure to find the exact look to transform your cabinets from drab to fab, even if you are on a budget.
Drawer Fronts
Your drawers may need updates as well. They can easily show age and wear, making your mudroom look tired and forgotten. Our drawer fronts come in several styles to coordinate and complement your cabinet doors. Choose from solid, 5-piece, routed, or mitered styles in painted, veneer, or thermofoil finishes.
Factors To Consider When Deciding on Mudroom Ideas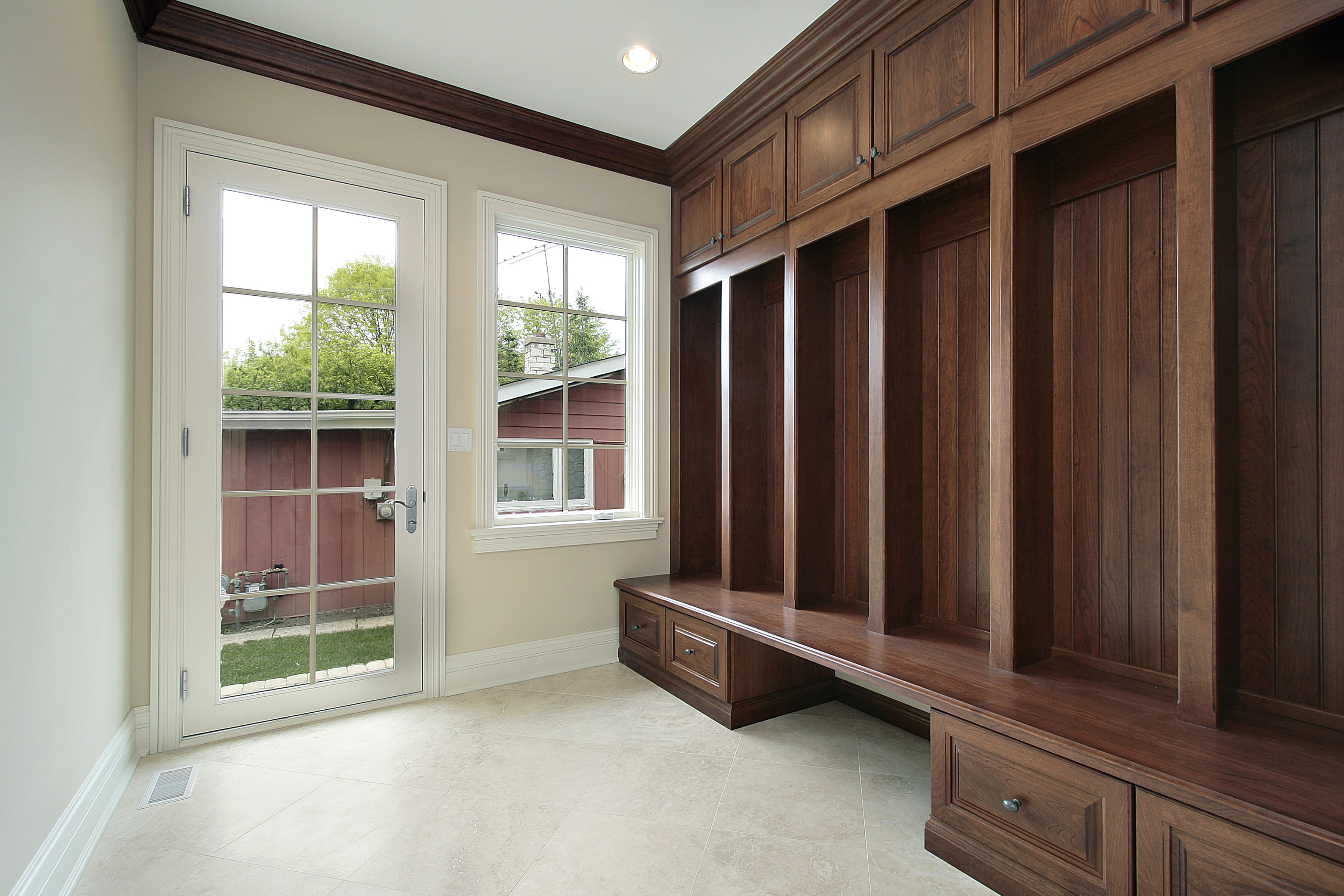 When planning your mudroom, follow these tips to stay on track and get what you want out of it:
Have a plan: You can go in circles with endless ideas if you don't have a strategy in mind. Identifying your main goals is key.
Keep functionality in mind: How you will use the space is critical to being happy with the result. List your pain points so you know what you need to improve the functionality.
Consider durability and scalability: You want your mudroom to stand up to daily use. Consider what your drawers and cabinet doors will be exposed to so you can choose the best materials. Also remember that your needs may change over time as your family grows.
Work with a respected cabinet and drawer supplier: You want to work with a supplier you can trust and who values good customer service.
Let CabinetNow Help You Realize Your Mudroom Ideas
When you need help turning your mudroom ideas into a reality, turn to CabinetNow. We specialize in cabinet boxes, doors, drawer boxes, and drawer fronts. If you have questions about the right options for your needs, we have the answers. Contact our helpful cabinet experts today and get started on your dream mudroom.