Using Blue Kitchen Cabinets: Designing the Space and Installing Your Cabinets
Blue kitchen cabinets are popular in the latest interior design magazines and DIY home improvement blogs. Kitchen cabinets usually feature neutral tones of white, brown and gray, making blue an unexpected choice that sets your home apart. This soothing and versatile color can blend with various design aesthetics to refresh any kitchen.
---
Blue Kitchen Cabinets and Color Theory
Did you know that the colors in your home impact your mood? Psychologists studying color theory have found that a large amount of blue promotes calm even in stressful situations. This makes blue cabinets the perfect choice to stay zen in a busy kitchen.
---
6 Design Ideas Featuring Blue Kitchen Cabinets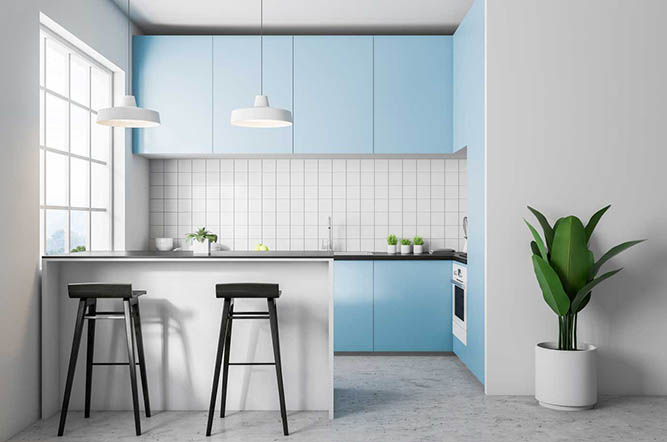 Blue may seem like an unusual cabinet color at first, but it fits beautifully in popular kitchen styles.
1. Mid-Century Modern Kitchen
One of the foremost trends in home design is mid-century modern. This aesthetic blends eclectic 1950s and '60s design elements with 21st-century minimalism. It features both natural and manmade elements, various wood textures and bold colors added thoughtfully.
This style often uses primary colors to evoke the postwar period in American design. According to color theory, large amounts of yellow or red in a room can generate anxiety. That makes blue kitchen cabinets the right choice to add charm and color to a mid-century modern kitchen.
2. French Country Kitchen
Blue cabinets can suit a more classic kitchen as well. The French country style uses warm ivories, airy textiles, and ornate accents to evoke the pastoral. To make this time-tested style feel fresh and exciting, choose a soft cornflower blue for your cabinets.
3. Airy Galley Kitchen
Designing a galley kitchen presents a challenge because all of the elements are close together. Many color choices for cabinets risk segmenting a galley kitchen and making it feel small.
Light blue is the exception. Combined with white, blue kitchen cabinets achieve an open-sky look. Pair white countertops and walls with thermofoil cabinet doors in CabinetNow's denim finish to make a galley kitchen feel spacious.
4. Southwestern Turquoise Kitchen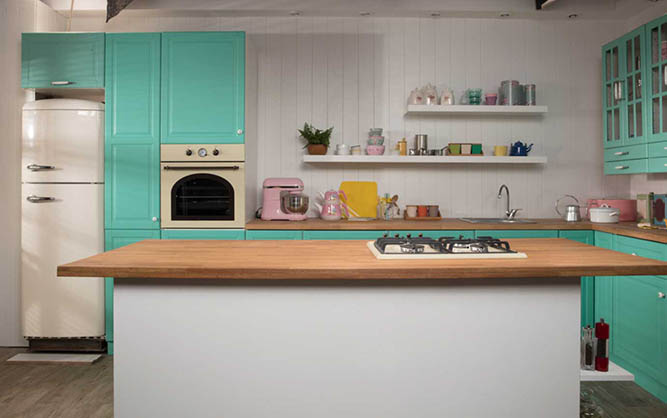 Soft blues function like neutrals, but blue kitchen cabinets can also be a bold pop of color. Bright turquoise cabinets can be the jewels of a Southwestern-styled kitchen. Complement this rich blue color with dark, warm accents and wood tones.
5. Cutting-Edge Contemporary Kitchen
Navy is an unexpected and stylish choice for your kitchen cabinets. Navy blue cabinets are a great way to contrast stainless steel appliances and glass, rounding out an ultra-modern kitchen.
6. Nordic Kitchen
The minimalist style of a Nordic kitchen is elegant, affordable and practical. Without interesting accents, this aesthetic can become sterile and plain, so opt for blue cabinets to add visual interest. Blue is right in line with the soothing oceans and fjords that inspire this style of kitchen.
---
How To Select the Right Shade of Blue for Your Cabinets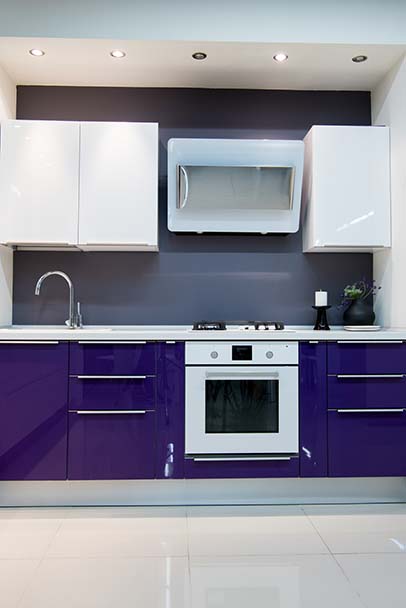 The success of your blue kitchen cabinets comes down to the precise shade you select. In a tight space, avoid dark blues in favor of tones that reflect more light.
Match the Shade to the Style
Let your design style guide your shade selection. Vintage and farmhouse kitchens require a warm, gold-infused shade of blue. Contemporary and Nordic kitchens are cooler in tone. For the perfect mid-century look, choose a pure neutral blue whether you're looking at light or dark hues.
Consider Undertones in Wood and Other Design Elements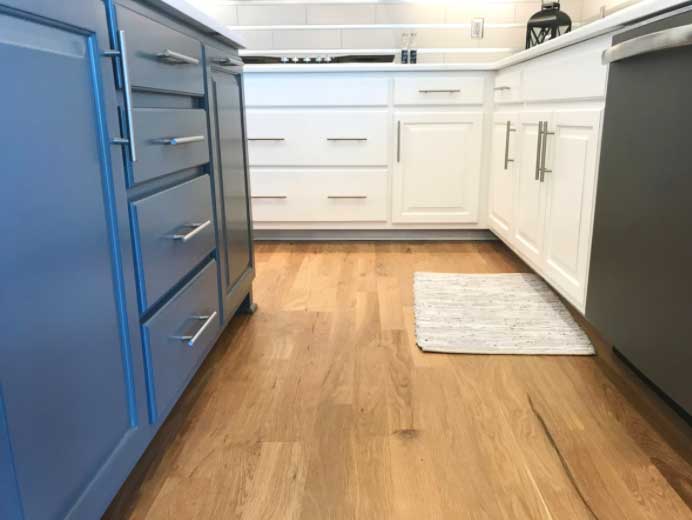 Shades of blue often incorporate yellow, green or red as undertones. Since wood has strong undertones as well, be sure to match your blue kitchen cabinets with your table, chairs, knife blocks, and other wood features. Here are good color matches for various tones of wood:
Turquoise and robin's egg blue contain yellow, matching warm-toned woods such as cherry, hickory or mahogany.
Neutral wood tones such as white oak complement shades that are close to a true primary blue.
Ash, poplar or grey-stained wood matches pale or icy blue cabinets.
---
How To Get Blue Kitchen Cabinets
After you choose a design aesthetic and a shade of blue, there are a few options for incorporating your new blue kitchen cabinets. For a DIY project, simply refacing your cabinets is much easier and less expensive than building new ones from scratch.
When refacing, you only have to purchase new doors, drawer fronts and hardware. Here are a few options:
Blue cabinet doors and drawer fronts directly. This option skips sanding, priming and painting. You can jump right into installation. CabinetNow offers blue laminate cabinet doors, or you can request custom-painted wood cabinet doors.
Pre-primed wood and paint it yourself. Starting from quality pre-primed wood cabinet doors saves time and allows for any shade of blue paint. Apply paint with a high-quality brush at first, then finish with a roller. Layer the paint carefully in thin coats.
Unfinished cabinet doors.Unfinished doors require both priming and painting. They're best for DIY enthusiasts who enjoy working on kitchens.
---
How To Install Blue Kitchen Cabinets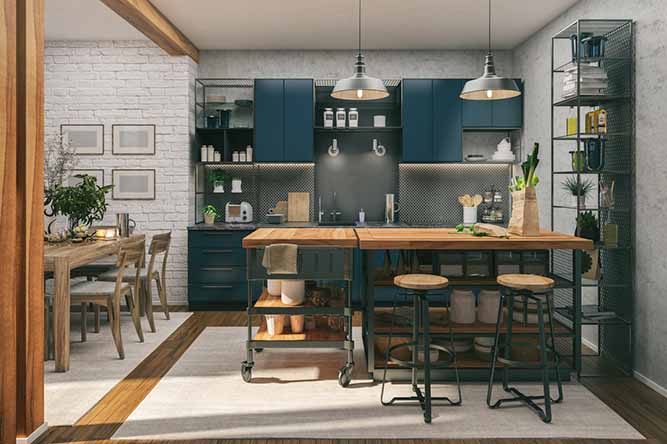 Once you have blue doors and drawer fronts, you can begin installation. First, gather essential materials:
Here is a simplified guide to installing blue kitchen cabinets:
Prepare your kitchen by removing your old cabinet doors and drawer fronts and cleaning all surfaces with denatured alcohol.
Empty your drawers and cabinets.
Install new end panels, if necessary.
Apply veneer to your cabinet face frames.
Mount cup hinges to easily hang the new cabinet doors.
Attach new drawer fronts with screws.
Cabinet refacing is an approachable large-scale project for DIY homeowners. For more details, read CabinetNow's complete guide to DIY cabinet refacing.
---
Where To Purchase the Best Blue Kitchen Cabinets
Blue kitchen cabinets are a smart choice that can fit nearly any style of kitchen. Whether you prefer to use paint or purchase cabinet doors that are already the perfect shade, CabinetNow has everything you need to transform your kitchen with the color blue. Browse our selection of cabinet doors for your kitchen design solutions.
If you are ready to start ordering or if you need assistance, please feel free to call us at 1-855-669-5222 or send us an email at info@cabinetnow.com. Our team of cabinet experts is here to help with everything from measuring to ordering.