Do you want to create eye-catching contrast in your kitchen? One of the easiest ways to attain a "wow" factor in the room is to create visual dimension by painting your kitchen cabinets with a two-tone finish. It instantly adds depth and contrast to accentuate the doors, grooves, frames, and style of the cabinets without breaking the bank.
Painting your cabinets is a budget-friendly DIY project that virtually anyone can tackle. Why purchase new cabinet's when you can give your older ones a new appearance? Paint instantly livens up an outdated kitchen or puts a fresh shine on a modern space.
---
The Benefits Of Two-Tone Finish: Small Kitchen Or Large Kitchen
Small Kitchen: Painting the lower cabinets a darker color than the top cabinets adds depth to the room and creates a feeling of space which is beneficial for a smaller kitchen.
Large Kitchen: A large kitchen that is painted all one color can feel drab and boring. Two colors instantly create visual interest.
Choosing Colors And Cabinet Surfaces
To ground the room, you should opt to paint your upper cabinets in a light shade such as white, cream, light green, light blue, or gray. Now to create a distinct separation between the upper and lower cabinets, you will need to choose a complimentary dark shade to apply to the lower cabinets. You can also be daring and choose non-conventional color pairings such as burgundy and cream, or forest green and yellow.
If you have a high ceiling in your kitchen and you want to pull the ceiling down to create a more cozy feel in the room then you will want to reverse the above directions and paint the upper cabinets a dark shade and the lower cabinets a lighter shade.
Materials Needed to Create Two-Tone Finish Cabinets
Paint and Primer Combination in Semi or High Gloss - Two Shades of Paint

Trisodium Phosphate (TSP)

De-Glosser

Protective Rubber Gloves

220 Grit Sandpaper

Paint Brushes

Painter' Tape

Mini-paint Rollers

Cleaning Cloths

Screwdriver

Wood Filler

Cloth Rags

Labels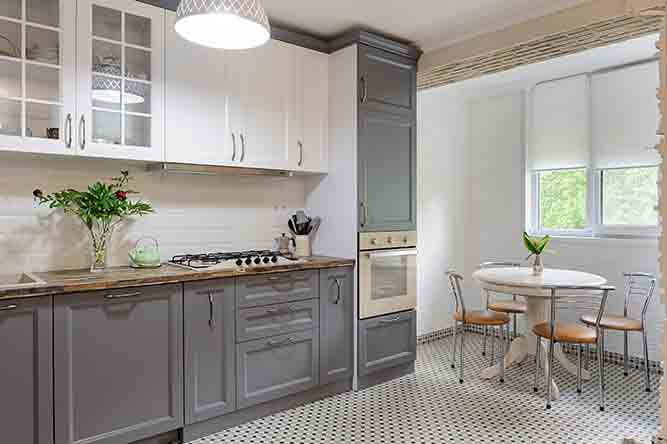 ---
Steps Required To Create Two-Tone Finish Cabinets
Remove all cabinet doors, drawers, hardware and hinges using a screwdriver.
Label the cabinet doors and drawers using post-it notes so you remember where they went.
Place the hardware and hinges in a safe box with all the necessary screws.
Look closely at the cabinets, drawers, and all surfaces to be painted. Inspect the surfaces for any cracks or imperfections. Use wood filler to fill in any holes or cracks. Allow the wood filler adequate time to dry.
Sand the cabinet surfaces. Sanding the cabinets creates a textured surface for the paint to adhere to.
Clean all the surfaces with trisodium phosphate (TSP). TSP is toxic and should be used with caution. Always wear protective gloves and long sleeves when using the substance.
Apply a de-glosser to the cleaned cabinet surfaces using a cloth rag.
Tape off all areas of the kitchen that are not to be painted but which butt up against a painted area. Use painter's tape to protect the surfaces that are not to be painted.
Paint the surface of the cabinet doors, drawers, and cabinet frames. Use a combination of paint brushes and mini-paint rollers to ensure that all surfaces are adequately covered in paint. Remember to use one color first and then use the other color. It is typically easier to use certain paint brushes and rollers for each other color so you don't have to worry about rinsing out the brushes and rollers each time. Always paint with the grain of the wood. Allow the painted surfaces to dry.
Flip over the cabinet doors and drawers to paint the backsides. Always allow the surfaces sufficient time to dry before flipping or handling. After the first coat of paint has dried, it is time to apply the second coat of paint.
Reinstall all the hardware and hinges. Rehang all cabinet doors and reinstall all cabinet drawers.
---
Additional Tips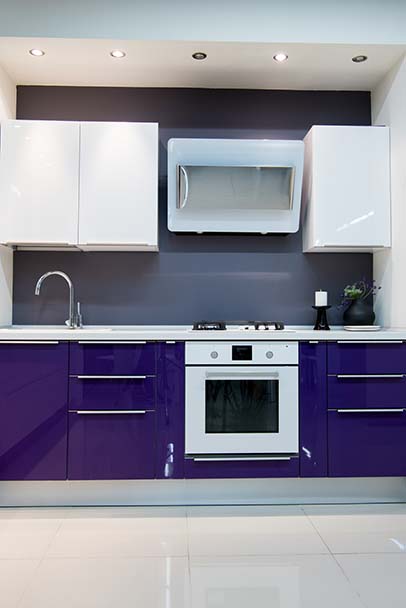 Time-Consuming: Painting your kitchen cabinets in two-tones is a time-consuming process because you will want to ensure that all areas of the cabinet surfaces are adequately covered in paint. You will also want to factor in the dry time that is required between coats.
Drying Time: You should always give each coat of paint at least 24 hours to dry before applying the next coat.
Finishing your kitchen cabinets in two-tone paint colors will make your kitchen an eye-catching room with its own unique sense of style and charm. If you are ready to start ordering or if you need assistance, feel free to give us a call at 1-855-669-5222 or an email to info@cabinetnow.com.