MDF Cabinets and Their Benefits
MDF probably doesn't come to mind when you think of beautiful cabinetry. For most homeowners, one of the first images to come to mind is no doubt beautiful solid woods, grain patterns, and stunning natural tones. It is no surprise that people still believe that solid wood is always the superior material when it comes to building fine cabinets. However, these days solid wood shares a significant portion of that stage with MDF.
MDF, or medium-density fiberboard, is a man-made building material that is constructed from wood fiber, veneer, resin, and wax. These ingredients are heated and pressed together to form large sheets. These sheets range in thickness, but they are highly customizable. In this blog, we are going to take a look at the value of MDF cabinets.
---
Why MDF is the Right Choice

Man-made building materials are often looked down on as cheap or frail. On the one hand, MDF is a cheaper option than solid wood, but this does not mean that it is weak. MDF is a very reliable material, as it is resistant to warping and twisting. The strength, affordability, and customization of MDF have made it the most sought-after building material today.
You likely already have MDF in your home and didn't know it. MDF is often used as the core and is covered by a veneer to give it color or a grain pattern. Bookshelves, coffee tables, and even cabinet doors may be made from MDF that you never notice. Our thermofoil cabinet doors are made by heating and pressurizing a vinyl laminate onto an MDF core.
And so, MDF can be worked into any room of the house with few exceptions. It is an interior material, so it is not suited for high-temperature or high moisture environments such as outdoor kitchens. In addition, if it becomes scratched or damaged, MDF is a bit more difficult to repair. With solid wood, you can simply sand away scratches. This does not work as well with MDF, and it will require a bit more work to cover any problem areas. Now that we have a good idea of what MDF is, let's take a look at the benefits of choosing this material.
---
Benefits Of MDF Cabinets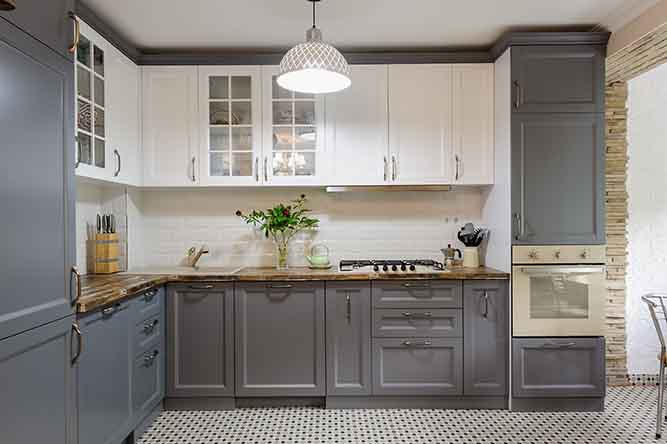 Since it is man-made, MDF has several unique benefits that solid wood does not. We are going to take a look at 6 reasons to love MDF:
Cost-Effective: MDF is cheaper than solid wood, but doesn't sacrifice any strength or durability for the low cost. This helps free up room in the budget for other items.
No Warps & Cracks: MDF expands and contracts with fluctuating temperature and humidity just like solid wood. But due to its structure, and unlike solid wood, this material does not warp or crack. This makes MDF a great choice for larger doors that typically would require extra support if made from solid wood.
Smooth Finish: If you're looking for cabinets with a smooth finish, opt for MDF. MDF does not have a noticeable grain, which gives it a smooth finish. However, this also means that it cannot be stained. If you're thinking of painting your cabinets, we highly recommend MDF for a beautiful smoothness that you can't get from solid wood. Plus when painted, it is difficult to tell an MDF door apart from solid wood.
Water Resistant: If you're installing cabinets in your home's high moisture areas like your bathroom, opt for MDF. Talk to your cabinet retailer and determine what types of MDF have been specifically made to be resistant to water.
Customizable: From shaker doors to detailed raised panels, MDF cabinets come in a wide variety of styles. If you're looking to opt for one of these styles, go with MDF as it is easier to customize. Due to its structure, MDF can easily be drilled into and cut in various ways without causing damage.
Available In Large Quantities: Because MDF is an engineered wood, you can have it manufactured in large quantities. If you're looking for a large piece of wood with no joints, we recommend MDF.
---
Final Thoughts on MDF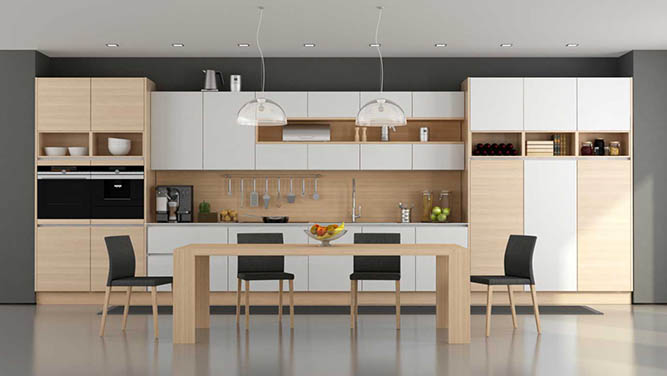 MDF is a great building material because of its versatility and affordability. The possibilities for finishes and styles are nearly endless for MDF, so finding the perfect fit for your space won't be a problem. In addition, our thermofoil doors apply a vinyl laminate to an MDF core that can be made in a wide variety of colors and textures.
If you are ready to start ordering or if you need assistance, please feel free to call us at 1-855-669-5222 or send us an email at info@cabinetnow.com. Our team of cabinet experts is here to help with everything from measuring to ordering.