Posted by John C. on 2018-02-23
If you're the kind of shopper who has trouble making up their mind, then you're going to need a little extra time to pick out cabinet doors for your kitchen-refacing project. That's because we currently offer nearly 180 different doors, covering styles ranging from traditional to contemporary and everything in between. And our doors come in eight different wood species, making your choice even more challenging.
Of course the upside of all these options is that you're absolutely sure to find the perfect door for your new kitchen at a price that fits your budget.
Our cabinet doors are divided into seven design categories, and within each category are dozens of different door styles. As you consider your options, keep in mind that our wood doors come in both stain-grade and paint-grade, allowing you to apply the finish and color of your choice. We also offer a line of ready-to-install Thermofoil doors, which feature a durable vinyl coating that's easily cleaned and extremely low maintenance. And after choosing the doors, don't forget to order matching drawer fronts, as well. Now, let's take a closer look at the seven categories of door designs.
Square Recessed Panel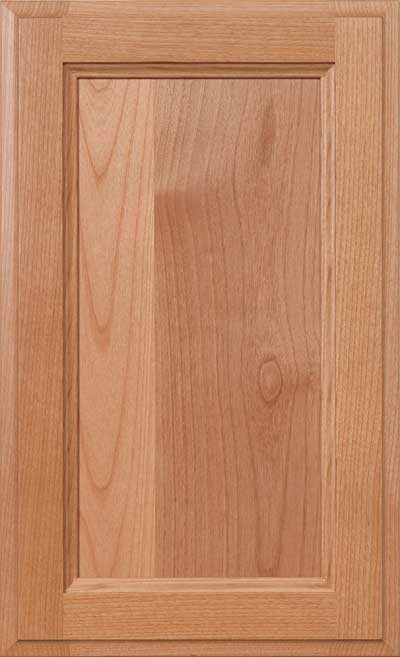 Square recessed panel doors offer quality construction and traditional styling at an affordable price. Each door has a hardwood frame and flat, recessed panel cut from plywood or MDF (medium-density fiberboard). The door shown here is made of natural birch and features a mitered frame. Most cabinet-door frames are square-butted at the corner joints. It's available in two paint-grade types and 16 stain-grade wood species.
Square Raised Panel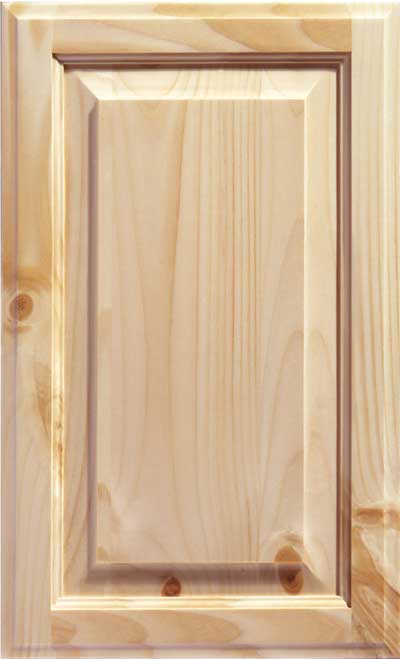 A square raised panel door represents the most traditional—and popular—of all cabinet-door styles. It consists of a solid-wood frame and raised panel, which is also cut from solid wood. We offer 41 different styles of square raised panel doors, including the cherry door shown here that features extra-broad 3-in.-wide stiles and rails. (Stiles are the vertical parts of the door's perimeter frame; rails are the horizontal parts.) It's available in four paint-grade types and 15 stain-grade wood species.
Arch Recessed Panel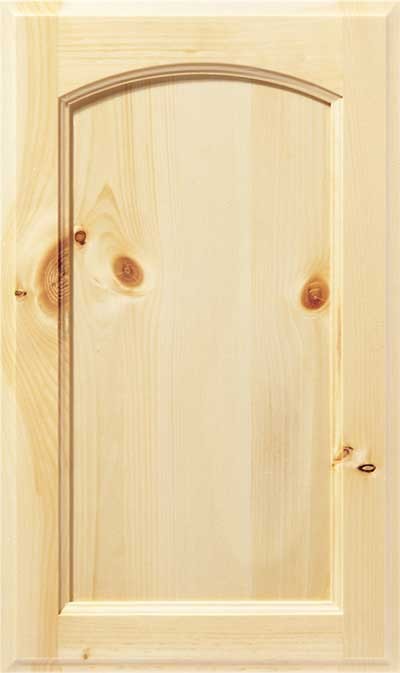 This style is similar to square recessed panel doors, except for one distinct difference: there's a gentle arch cut into the upper rail and panel. The Fiesta cabinet door pictured here represents one of 22 styles of arch recessed panel doors currently available. It comes in four paint-grade types and 14 stain-grade wood species. If you're looking for an arched door with a little more style and architectural interest, check out the ones with an eyebrow or scalloped arch. Or, see the double-arch doors that have an arch cut into both the upper and lower rail.
Arch Raised Panel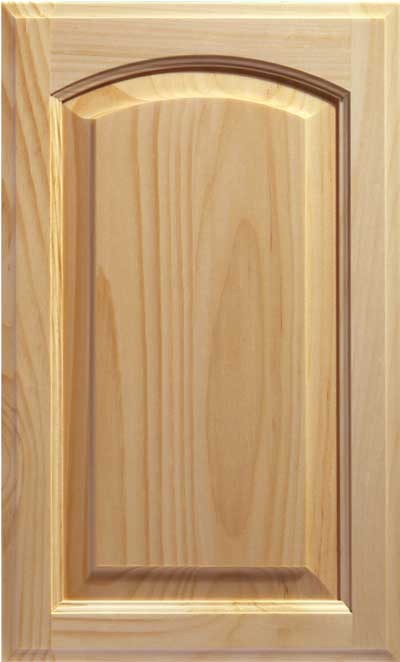 An arch raised panel door is very much like an arch recessed panel door, except that it has a raised panel cut from solid wood. The cabinet door shown here is made of a clear pine and features an attractive scalloped arch. Both our raised and recessed arch doors are available in bell, brow (pictures here), and cathedral style arches.
Shaker Doors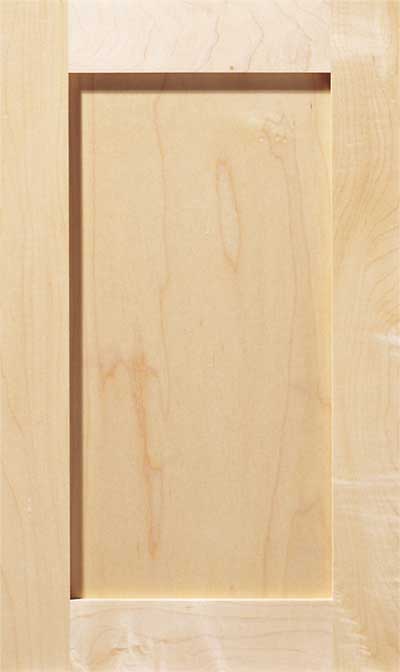 Shaker-style doors are revered for being simple, yet elegant. They feature a hardwood frame and flat door panel. Traditional Shaker doors, like the one shown here, are made out of cherry, but we also offer Shaker doors in alder, red oak, white oak, beech, poplar, birch, maple, knotty pine, hickory and walnut.
Slab Doors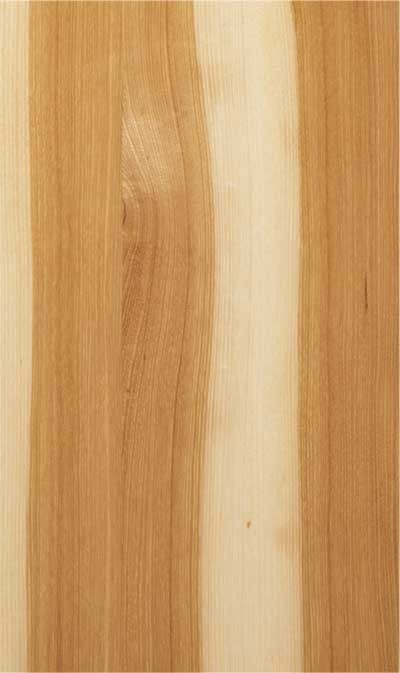 Slab doors, which are also known as flush-panel doors or slab doors, are ideal for contemporary-style kitchens. Our slab doors are available in solid wood, raw MDF, and thermofoil finishes. Slab style doors and drawer fronts are perfect more modern spaces, but with natural finishes they can also fit into transitional designs.
Thermofoil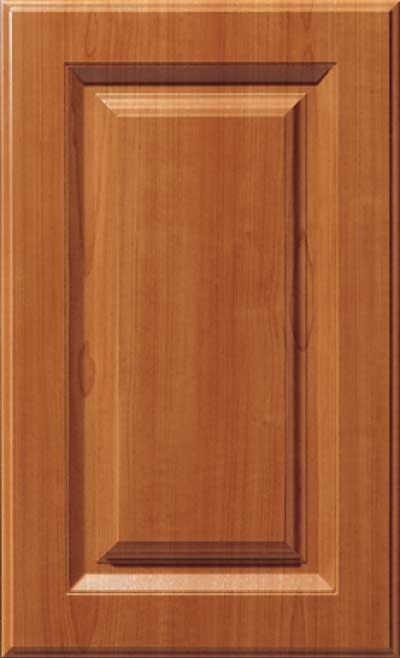 At first glance, this attractive door appears to be an arch raised panel door made of hardwood. But it's actually a thermofoil door, which is a vinyl laminate heated and pressurized onto an MDF core. Thermofoil is resilient, easy to clean and extremely stain- and scratch-resistant. We offer an astonishing 63 different thermofoil doors in a wide range of colors, wood-grain patterns and styles, including those that resemble raised panel, recessed panel and plank doors.
Glass-Pane Doors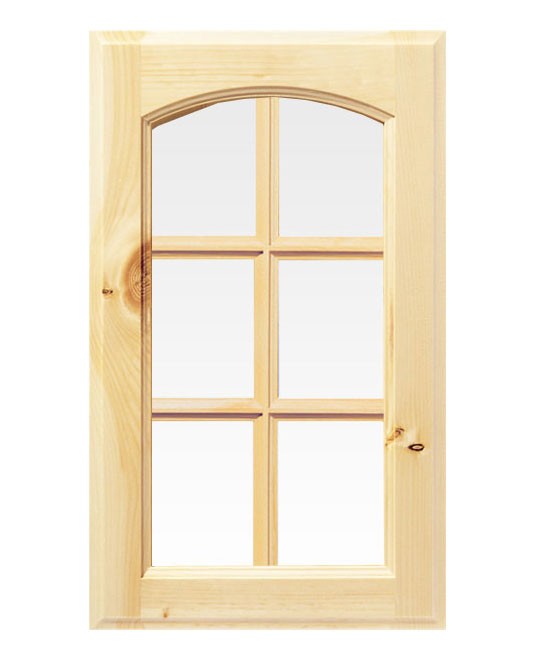 Glass-pane doors aren't a separate category, but instead represent several different door styles that are available in five of the seven design categories. Our doors can be modified to have 4, 6, or 8 French lites, or the panel can be completely open. Nearly all of our doors can be modified to hold glass, but you should note that we do not ship the glass piece.