Customer Success Highlight: Paul
Storage space is likely one of the most, if not the most, important aspects of your kitchen cabinets. However, not all storage is equal, nor is it a one-size-fits-all process. What solves your storage needs may not even come close to helping another person. What is essential about your kitchen storage is that it is designed with you in mind.
In this week's customer success story, we will look at a scenario where the amount of storage was not the primary concern, but rather the way it was designed. Accessibility is a vital consideration for kitchen storage. This is because storage is worthless if you are not able to get to it. Paul and his wife had this issue with the base cabinets in their kitchen. To solve this problem, Paul upgraded their base cabinets with full extension and pull-out drawers. Read on to find out how Paul knocked out this project and upgraded their kitchen storage!
---
Getting Started
When it comes to a project like this, doing your research is extremely important. First, you need to get measurements of the cabinets where you want to install the drawers. Be sure to measure each opening at least twice to ensure that you have the most accurate measurements possible. This is because you will need to be able to order the correct hardware and drawer boxes.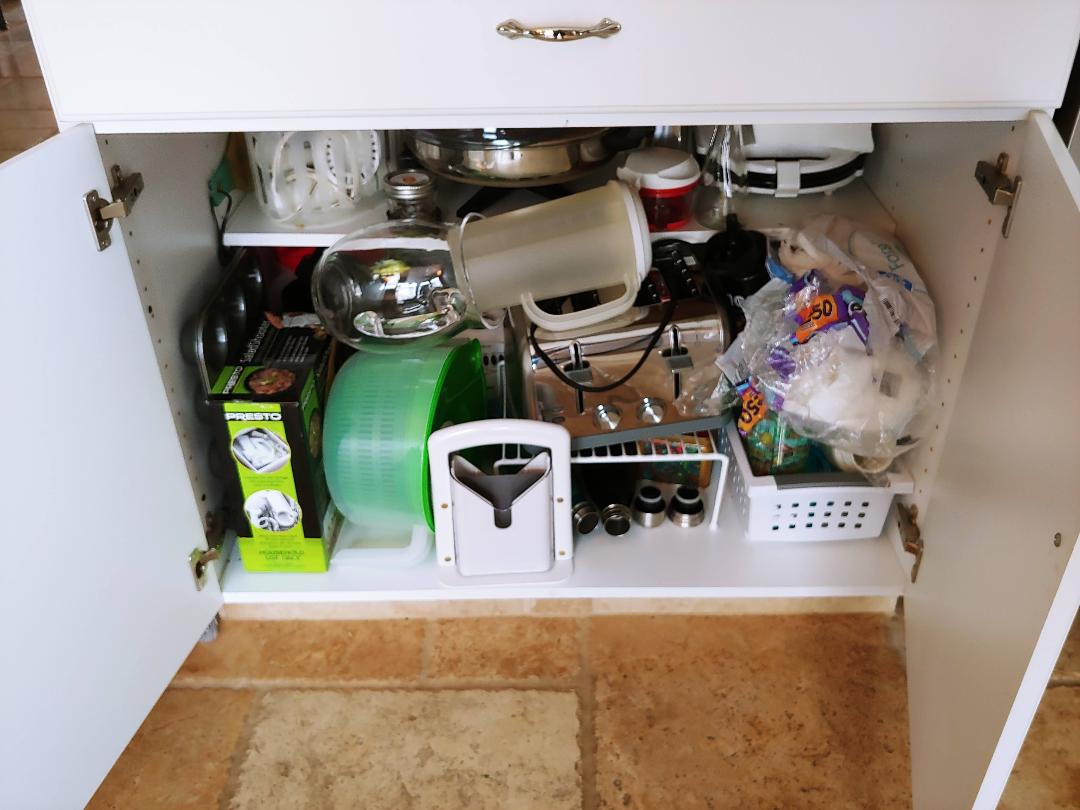 For your drawer hardware, there are two primary styles. The style you choose will help you to determine the size of the drawer box you will need to order. Since base cabinets often hold heavier items like cans or pots, having missed aligned or improperly sized drawer boxes or hardware could cause things to break. And so, measuring twice is a must.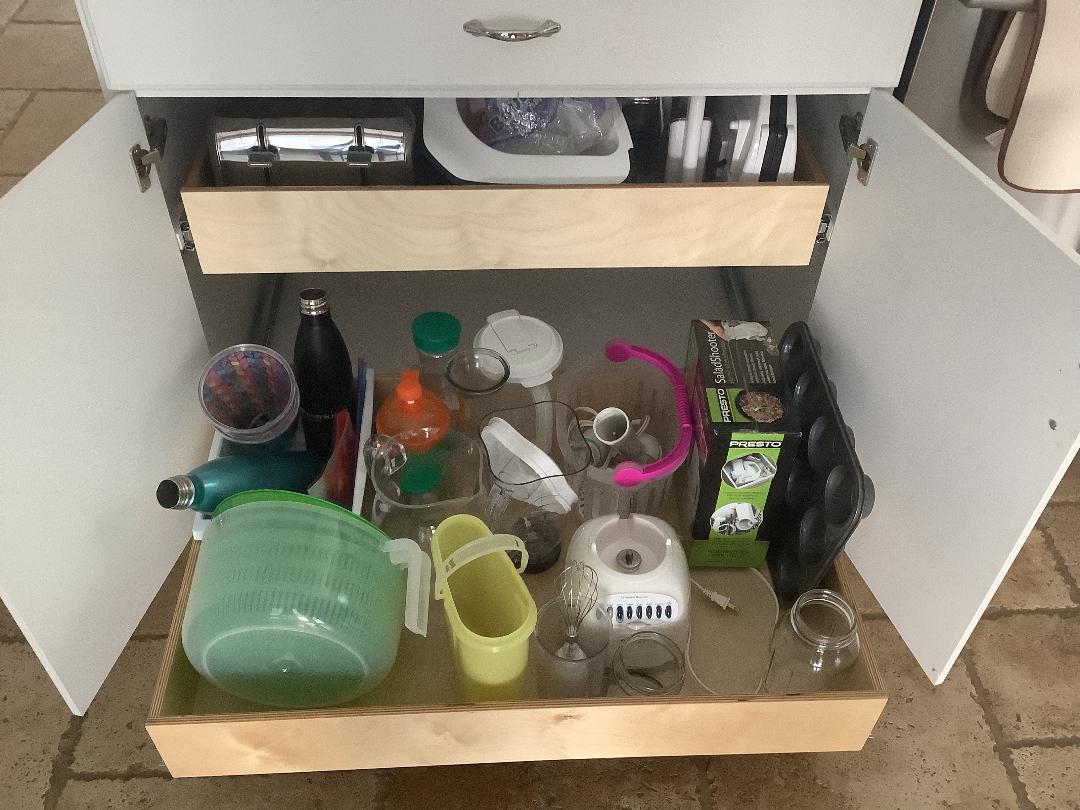 Side-Mount Drawer Slides
As the name suggests, these drawer slides attach to the sides of your drawer box. Side-mount drawer slides will require space in your cabinet box, which means that you have to reduce the width of the drawer box. The exact clearance needed can vary based on the manufacturer and the model, so it is a good idea to decide on your drawer slides before trying to size the box.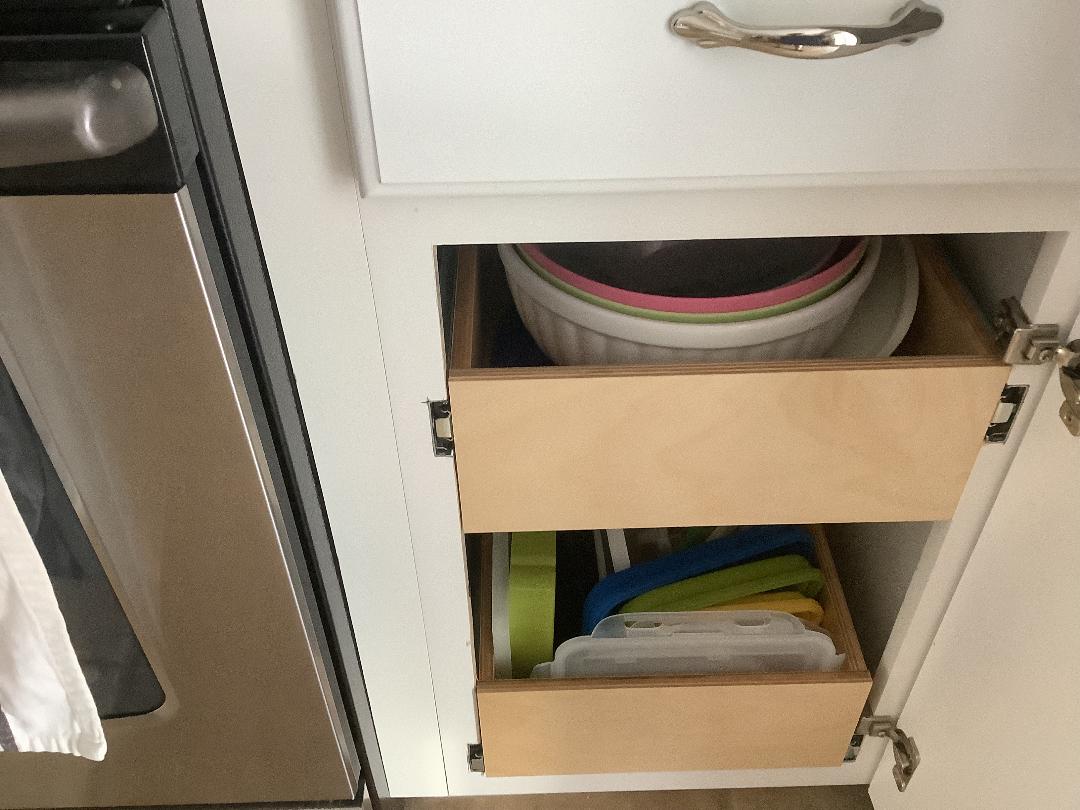 Since you have to decrease the width of the box to use side-mount slides, you will likely also be losing some storage space. Unless that is, you are Paul. In the picture above, you can see where Paul cut notches in the cabinet box's face frame to all the drawer slides to fully extend. This way, he was able to order the drawer box to nearly the full width of the cabinet box opening! And thanks to the overlay from the cabinet doors, it stays a hidden surprise.
Under-Mount Drawer Slides
Another popular drawer hardware choice is under-mount slides. These require notches to be cut on the bottom of the drawer box so that brackets can be installed. Again, it is vital that you first choose your slides so that you are able to properly size your drawer box.
---
Mounting the Slides
The biggest mistake that people run into when installing their drawer slides is that they don't make sure that the slides are parallel. The slides, especially with side-mount, need to be parallel to ensure that they can smoothly slide in and out of the cabinet box. When improperly installed, the slides can break or jam, which will prevent them from being fully opened and closed.
In addition, you will also want to be sure not to overburden your drawers. The manufacturer will give a weight limit for your slides, so if you are planning for a drawer of canned goods, you will need some strong slides.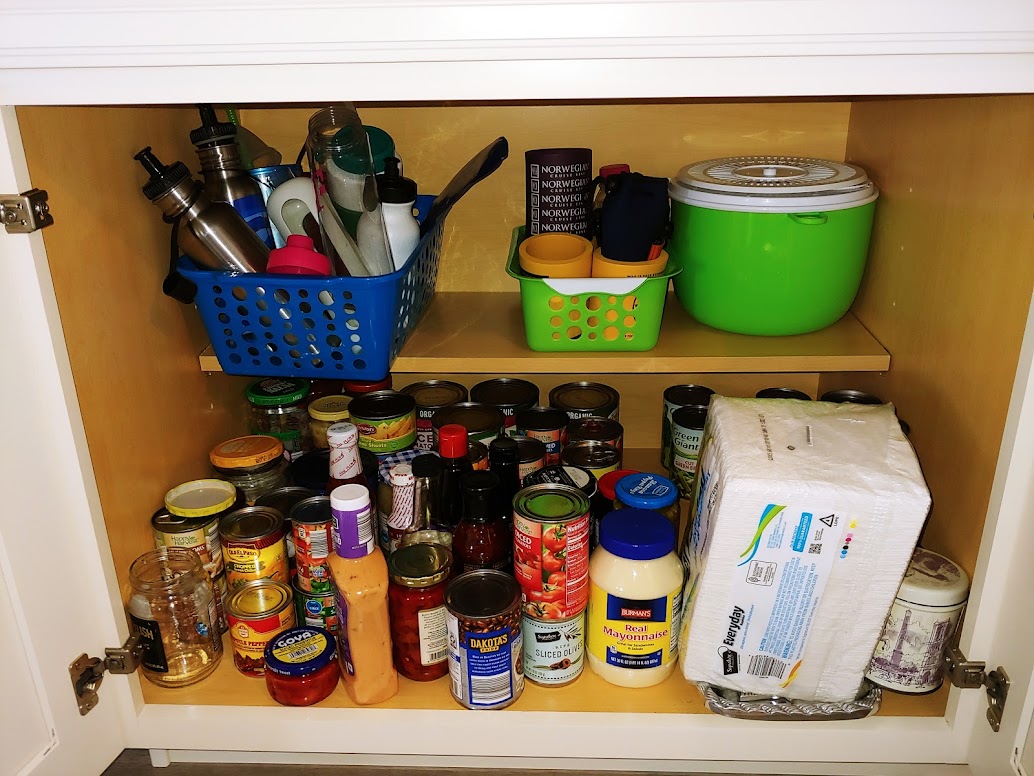 For this reason, Paul choose drawer slides that could support up to 100lbs!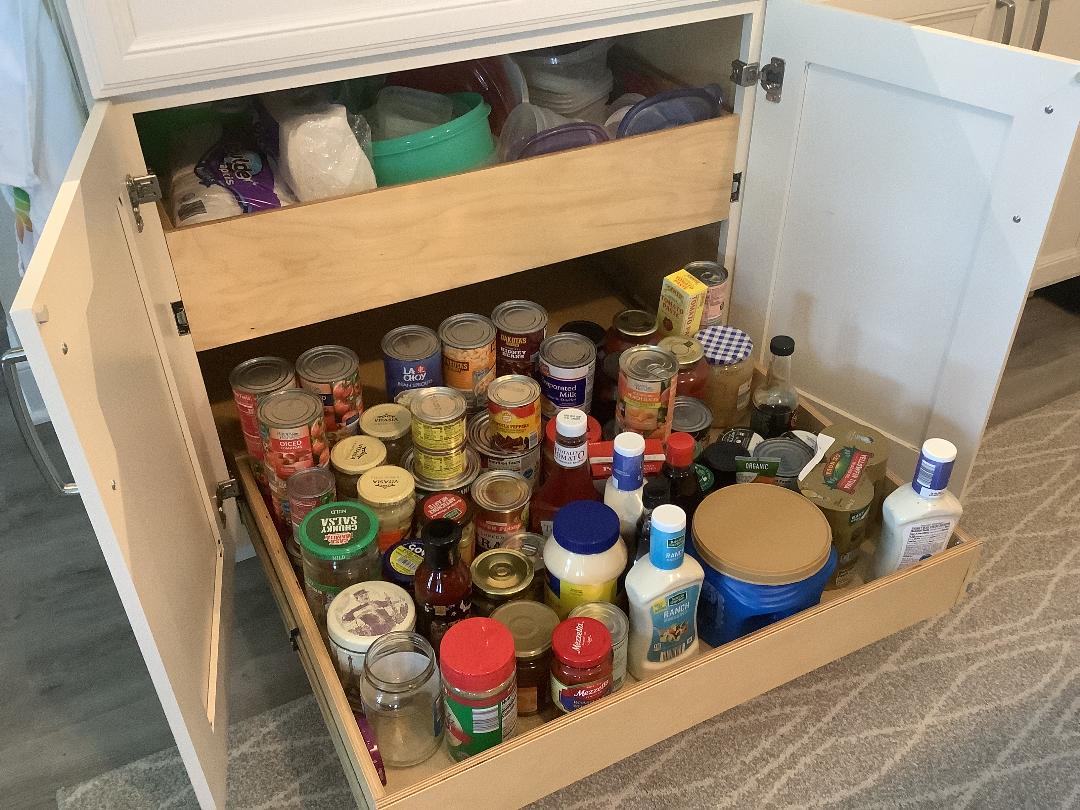 Adding Stability
Paul knew that one of his drawers was going to be used to store canned goods. When fully loaded, this drawer can get heavy. To ensure long-term stability, Paul installed some extra support for his drawers.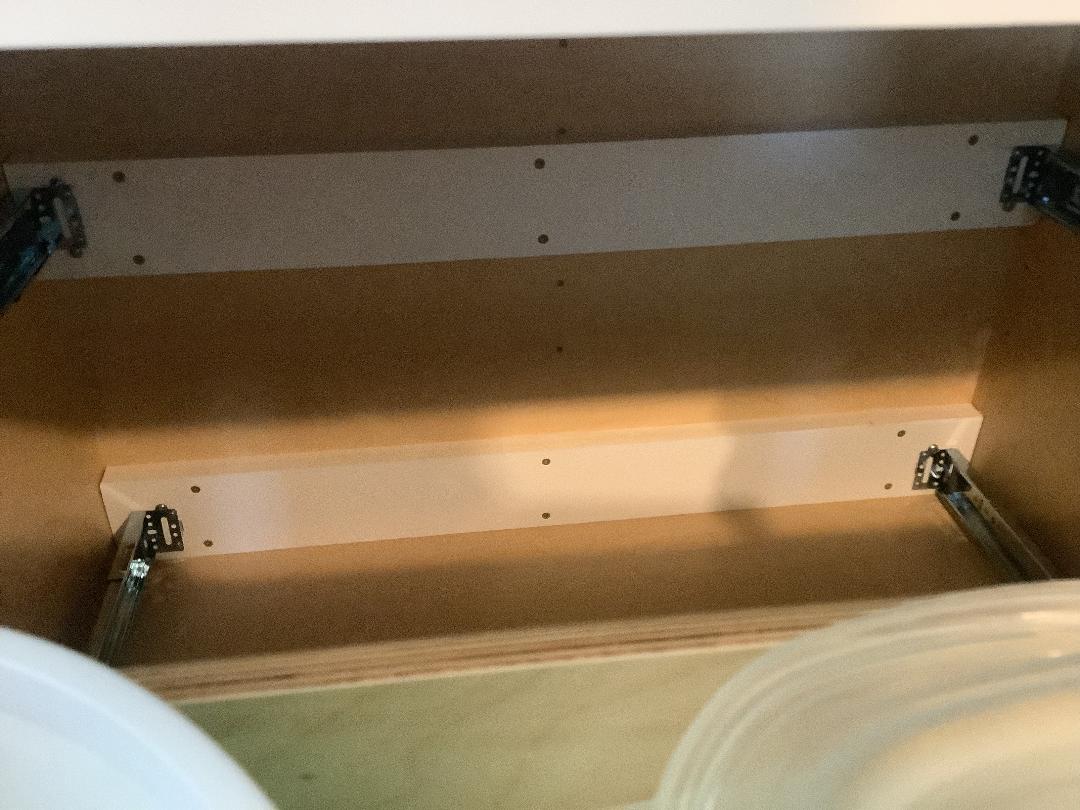 The back walls for Paul's base cabinets are ¼" thick and made from an engineered material. Since this drawer was going to get heavy, Paul used two pieces of wood to add thickness where the slides would be installed. This way, the drawer box has more support, especially when fully extended.
A Special Touch
Paul also added a drawer to the sink cabinet. All of the pipes and plumbing can make the space under a sink difficult or impossible to use. However, Paul and his wife did not want to waste all of that storage space, so they created a custom solution. And so, he got all his measurements, ordered the hardware, and got one of our drawer boxes.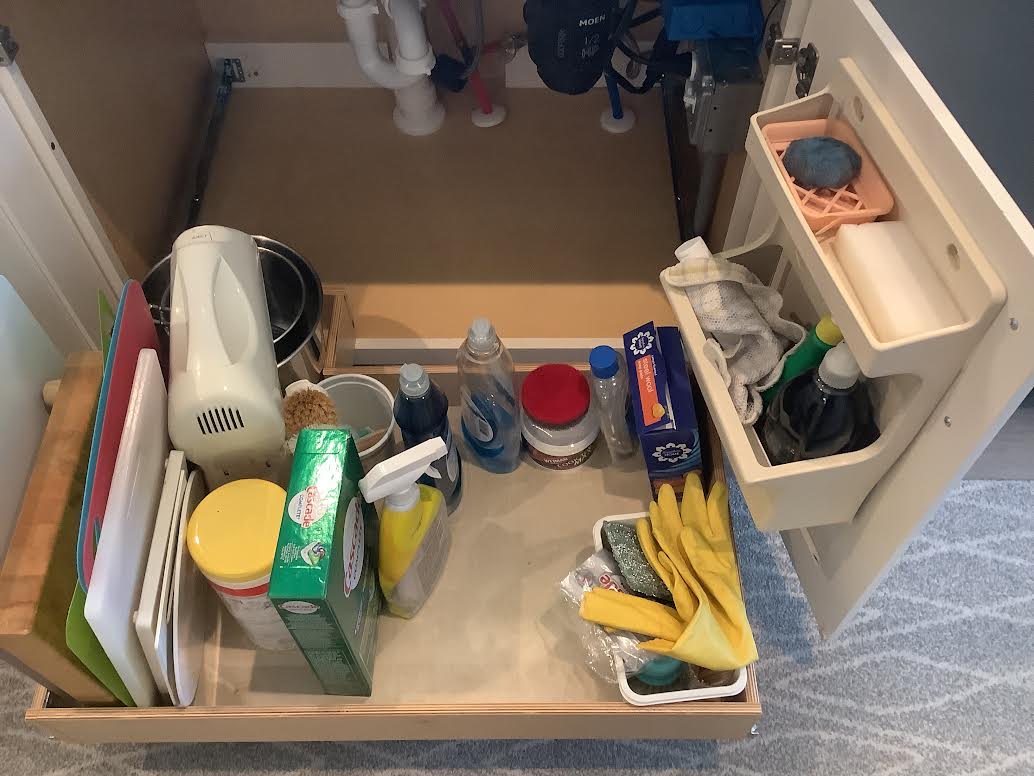 Then, he took the drawer box apart, so that he could reshape it. This way, the drawer box would fit around all the plumbing. Now, they have an easily accessible drawer that they can use to store all the necessities for keeping the kitchen spotless!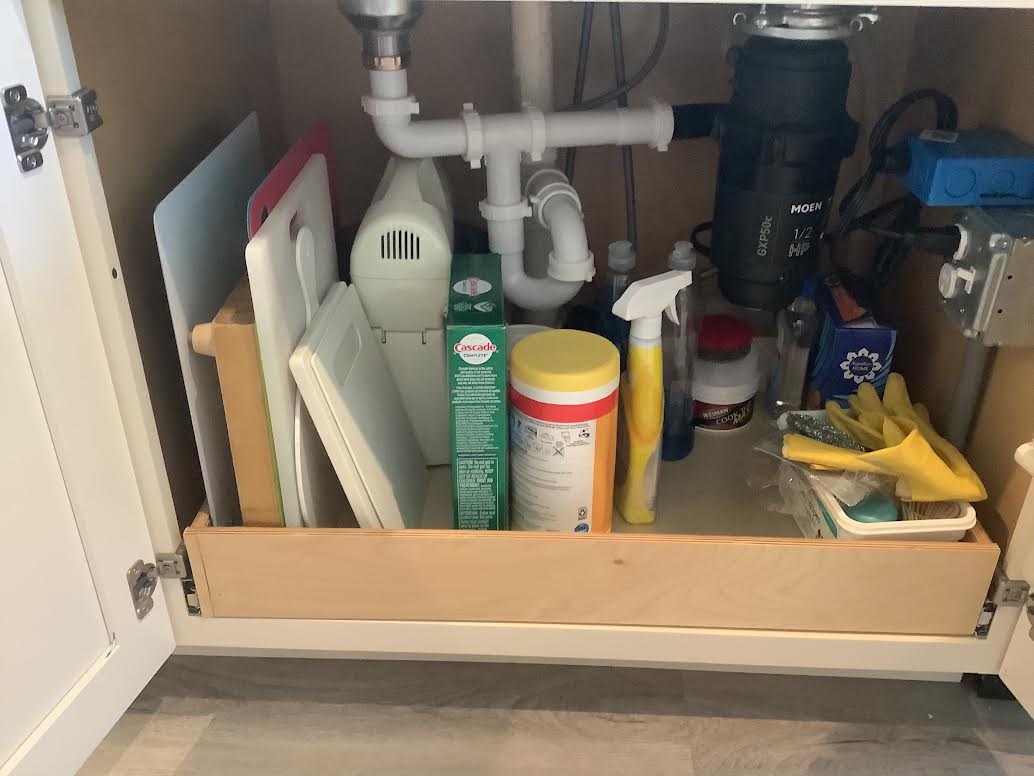 ---
Finishing Up
Paul went on to install similar drawers in the homes of friends and family. They saw how convenient and accessible the drawers made the kitchen. Plus, according to Paul's granddaughter, having the drawers in the base cabinets can also help you make a lot less noise when getting pots or pans out for breakfast!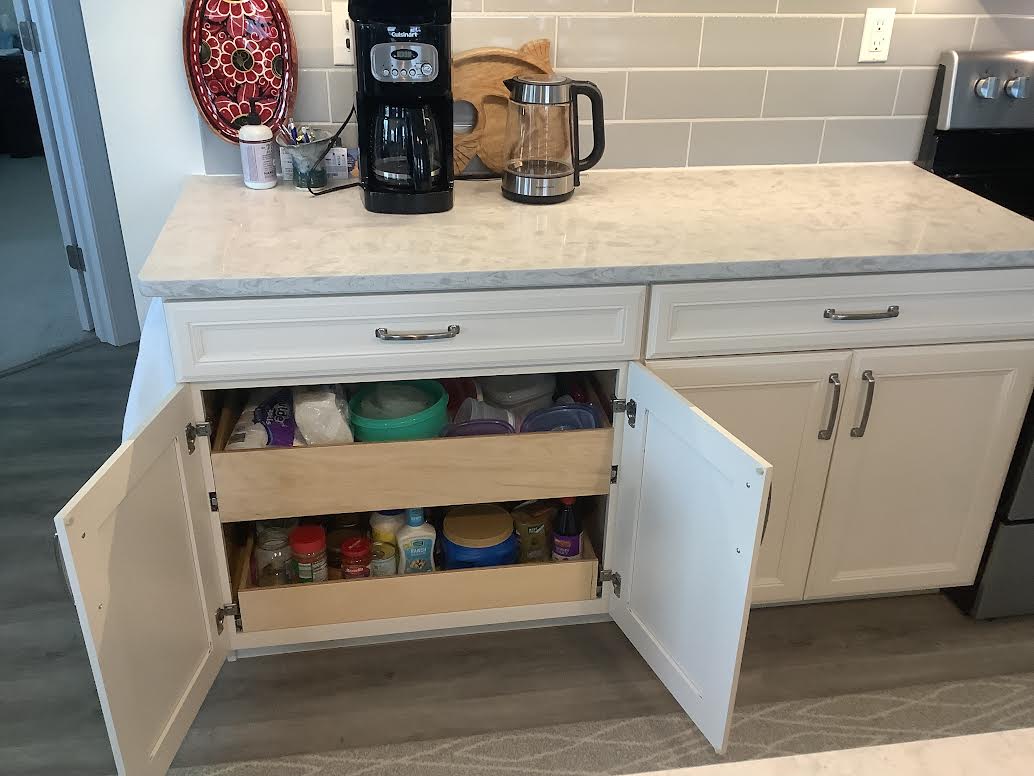 We love projects like this that can be relatively quickly finished, but that have an immediate and lasting impact on how you use the space. If you are ready to get going on your home improvement project or if you need assistance getting started, please feel free to call us at 1-855-669-5222 or an email to info@cabinetnow.com. Our well-trained sales staff can help you with everything from measuring to ordering.