Sometimes, we need to replace just the kitchen cabinet doors. Many homeowners are unaware that you can replace the kitchen cabinet doors only without having to rip out your cabinet boxes. This can be a great alternative to a costly kitchen remodel, as ordering just cabinet doors and drawer fronts is cheaper than a whole kitchen. And so you might be thinking, how do I replace just kitchen cabinet doors?
Replacing just your cabinet doors and drawer fronts is a process called cabinetry refacing. During a refacing project, you are able to completely change the look of your kitchen cabinets. This project can also be DIY and homeowner friendly, as hiring professional help is not always required. In this guide, we are going to take a step-by-step look at the process of replacing your kitchen cabinet doors.
---
Finding New Cabinet Doors and Drawer Fronts
To start, you will need new cabinet doors and drawer fronts to replace your old ones. There are a wide variety of styles and materials available, and you also have a lot of in-person and online retailers to source your project's needs. While we might be a bit biased, we think we are one of the best options you can find online to provide your cabinetry needs. All of our products are made in the U.S., can be ordered online, and are shipped right to your door. Now that the advertising is out of the way, let's talk about cabinet door styles and how knowing more about them will help you find your replacement cabinet doors and drawer fronts.
---
Cabinet Door Panels
For the most part, cabinet door style is largely determined by the panel design. The 3 major styles of cabinet door panels are raised, flat, and slab-style. The choice between these three options is mostly determined by the style you are trying to curate in your kitchen. Let's take a look at 3 popular styles and how these cabinet door panel styles fit into them.
---
Modern Kitchen Design
Modern kitchen designs are typically recognizable by their focus on minimalism and pops of color. For this reason, flat panel doors and slab-style cabinets are some of the most popular choices in modern designs. These styles are also not ornate or highly decorative, and instead, they focus on clean lines and uniformity.
This is why full-overlay options are very common for modern kitchen designs. This way you are able to create seamless walls of cabinetry. Plus, if you add dishwasher and refrigerator cover panels, it gives a stunning, sleek aesthetic. Thermofoil is also a great choice for full-overlays and modern designs. This is because of the wide range of color and texture options available. Since it is an engineered material, thermofoil can be made in some of the trendiest colors on the market today. As an added bonus, thermofoil arrives fully finished so you don't have to worry about painting or staining your cabinet doors and drawer fronts.
Traditional Kitchen Design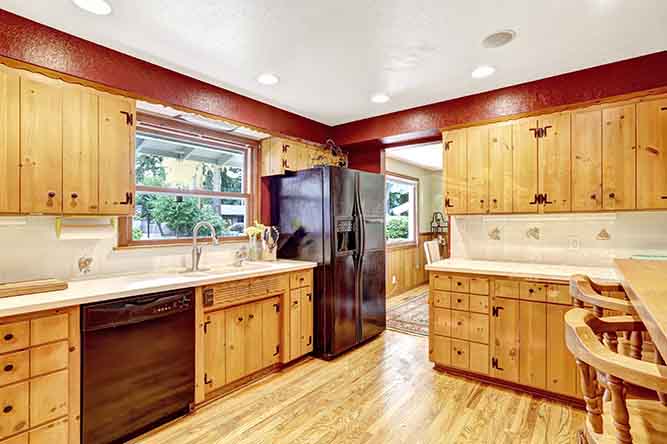 On the other end of the interior design spectrum, you have traditional styles. This style favors raised panel cabinet doors and is known for ornate detailing. Traditional raised panel cabinet doors feature ornate designs with elements like applied molding, inset rope detailing, and intricate outside edges. However, raised panel doors have also adopted more subtle designs that fit with some more contemporary styles. These door styles, as exemplified by our Revere cabinet door, maintain their sophisticated raised panels but forgo the traditional ornate detail in favor of the clean, straight lines that are typically found in more modern styles.
Transitional Kitchen Design
Styles that don't fit neatly in either the modern or traditional design are often labeled as transitional. Doors in this style range from flat to raised panels and even slab-style. The most recognizable style in this category is the Shaker cabinet door. Depending on the room design and the door's finish, shaker doors can be used to create a stunning traditional space or a trendy farmhouse style.
Shaker cabinet doors do not feature any detail on either the inside edge or the outside edge of the door's frame. Inside of relying on detailing, shaker doors instead derive their beauty from the quality of the material and the superior strength of the construction. Shaker doors are made using 5 pieces and a cope-and-stick joint construction.
The 5 pieces of a shaker cabinet door are the two stiles (left and right pieces of the frame), the two rails (the top and bottom pieces of the frame), and a panel. The rails are cut to fit between the stiles, which creates a 90-degree angle. This construction method is also known as a butt joint.
---
Removing Your Cabinet Doors
Once you have your new cabinet doors and drawer fronts, the next step to replacing your kitchen cabinet doors is to remove your old fronts. Before we get started with this part, we have a quick pro tip for you: Be sure to label everything that will be going back on your cabinets. This means that if you are reusing hinges or repainting a couple of fronts, you should have labels stating exactly where these go when you install them.
Starting with your doors, head over to the cabinet box and locate your hinges. Once you identify the type of screws used, grab a corresponding screwdriver. Unscrew your hinges from the cabinet door and remove them. Then, unscrew the hinge from the cabinet box. You only need to remove the hinge from the cabinet box if you will be refinishing your boxes with paint, veneer, or laminate sheets.
If your drawers are made from a separate drawer front and drawer box, then you are in luck. You can simply unscrew the drawer front from the drawer front. You may not even have to remove the drawer box from the cabinet box. If your drawer box and drawer front are a single unit, then you have two options for changing your fronts. The first is to order new drawer boxes to use with your replacement drawer fronts.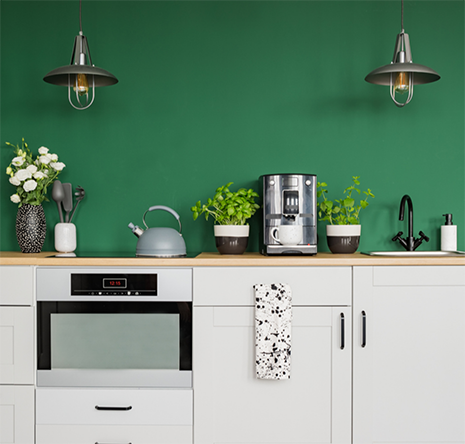 For the other method, you will need to go grab a saw. Then, remove the drawer from the cabinet box. Next, use the saw for trimming the drawer's front sides so that it is the same size as the back panel. Now, you can attach your new drawer front to what used to be the back panel and re-install the drawer in the cabinet box.
---
Finishing Your New Cabinet Fronts
When your new cabinets arrive, they will need to be finished. This means that you will need to apply a paint or stain to seal the wood or material that your new cabinet doors and drawer fronts are made from. The method you choose for this will likely depend on the kitchen design you are working to create. Typically, you will find darker stains in more traditional designs, while the modern aesthetics features bright paint colors and glossy finishes.
Whichever method you choose, it is important to properly finish and seal your replacement cabinet doors. Your finish protects your cabinets from a variety of things that can damage the door like moisture. However, this does not mean that once your doors are finished they are indestructible. It is still important to keep them cleaned and maintained.
---
Final Thoughts on Replacing Kitchen Cabinet Doors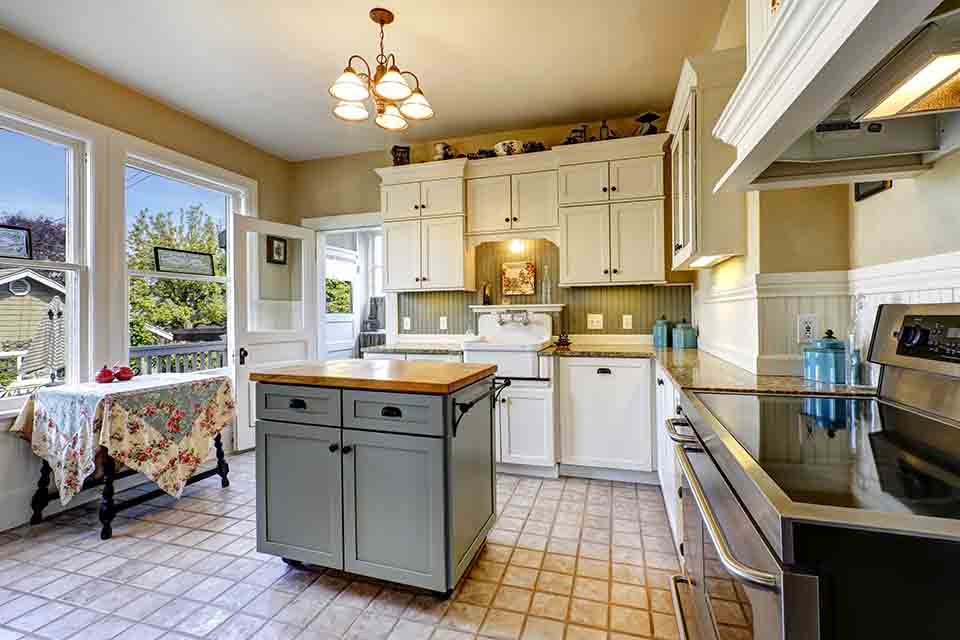 Replacing just your cabinet doors, or refacing your cabinets, is a relatively quick process that can completely change the look and feel of your kitchen. Plus since you are not ripping out whole cabinet boxes, it is very likely that you will still be able to use your kitchen during the project. In addition, this is also a great opportunity to upgrade your hinges to the soft-close models you have been dreaming about!
If you are ready to start ordering or if you need assistance, please feel free to call us at 1-855-669-5222 or send us an email at info@cabinetnow.com. Our team of cabinet experts is here to help with everything from measuring to ordering.