Panel Ready Dishwasher and Custom Covers
Panel ready dishwashers are great if yours is sticking out in the kitchen like a sore-thumb. You have stunning cabinets, side by side they match perfectly, and then all of a sudden there's this stainless-steel beast disturbing the flow. I'm a big fan of uniformity—and of course—finding creative new DIY projects to play with, so when I learned about hiding your dishwasher with cabinet door panels the idea immediately stole my attention. If you are planning a kitchen remodel, it can be a great time to install a panel ready dishwasher.
There are two main methods in which you can disguise your dishwasher. The one you will need to use depends on whether your dishwasher is panel ready or not. Panel ready dishwashers are made to have custom covers attached to the front. If you don't have a panel ready dishwasher model, then you will need to explore some more creative options. Either way, this is actually a pretty quick project to complete and may be easier than you think, so let's get down to how it's done.
Disclaimer: This blog post contains affiliate links and we may receive a small commission for purchases made. These are products we highly recommend.
---
Materials
Cabinet Panels and Trim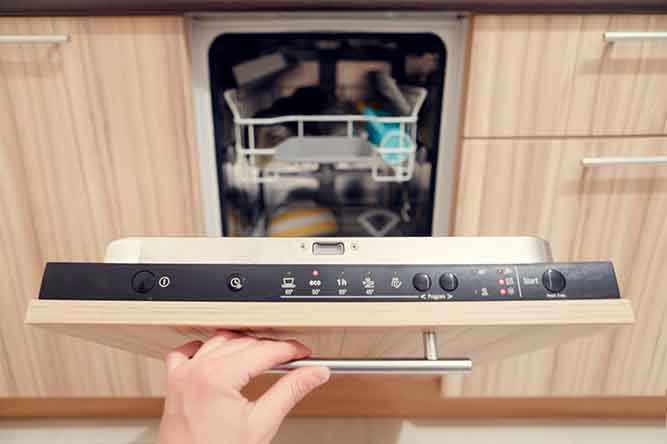 Simply enough, you will need to get a standard cabinet door with accompanying trim that matches the color and style of your existing cabinetry. Make sure to measure your dishwasher beforehand so that these materials can be ordered, or cut, to the same dimensions as the face of your dishwasher. Optionally, if you intend on hiding the top panel of your dishwasher (where the controls and settings are located), you will need to procure a matching top panel as well.
---
Strong Glue
If you can't remove your dishwasher's front panel, you'll need to glue the cabinet door over it. Not just any ordinary woodworking glue applies here. You will need to find an adhesive that has the right specifications to meets the unique needs of this project. Namely, it is important that the glue you choose is strong enough to support the weight of your door, and that it has enough resistance to not be damaged by the heat your dishwasher produces during operation. You should be able to find a suitable type of glue, such as Gorilla Epoxy or Liquid Nails, at your local hardware store.
---
Wood Slat and Door Hinges (Optional)
As mentioned, if you want to hide your entire dishwasher from view, you will also need to cover the top panel where the controls are located. For this to be accomplished, you will need to have a slat of wood cut-to-size so that it fits the overhead part of your dishwasher. Don't forget to paint the wood slat so that it matches the color of your top and bottom cabinet panels. You will also need to purchase appropriately sized door hinges to connect the top cabinet panel to this slat.
---
Methods
First, inspect your Dishwasher
Some dishwasher models will allow you to remove their front panels with a screwdriver. Check to see if this is possible with your model, and if not, move on to method 2. But if you can readily remove this panel, then follow method 1 and this project will be that much simpler for you.
---
Method 1: Replace the Dishwasher Panel
If you already have, or plan to get, a panel ready dishwasher, then installation will be a breeze. Simply use a screwdriver to remove your dishwasher's current panel and any trim pieces that were attached to the bottom and sides.
Next, slide your new matching cabinet door into place. Attach any new trim to the sides of your cabinet panel, and then screw the panel into the dishwasher.
---
Method 2: Glue Cabinet Panel over the Dishwasher
Take the adhesive you chose and apply it to your cabinet's panel so that you can attach it over the face of your dishwasher. Once attached, this will cause the cabinet panel to jut out from your row of cabinetry slightly, which subtly highlights which cabinet front is actually the dishwasher. Once the panel is glued into place and dried, then glue the matching trim to the sides of the panel.
---
Hiding the Dishwasher Top Panel
At this point, your dishwasher should look almost entirely like the cabinetry beside it, marked only by its exposed top control panel where the buttons and handles are located for your dishwasher's operation. If you'd like to hide this as well, you will need to get your adhesive once again. Glue your wood slat to the top of your dishwasher. Attach door hinges to this slat, and then connect the top cabinet panel to it so that the panel hangs over the front of your dishwasher's controls. Once this is completed, your dishwasher should be completely disguised and match the appearance of your kitchen's cabinetry.
---
Final Thoughts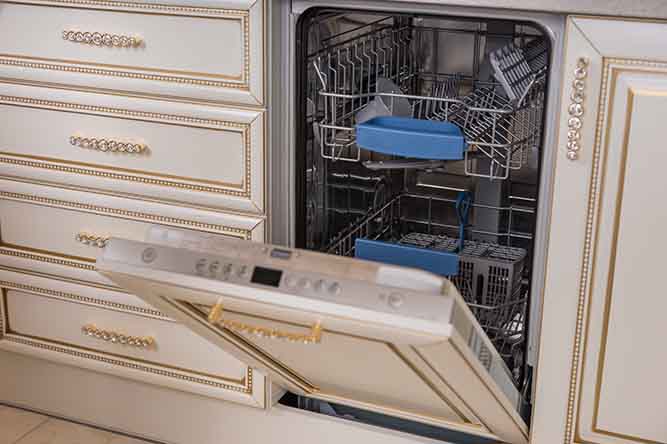 Whether your dishwasher has front or top facing controls, there are simple ways to blend it into the kitchen. When you hide your dishwasher this way, it creates a seamless and modern look to your kitchen. In another blog, we detail the way this process works with your refrigerator. With both hidden, your kitchen cabinets will be fully displayed with seamless beauty. If you are in the market for a new panel ready dishwasher, check out this list of the top five on the market!
If you are ready to start ordering or if you have any questions, feel free to give us a call to 1-855-669-5222 or an email to info@cabinetnow.com.