A kitchen remodel is a large undertaking that takes a lot of time, money, and planning. One way to make the remodeling process easier and more enjoyable is to use kitchen design software. These programs can be a great resource for DIYers and professionals alike. To help you out, we put together a list of our top 20 kitchen design programs. Once you have your design ready, we can help you with your cabinets!
Disclosure: This blog post contains affiliate links and we may receive a small commission for purchases made. These are all products we highly recommend.
---
1. Homestyler - Free
Homestyler offers you two ways to design your kitchen. They allow you to design not only your kitchen but also the rest of your home. From kitchen cabinets to countertops, this kitchen design software features over 200 real pieces of furniture that you can position in your design. You can access Homestyle's design service through their website or their phone app. Homestyler also supports AR and VR functions, so you can walk through your design before you start buying your remodeling supplies.
---
2. Planner5D - Free
Planner5D offers advanced, easy-to-use 2D and 3D online kitchen design software. Planner5D allows you to quickly switch between 2D and 3D models so that you can perfect your design from every angle. Whether you use the mobile app or the website, you will be able to create patterns, edit colors, and select materials to create your dream kitchen design.
---
3. Southern Stone Surfaces Visualizer - Free
If you are struggling to get started with your kitchen design, check out Southern Stone Surfaces' kitchen visualizer. This program allows you to quickly experiment with a wide variety of colors and textures for your floors, kitchen cabinets, countertops, and even appliances. Southern Stone Surfaces' kitchen visualizer is a great way to get started with your new kitchen design.
Try the Southern Stone Surfaces Visualizer
---
4. ProKitchen - From $1000
As the name and price tag suggest, ProKitchen is a design program more geared towards professionals. However, this software makes the kitchen design process quick and easy. Plus, ProKitchen offers a VR showroom for those who want to "walk" through their designs.
---
5. Home Stratosphere - Free
Home Stratosphere offers an extremely user-friendly, 4 step process for designing and creating your new floor plan. The process starts with making a 2D model and ends with furnishing and exploring your new digital space. In just a few clicks, you can sign up and get your dream kitchen designed.
---
6. Backsplash Designer - Free
If you are looking for a fast and free way to get started on your new kitchen design then you should check out Backsplash Designer. This site allows you to quickly test various combinations of countertops and backsplashes. This simple, free tool is a good way to get some ideas for your new kitchen design.
---
7. Colonial Kitchen Visualizer - Free
Colonial Kitchen Visualizer is an easy-to-use program that allows you to quickly design your kitchen. With it, you are able to customize the color and style of your cabinet doors, flooring, countertops, and backsplash. As a bonus, you can have your design emailed to you for safekeeping.
Try Colonial Kitchen Visualizer
---
8. Chief Architect - From $199
If you're a DIY home enthusiast, this kitchen design software is made for you. By using this tool, you can create a 3D model of your kitchen, and it will automatically generate all the building systems you need. Plus, Chief Architect also offers a free trial so you can see if you like it.
---
9. Caesarstone Visualizer - Free
Whether you are designing for a modern or classic kitchen, Caesarstone Visualizer gives you the ability to quickly test various colors and textures. Plus, all surface textures, materials, and colors that are presented in the software are available for purchase from Caesarstone.
---
10. RoomToDo - Free
RoomToDo allows you to easily design a variety of interior spaces. From kitchens to whole homes, these free online tools are a great way to begin building your new kitchen design. RoomToDo's features include 3D visualization, a variety of materials, custom floor plans, and much more.
---
11. Prodboard - Free
Prodboard offers a high-quality kitchen design tool that is utilized by professionals and homeowners alike. This online tool will allow you to create beautiful and complex kitchens with minimal effort. Plus, Prodboard also offers 3D images and a cost calculator for your design.
---
12. 2020 Design - From $1195
From photorealistic rendings to floor plans, 2020 Design is a powerful interior design software. Designers and home renovation professionals use this program to create stunning kitchen designs for remodeling projects. Even though it has a high price tag, if you are serious about renovation, it is well worth the cost.
---
13. Wilsonart Interior Design Tool - Free
Made for the interior designer inside of everyone, Wilsonart's interior design tool is a great way to quickly put together your new kitchen design. It allows you to easily select and change the color or material to various areas in your space like the cabinet doors. In addition, you can also design commercial spaces like public restrooms.
Try the Wilsonart Interior Design Tool
---
14. Renuit Virtual Designer - Free
Renuit Virtual Designer makes the online kitchen design process user-friendly and straightforward by incorporating templates. For this system, you will select the kitchen floorplan that most closely matches your own, and then you can begin selecting your base cabinet and upper cabinets. You will also be able to customize your flooring, countertops, and backsplash.
Try the Renuit Virtual Designer
---
15. Floor Planner - Free
Floor Planner is a free, online interior design tool. It allows you to drawer accurate 2D plans within minutes. Plus, they have well over 100,000 items that you can choose from to customize your space. Floor Planner also lets you create 3D renders of your kitchen design.
---
16. HomeByMe - Free
HomeByMe offers a free interior design tool that can be used to create stunning spaces throughout your home. HomeByMe also has an active community that shares design creations to help inspire others. They also operate a magazine for further inspiration and design tips.
---
17. Roomstyler - Free
From creating mood boards to 3D designs, Roomstyler is the perfect online kitchen design software if you don't know precisely what you want yet. A great addition to this software is that it allows you to add cookware, utensils, glassware, other dishes, and small kitchen appliances. Once you get a hang of their product, Roomstyler also holds contests where the community votes on their favorite submissions.
---
18. Home Hardware - Free
Home Hardware's online kitchen design software makes the whole design process much easier. You can either start from scratch or use a pre-designed room to get started, and you can save your designs to come back to work on or view any time.
---
19. IKEA 3D Kitchen Planner - Free
With just a few clicks and IKEA's 3D kitchen planner, you can create your next kitchen design without spending any money. From the comfort of your home, you will be able to create a 3D design for your kitchen and get an idea of the costs.
Try the IKEA 3D Kitchen Planner
---
20. Punch! Software - From $99.99
From the kitchen to the garden and everywhere in between, Punch! offers a variety of products for both professional designers and homeowners alike. This software offers user-friendly tools for all your kitchen design needs, which includes 3D visualization.
---
Finishing Up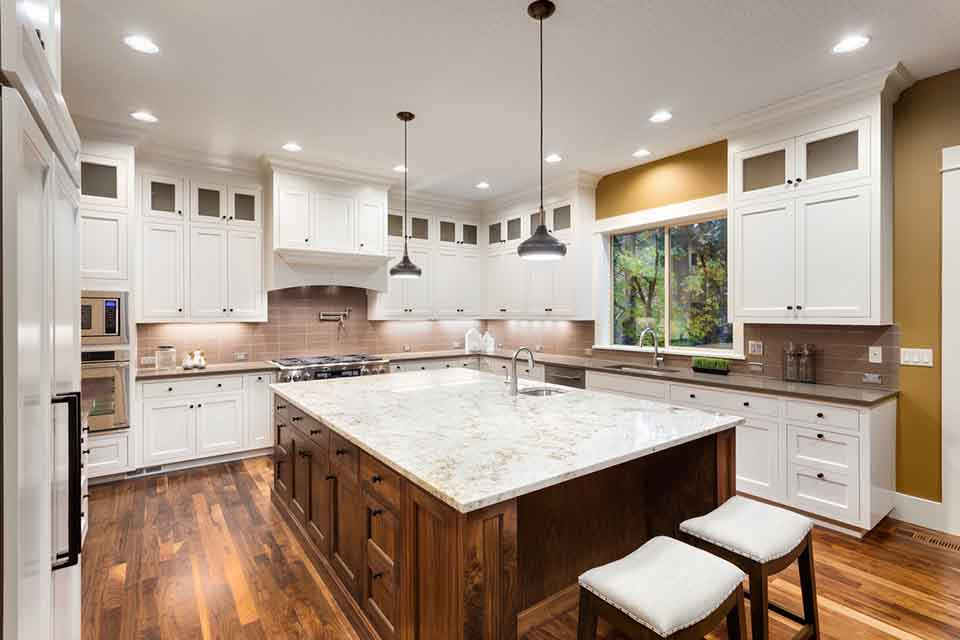 As you can see, there are a variety of options when it comes to creating your new kitchen design. We recommend starting with some of the free options so that you can get an idea of design features you like or dislike. This will be very helpful research if you decide to purchase one of the paid programs. Alternatively, you can work with our designers to create your new kitchen.
If you are ready to start ordering or if you need assistance, please feel free to call us at 1-855-669-5222 or send us an email at info@cabinetnow.com. Our team of cabinet experts is here to help with everything from measuring to ordering.