If you are anything like me, then you like to know all of your options before making a decision. However, when it comes to cabinet doors and kitchen remodeling, you can spend a lot of time just browsing and still not see all the different cabinet door designs. To help you find the right fit for your next project, we are going to break down the 6 major categories of kitchen cabinet door design.
Hopefully, after you finish this blog article, you will have a solid understanding of cabinet door design. At CabinetNow we offer 100's of customizable styles to choose from, and so knowing what you are looking for can help you save a lot of time. If you already have a style you are interested in, you can submit pictures with our Door Matching Form and one of our trained customer service professionals will match you with one of our cabinet door styles. If not, read on to get started!
---
1 Slab Cabinet Doors
The first style of cabinet door we are going to take a look at is the slab style. These cabinet doors do not have a frame and panel like most of the doors on the list. Instead, slab-style cabinet doors are made from one or pieces of flat material. Slab cabinet doors may or may not have outside edge detailing, and are available in solid wood, thermofoil, and MDF options.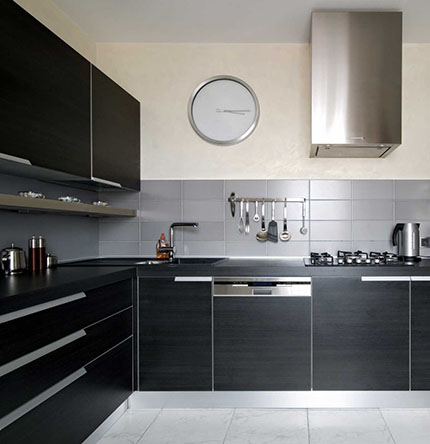 Slab cabinet doors and drawer fronts tend to be found in more contemporary and modern kitchen designs. These designs often feature full overlay door installation, which can create seamless walls of cabinetry. This is particularly effective with trendy colors that pop, or rich wood tones and grains that create cozy spaces. Thermofoil is a great choice for those looking at slab-style cabinet doors because it is available in a wide variety of finishes and textures. Thermofoil is a vinyl laminate that is heated and pressurized onto an MDF, or medium-density fiberboard. In addition to the variety, using MDF as the core for these cabinet doors means that you do not have to worry about your doors warping and twisting at large sizes.
---
2 Recessed Panel Cabinet Doors
One of the most popular styles at the moment, recessed, or flat, panel cabinet doors feature a chic design that can work in a variety of kitchen designs. These designs feature a frame surrounding a center panel that is thinner than the frame, giving it an inset look.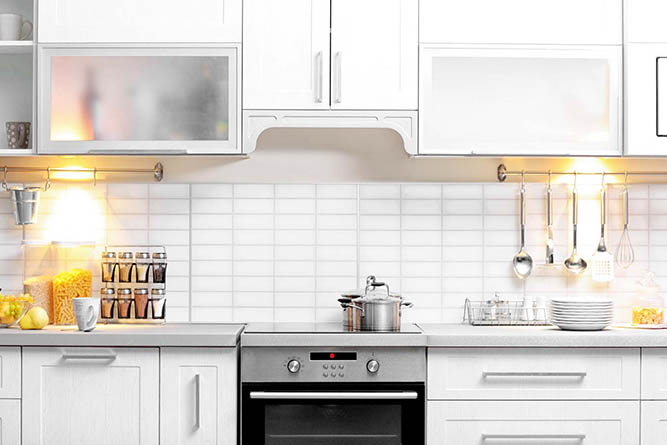 One of the most popular recessed panel cabinet doors is the Shaker cabinet door. With minimalistic detail, the Shaker cabinet door is a great example of how this style of construction can be visually appealing without needing ornate detailing. Recessed cabinet doors can be painted or stained to achieve both contemporary and traditional designs.
---
3 Raised Panel Cabinet Doors
Raised panel cabinet doors are great for more traditional kitchen designs. This style of cabinet door features a raised center panel that is the same thickness as the cabinet door frame. The level of detailing will vary, but many feature some ornate designs.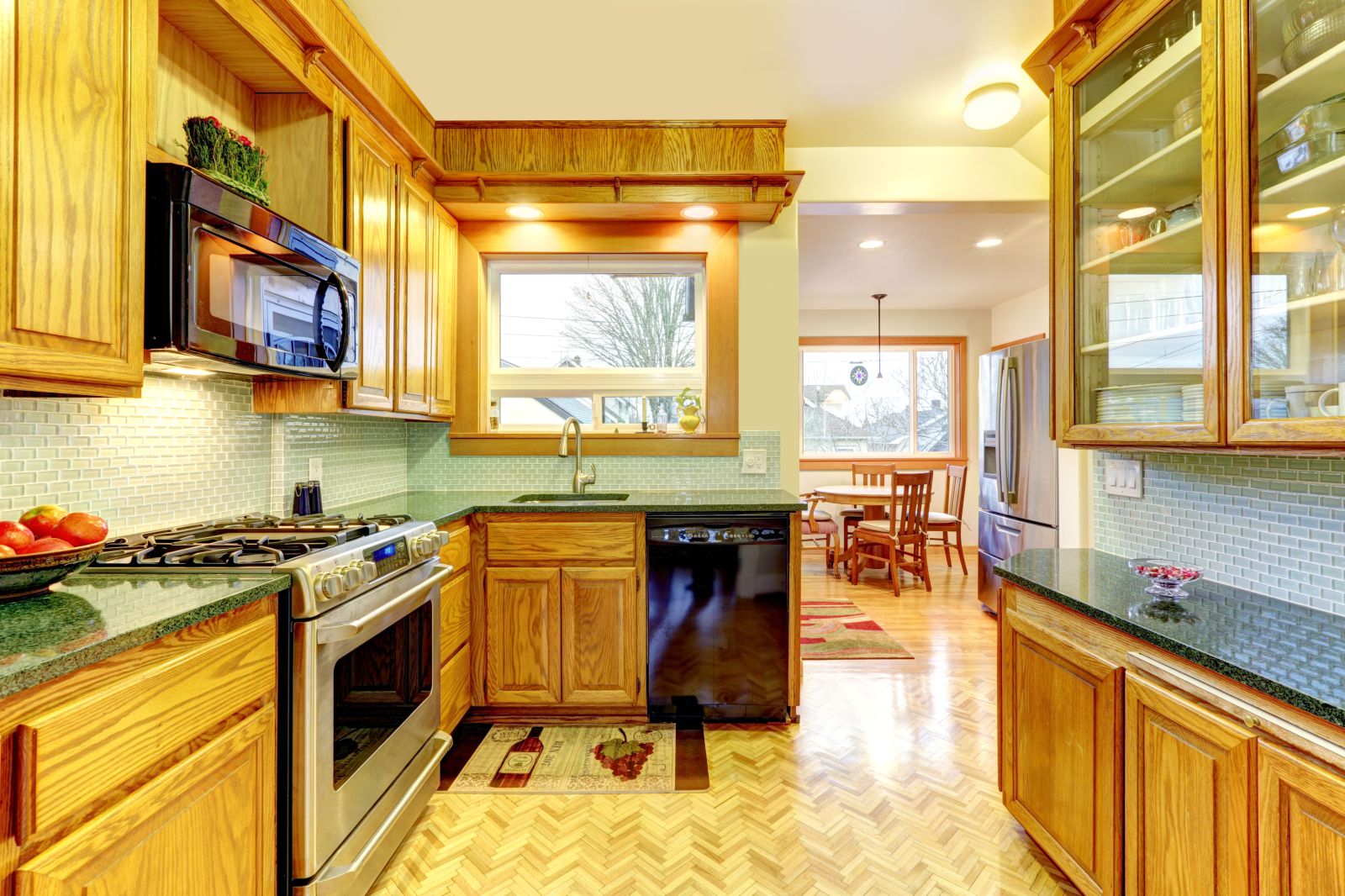 Our favorite raised cabinet door is the Revere cabinet door. This door combines the raised panel with a subtle inside and outside edge detailing to create a stunning classic style. Pair the Revere cabinet door in one of our select wood grades with stain to make a finish that will not only protect your kitchen cabinet door but will also highlight the natural beauty of the door.
---
4 Arched Doors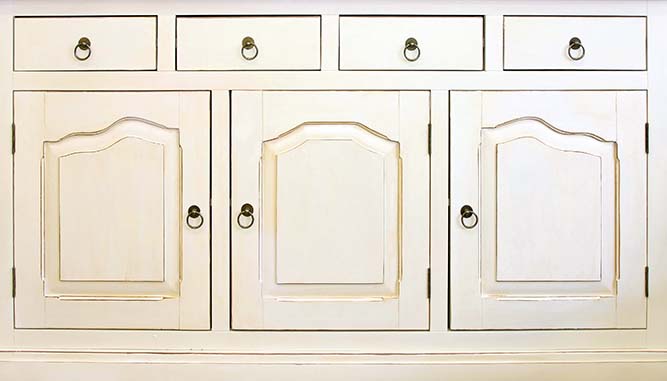 Arched cabinet doors are a great way to introduce a traditional element into your kitchen design. Arched cabinet doors are available in both flat and raised panel designs, so finding the right complement to your kitchen design won't be hard. This style of cabinet door makes a great addition to any kitchen design, and they typically pair well with a corresponding square panel door. Add a few glass-ready arched doors to really elevate your kitchen design.
---
5 Glass Cabinet Doors
Adding doors cut for glass can be a great way to add depth and space to your kitchen design. Since you can clearly see into the cabinet box, glass panel cabinet doors extend lines of sight to the back of the cabinet. This means your kitchen will actually feel larger than it really is. Alternatively, you could get creative and use stained glass or custom tile for the center panel of your glass-ready cabinet doors.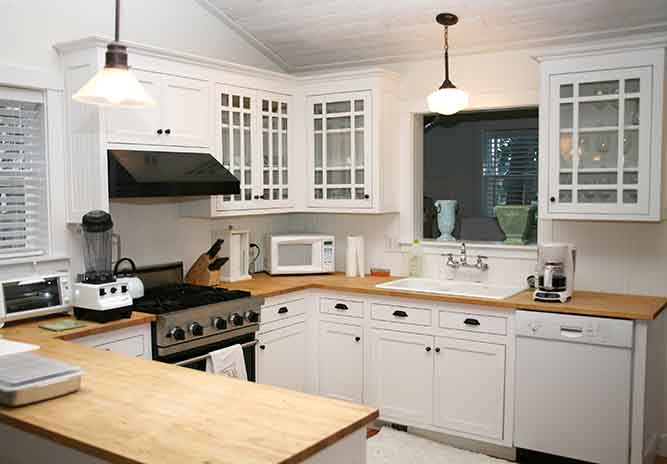 Additionally, you may choose to have French lites installed rather than leave the center panel completely empty. At CabinetNow, we are able to accommodate 4,6, and 8 French lite construction.
---
6 Decorative Doors
Decorative cabinet doors can be a great statement piece in your kitchen design plan. These doors often feature ornate detailing, applied molding, superior quality materials, and craftsmanship that shows its quality. At CabinetNow, we offer a variety of decorative cabinet door designs, which now features our new Specialty French Lite Cabinet Doors.
Our new line of Specialty French lite cabinet doors features bold designs with intricate woodworking. These specialty doors can be a great addition to any kitchen design and they are perfect for creating elevated, sophisticated spaces.
---
Finishing Up
As you can see, having a general understanding of cabinet door style and design can make finding your new or replacement kitchen cabinet doors a lot easier. If you are ready to your new cabinet style for your next kitchen remodel or cabinet door refacing, head over to our cabinet doors page and start browsing!
If you are ready to start ordering or if you need assistance, please feel free to call us at 1-855-669-5222 or send us an email at info@cabinetnow.com. Our team of cabinet experts is here to help with everything from measuring to ordering.