The Beginner's Guide to Kitchen Cabinet Hardware
There are so many aspects to consider when designing your perfect kitchen: layout, countertop material, cabinet color, backsplash tile, flooring, paint, and more. In such a big process, it's not surprising that some people overlook their kitchen cabinet hardware. However, those little handles and knobs have a big impact on the look of your room, so learn how to pick the right ones.
---
Learn the Options for Kitchen Cabinet Hardware
Getting the right hardware for your cabinet doors and drawer fronts starts with understanding the different design elements available and picking the right combinations.
Hardware Style
Your hardware will come in two main styles: pulls and knobs. Pulls are the long, bar-like handles that attach to the cabinet front at both ends. Knobs are smaller and are usually round hardware pieces that attach to the cabinet or drawer at one point. However, it is easy to find knobs that are square, oval, or other shapes.
Traditionally, many cabinet designs use pulls for drawers or any part of a cabinet that slides out. The multiple connection points help with weight distribution, making it easier to move the fixture. Knobs work well with swinging doors that need less force to move. However, you are free to break away from this idea. You can use either hardware type you like.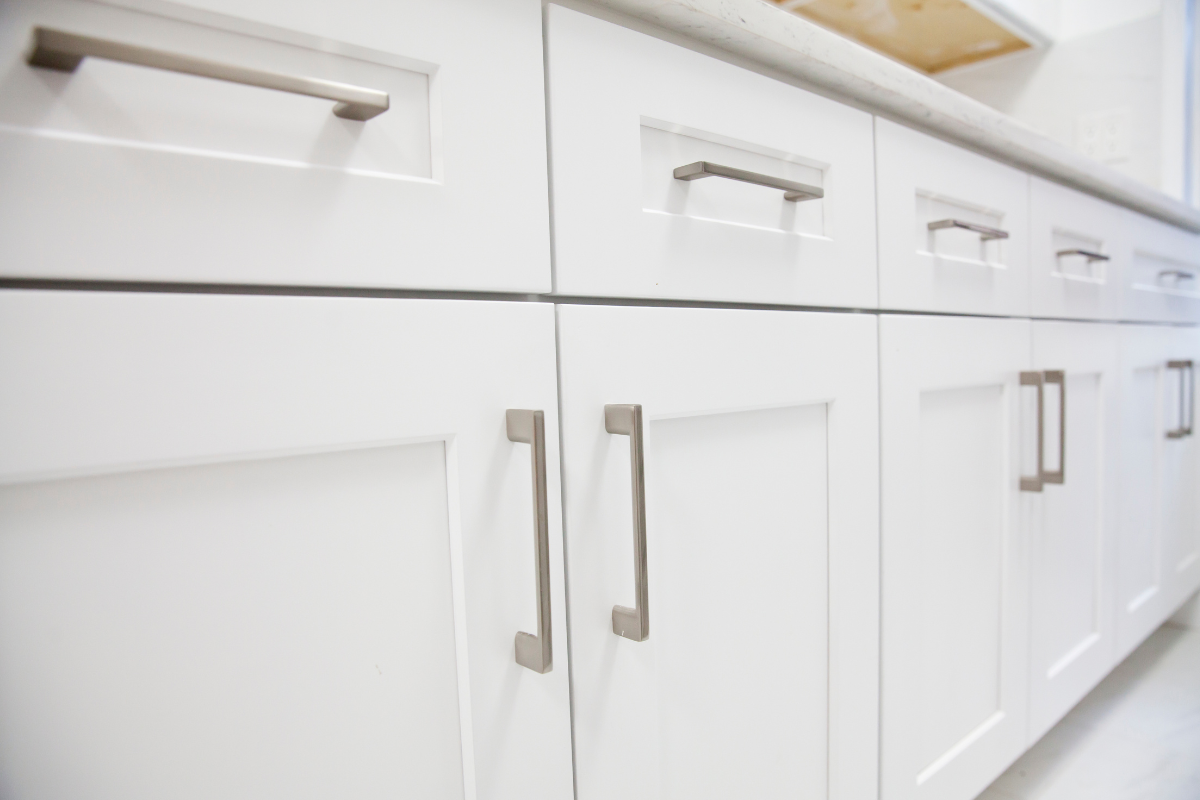 There is also a growing trend of using all pulls or all knobs throughout the kitchen. This creates a sense of connectivity and can make ordering and installing your hardware simpler.
Material
The material choices for your kitchen cabinet hardware allow you a lot of space to create a design that speaks to your style. Modern manufacturers make knobs and pulls out of many different materials that are readily available.
Metal is one of the top choices for your hardware. It's easy to fabricate into different shapes and lengths to work with your kitchen cabinets. Metal is also very strong and easy to clean, so it will last for a long time before you need to replace it. You can pick from stainless steel, bronze, aluminum, and more.
Wood pulls and knobs are also widely available. Similar to metal, wood offers strength that will stand up to the test of time. It also is easy to get in customizable lengths and thicknesses, as well as different colors and wood grains. Wood is also very easy to carve, giving you a chance to add extra ornamentation to your cabinets.
You don't have to limit yourself to traditional materials for kitchen cabinet hardware. Glass could offer either a sleek look if you use a long solid piece or a vintage look if you have faceted glass knobs. Colored glass could be fabricated to play off the colors in your kitchen, or it could match the glass in your cabinet doors.
For a very unique look, you could also use leather loop pulls or fabric pulls. With these options, it is important to coordinate your pulls with something else in the kitchen so they don't look out of place.
Finish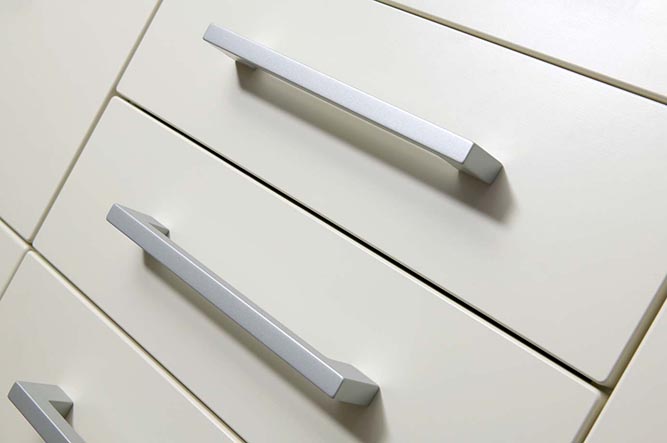 With every material you consider, you have a variety of options for the finishes. Metals can be left shiny for maximum reflectiveness. They can also be brushed for a matte finish that hides smudges and fingerprints. Wood can be polished, stained, or painted to create different effects. By using different finishes, it is easy to create a link between your cabinets and other parts of the kitchen.
Color
Kitchen cabinet hardware comes in many color options, making it easy to match your design. The silver and pewter colors of exposed metal are easy to pair with many cabinet colors and styles. A popular choice is using natural bronze hardware to add color to a kitchen.
Your hardware also doesn't have to be only one color. For instance, you could choose custom wood pulls that have an inlay. Choose accent colors and materials that help to unite the design features in your home. One idea is to get strips or blocks of marble set into the pulls and knobs.
Size
The size and profile of your hardware are important in determining the final look of your cabinets. When you invest in nice handles, it makes sense to get bigger ones that will stand out and serve as their design element. Smaller pieces of hardware could be useful if there is something else that needs to be the focal point in the room.
---
Consider These Factors When Choosing Kitchen Cabinet Hardware
Think of the hardware in your kitchen as if it were jewelry for an outfit. You want pieces that work well with everything else you have going on. Take a look at what else you have planned for the kitchen to get the best look.
Overall Kitchen Theme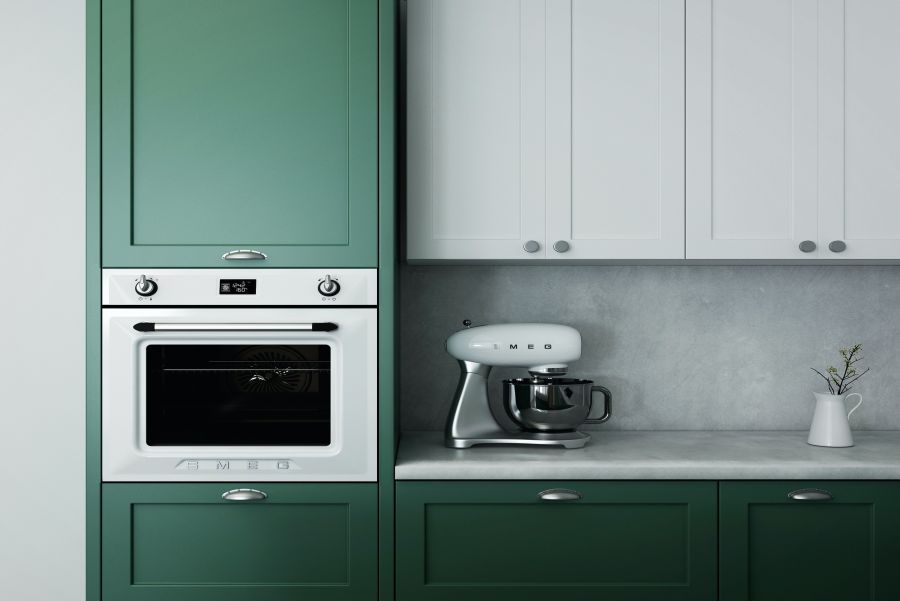 If you have a design scheme in mind, make sure your pieces fit within it. Getting rustic wood pulls in a modern home may not give you a cohesive look. Pull together samples to see if a set of hardware would look out of place.
Cabinet Colors
Take the time to compare the color of the hardware to the color of your cabinets. Choosing kitchen cabinet hardware that offers a pleasing contrast is a good way to layer your design. Bronze pulls can work well with deep green or black cabinets. However, you wouldn't want to put conflicting colors together, such as bronze hardware with light, natural wood.
Maintenance Concerns
Evaluate your lifestyle and needs as you pick your knobs and pulls. In a busy household where a lot of people are grabbing handles, more durable materials will be a benefit. Be careful with glass or stone options that could break and might need replacing soon.
---
Enjoy Your Well-Designed Kitchen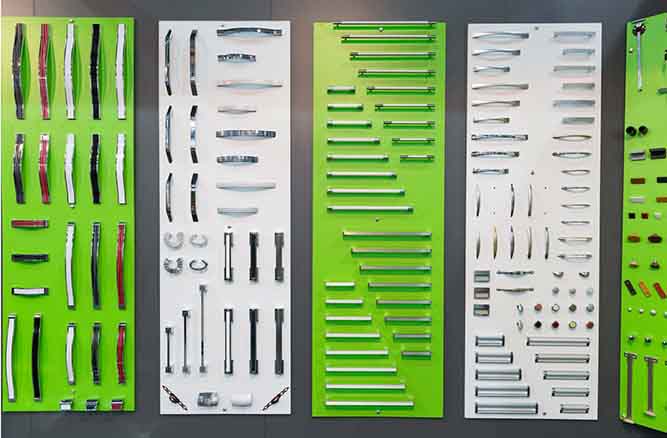 While cabinet fronts, countertops, and floors get most of the attention in a kitchen design, the kitchen cabinet hardware is just as important. Make cabinet pulls and knobs a part of your design consideration when you create a new kitchen for yourself or upgrade the existing kitchen. Discover these cabinets at CabinetNow that can help you create a stunning room.
If you are ready to start ordering or if you need assistance, please feel free to call us at 1-855-669-5222 or send us an email at info@cabinetnow.com. Our team of cabinet experts is here to help with everything from measuring to ordering.