The Ultimate Guide to Using Black Kitchen Cabinets
Your kitchen makes a statement about your home's style and personality. Since visitors and family often gather in this space, it creates a lasting impression. Your design choices guide what that impression is. If you're ready for a bold and modern choice, take a look at black kitchen cabinets. While they may seem intimidating, getting the right look can be simple and fun.
---
Choose the Right Shade for Black Kitchen Cabinets
When you start looking at black cabinetry or any black design features, you will quickly find that not all black paints are the same. To get the look you want, you will need to carefully select the right tone of black that matches the mood and style of the overall kitchen design.
For a softer look, you may want to lean towards smokey black tones such as deep charcoal or graphite. These will be less harsh to the eye while still bringing dramatic and moody energy to your kitchen. Choose a pure black color or a cool black that has just a hint of blue for a stronger statement. If you are unsure, head over to your local paint store to see some color samples.
Keep in mind the finish for your cabinets as well. Your color will look different depending on if it's glossy or matte. The different finishes also change the effect your black kitchen cabinets have on the room. A wall of high-gloss cabinets will really draw a lot of attention and become the focal point of the room. A calmer matte tone allows your cabinets to be a more toned-down visual.
The tone of black you choose should also work with whatever rooms adjoin the kitchen. For kitchens that open onto brightly colored living rooms or dining rooms, it makes sense to go with something more muted. Houses that have bold design throughout make it easier to use a more intense tone of black in the kitchen.
---
Pick the Right Material
Your cabinets can come in a lot of different materials these days, and picking the right one for the look of your kitchen is important in getting the final design right. Traditional wood cabinets are always a good starting point as you explore your design options. Getting them painted to the shade of black you want allows you to mix classic and contemporary designs.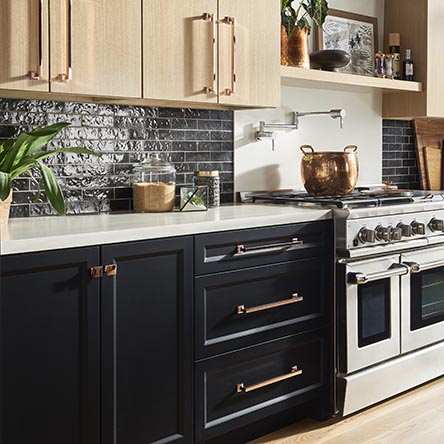 You also have the option to get black kitchen cabinets that are made in the color you want. For instance, CabinetNow offers laminate cabinet doors in multiple colors, including black. Right out of the box, you can have cabinets that are the right color and texture for your design.
To add interest to your cabinets, consider using additional materials in your cabinet doors. Inserting clear or frosted glass can soften the look of the black while allowing spaces to show off featured items such as dishes or books.
The material you pick for your cabinets should also work well for your lifestyle. It should be easy to clean and maintain. Glossy surfaces may show more fingerprints and dirt, so keep that in mind if you have children or pets. Wood cabinets will hide smudges but may need more maintenance over the years. Plan for all these considerations when buying the cabinets.
Take the time to explore door panel options as well. You may find that you like black kitchen cabinets more when they have shaker-style doors rather than flat panels. You may even want to mix door styles for a more custom kitchen.
---
Find Complementing Counters, Floors and Backsplash Tiles
Once you find the right shade and material for your black kitchen cabinets, you need to find other design elements that work with them. The biggest consideration should be your countertops. Since they are one of the most permanent elements of the kitchen design, it's essential they look great with the cabinets.
The good news is that you have a lot of options; many styles of countertops work with black cabinetry. Think about what the design is trying to accomplish. To keep the room dark and moody, go for dark natural stone counters. Concrete could also work to give a more modern look. If you want to lighten the room, pick paler or even white stone for contrast.
Butcher block wood countertops are also a good complement to black kitchen cabinets. They bring a natural element into the space that may have been lost due to the lack of wooden cabinets. If you choose wood counters, add other wood design elements into the kitchen for cohesiveness.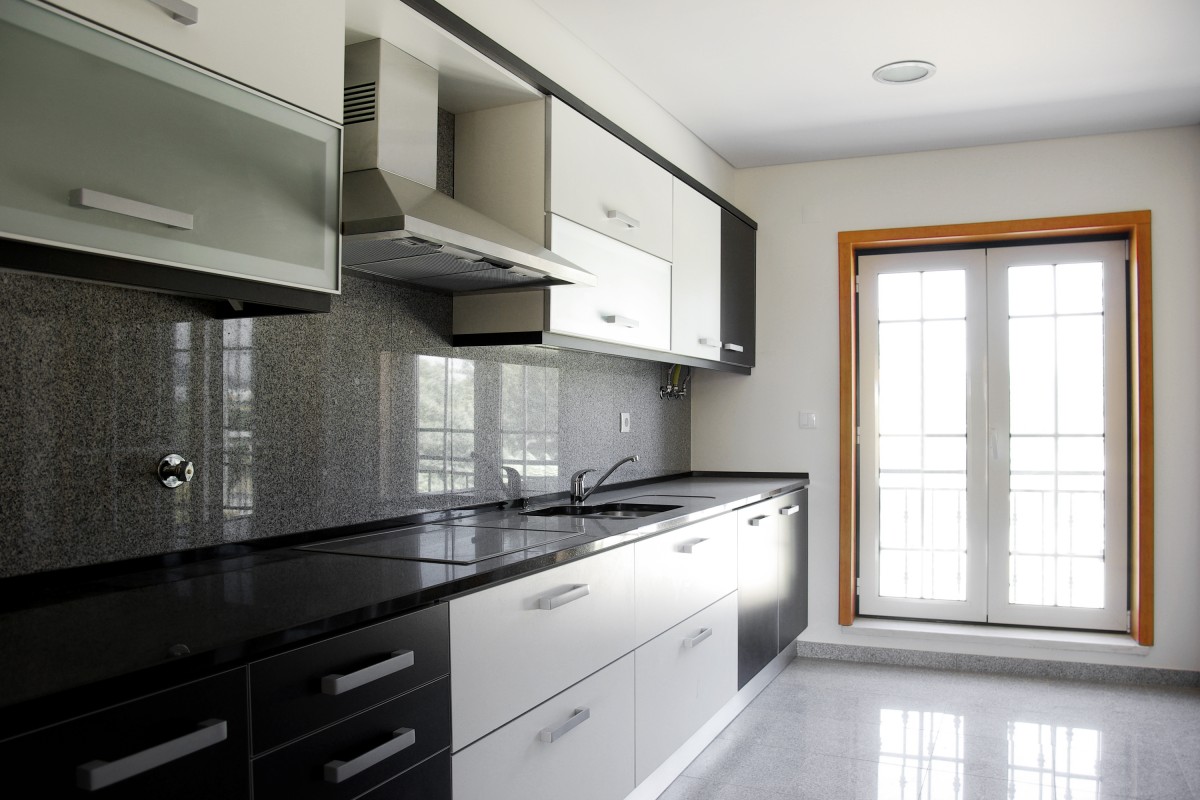 Your floors should be in a shade that doesn't compete too much with your cabinets. Wood or tile with gray tones is usually a safe choice that will enhance the look of your kitchen without clashing with the cabinets.
Your backsplash also needs to work with the cabinets. With this feature, you have a chance to keep your look sleek and simple or do something unique. A solid-colored tile in a simple pattern will help the cabinets remain the star of your kitchen. On the other hand, if you have solid black cabinets, you have a chance to play with a patterned backsplash that will add visual interest.
---
Remember the Hardware
Although they may seem like small features, the hardware you use has a big impact on the look of your kitchen. When you have black kitchen cabinets, the hardware can stand out a lot. Start with the color of the handles and pulls. Does silver work for your style, or would it be better to take a chance and add another color? You can explore brass or bronze finishes as well.
Instead of metal, see if colored acrylic or painted wood pulls work in your space. This is an especially good idea if you are using a secondary color in the kitchen design. Your pulls can be a way to connect the cabinets to that other design element.
The shape of your hardware also impacts the overall aesthetic of the kitchen. More traditional rounded or engraved pulls can bring elegance to your design. For a modern look, find pulls that have more square elements and sharper lines. You can even go a step farther and look for fabric or leather pulls to make your cabinets even more of a feature.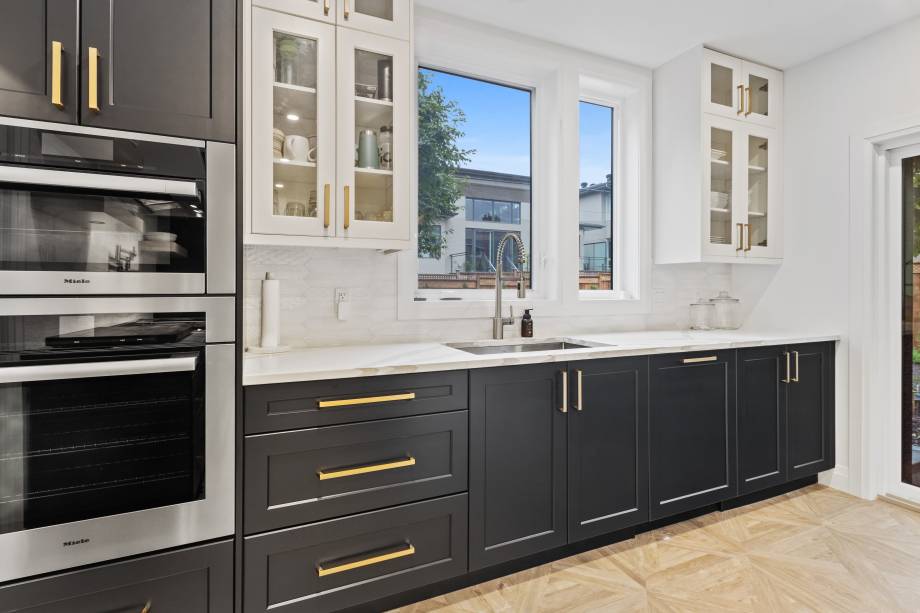 The best part about getting unique kitchen hardware is that it's easy to change out. If styles change in a few years, you can just take off the knobs and add new ones.
Trim details also are good to add to your cabinets. Placing trim on a modern cabinet can soften the look of your kitchen and make it feel cozier. Test out different sizes and cuts of trim to see what will give you the look you want.
---
Adjust Your Lighting
An important thing to remember with black kitchen cabinets is the lighting in your room. Black cabinets are gorgeous, but they don't add a sense of light to the space. Your kitchen needs sufficient lighting to make sure it doesn't feel like a cave.
Evaluate the natural light that comes into the kitchen. When you have good windows that bring in light for much of the day, it's easier for the room to still feel open even with a lot of black in your design. Take note of what direction the sunlight comes from and how much of the day you get light. Also, check your paint color in different lighting, since the tone can change in some instances.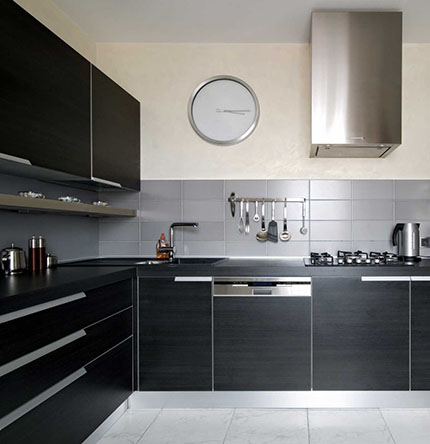 When you need to add lighting to the room, plan out what areas need the most extra light. Check for corners that may be darker than other spots of the room. Because of the black paint, you won't get the benefit of ambient brightening. You may need extra pot lights for overhead illumination. You can also add under-mount lighting to enhance the design of the cabinets and add task lighting.
Your lighting fixtures can also add to the effect of your black kitchen cabinets. Get a central fixture that has black hardware and fixtures. This will help tie your entire kitchen together. Pick bulbs that offer warm yellow light for more mood, or white light to brighten the space and make it feel bigger.
---
Add Color
While the black of your cabinets will likely dominate the style of the room, you still have the option of bringing in more colors into the kitchen. The cabinets themselves are a great option. You can mix and match your black kitchen cabinets with other colors. Create a plan for all black lower cabinets and paint the uppers another shade. Try gray, dark blue or dark green.
The walls of the kitchen are another chance to bring in color. You can paint the walls dark to maintain the mood you created with the dark cabinets, or you can create a drastic contrast with white walls. Other options are also great to explore, especially if there is a color theme in the rest of your home. Bringing that color into the kitchen makes the house feel unified.
Every kitchen needs accessories as well, and that's another way you can introduce color to your space. Appliances come in a wide variety of shades these days and you can order a package that will stand out in your kitchen. Remember to play with colors in your dishes, towels and place settings as well.
Another option for breaking up the black and adding color is open shelving. Get shelves in wood or metal to match the theme of your kitchen. Then you can load them up with stylish pieces of heirlooms that stand out among the cabinets. You may lose a bit of storage space, but you'll create more things to look at in the kitchen.
---
Go Beyond the Cabinets
There's no rule that limits you to black kitchen cabinets. Look at other aspects of the kitchen and see if they would benefit from black paneling as well. The refrigerator or dishwasher are both great opportunities for this. You can get panels that go on the doors and match your cabinet fronts for a continuous look.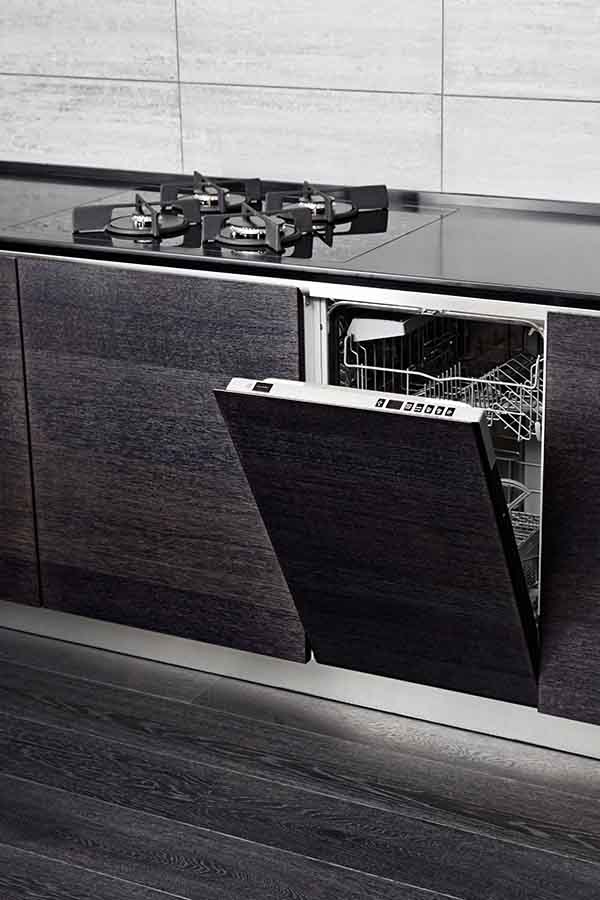 Also, check out any doors and doorways in the room. Maybe you want to make a pantry door or exterior door black to match the new direction of your kitchen. These aren't hard things to change in the future, so it's worth trying them out.
The trim around windows and baseboards and details in spaces like breakfast nooks and banquettes give you opportunities to introduce black in your home. Choose as much as you are comfortable with to create connections between different areas and your kitchen.
---
Plan for Maintenance
Using a bold color such as black for your kitchen cabinets is fun, but you may need to plan on a little maintenance down the road. Such deep paint colors run the risk of fading. Start with cabinets that are well primed and sealed, but be ready for a few touch-ups eventually.
You will also need to address any scratches or scrapes on your black kitchen cabinets, particularly if they are painted wood or acrylic. The damage will be a bit more obvious than on a lighter-colored cabinet. This is why CabinetsNow offer touch-up accessories, making it easy for you to keep you kitchen looking great.
---
Embrace Your Taste
The most important part of making black kitchen cabinets work in your home is staying true to your style and what you like. Your design has to make you happy and be functional for your family. If you want a dark and dramatic kitchen, take the leap and go for a look that speaks to your needs.
Be open to mixing and matching your colors and design elements for a space that isn't like what you've seen in other homes. The kitchen you are creating is yours and doesn't need to conform to design trends and rules.
---
Bring Style to Your Home With Black Kitchen Cabinets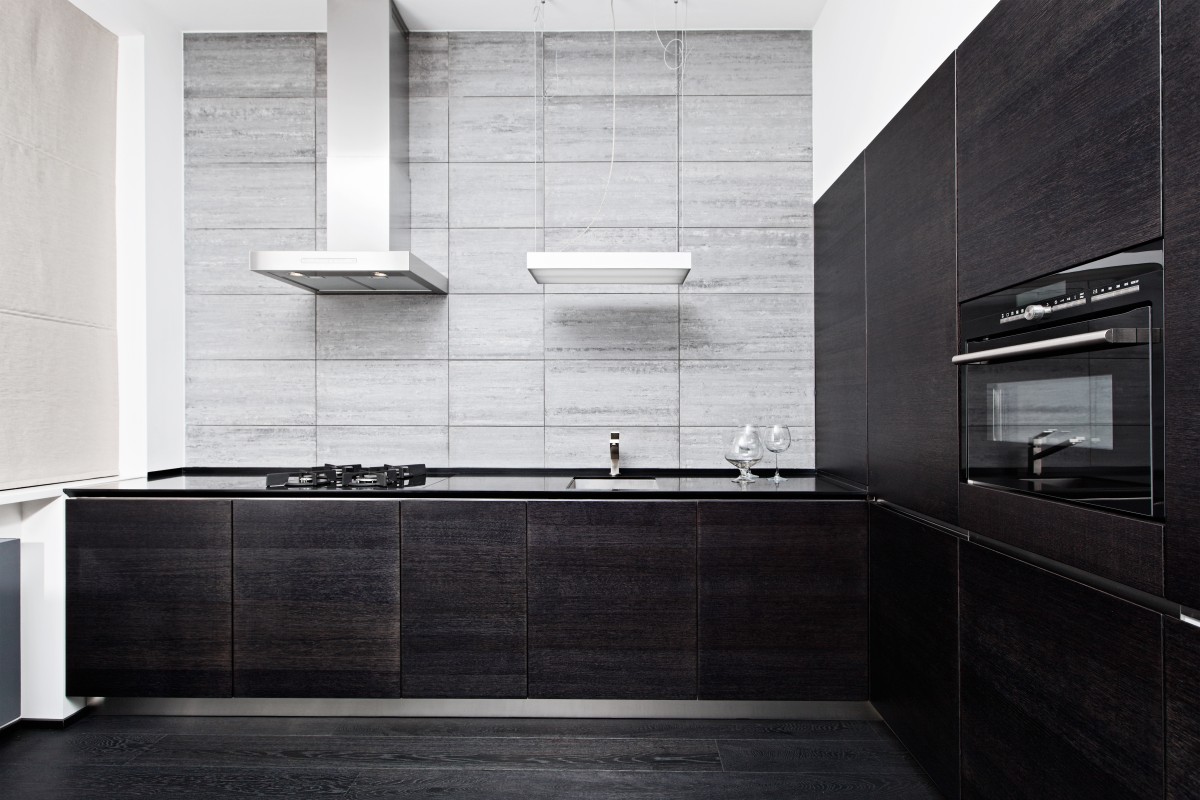 Black kitchen cabinets may feel like a daunting choice, but you can have an inviting and homey kitchen accentuated with beautiful black. Log on to CabinetNow to start exploring your cabinet door options. You can get the colors, materials and styles that will make your kitchen perfect.
If you are ready to start ordering or if you need assistance, please feel free to call us at 1-855-669-5222 or send us an email at info@cabinetnow.com. Our team of cabinet experts is here to help with everything from measuring to ordering.