Top 20 Kitchen Trends Through the Decades
Kitchen design and architecture has drastically changed in the past 100 years. Each decade defines a different era of technological advances and societal changes that has shaped our kitchens to how they are today. Trends are ever changing. However, one thing remains the same in a kitchen: designing an atmosphere that brings together friends and family.
In the past 100 years we have gone from a workroom setup to high tech appliances, thousands of cabinet styles and colors, and engineered materials that can resemble almost any texture. Take a look at all the trends through the ages.
---
1900-1920's Kitchen Trends
At the beginning of the 20th century, kitchens were set up as a workspace. The kitchen was a sacred place, much like it is today, but there was much more of a focus on the utility of the space.
1. Workroom Setup
The architecture you see in 1900-1920's kitchens resembles a workroom. There were not cabinets in every kitchen, most had open shelves, a table, a gas or wood burning stove, and a sink. Instead of refrigerators, many people had ice boxes to keep food cold and fresh.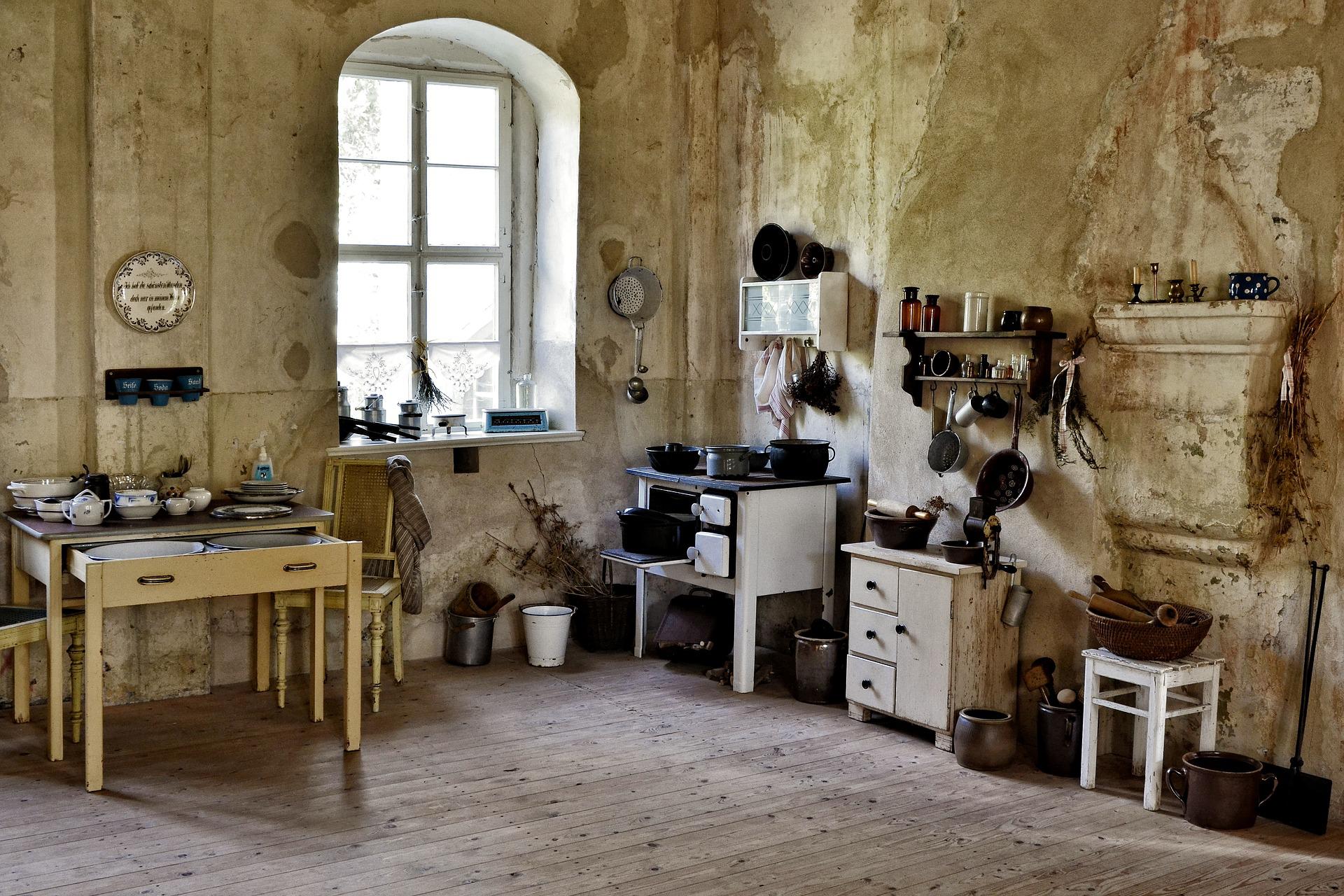 2. Freestanding Sinks
According to Apartment Therapy, 1900's and 1920's homes were connected to a municipal water system. A common "trend" of the early 20th century home was having sinks separate from cabinets. The sinks were mounted on a wall that was connected to a drainboard.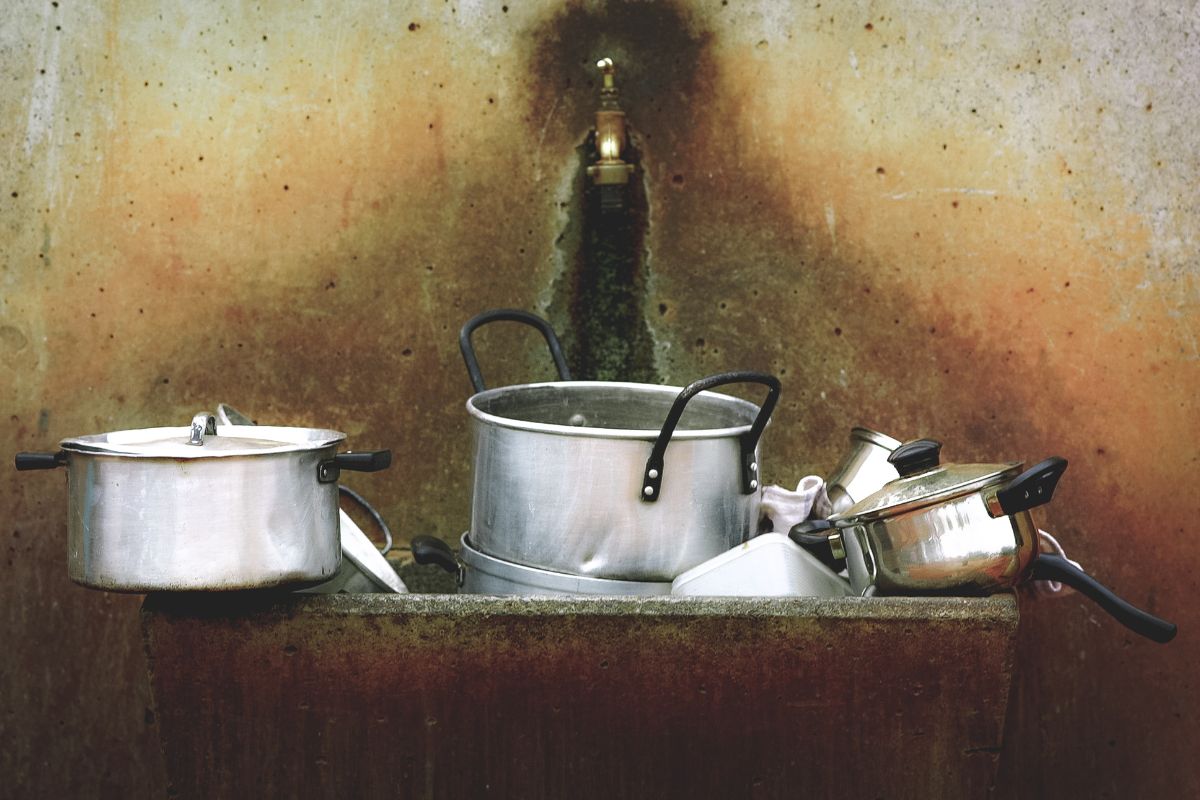 ---
1930's Kitchen Trends
You probably associate the decade of the 30's with the Great Depression. This was a time of economic turmoil across the world that changed society completely. Women spent a lot of their time in the kitchen preparing food for their families so naturally the structure of the kitchen began to change.
It was not until the 1930's did the kitchen begin to take on its modern architecture. The kitchen structure began incorporating more organization and sanitary practices. In this decade, people began putting sinks into their countertops, incorporating cabinets, and refrigerators were being seen in upper class kitchens instead of using ice boxes.
3. Standard Cabinets
While the introduction of cabinets began in the renaissance, standard cabinetry grew trendy in kitchens in the 1930's. Between 1900 and 1920, many kitchens used tables and open shelving rather than cabinetry. The introduction of cabinets were plain, simple, and had a bulky, boxy look to them.
4. Installation of Sinks Into Countertops
In addition to standard cabinets becoming more popular in the 1930's, continuous countertops did as well. In the 30's we started to see sinks attached to the countertops more than freestanding, which is much closer to kitchen designs seen today.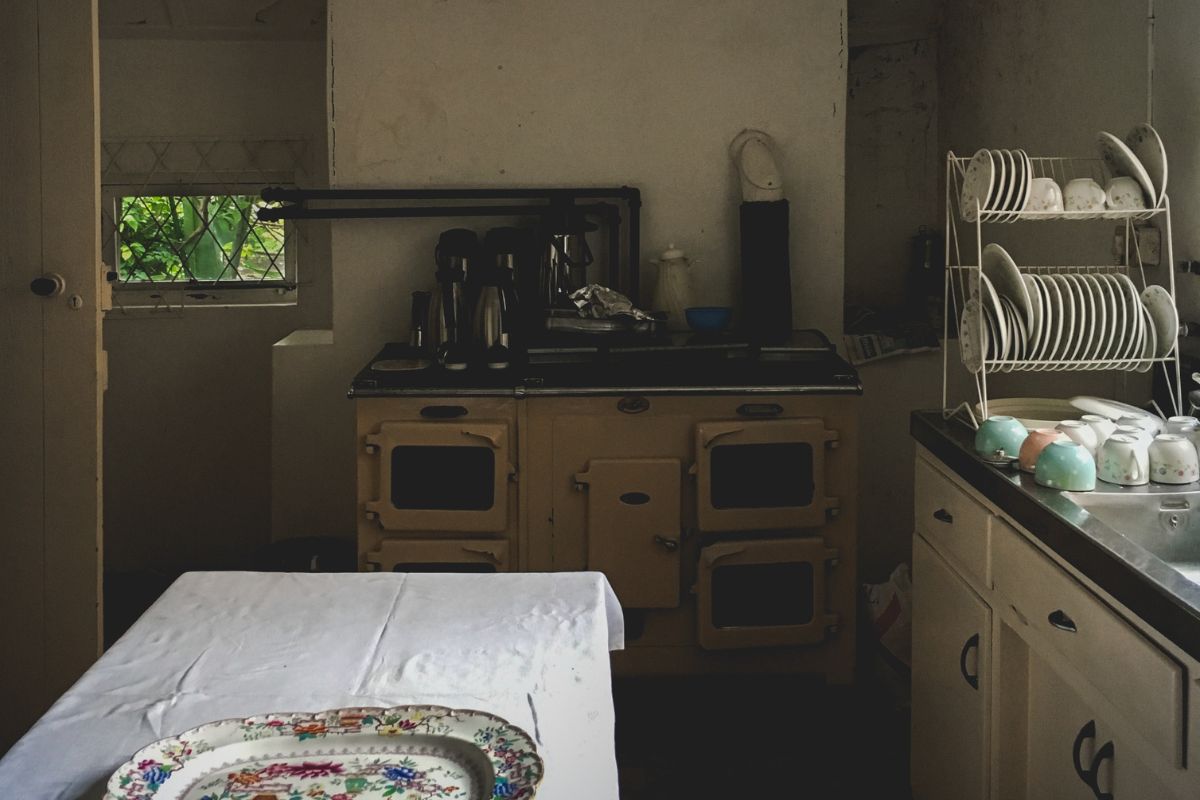 ---
1940's Kitchen Trends
In 1941 the United States entered World War II. The beginning of this decade was an incredibly tragic era in U.S. history, but completely transformative. The trends of the kitchen in the 40's dramatically changed especially post-war with more technological advances such as electrical stoves and according to Big Chill, about 85% of Americans owned a refrigerator by the mid 1940's.
5. Decorating
With the modern kitchen architecture and appliances being integrated in the 1940's kitchen, people began diving into decorating to keep their kitchens well put together and organized. HGTV states that more women poured creativity into their kitchens adding window treatments, integrating patterns on the walls and floors, and adding pops of color in their cabinets.
6. Two-toned Kitchens
Another iconic trend that is coincidentally trending today is two-toned kitchens. According to LovetoKnow, Two toned-kitchens ruled the late 1940s. After a long six year war, WW2 officially ended in 1945. The pops of bold colors in steel painted cabinets was a way to express their positive emotions of hope, peace, and freedom.
Two-toned kitchens are still a unique and custom kitchen feature you can add to your kitchen.
---
1950's Kitchen Trends
Post-WW2, the housing market spiked and people were buying houses left and right. The decade of the 50's brought vivid pops of colors into their kitchens. The kitchen look had lots of pastel colors, bubble refrigerators and laminates for cabinets and countertops.
7. Soft Pastels
One of the biggest trends of the 50's was adding pastel colors to your kitchen. Post-war, everyone was reaching for vibrant colors to express their freedom and happiness. Formica, which is a laminate material, became popular for cabinets in the 1950's because it was not only affordable but it came in all sorts of trendy colors such as mint green, pink, and baby blue.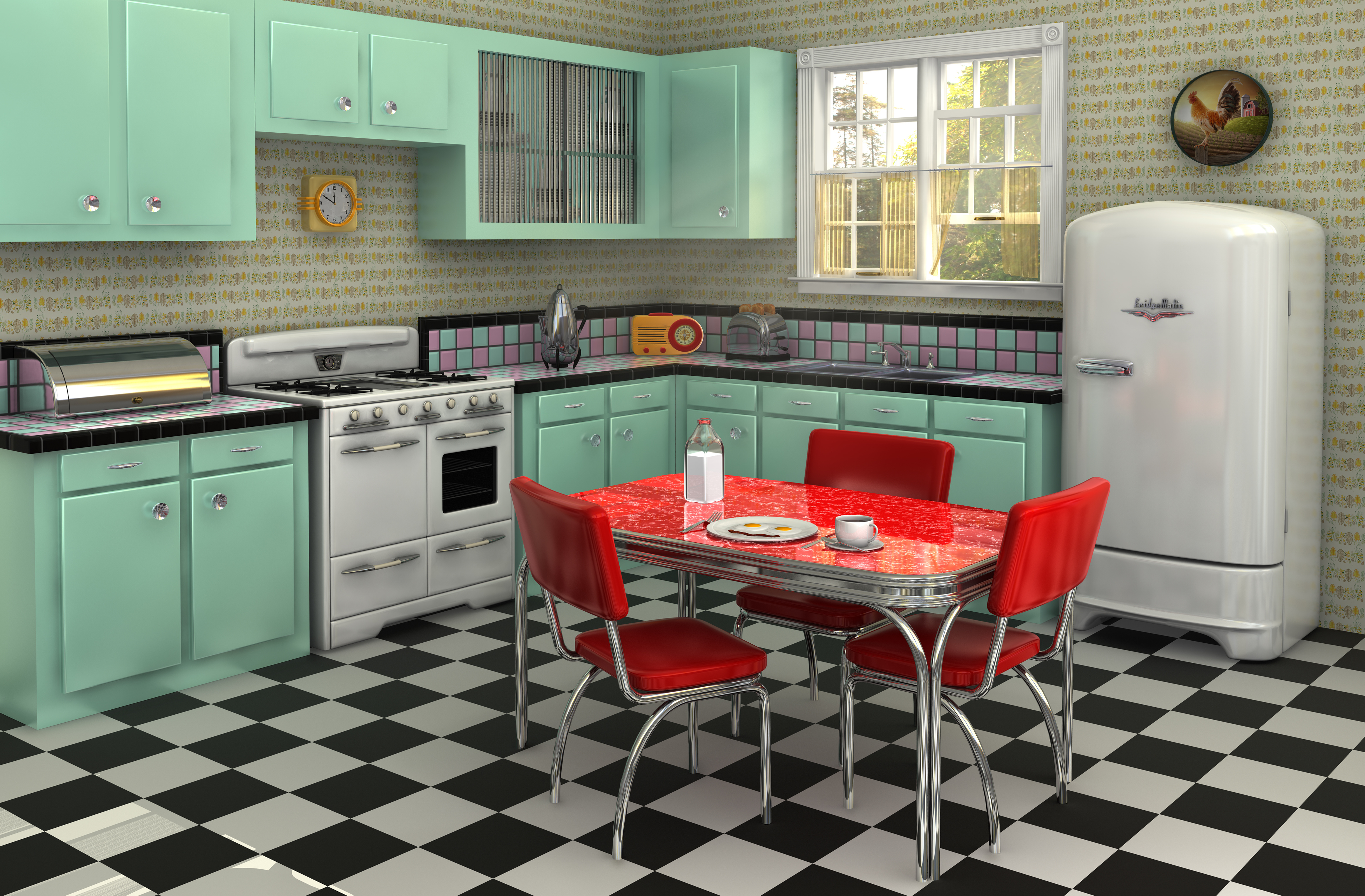 Laminate cabinets are still popular and used today because there are a wide variety of styles and colors to choose from for an affordable price. Today, we offer thermofoil cabinets, which is vinyl laminate that is heated and pressurized onto an MDF core.
8. Tile Floor and Bubble Refrigerator
Checkered tile floor patterns began in the Renaissance, and we still see them trending today. . Elvis Presley was known for his checkered tile which inspired many people. Today, we consider it to be a vintage addition to our kitchen or bathroom. Additionally, bubble refrigerators were trendy in the 50's for a fun feature that came in all sorts of colors.
---
1960's Kitchen Trends
The 1960's was a decade of societal change with the civil rights movement and political protesting. With a lot of social change, trends began to change as well. Specifically, kitchens became larger to entertain guests and the eccentric colors and patterns became more apparent in wallpaper, cabinets, and appliances. Wood cabinets also became more affordable in the late 60's.
9. Open Kitchens For Entertainment
In the past, kitchens were relatively small because they were strictly seen as a space for cooking. In the 1960's the kitchen dynamic began to change to not only cook, but also to eat and entertain in. The trend we saw for a more open kitchen layout was the cabinets sectioned off with a hatch from the dining area for family and guests where food could be handed through.
10. Slab Veneer Wood Doors
Forbes Advisor explains that wood cabinets became a big trend in the 60's for a kitchen cabinetry.. Specifically, people were interested in having a sleek finish to the cabinets by adding slab veneer wood panels to their cabinet doors. Oftentimes to keep up with the trends of the 60's, these veneer slab cabinets were painted a bright color such as green with a warm-toned tile backsplash.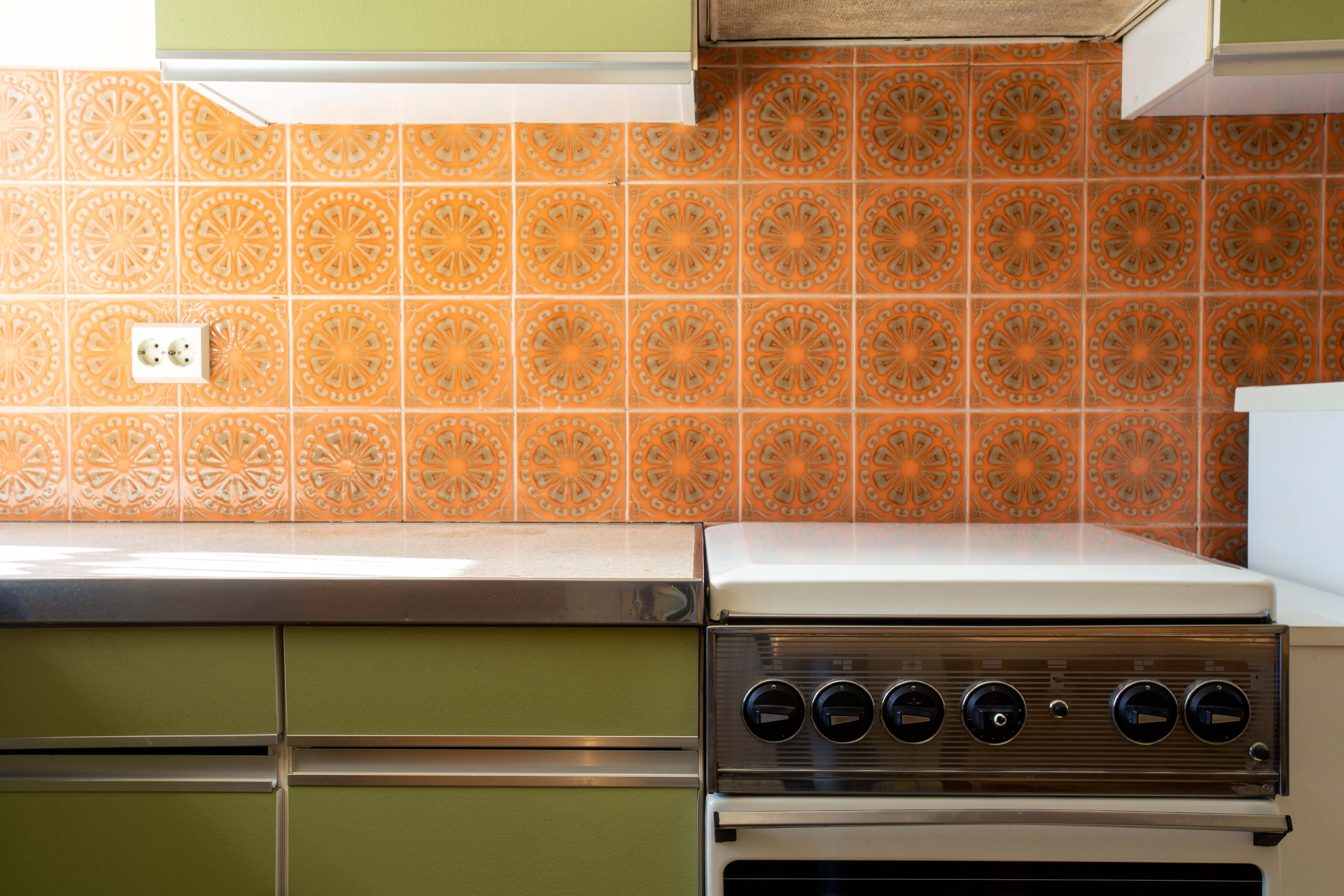 ---
1970's Kitchen Trends
Ah, the 1970's, the decade of hippies and disco. The 70's was a time of technological advances and societal changes. Marsh and Parsons explained that in the 70's, everything was more toned down including the home decor. Homes were more warm and naturalistic, symbolic of freedom and experimentation.
11. Warm Neutral Colors
The 70's had a more relaxed feel to the home design in the kitchen. Pastel colored appliances, cabinets, walls, and flooring were replaced with warm neutral tones and natural wooden features. The trend was to tone down the bright colors with harvest tones, such as gold and orange.
12. Natural Wood Cabinets
Natural Finish wood cabinets have always been timeless. In the 70's, the biggest trend was to embrace the solid wood cabinets' grain by staining or clear finishing them for a more natural and relaxed kitchen design. While solid wood cabinets were more expensive, we also saw the rise of engineered wood, such as MDF, that was commonly used since these were more affordable but still kept the trend of natural wood.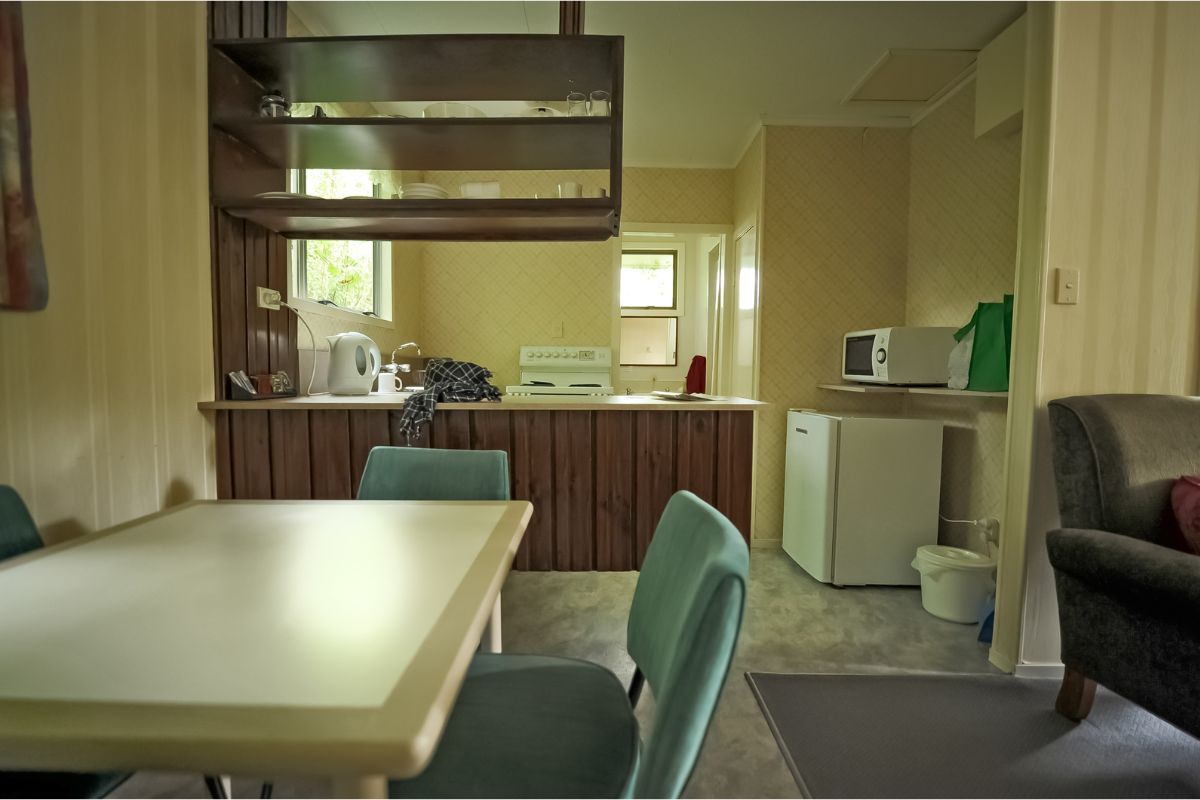 ---
1980's Kitchen Trends
With the rise of Hollywood and the media, the 80's was an era of consumerism. People started taking their kitchen design more seriously by creating floor plans. The trend of the 80's was to create a sleek and polished kitchen. The bright colors from the 40's-60's were transitioning to brighter whites and Euro-style cabinets.
13. Bright White U-Shaped Kitchen
Instead of the 1970's wood cabinet doors, the trend of the 80's was bright white and lighter colors in the kitchen for cabinets, walls, and flooring. This decade was obsessed with achieving a polished look with little to no hardware or handles on the white slab doors. Creating floor plans for kitchens was also gaining popularity with the U-shaped kitchen being the trend of the 80's. Additionally, there was more kitchen cabinet versatility such as breakfast bars.
14. Euro Style Cabinets
Euro-style cabinets were a big trend in the 80's that brightened the kitchen with white cabinets but still incorporated wood accents. The cabinet doors were either a painted slab wood cabinet or a white slab laminate cabinet door with a wood trim and no handles.
---
1990's Kitchen Trends
The 90's don't seem too long ago, right? Well, when you look at the trends in the 1990's it might feel longer ago than you thought. The sleek, polished cabinets of the 80's turned back to the old and worn wood cabinets of the 70's for a homey relaxed feeling, much like the show Friends. There were a couple trends that really made this decade stand out.
15. Light Oak Cabinets With White Appliances
I'm sure you haven't forgotten about the orange and gold undertones in cabinets. Light oak cabinets paired with white appliances were a classic look in the 1990's. People were obsessed with this homey, countryside vibe that light oak gave paired with white appliances to brighten up their home. Today white appliances are making a comeback with gold accents, just not paired with light oak cabinets anymore.
16. Beginning of Islands
The trend of putting an island in your kitchen started in the 90's. It was considered a luxury in your kitchen if you had an island built out of base cabinet boxes for preparing food and adding the perfect centerpiece such as a fake bowl of fruit. Today, it seems as if islands are a staple in any kitchen design. People would pair the island with matching laminate countertops and light oak cabinets for the countryside feel.
---
2000's Kitchen Trends
With the rise of HGTV in 2002, people became more obsessed with creating their "dream home" and following trends for their kitchen. The decor in the early 2000's was unforgettable in good ways and bad. Candles, wall accents, ferns, terra-cotta tiles, granite countertops, dark cherry cabinets, and stainless steel defined the 21st century of kitchen design.
17. Tuscan-Style Kitchens
Tuscan-style kitchens, or as some people call it the "Olive Garden" kitchen trend, became popular in the early 00's. The features of this kitchen included terra-cotta tiles, rooster imagery, deep reds, farmhouse tables, stone arches, and textured walls. People used dark cabinets with materials such as walnuts for that Italian feel. This trend was either loved or hated, but we think it is and always will be one of the most iconic kitchen trends in history.
18. Cherry Cabinets, Stainless Steel Appliances, & Granite Countertops
Stained dark cherry cabinets, stainless steel appliances, and granite countertops were the mainstay for the early 2000's kitchen design. This kitchen was glamorized everywhere. In your past home, maybe a friend's home, or your parents home, you have probably seen this kitchen somewhere. This early 2000's kitchen trend even remains intact today in homes. The rich reddish undertones in cherry cabinets complimented the granite in countertops and silver appliances almost perfectly.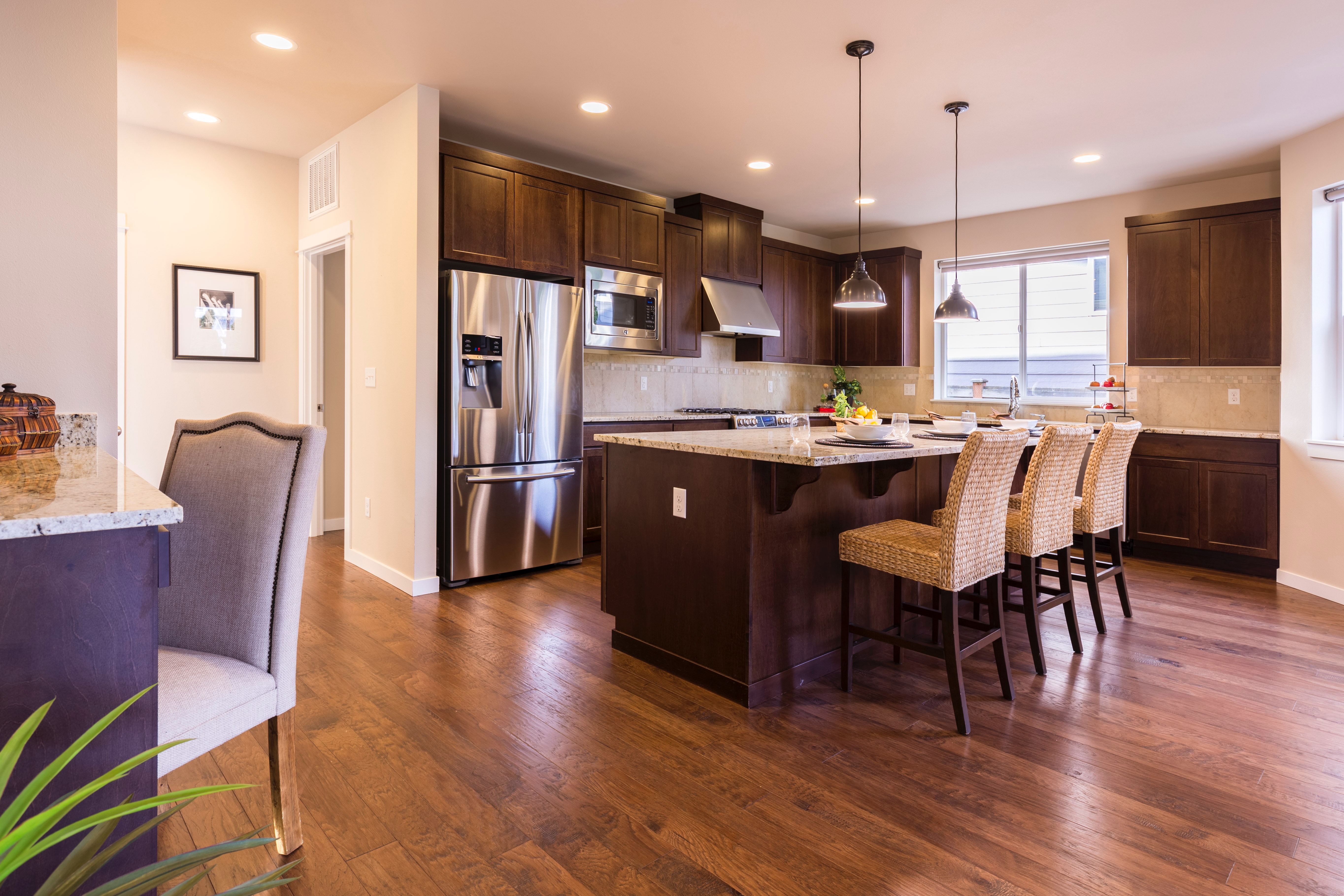 ---
Today's Trends
Today, many of the trends we get for kitchen design come from social media. From the early 2000's to now, social media has drastically changed our society in how we get information. We have more access to inspiration through Pinterst, Instagram, and TikTok niches of kitchen design. Trends have a wider variety in today's society with so many options to choose whether you like contemporary, modern kitchens or vintage kitchens, both are trendy!
19. Contemporary, Modern Kitchens
Contemporary kitchens feature a seamless, sleek touch and feel. The panels are usually flat and the cabinet doors are measured out to have a full overlay or inset design. The goal for a contemporary, modern kitchen is to have a clean and sophisticated aesthetic. The decorating is minimalistic, distinguished by crisp white accents and sleek stainless steel appliances. The modern kitchen can range from fresh white cabinetry or sleek black cabinetry paired with minimalistic decor.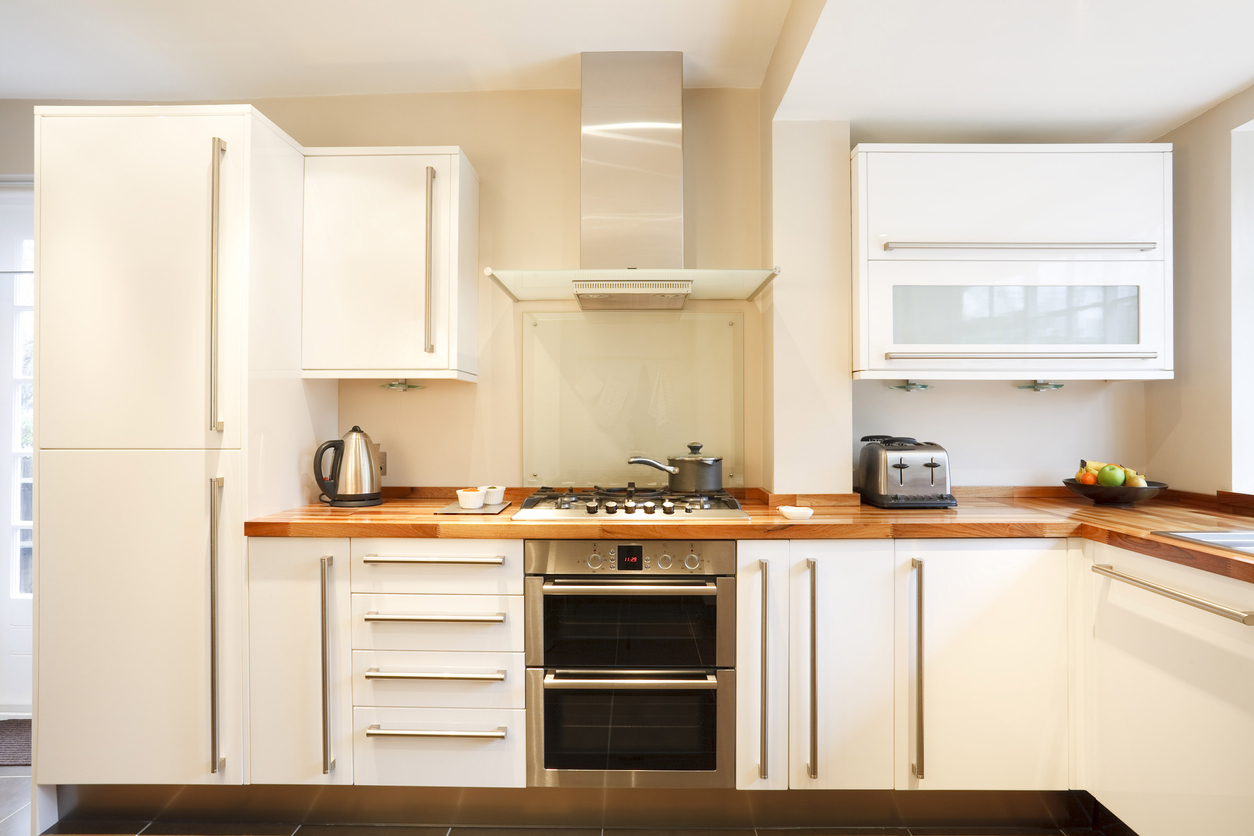 20. Earthy Kitchens
Quite the opposite of contemporary kitchens, earthy toned kitchens are another trend of the now. These kitchens have a vintage feel with many plants and wooden features much like the 70's kitchen. You might be able to picture this kitchen in a New York apartment or saved to your Pinterest home inspo board. The vintage kitchen is all about organic features such as green cabinetry, plants galore, wooden accents, Persian rugs, and tile floor.
---
Wrapping Up
The nostalgic journey is over and we hope you enjoyed learning about how cabinetry has transformed in the last 100 years. Through the past 100 years, we have seen kitchens turn from a workspace to a comforting space full of unique design and taste. We have seen cabinetry take its form and watched trends evolve through the media starting with magazines, then TV, now social media.
Trends come and go, that is why it is important to focus on what YOU like for your own unique space regardless if it was a trend of the 50's or something new. Let us help you create the kitchen of your dreams!
If you are ready to start ordering or if you need assistance, please feel free to call us at 1-855-669-5222 or send us an email at info@cabinetnow.com. Our team of cabinet experts are here to help with everything from measuring to ordering. You can also fill out our custom cabinetry request form for a free quote which includes a 3D render and layout design from our professional designers!