Upgrade Your Kitchen: 5 Creative Ways To Style a Glass Door Cabinet
If your kitchen is overdue for a remodel, the cabinetry can significantly affect the overall look. The color and style of your cabinets can change the room's aesthetic and function. One of the most timeless upgrades is to convert a wood cabinet into a glass door cabinet.
Why Consider a Glass Door Cabinet Over a Wooden Door Cabinet
While wooden doors on cabinets have a lot of charm, glass cabinet doors are unique and draw attention. Glass cabinet doors can be installed on various cabinet boxes in different styles and colors.
Glass Brightens and Opens a Room
If you have a small or dark kitchen, glass can open it up. The glass reflects the light and brightens up the room. It can make the area look larger and brighter. Glass doors also offer visual interest because they change up the overall look of your kitchen. Since you can see the contents, the look is not as monotonous as closed cabinet doors can be.
Glass Provides a Display
Do you want to share your best dishes or your favorite china Traditional cabinets do not provide you with an opportunity to display your collection. Show off your most attractive items by placing them in the front of your cabinets.
Glass Is Safer Than Open Cabinetry
If you like the look of open cabinetry, you will probably like the look of glass cabinets. Without any doors, there is always a risk of accidents. An earthquake, for instance, could leave your dishes scattered and broken on the floor. Having expensive or fragile items on display without glass to protect them can be dangerous.
5 Creative Styling Ideas for Your Glass Door Cabinet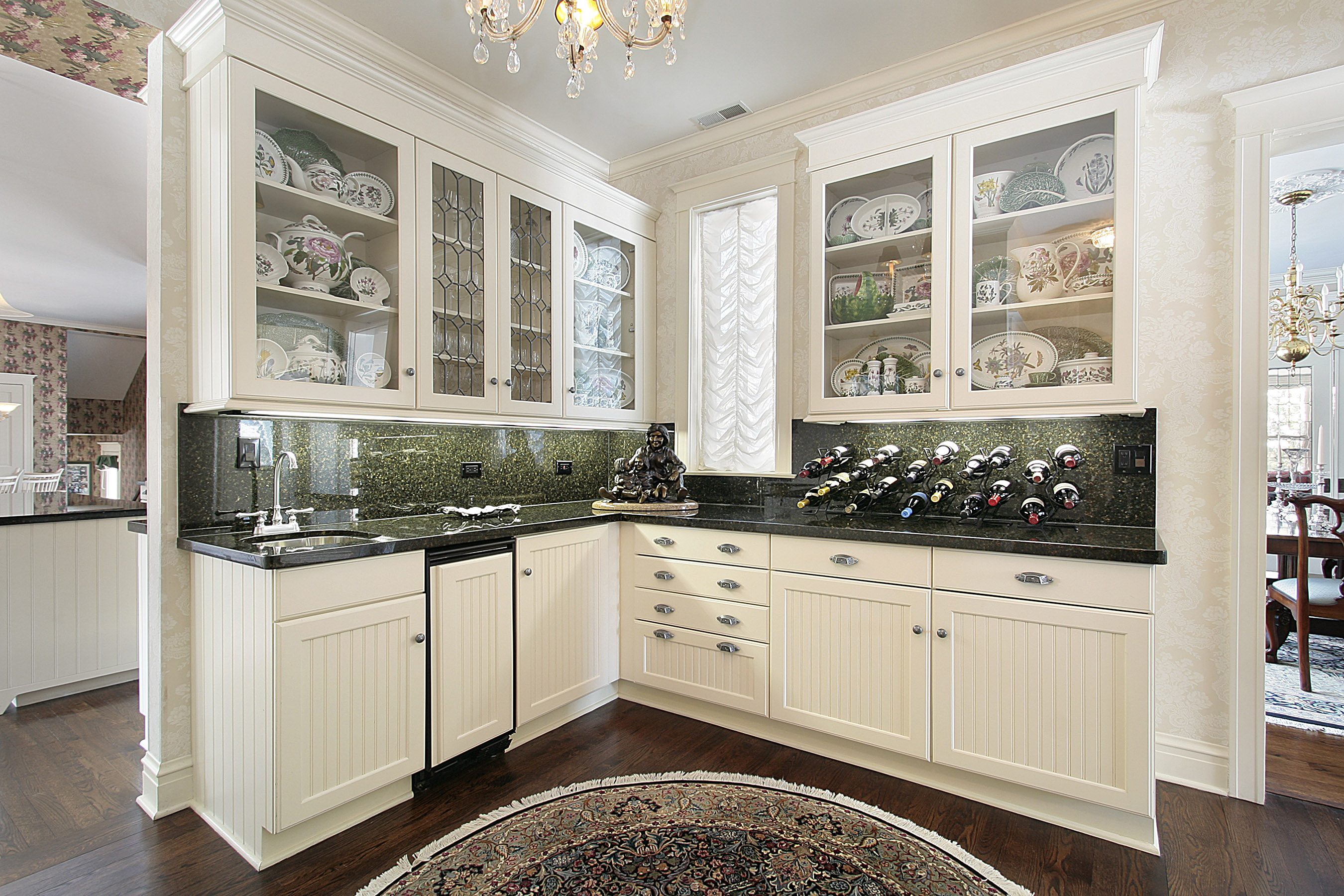 Glass might initially feel daunting if you've only had traditional cabinetry. Fortunately, there are many ways these cabinet doors can enhance your home.
1. Show Off Collectibles
If you have collectibles or antiques, you naturally want to share them with visitors. However, displaying them on the countertops can make the space look crowded and reduce your area for food preparation. With glass cabinetry in your kitchen, you can show off collectibles that match your kitchen's theme. For instance, you could display vintage tea kettles, cookie jars or your grandmother's fine china.
2. Display Cookware
Consider putting your favorite cookware on display. For instance, a beautiful slow cooker, pots and pans or a Dutch oven can be presented behind glass. Displaying cookware serves two purposes. On one hand, you can show it off and look at the beautiful items you've curated over time. On the other hand, you can easily see the cookware you need; you won't have to dig through cabinets to find the correct item.
3. Illuminate Your Belongings (and Your Kitchen)
Adding lights to a glass door cabinet can add visual interest. It emphasizes what you have inside and makes your items look great. In addition to putting a spotlight on your display, it also adds warmth to the inside of your kitchen.
4. Decorate for the Season
One of the benefits of using glass is having a seasonal display every year. Place holiday-themed dishes and cookware in the glass cabinets to display them throughout the holidays. During other times of the year, you can arrange dishes by season. For instance, show off your bright summer dishes and pitchers in the summer months.
Not only can you display seasonal collections, but you can also decorate the glass itself. It's easy to use decals and paint on it to get your kitchen ready for the holiday season.
5. Create a Spice Display
If you love to cook with various spices, why not display them openly for everyone? Spices add flavor to your cooking, and they can also add color and interest to your kitchen. Consider canisters or jars of spices displayed behind glass. Always keep the spices you use the most often towards the front to access them easily.
How To Maintain a Glass Door Cabinet
When you are using glass doors as a means to display items in your kitchen, you have to be able to maintain them. The high-quality glass is durable and will last you for years, but to get the most out of it, you must know how to care for it.
Keep the Glass Clean
Glass doors can quickly become smudged over time. Use gentle cleansers on them. Microfiber cloths and glass cleaners can keep the glass looking bright. If you want to mix your own cleaner, use one part vinegar and one part water. Spray the cleaner on your glass and use a microfiber cloth to wipe it away without leaving streaks.
Declutter the Cabinets
While glass cabinets can make your kitchen look more open and bright, they can also make it look more crowded and cluttered if you do not organize the contents. If you choose to display dishes, make sure all of the dishes are in the same style and that you organize them neatly. Leave space between the dishes to keep the cabinets from looking overcrowded.
Some people choose to mix glass cabinetry with traditional wood cabinetry so they have a place to hide mismatched items and stash clutter while keeping the glass door cabinet neatly organized.
Be Gentle With the Doors
Never slam your cabinet doors. While you shouldn't slam wooden doors, either, be extra careful with glass to avoid cracks. Early on, it is easy to be gentle with the cabinets, but over time you may grow more comfortable. Always close glass doors carefully to protect the cabinet doors and contents.
Create an Upscale Aesthetic With a Glass Door Cabinet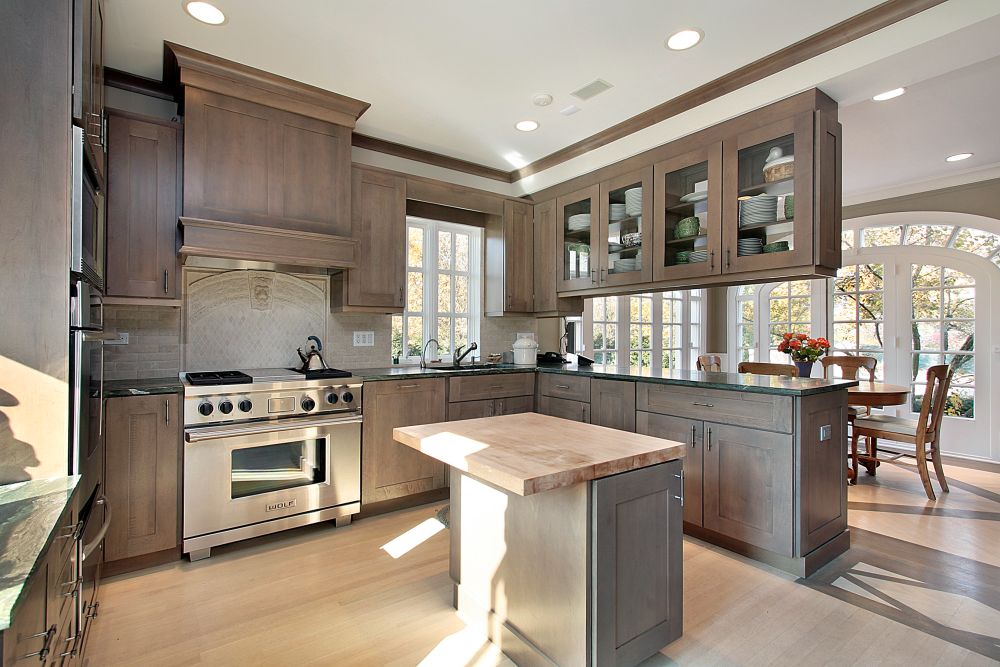 With glass cabinet doors, you can change a dark, crowded kitchen into a space that's bright, inviting and warm. When decorating your kitchen, remember to keep glass cabinets tidy, clean and free from clutter.
At CabinetNow.com, we understand how important it is for you to have cabinetry that matches your style and serves a practical function. Check out our different cabinet door options today to find glass cabinet dooror other style that matches your home. If you are ready to start ordering today and need assistance feel free to give us a call to 1-855-669-5222 or an email to info@cabinetnow.com.