Reface Your Kitchen Cabinet Doors and Save!
For most people, you don't think about replacing your cabinets until things start falling off walls or drawers can no longer be opened. This is, typically, because ripping out cabinets is both time-consuming and can be costly. However, you don't have to wait for doors to fall off the hinges or spend a ton of money to get a new look in your kitchen.
Just replacing your cabinet doors and drawer fronts, also known as cabinet refacing, is faster and more cost-efficient than doing a complete kitchen remodel. In a full remodeling project, you may be replacing appliances, installing a kitchen island, or doing other jobs that oftentimes require professional help. Refacing, on the other hand, is a task that can often be done by a homeowner with a bit of DIY experience.
---
Cabinet Door Refacing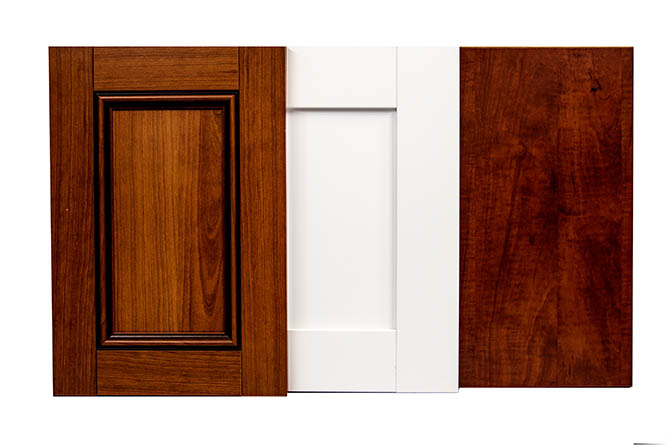 As mentioned above, refacing your cabinets means replacing the cabinet doors and drawer fronts with new ones. This should not be confused with cabinet refinishing, which is where you remove the doors for new paint or stain. For refacing, you will be ordering new cabinet doors and drawer fronts, plus any hardware that you will need. You may be able to reuse certain pieces of hardware, but if you are going for a new style then you may need to order new knobs and pulls anyway.
Just replacing your cabinet doors is a relatively quick task to accomplish. Aside from the new doors, drawer fronts, and hardware, you will also need wood screws, a screwdriver, and a drill. Let's take a look a the steps required and see if you are ready to reface!
---
Inspect the Cabinet Box
Since you are only replacing the cabinet doors, you need to inspect your cabinet box to ensure that it is structurally sound. Here is a quick list of issues to keep in mind as you look over your cabinet boxes: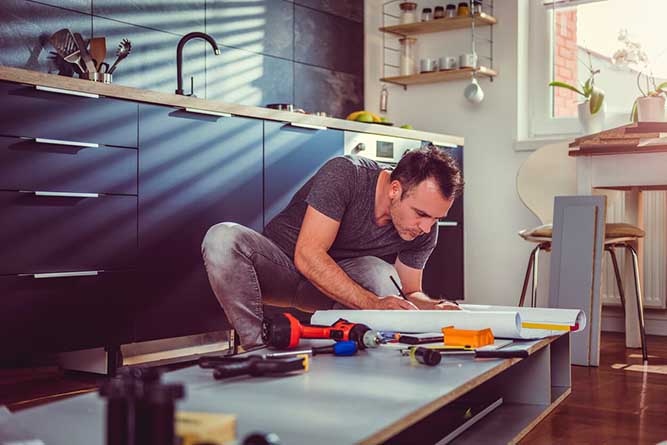 Check to see if the sides of the cabinet box are still firmly attached. Gently poke around on the inside of the box to make sure nothing is soft or sagging.
Make sure your wall cabinets are secure to the wall and each other if applicable.
Inspect your base cabinets for water damage, particularly around the sink.
If you have framed cabinet boxes, ensure all face frames are firmly attached.
Check all shelving to ensure that nothing is warped or sagging.
Check to see if all drawers are able to easily and fully open.
---
Getting Started with Refacing
Now that you have decided you are ready to reface your kitchen cabinets, what comes next? The next step on your journey to a new kitchen design is to measure your existing doors and drawer fronts. Unless you are changing the amount of overlay your cabinets have, then you can likely measure your existing fronts. If, on the other hand, you want to go from inset doors to full overlay, then you will need to do some math.
If you are not ordering doors at the same size as your existing doors, then you will need to measure the cabinet box opening. This is the opening that the door or drawer front will cover. Once you have that measurement, you will need to either add or subtract depending on the amount of overlay you want. For example, if my cabinet box opening is 10" x 10" and I want to have a .5" overlay on each side, then I would order my door at 11" x 11". This is because we need to add 1" to both the width and height of the door to account for both sides, the top, and the bottom.
For more information on sizing including what to do with split doors, check out our cabinet door measuring guide. It provides more detail on getting the most accurate measurements so that you can achieve the best results.
---
Find Your Cabinet Style
Once you have the measures and quantity for what you need to order, then you need to decide on a style. You may already have a style in mind and this is what lead you here, or this may be the first time you have considered new cabinet doors. Either way, we offer a free cabinet style finder quiz and a free door matching service. And so, whether you are working from a mood board or have no clue, we have the resources to help you get started.
You can also start thinking about how you want to finish your cabinets. No matter what stylistic direction you take this project in, your new cabinet doors will need to be finished in some way. Your style and finishing method will influence one another, and so it can be a helpful filter when browsing 100's of options.
For example, those interested in more traditional looks may be leaning toward a darker finish for your cabinets. If this is the case and you choose to stain, then you will likely be looking at raised panel cabinet doors like our Revere.
For those thinking of something more modern, slab-style cabinet doors with a full overlay can be a great way to create a seamless wall of cabinetry. We offer slab-style doors in a variety of wood choices, but we also offer them in thermofoil. Thermofoil is a vinyl laminate that is heated and pressurized onto an MDF (or medium-density fiberboard) core. Thermofoil is available in a wide variety of colors and textures, which includes finishes such as a trendy sage green or denim to a variety of wood grain patterns. Plus, thermofoil products arrive fully finished, so you don't have to worry about buying any paints or stains.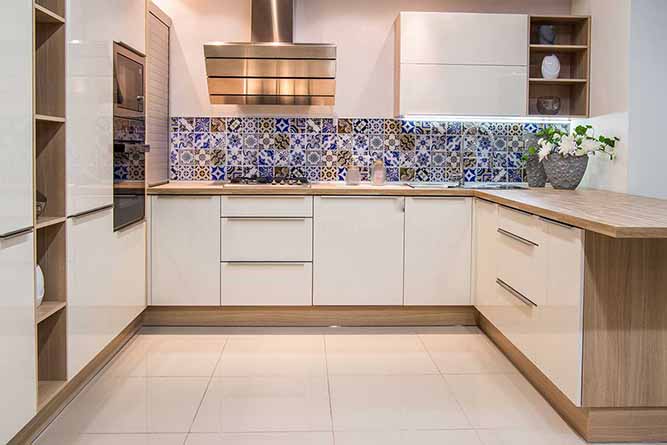 If you are looking for something closer to the middle of the road, the Shaker cabinet door won't let you down. Shaker-style cabinets have been around for over 200 years and are the perfect transitional design. Depending on how you decorate the rest of the space, bright white shaker cabinets with black hardware can be great for a trendy, more modern look. Alternatively, pairing white with a cool, light color can be great for a clean, farmhouse design. The flexibility and versatility of the Shaker cabinet are two of the many reasons why it has always been one of the best-selling cabinets.
---
Placing Your Order
If you choose us to help you with your refacing project, the next step is simple. Once you have pulled up the style you would like, just enter your measurements and select a material for construction and you are on your way. For a more in-depth guide on how to use our unique, fully-online cabinet shop, check out our 5 step guide to ordering custom cabinets.
While you wait on your doors and drawer fronts, you can begin preparing for the project. This means gathering the rest of your supplies and prepping the kitchen. This includes tasks like removing all the old cabinet doors and hardware. If you aren't replacing the hinges or other hardware items, be sure to label everything with where it goes.
Once your doors and drawer fronts arrive, it will just be a matter of finishing them if you need to, and then screwing everything into place. Remember to take your time and to be patient. Nothing can be more frustrating than a mistake that leads to delays just because you thought you could save time with a shortcut.
---
Finishing Up
Choosing to reface your kitchen cabinet doors instead of replacing all of your cabinetry can help you save time and money. While not as intensive as a complete remodel, refacing your cabinets will still take a bit of time and shouldn't be rushed.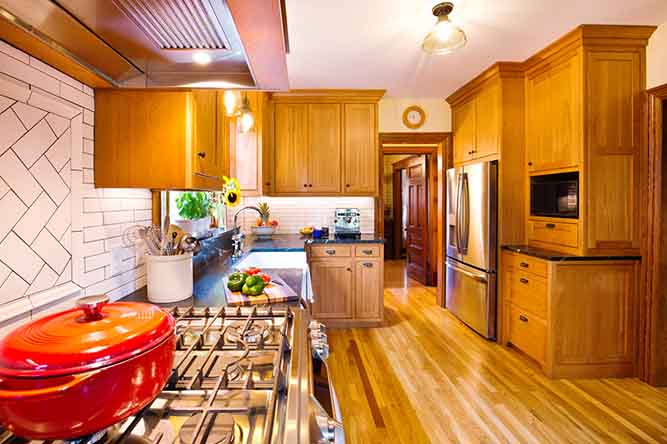 If you are ready to start ordering or if you need assistance, please feel free to call us at 1-855-669-5222 or send us an email at info@cabinetnow.com. Our team of cabinet experts is here to help with everything from measuring to ordering.