Transform Your Home With a Kitchen Pantry
When you put together your dream kitchen, it needs a few things: great lighting for your cooking and dining areas, good seating so everyone can gather together, ample countertop space that allows you to easily work, and the right amount of storage for your family.
In some homes, that last part can be tricky. After all, it's hard to add more storage without completely changing the layout of your cabinets and counters. That's why an inexpensive kitchen pantry can be the perfect solution.
---
What To Consider for Your New Inexpensive Kitchen Pantry
To add a pantry, decide where you want to place it and how much space you need. For just a bit of additional storage, a standalone pantry unit could be the perfect solution. You can save on installation costs, and it's super easy to match the new pantry door to your current cabinets for a cohesive look in your space.
The pantry door is also a great place to add an extra design element. Get a style that matches your existing cabinet, or add fun accents like a pane of frosted glass. Finding a perfect look can enhance your home's appearance.
You can also convert an existing closet into a pantry if the closet is positioned correctly in your home. This can save money since you only need to adjust openings. If you have space between walls to cut into, you can also carve out a pantry.
Make a list of the types of things you want to add to your new space to determine your size needs. A smaller unit will be suitable for just a few extra canned goods or pantry staples. For families that want to invest more in bulk shopping, consider a setup with more space.
Work with a great builder to get an estimate. An inexpensive kitchen pantry can cost under a thousand dollars if you want a simple layout, making this a good home improvement project.
---
Designing Your New Inexpensive Kitchen Pantry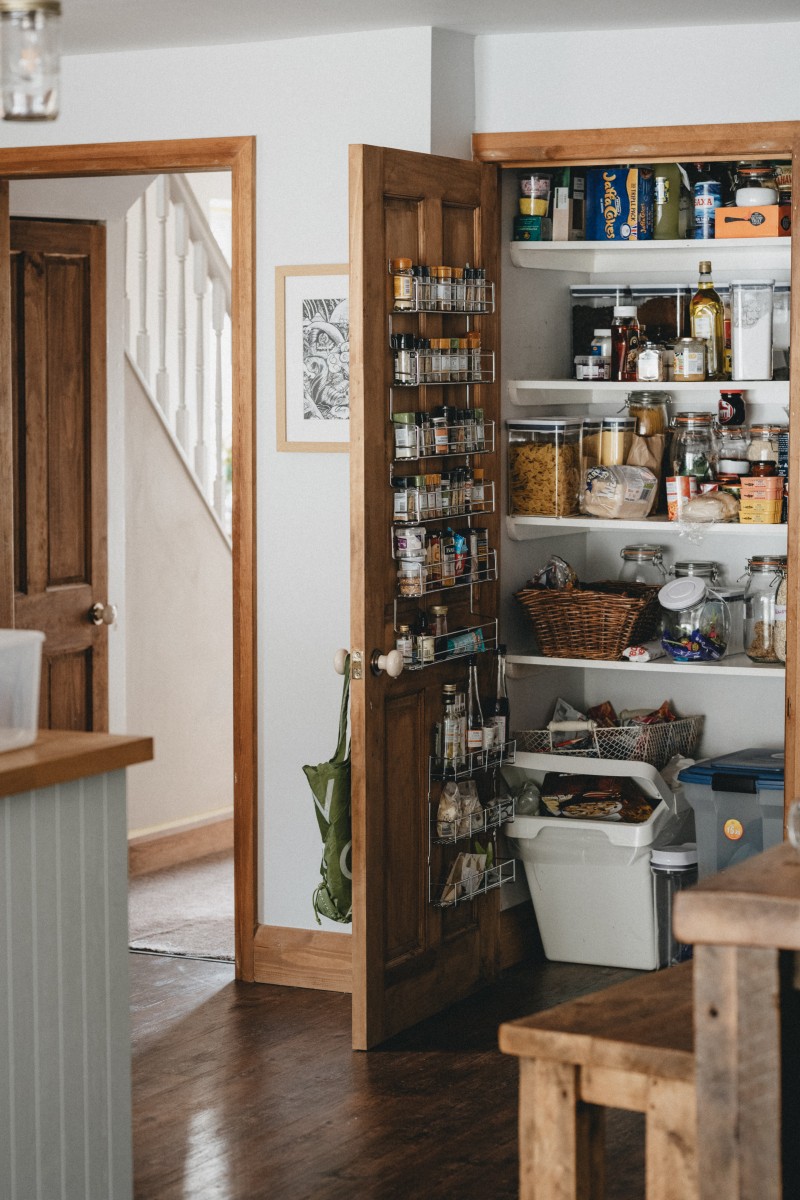 Whether you choose a simple cabinet unit or a walk-in pantry, it's important to get a design that works well. Start by thinking about how many shelves or drawers you want to have in the space. Higher shelving is great for items that you won't use often. Lower shelves and drawers are good for items you want to grab easily or that you want children to be able to access.
Adding counters to a walk-in pantry can also boost utility. You can store or use appliances in the space without a lot of hassle, and reduce the look of clutter in the main part of your kitchen. This improves the function of your entire home.
---
The Hidden Benefit
Getting a pantry helps you by increasing storage. However, you also improve your home's value. By adding an inexpensive kitchen pantry, you immediately make the house more appealing to prospective buyers. It's one more upgrade you can list as an improvement at the property.
If you've struggled with a lack of kitchen storage, make a change today. Work with CabinetNow to see the easy ways you can bring a new pantry into your space.
---
Finishing Up
If you are ready to get going on your home improvement project or if you need assistance getting started, please feel free to call us at 1-855-669-5222 or an email to info@cabinetnow.com. Our well-trained sales staff can help you with everything from measuring to ordering.