Ordering new or replacement cabinet doors may seem like a difficult task. However, at CabinetNow, we are proud to offer a straightforward, five-step process to new custom cabinet doors. Our team of cabinet experts is passionate about helping you make your design visions a reality.
In this blog, we are going to outline these five steps, so that you have all the information you need to order custom cabinet doors right to your front door.
---
Step 1: Door Construction Styles
The first step is to choose a construction style for your cabinet doors. If you are only replacing some of your cabinet doors, then you will likely want to match your existing style. If you are in search of a new look, then you have the freedom to choose any style. These are some of the main categories of cabinet door styles. Each style comes in both square and arch panel shapes.
---
Raised Panel

Raised panel cabinet doors have a raised center panel that is the same thickness as the frame. These doors come with a wide variety of customizable inside and outside edge detailing. Raised panel cabinet doors are typically found in more traditionally styled kitchens. However, when paired with more contemporary colors and décor, raised panel doors can also create stunning transitional spaces.
---
Flat Panel
Flat-panel cabinet doors, on the other hand, have a recessed panel that is thinner than the door's frame. These doors also come in a variety of styles with customizable inside and outside edge details. Flat-panel doors typically have less ornate detailing than raised panel doors, and so are often found in more modern or transitional spaces.
---
Shaker Style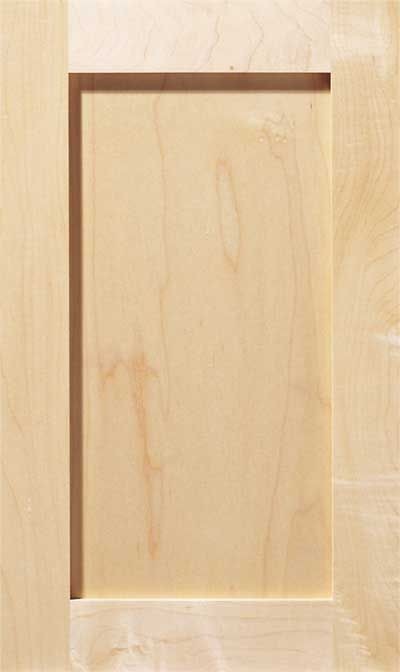 While Shaker cabinet doors are technically flat panels, they are so popular that they deserve their own spotlight. The shaker-style doors have been around for over 200 years, and from what we can tell they aren't going anywhere anytime soon. Shaker cabinets feature clean, straight lines and are great for modern and transitional spaces.
The Shaker cabinet door has also inspired new styles that reinterpret its classic look for a contemporary audience. Our Camden, Flagstaff, and Auburn are beautiful solid wood door designs inspired by the timeless shaker cabinet door. In addition, our new Modern Thermofoil line features the latest trendy colors in innovative designs. If you are looking for a new style that makes a statement, check out our Modern Shaker Inset door in sage green.
---
Slab Style
While minimalistic in appearance and detailing, slab-style cabinet doors can do a lot for your kitchen design. These doors are easily customized with the finish and outside edge detailing. Our slab-style doors are available in solid wood, thermofoil, and raw MDF. The benefit of choosing thermofoil or MDF for your slab doors is that these materials do not warp or twist at larger sizes like solid wood.
---
Step 2: Customizations
Pick Your Finish
In addition to choosing a door style, you will also need to decide how you plan to finish the doors. Whether you want your cabinet doors painted or stained will help determine the material you will need.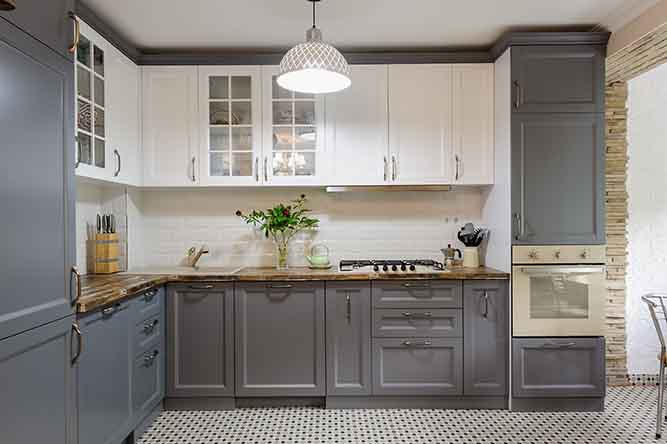 ---
Cabinet Door Materials
If you are looking at solid wood material options, you may be wondering what the difference is between natural and select grades. Most of our solid wood door styles are available in a variety of wood species for door construction, which includes an MDF option.
Paint Grade wood is more suitable for painting than stain or clear coat due to natural imperfections—like mineral deposits or sap discoloration. All MDF is paint-grade, and it is an excellent choice for painting.
Natural Grade wood can also have green tints from sapwood or discoloration but has a more even grain pattern. Natural grade wood can be clear coated or stained, but will not be perfectly even. We love natural-grade wood in rustic and industrial designs.
Select Grade wood is the most even and uniform in color and grain pattern. This is the best material for stain or clear coat.
---
Pick Your Outside Edge
Here at CabinetNow, we are proud to offer customizable edge and panel choices on the majority of our cabinet doors and drawer fronts. Here are some of our favorite outside edges you may want to consider.
Simple and clean options: The OE1 and the OE3 are great choices for someone who wants uniform straight lines. The OE1 is featured on our popular shaker-style doors and works well with both modern and traditional themes. The OE3 is slightly different, as it has a subtle, bullnose edge.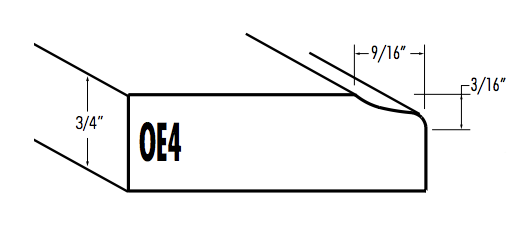 Add a splash of personality: If you are looking for something that can add a bit of interest to your cabinet doors, then check out the OE4. The OE4 (featured on popular doors such as the Revere) offers a routed edge that is 9/16" wide and 3/16" tall. Whichever option you choose, custom edge detailing is a great way to further personalize your cabinets to best match your style. Note that not all outside edges are available for every door due to varying door thicknesses and styles
---
Open for glass/lites
Most of our thermofoil and solid wood cabinet doors can be made for glass panel inserts. We are able to leave the center panel open for a glass piece or use mullions to create 4, 6, or 8 French lites. In addition, we also offer wooden or rubber stops to hold the glass panel in the frame. However, we do not supply the glass panel.
Many local hardware stores will cut glass to size for you, and so sourcing the glass shouldn't be an issue. If you are looking for something more unique, consider custom stained glass or even tile inserts for your doors!
---
Pre-bore/Hinges
When buying a door from CabinetNow, you have the option to have your doors "pre-bored." What this means is that we will bore the holes in the back of the door, so the door will be ready for its hinges when it arrives.
There are two important measurements when it comes to boring: placement and distance. Placement is the distance from the top or bottom of the cabinet door to the center of the bore-hole (or cup).
The distance is measured from the edge, or side, of the cabinet door to the closest point of the bore-hole (or cup). For our solid wood doors we offer two distances, but with a few different patterns. The "A" and "B" patterns are bore cuts for a cup and dowel hinge. These are "press in" hinges that use special screws and plastic dowels to attach to the door. These can be easier to install and should be used with thermofoil doors because wood screws can crack your thermofoil coating. The difference between the two patterns is in the bore distance measurement: "A" pattern is 5mm, "B" pattern is 3mm.
We also offer "T" and "U" bore patterns. These are used with cup-only hinges, which are a "screw-on" style of hinge. These patterns are used when you would like to reuse your hinges, and these patterns also differ in bore distance: the "T" pattern is 5mm, and the "U" pattern is 3mm.
For our Modern Thermofoil line, the measurements are less fixed. The available bore pattern and placement depend on the size of the door. Our modern line similarly has either 3 mm or 5 mm distance from the edge but has the option of 2.5", 3", or 3.625" placement depending on the height of the door. Check out the guide below to see how this breaks down.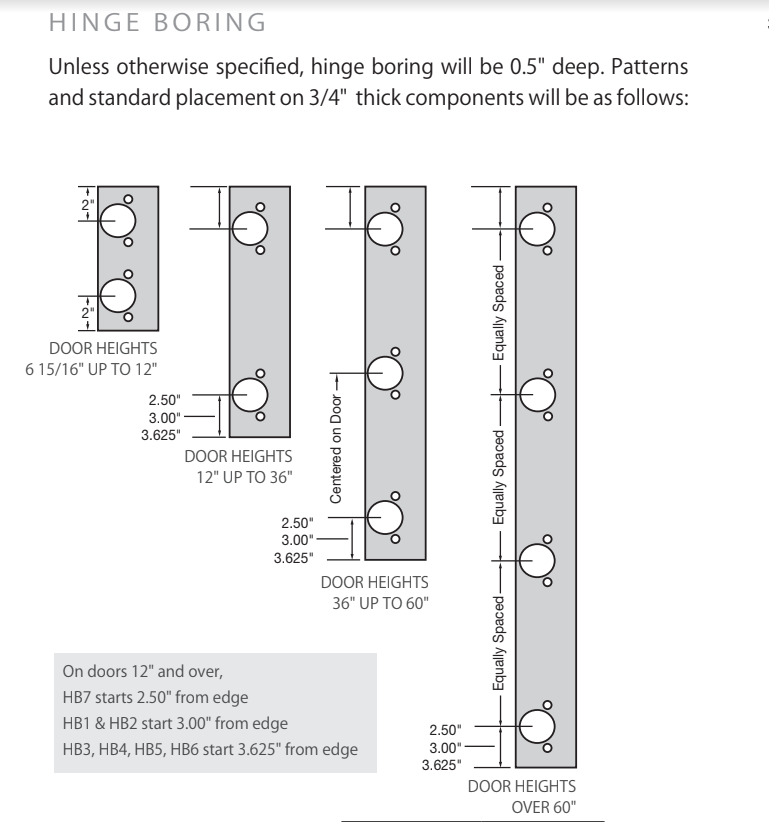 ---
Step 3: Overlay/Inset
Before you can size and order your new or replacement cabinet doors, you will need to decide if you want inset or overlay cabinets. If you are replacing an existing door, then you will likely want it to be the same size. However, if you are replacing all your cabinet doors or doing a larger project, then you have the freedom to choose partial overlay, full overlay, or inset for your kitchen cabinets.
---
Partial Overlay
A Partial overlay is one of the most popular design choices for cabinet doors. With a partial overlay, the door will not completely cover the cabinet front, and it will leave a bit of space between the doors. Hanging your cabinet doors in this way is only possible if you have a face-framed cabinet box.
---
Full Overlay
A Full overlay is a great way to create a sleek and modern look in your space. Often used with slab-style doors, a full overlay design eliminates the space between the doors, which creates a seamless look to the cabinets. This method for mounting your cabinet doors can be achieved with either a frameless or face-framed cabinet box.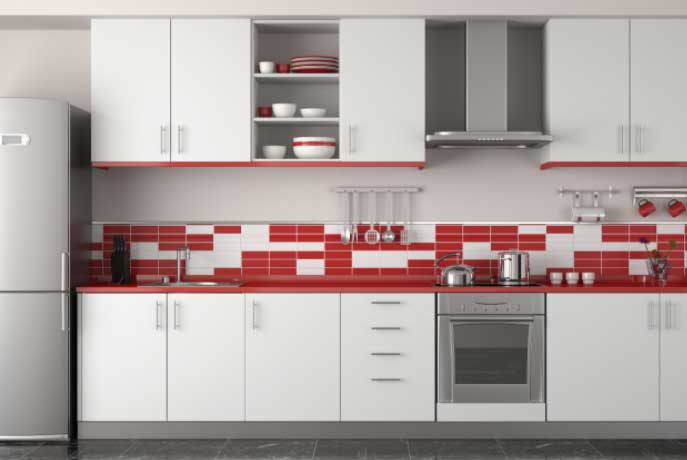 ---
Inset
Only possible with face-framed cabinets, inset cabinet doors create a stunning, flush line of cabinetry in your kitchen. To achieve this, you will need to order doors that are smaller than the cabinet box opening. This can be a time-consuming and difficult process that requires precision, and so it is typically more expensive.
---
Step 4: Order Your New Cabinets
Formulas You Will Need
Several useful formulas can be used to determine the exact measurements of your cabinets. From split doors to drawer boxes, our formulas will accurately determine your sizes. If you have any questions or need any assistance with the formulas, our trained inside sales representatives can help you with your order from start to finish.
Split Doors with Overlay: (Opening + (2 x overlay)) / 2 - (Reveal / 2)
Inset Split Doors: (Opening - (2 x reveal)) / 2 - (Reveal / 2)Drawer Box: Opening - manufacturer specification for hardware
Manufacturers designate the amount of space needed for drawer glides and slides.
As a custom cabinet company, we can accommodate almost any project. If you need help measuring, picking the style or material, or placing an order, then give us a call, instant chat, or email and we will do our best to take care of you!
We also offer a free cabinet door measuring guide if you need a quick hand!
---
Step 5: Finishing Up
Once you have all your doors sized and placed in your cart, all that is left is to check out. Other items you will need to finish your new or replacement cabinet doors could include: paints and brushes for finishing, hardware, stains, clear coat, and any other materials for applying your final touches.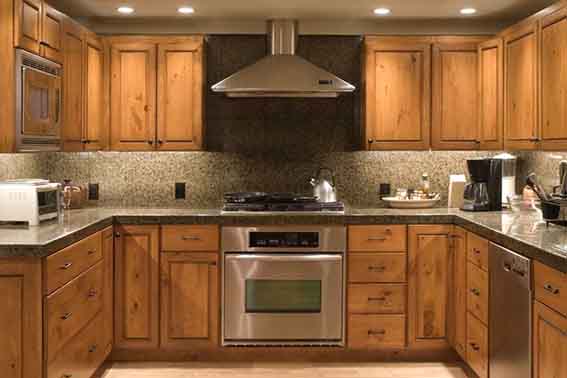 If you are ready to start ordering or if you need assistance, please feel free to call us at 1-855-669-5222, send us an email at info@cabinetnow.com. Our team of cabinet experts is here to help with everything from measuring to ordering.