Why Do They Call Them Shaker Cabinets?
If you've ever purchased cabinets for your bathroom or kitchen, you've undoubtedly heard of the term shaker cabinets. But what exactly is a shaker cabinet? Here is everything there is to know about shaker cabinets—from its history to its evolution—we give you all the details on this incredible piece of cabinetry. Plus we'll share how it got its name and how to use it in your kitchen.
---
What Are Shaker Cabinets?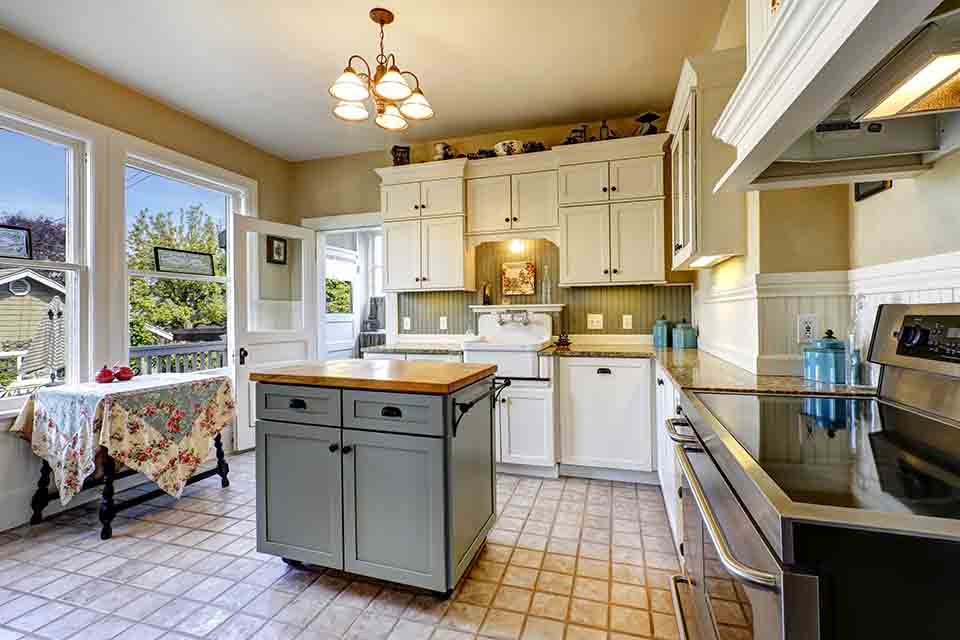 In the world of cabinetry,
shaker cabinets are units that are simple but aesthetically pleasing
. Shaker
cabinet doors
are cope-and-stick construction and recessed panel doors with simple and clean inside and outside edges. This means the horizontal rails fit between the vertical stiles to form the frame with 90 degree angles.
You will often find that they are often finished with light colors and feature basic hardware. This cabinet style is known for its minimalistic look when placed in a kitchen or bathroom.
---
How Shaker Cabinets Got Their Name
From the name to the door style, shaker cabinets have a rich and surprising history. To find out how this beautiful cabinetry got its name, we need to take a look back to the 18th century. Shaker cabinets got their name from the United Society of Believers in Christ's Second Appearing—more commonly known as Shakers. The Shakers are from Manchester in the United Kingdom, and formed after breaking away from the Quakers.
In the 1780s, this self-sufficient community immigrated to America, where they became renowned for their simple living, architecture, technological innovation, and furniture. As they spread across New England, they began to manufacture handcrafted, high-quality "shaker style" furniture, including what is today known as shaker cabinets.
The Shaker community believed that everyone should have a purpose that should be crafted as a testament to God. With this motivation, they had the drive to refine their crafting process with the best available materials. Back in those days, any furniture made by the Shakers was known to have the best craftsmanship and was created with the highest standards. Each item was made with pride, and their design was durable, simplistic, and understated.
---
The Evolution Of Shaker Cabinets
Shaker furniture is known to have a timeless design and high-quality craftsmanship. One of the most beloved items that the Shaker community has created is the shaker cabinet door. The paneled doors, dovetail, solid wood frames, mortise, and tenon joints have become staples in many kitchens today.
Over the centuries, the shaker cabinet has taken on a few modern adaptations that sway away from the Shaker community's simplistic ethos. Some of these adaptations include painting the cabinets in various colors and customizing the cabinets to suit a homeowner's individual style.
When creating the furniture and cabinetry, the Shaker community used solid wood. The traditional look and feel of shaker cabinets made with timber are still the best for any room in your home. But even though the use of solid wood is beautiful to look at, it also needs loads of maintenance and comes with a high price tag. In the 1960s, a new type of material that is perfect for cabinetry was invented. This new material was an engineered wood known as medium density fiberboard (MDF).
Due to MDF's lower price, many homes have opted for a moisture-resistant version of this material to make their shaker cabinets. Natural finishes have also become a thing of the past when it comes to this cabinetry style. Today, these natural finishes can be replicated with a thermofoil finish. Thermofoil is a vinyl laminate that is heated and pressured onto an MDF core and is available in a wide variety of colors and textures.
If your budget allows, traditional approaches with solid wood is an excellent material in terms of strength, durability, and longevity. Solid wood also can increase the value of your home, which typically give solid wood a good return on investment (or ROI). But if you love the style of shaker cabinets and you're looking for a slightly more budget-friendly option, go with MDF or thermofoil for your bathroom or kitchen.
---
Are Shaker Cabinets Still an On-Trend Style?
Having lasted this long, surely Shaker cabinets are on their way out? Surprisingly, this style of cabinetry has proven to be timeless and can be seen in many households all over the world. Even though classed as a traditional style, it has successfully transitioned throughout the ages. With the rise in the use of the internet and social media, there has been a resurgent of interest and innovation with shaker cabinets, specifically for kitchens, and bathrooms.
Today, shaker cabinets are an on-trend style that can look beautiful in any home. Depending on the finishing touches you use, Shaker cabinets are still a widely popular choice for designs from farmhouse, to traditional, to even more transitional spaces.
---
Unique Ways to Use Shaker Cabinets in Your Kitchen
Even though shaker cabinets are traditional, they are also versatile. No matter the design or décor, shaker cabinets can add simplistic beauty to every kitchen. Here are some unique ways to make your shaker cabinets work with your kitchen:
Opt For Two-Tone: For a modern, clean look to your kitchen, opt for two-toned cabinets. Add shaker cabinets throughout your kitchen with a dark green or navy for your lower cabinets, and white or even glass face cabinet for the upper ones.
Insert Beadboard Panels: If you're a fan of the modern farmhouse style, you'll love adding headboard inserts to your shaker cabinets. This style will give your kitchen a comfortable, homely touch. The Camden cabinet door is a Shaker-style door with beadboard panels.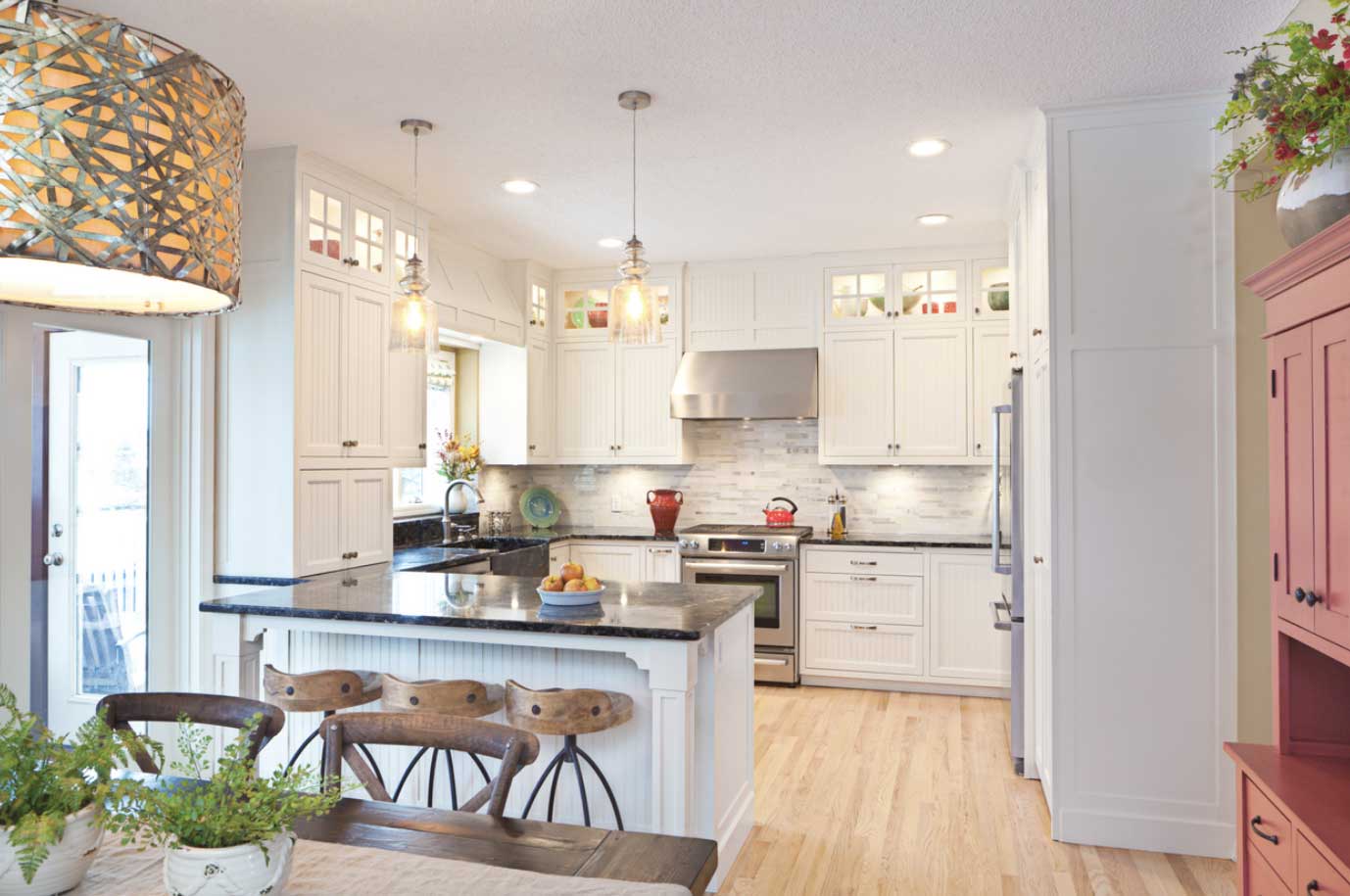 Add Some Paint: Adding paint to your shaker cabinets can take it to the next level and give your kitchen plenty of personality. From a bright yellow to pastel pink, adding color will give your cabinets a modern look and feel.
Add Chrome Hardware: The shaker community was known for its simple and effective design with basic hardware. Keeping with tradition, add basic hardware to your shaker cabinets like sleek chrome or simple wood.
Go White: Create the illusion of a bigger, lighter space by going with white shaker cabinets in your kitchen. This enduring style is a timeless option for any kitchen and will work well in almost every room.
Create A Scandinavian-Inspired Kitchen: Scandinavian design focuses on clean lines, a cool color scheme, and flawless functionality. To create this look for your kitchen, opt for shaker cabinets in steel grey with gunmetal hardware.
Go Upscale: If you're dreaming of an upscale, traditional kitchen, go with shaker cabinets. From painted dark green to black lacquered cabinetry with crown molding, it all exudes a richness and luxury like no other. To complete the look, add gold hardware.
Add Glass Fronts: Dress up your shaker cabinets with glass-fronts with mullion molding. This works well in a white kitchen with neutral tones and beautiful natural wood countertops.
Concealing Major Appliances: Most homeowners love shake cabinets for its clean line and minimalist look. Continue this look and feel throughout your kitchen by adding fake cabinet doors to conceal significant appliances like your dishwasher and refrigerator.
Pair With Rustic Shelving: Continue the minimalist look and feel by adding rustic shelving along with shaker cabinetry to your kitchen. Opt for lower cabinets and upper shelving to avoid your kitchen looking top-heavy. Plus, combining cabinetry and shelving is a great cost-effective option.
---
Shaker Cabinet Doors are Versatile and Timeless
Shaker-style cabinets have been around for a long time and have so many variations. Since being popularized in the 1800s, Shaker cabinet doors have evolved into a home furnishing staple. They fit seamlessly into any home décor style and are perfect for homeowners looking for a way to retain or increase the value of their home.
| | |
| --- | --- |
| Unfinished Shaker Cabinet Doors 3/4" | |
If you are ready to start ordering or if you need assistance, please feel free to call us at 1-855-669-5222 or send us an email at info@cabinetnow.com. Our team of cabinet experts is here to help with everything from measuring to ordering.