Whether you are doing a complete kitchen remodel or just refacing your cabinets, you will need to select a style for your cabinet doors. Generally speaking, nearly all cabinet doors will fall into two categories: flat panel cabinet doors and raised panel cabinet doors. Aside from things like flooring and wall finish, your cabinet doors will be one of the most defining features of your kitchen's style.
In this blog, we are going to take a look at the pros and cons of flat panel and raised panel cabinet doors and how they fit into different styles. This way, you will have the information you need to make the choice best for your kitchen.
---
Raised or Flat Panel? What is the Difference?
Flat Panel:
Flat panel cabinet doors are one of the most popular styles in recent years. A flat center panel is surrounded by a raised frame that gives a clean, minimalistic appearance to this style.

This look is best represented by our Shaker cabinet doors, which consistently rank among the most popular style of cabinet doors.
---
Raised Panel:
Raised panel cabinets bring the viewer's eye to the center of the cabinet door. The door's panel will be the same thickness as the cabinet door's frame and is surrounded by stunning detail.

These styles often appeal to those looking for traditional kitchens with intricate details since they provide depth without sacrificing space.
---
Traditional or Trendy?
For many people, the choice between flat panel cabinet doors and raised panel cabinet doors is mostly decided by the desired style. Broadly speaking, there are two main styles of kitchens: traditional and trendy. The traditional style has been around for years; however, this does not mean that traditionally styled kitchens feel antiquated. Trendy, or modern, style kitchens are known for their creative use of color, straight lines, and minimalism.
---
Trendy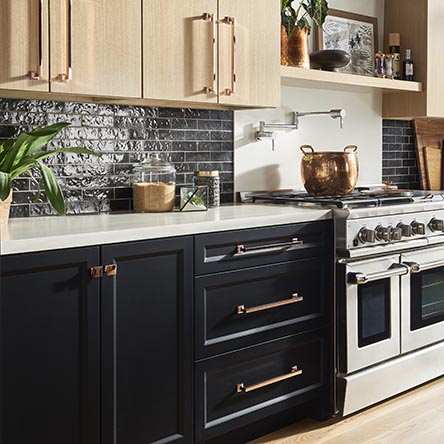 The interior design trends of today are ever-changing, and it can be difficult to keep up. With manufactured products like thermofoil cabinet doors that feature a wide variety of colors and textures, you can take your design in almost any direction. However, combining pieces from different styles into your own personal space is a great way to make it unique and feel like home. Choosing colors for paint or furniture you want based on the latest trend that has caught your eye will help shape how things look in the room as well! Paint companies play a large role in what colors are trendy, so be sure to keep an eye out for their yearly catalogs.
---
Traditional
The traditional approach is defined mostly in terms of detailing. Some examples of traditionally styled kitchen plans are farmhouse and country kitchens. Traditional designs highlight function, unity, and beautiful embellishments - all while following traditional techniques to give your home the best possible feel for a cook's space!
The design strategy behind the "traditional" look may be different from more contemporary styles but that doesn't mean it can't still have its own share of innovations and fresh ideas as well. Using traditional style as a foundation, transitional styles attempt to capture the best of both worlds!
---
Finishing Up
Whether you decide on a flat panel or raised panel cabinet doors, the finish, hardware, and personal touches will complete your look. Be sure to keep your door style in mind as you select your various accent and finishing touches.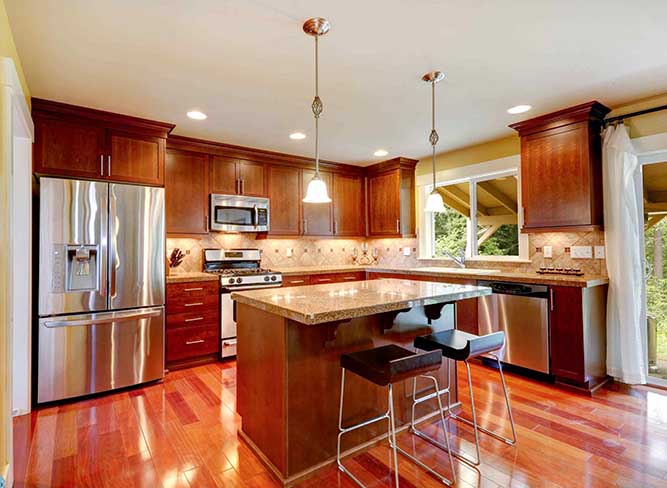 If you are ready to start ordering or if you need assistance, please feel free to call us at 1-855-669-5222 or send us an email at info@cabinetnow.com. Our team of cabinet experts is here to help with everything from measuring to ordering