Flat Panel Cabinets vs Raised Panel Cabinets?
If you are in the market for new cabinet doors, then you have likely been browsing through showrooms. With the wide variety of styles available today, it can be hard to even know where to start. Luckily, most cabinet styles can be broken down into two larger categories: flat and raised panels.
In this blog, we are going to take a look at the benefits and drawbacks flat panel and raised panel cabinet doors, and how you can use them in different spaces. Hopefully, we will be able to give you all the information you need to confidently find the cabinet doors for your kitchen remodel.
---
Flat Panel Cabinet Doors
Flat panel cabinet doors are a staple in kitchen design today. These cabinet doors are often minimalistic in design and feature a recessed panel surrounded by a frame. This style of cabinet door is great for paint or stain finishes.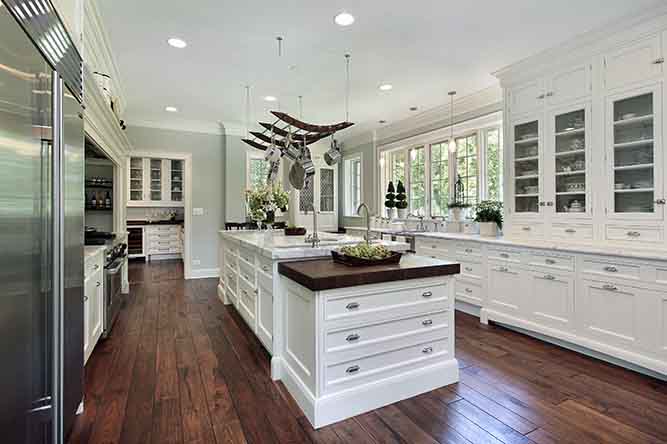 The best example of a flat panel cabinet door is the Shaker cabinet door. The Shaker cabinet door has been a fixture in interior design for over 200 years and isn't going anywhere anytime soon.
---
Raised Panel Cabinet Doors
Raised panel cabinet doors draw the viewer's eye around the frame and to the center of the door with their typically ornate style. The door's panel is the same thickness as the cabinet door's frame and is surrounded by stunning detail.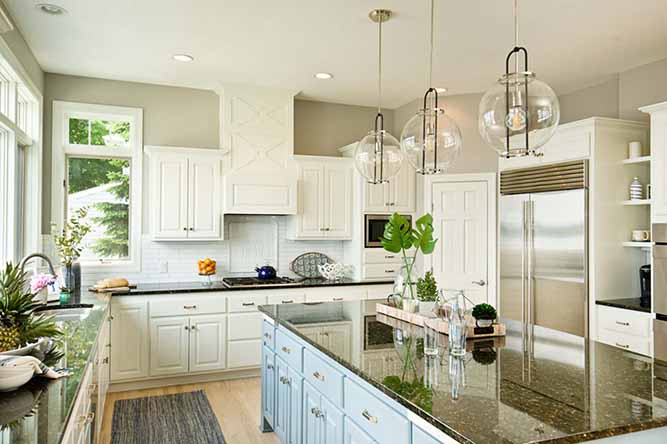 Our favorite raised panel cabinet door that we carry is the Revere cabinet door. This stunning design features a raised panel surrounded by a subtle detail that will excite the viewer.
---
Panel Shape and Kitchen Design
The decision on your new cabinet door's panel shape, for most people, will largely depend on the style they want to create. For the most part, you will likely be deciding between a traditional or a modern kitchen design. Both styles can create stunning kitchen designs, and so the choice between the two can be tough. Let's take a look at how a modern kitchen design will differ from a traditional one.
---
Modern Kitchen Design
Many people opt for trendy and modern designs in order to create looks that haven't been seen. In more modern spaces, you will see manufactured building materials, bright colors, and interesting textures. Paint manufacturers' catalogs can be a great source of inspiration for your new kitchen design.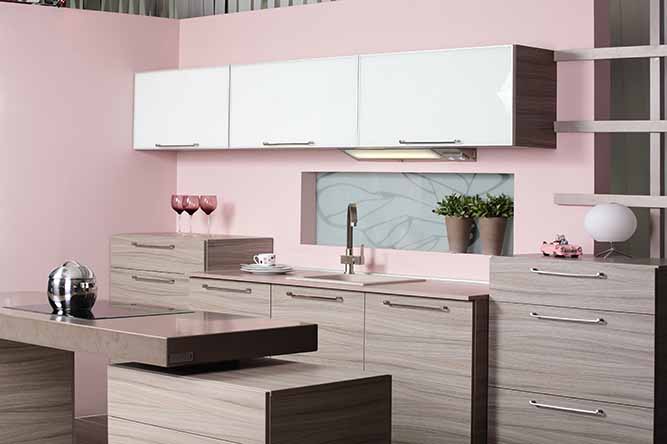 Thermofoil cabinet doors can be a great choice for contemporary kitchens, as it is available in a wide variety of color and texture options. Thermofoil is a vinyl laminate that is heated and pressurized onto an MDF core. At CabinetNow, we also offer a line of specially designed, Modern Thermofoil cabinet doors. This line features the latest colors and textures for your kitchen design.
---
Traditional Kitchen Design
The traditional style for kitchen design can be summed in attention to detail. Traditionally styled kitchens are noted for their ornate detailing, high-quality materials, and dark finishes. Traditional styles also often opt for stain finishes for the cabinet doors in order to highlight the natural beauty of the material.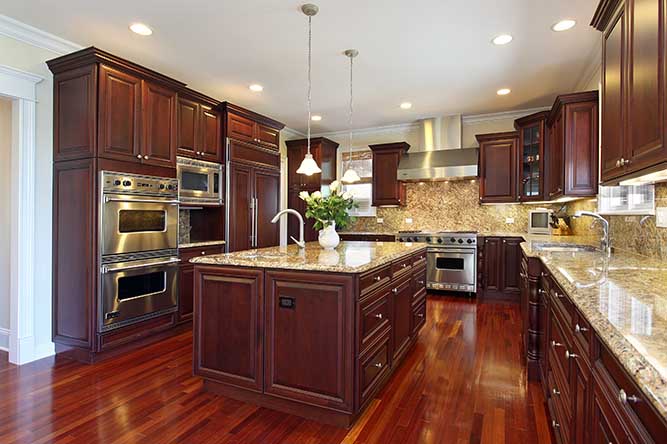 The design strategy behind the "traditional" look may be different from more contemporary styles but that doesn't mean it can't still have its own share of innovations and fresh ideas as well. Using traditional style as a foundation, transitional styles attempt to capture the best of both worlds!
---
Finishing Up
No matter what cabinet door style you choose, you will have the opportunity to personalize your design with your choice of hardware, finish, and decore. If you need a hand finding the style that is right for you, we can help! Simply fill out our style match form and one of our representatives will match you with the door that matches you.
If you are ready to start ordering or if you need assistance, please feel free to call us at 1-855-669-5222 or send us an email at info@cabinetnow.com. Our team of cabinet experts is here to help with everything from measuring to ordering