​ Are Grey Kitchen Cabinets a Good Fit for Your Home?
Painted cabinets are a great way to refresh your kitchen and give it a polished new look. Choosing your cabinet color can seem like a difficult decision at first, but it doesn't have to be an ordeal. Grey kitchen cabinets are a stylish neutral that can blend with any home interior or kitchen design. The variety of textures, finishes and undertones available make grey cabinets anything but boring.
What Kitchens Look Best With Grey Kitchen Cabinets?
Here are four popular kitchen styles that are a perfect match for grey cabinets.
1. Cutting-Edge Modern Kitchen
Painted wood cabinets are a great way to update an older kitchen to a more contemporary style. Picking a neutral paint color such as grey further increases your new kitchen's sophistication.
All shades of grey complement the stainless steel features at the heart of many modern kitchens. Light grey blends well with Nordic blues, while deep charcoal grey can give a bold look without the severity of all-black cabinetry.
2. Space-Saving Kitchen
A smaller kitchen is a great fit for grey cabinets, as darker colors and deep wood tones can condense a space visually. Similar to a layer of mist, light grey kitchen cabinets draw focus away from tight walls and soften a kitchen. To further open up the space, choose white appliances or add a white backsplash.
3. Minimalist Kitchen Without the White
Minimalism is a popular trend in modern kitchen design. This style limits the number of flourishes to focus on the basics. It often keeps to a neutral color scheme. Minimalism is naturally elegant, but it also serves the practical purpose of making a kitchen less cluttered and easier to navigate in day-to-day life.
Minimalism often features large amounts of white, but from a practical perspective, you may not want all-white cabinetry. Kitchen cabinets are exposed to stains, smoke and spills every day, making pure white difficult to maintain. Grey cabinets are a great alternative for a neutral, minimalist look without the upkeep requirements.
4. Farmhouse Kitchen
Grey cabinets can be a stylish choice for a rustic farmhouse kitchen. Creamy ivory and light blue may be the first cabinet colors that come to mind for this style, but either can overwhelm a more understated overall home design. Grey wood cabinetry with antique touches, such as raised and arched panels, completes the farmhouse look while blending with existing decor.
Why Should You Consider Grey Kitchen Cabinets?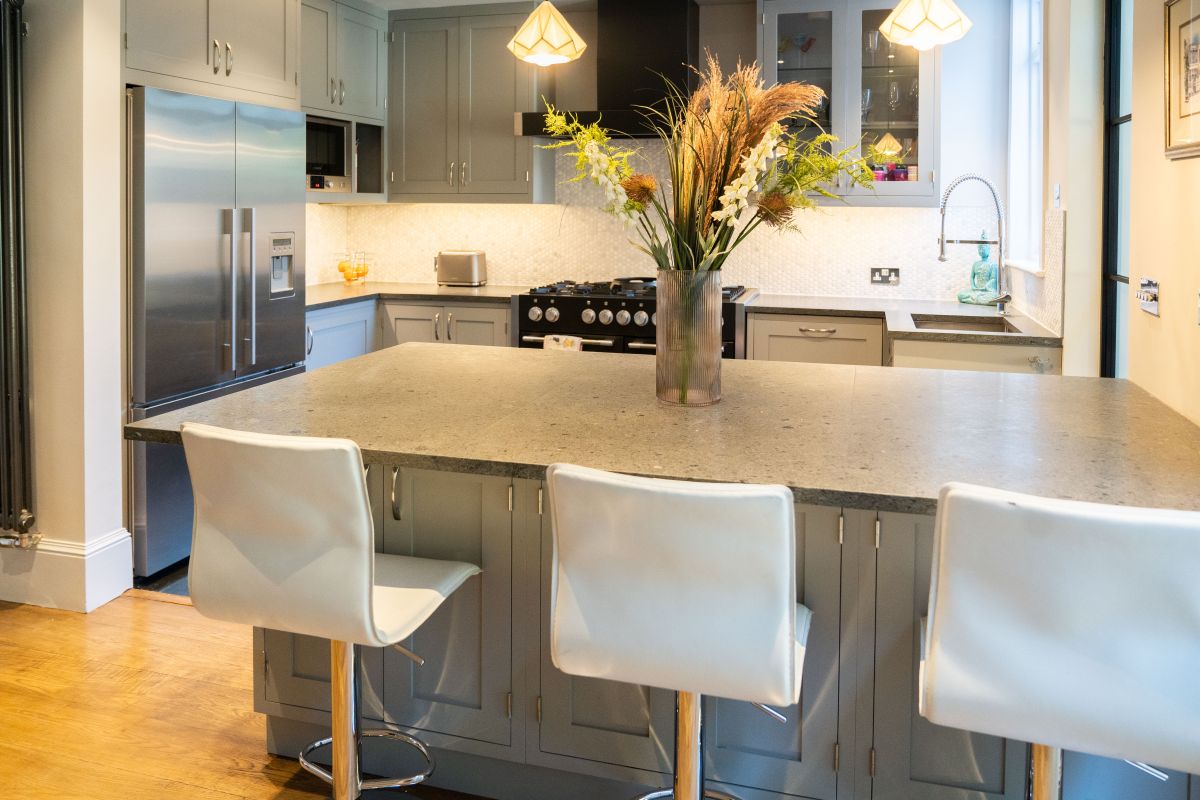 The major benefit of grey cabinets from a design perspective is adaptability. It's hard to go wrong with a reliable neutral like grey. This opens up a range of design possibilities in other elements of your kitchen.
More Countertop Choices
Quartz, granite, and marble countertops are all popular choices for modern kitchens because of their depth, uniqueness and texture. Grey cabinets complement all three choices by not competing with the natural features of the stone.
Manmade quartz countertops can be customized with pigments and shimmer to make them a stunning kitchen focal point. Grey cabinets meld with the cool and silvery tones inherent in the quartz.
Granite varies by the slab, and a colorful, well-textured piece can be difficult to match with the cabinetry. Grey cabinets blend with even the most ornate, colorful and visually complex granite options.
Grey kitchen cabinets are a perfect fit for kitchens with opulent marble countertops. The grey coordinates with the veins in the marble without drawing focus away from this luxury feature.
Increased Durability and Resilience
Grey cabinets stand up well to the everyday wear and tear of a busy kitchen. Here are a few of their practical advantages in durability over other cabinet choices:
Painted color is more uniform than natural wood, and so it's easier to touch up scratches and stains.
A complete refresh of grey kitchen cabinets only requires a new coat of paint.
Paint provides a slightly thicker layer of protection for the underlying wood than a stain.
Grey paint won't show flaws as readily as bright white or another eye-catching paint color.
A Match for Any Other Elements
It can be difficult to match a kitchen's cabinets with unique features like an heirloom wooden table or ultra-modern appliances. Grey cabinets won't clash with any of the essentials in your kitchen and are an easy catch-all choice.
How Do You Choose Grey Kitchen Cabinets?
One concern with grey cabinets is that they can make a kitchen look bland, but this is far from the truth. Many design options can make your grey cabinets interesting.
Undertones
Greys can come in all shades of the color spectrum, as they're created by adding black to any neutral color. A cool grey brings about the same calming mood effects as using blue in a kitchen. A warm, brown-toned grey can blend with trendy butcher block countertops or fine wood furniture.
Textures
Add visual interest to grey kitchen cabinets by making careful use of shadow and texture. Match the finish and detail of your cabinets carefully with your overall design goals.
CabinetNow's beveled thermofoil grey cabinets lend space-age shine to a modern kitchen. On the other end of the spectrum, a cabinet with an inlaid arch reminiscent of a cathedral is perfect for an old-world look.
Two-Toned Kitchen
To add depth with grey cabinets, don't limit yourself to one shade. Choose a darker grey for your lower row of cabinets to anchor the space visually. Lighter grey cabinets on top remain cohesive and give the illusion of higher ceilings.
Meld many shades of grey in your kitchen for a modern and practical monochromatic design. For even more visual interest, you can feature glass panels in several grey cabinets without breaking this refined color scheme.
Where Can You Purchase Grey Kitchen Cabinets?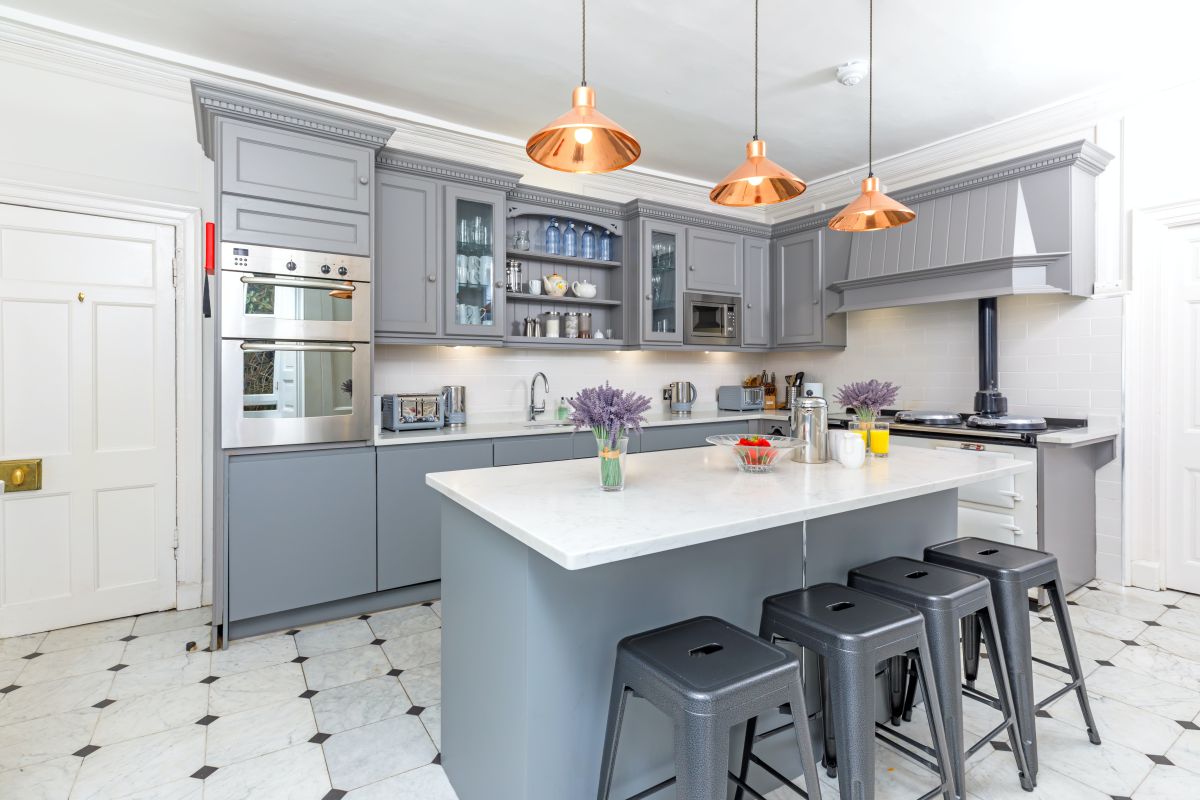 Whichever color and texture of grey kitchen cabinets you choose, make your remodeling process smooth by purchasing premade cabinet doors. Buying quality cabinet doors saves hours of cutting, painting and sanding, letting you progress right to installation. To transform your kitchen quickly and easily, browse CabinetNow's grey options in wood, laminate, glass and thermofoil.
If you are ready to start ordering and need assistance email us at info@cabinetnow.com or call us at 1-855-669-5222!