If you are planning a new kitchen remodel or kitchen cabinet refacing project, you may be wondering how much new cabinet doors and drawer fronts will cost. Depending on the material and style, the cost will vary. However, on average, you can expect around $15 per square foot for laminate options and between $50 and $150 for solid wood cabinet door and drawer front options.
With such a wide range, you are probably wondering how these prices are determined. From material to size to style, there are a lot of factors that contribute to the cost of cabinet doors. In this blog, we are going to take a look at how the cost for cabinet doors can be estimated for your next kitchen remodel or cabinet door refacing.
---
Kitchen Cabinet Cost at a Glance
As stated above, the specifics of your project and the type of cabinets you choose will largely determine the price. Generally speaking, the cabinetry cost cabinet is broken down into two very broad categories of stock and custom size:
Stock Size Kitchen Cabinets: Basic configurations and stock sizes will be your most budget-friendly options. However, you will need to fit your space to the cabinets, which can be difficult and may mean some sacrifices. Stock size cabinetry will run around $75 to $200 per linear foot.
Custom Kitchen Cabinets: Going custom is the easiest way to ensure that your new kitchen cabinets will be the perfect fit for your home. However, going custom will be more expensive than choosing stock sizes, but these cabinets typically will be made to order for your specific needs. You can expect to spend anywhere from $400 to $1,500 or more per linear foot. It is difficult to give a smaller range, as the final cost will vary for each project.
---
Diving in on Kitchen Cabinet Costs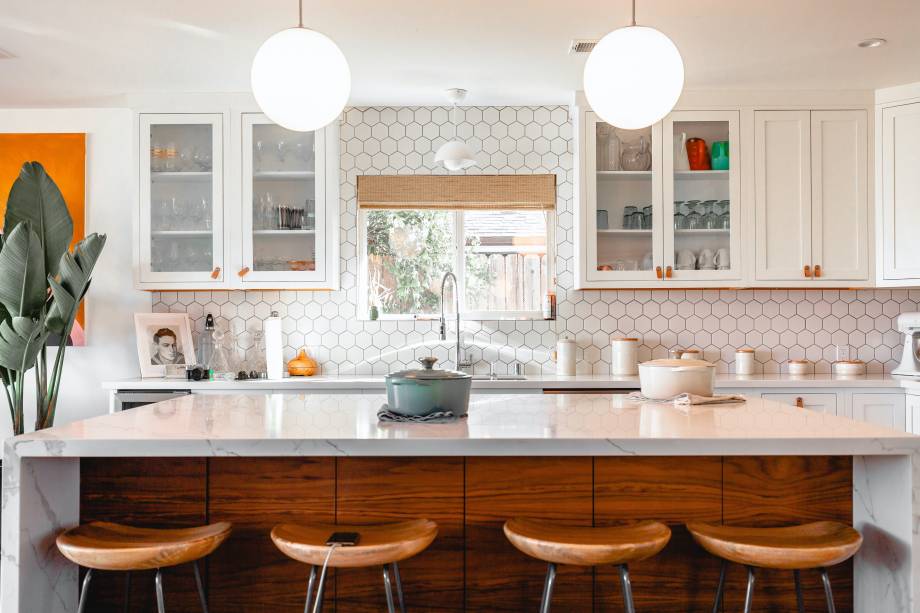 From style to materials, various factors affect the cost of replacing kitchen cabinets. Keeping this in mind, we are going to take a look at how various factors can impact the price of your new or replacement kitchen cabinet doors.
---
The Cost Of Kitchen Cabinet Material
If you are going to be investing money into your kitchen cabinet you want to make sure that they last, right? In order to do that, you will need to carefully consider the material used for construction and if it is right for your remodel or DIY project.
When it comes to kitchen cabinets and remodeling, solid wood material options have long been the gold standard. Solid wood cabinet doors and drawer fronts have a reputation of lasting for a long time, sometimes up to 35 years or longer when properly maintained, and have a return on investment (or ROI).
Depending on the quality and species of wood chosen, you can spend $100 to $1,200 per linear foot on solid wood cabinets. The final price will vary depending on size and any customizations or other specifications. At CabinetNow, we are several quality wood species that you can choose for your new or replacement cabinet doors, drawer fronts, drawer boxes, and cabinet boxes. Check out our available wood species below:
Alder: Alder wood is easy to work with and has an even texture with a subdued grain pattern.
Cherry: Known for its color, Cherry wood looks impressive with a gloss matte finish. Even though it is not hardwood, it is both solid and durable. Due to its durability and luxury appearance, it comes at a high price point.
Hickory: If you're looking for solid wood that will allow your cabinets to last for decades, opt for hickory wood.
Maple: Both durable and sturdy, maple wood not only takes stain well but also is priced according to its hardness and availability.
Oak: For a stronger wood that is easy to clean, opt for oak wood.
Walnut: Known for its rich color that does not require a stain, walnut wood is a beautiful wood for kitchen cabinets. It is very durable and moisture resistant, which are both factors that add to its high price.
Pecan: A type of hickory, pecan wood is among the strongest and hardest wood species native to the United States.
Engineered Materials to Save Money
If the price tag for solid wood cabinets is a bit intimidating or if you are looking for a smaller investment, engineered building materials like MDF and laminates can be a great choice. Typically, these options are a more cost-effective option, but they likely will not last as long as their solid wood counterparts.
MDF, or medium-density fiberboard, has quickly become one of the most popular building materials. This is because it is both budget-friendly and widely available. Our MDF cabinet doors and drawer fronts are available in a variety of styles in sizes you choose. We also use MDF as the core for our thermofoil cabinet doors and drawer fronts.
Thermofoil is a vinyl laminate that is heated and pressurized onto an MDF core. Since it is a manufactured material, we offer thermofoil in a large selection of colors and textures. This makes thermofoil a great choice for those looking to create modern kitchen designs.
---
Kitchen Cabinet Design Consideration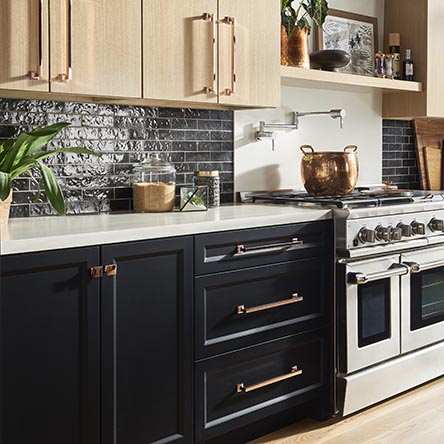 The design of your cabinet can also have an impact on your bottom line. The more complex the design often means more skilled labor is required. And so, doors with intricate detailing will typically drive up costs. As you plan your kitchen design, be sure to consider how your stylistic choices can also impact your budget just like the material used for construction.
---
Labor Cost for Installing Kitchen Cabinets
If you are taking the DIY approach to your kitchen remodel, then you can skip this line item. If you do plan to hire professionals to help install your new cabinets, then you will need to be sure to take that into consideration when creating your budget. Prices for labor will vary depending on your location and the market, but generally, you can expect to spend around $150-$400 per linear foot.
Hiring labor will drive up your budget faster than almost any other item in this project. However, a good general contractor can be the difference between a delayed project and added expenses and having your kitchen up and running on schedule.
---
Finishing Up
From material to size and labor, calculating the exact costs for your kitchen remodel or cabinet door refacing project will depend on the specification of your project. However, having a general idea of the costs can help you quickly make decisions when planning. A kitchen remodel or cabinet refacing can quickly change the look of your kitchen, but it is always recommended to do the proper planning and research before you start placing orders.
If you are ready to start ordering or if you need assistance, please feel free to call us at 1-855-669-5222 or send us an email at info@cabinetnow.com. Our team of cabinet experts is here to help with everything from measuring to ordering.