Custom Cabinets and Their Benefits
When you start planning your kitchen remodel, you probably already have an idea of the direction you want to take the style. A remodel can be a big investment, so you want to make sure it works for your unique needs and cooking style. When it comes to cabinetry, many people may not realize that their cabinets can be as unique as the rest of the design!
Custom cabinetry allows you to create unique pieces that fit into your kitchen design, rather than having to fit your kitchen to stock sizes. While you will end up spending more, custom cabinetry will allow you to design the space just the way you drew it up. Check out these 6 great benefits of choosing custom cabinets for your next kitchen remodel.
---
There Is No Limit
The best part about choosing custom cabinetry is there is almost no end to the number of unique configurations you can create. For cabinet doors and drawer fronts alone, you will have the option of sizing (to the 1/16th of an inch!), style, material, and even edge detailing. You can also add glass panels and French lites to make your designs as unique as you are!
---
No Space Wasted
No matter where you live, you want to make the most of your space. This means finding ways to utilize those awkward corners and spaces that are just a bit too large or small. Depending on the age of your home, you may also be faced with more non-standard sizes. You may also find that over time your home has "moved" a bit, and so what was once a good fit no longer works.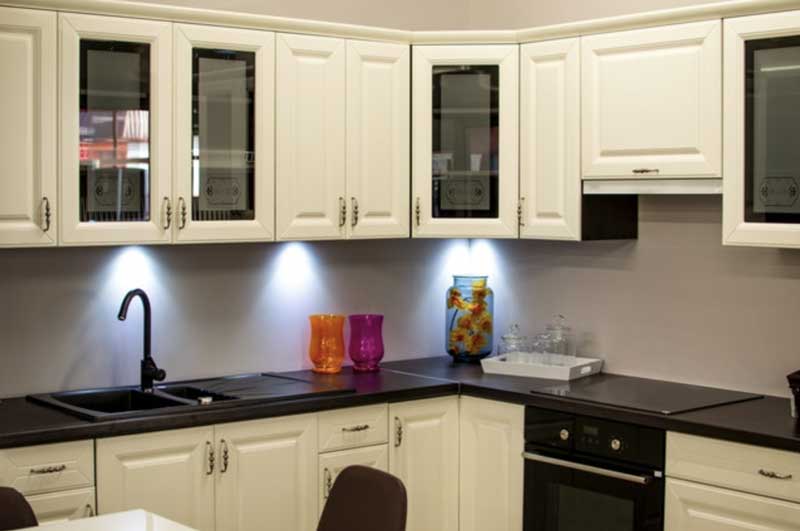 This is one of the best advantages to choosing custom cabinetry. Being able to order each piece at the exact size you need helps you to fill all the available space. Since these pieces will also be made for your specific space, they can beautifully fit into position. However, it would take a skilled carpenter to craft a custom kitchen from scratch.
This is where combining custom sizes with ready-to-assemble construction comes into play. RTA cabinet boxes can be ordered in custom sizes, and they are crafted in a way that is much easier for both homeowners and contractors to assemble. This way, you get the stunning results of pieces made specifically for your space without needing a crew of carpenters to help you put it together.
---
Built To Last
Custom cabinets are designed, built, and installed like a work of art. Unlike stock cabinets, everything has its place, and purpose, and is handmade to suit your needs. When proper care and maintenance, solid wood cabinets call last you 25 years or longer! This can help lessen the sting of the higher price tag that you see with custom cabinets. In addition, our cabinet boxes use premium plywood for the sides, back, and bottom panel and have a solid wood frame on the front. This means you don't have to worry about MDF or other such materials in your home.
---
Endless Modifications
From functionality to look, custom cabinets are made to suit your aesthetic and lifestyle. With endless modification, nothing is cookie-cutter when it comes to custom cabinets. This means that you get the design and layout that you want and not what was designed by a big box store. Plus, you have the option to pick the specific material and edge detailing you want on your cabinet doors, drawer fronts, and cabinet boxes. In our case, we also have kitchen designers on staff that can help you bring your vision to life. This level of precision and care is difficult to achieve with standard sizing.
---
Everything Has Its Place
One of the best ways to keep your kitchen organized is to ensure that everything has its place. Custom cabinetry offers you storage opportunities that stock cabinets do not. During the design process, you will have the option of creating cabinets to suit your needs. No matter what the size, a custom cabinet can be built to suit your storage needs.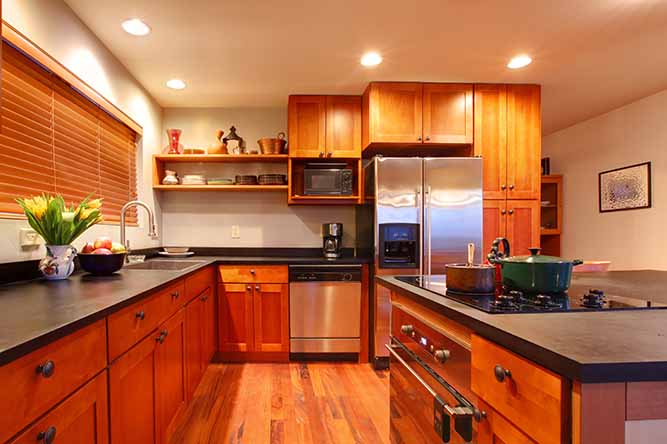 A great way to ensure that everything has the perfect home in your kitchen is to make a list. As you work on your design, make a list of all the items you intend to store in your kitchen. Then, you can assign items or groups of items to the various cabinets in your design. This way, you can have a good idea of how it will fit together before you purchase anything.
---
Environmental Friendliness
Using wood not only gets the best look, but it is also recyclable, non-toxic, and biodegradable. Stock cabinets may be cheaper, but have a shorter lifespan, often can end up in landfills, and may be made from engineered materials that contain chemicals. Once in landfills, stock cabinetry can release a hazardous chemical called formaldehyde depending on the materials used. Custom cabinetry allows you to use the best quality wood that does not contain this harmful chemical. Because of the quality of the wood, you'll also keep your cabinets away from landfills.
---
Finishing Up
No matter what your kitchen size or shape, custom cabinets provide you with everything that you need. Having something specifically made for your home will allow it to function better. Keep in mind that this is a tedious project and is not for someone with a tight budget. It is something worth saving for when buying a new home. Overall, the main benefit of custom cabinets is that it will provide you with your dream kitchen.
If you are struggling with getting started, or you have a list and are ready to talk style and material, feel free to give us a call at 1-855-669-5222 or an email to info@cabinetnow.com. Our well-trained sales staff can help you with everything from measuring to ordering.