Two-Tone Cabinet Doors for Your Kitchen
Sometimes, we want to take our kitchen design in a new look before we host friends and family, but don't know where to start. Painting your cabinet doors in a two-tone finish is the perfect DIY project to get your kitchen ready for the holidays. A two-tone paint job is not only stunning but also offers benefits to both small and large kitchens alike.
Painting your kitchen cabinets can be a time-consuming process if you have never done it before. If you need a thorough guide on painting cabinetry, check our complete guide to painting like a pro.
In this article, we are going to take a look at planning a two-tone look in your kitchen and the surprising benefits you receive!
---
Choosing Colors for Your Cabinet Doors
The most exciting part of painting your kitchen cabinets, other than seeing the final result, is shopping for new colors. Paint manufacturers like Sherwin Williams are constantly releasing new colors, such as their 2022 color of the year, Evergreen Fog.
In addition to your personal style, you should also keep your space in mind. If you have a darker kitchen, then you will likely not want a darker color on your cabinets. This could cause the room to feel even darker and ultimately smaller.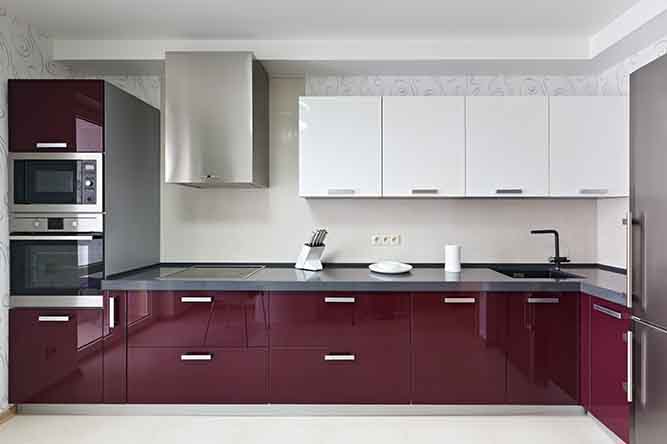 Your color choice for your cabinet doors will also depend on the other colors and elements in the room. But, if you are also replacing your hardware, fixtures, and countertops, then you will have a lot more freedom in your selection. This is because you can match everything before purchasing, rather than coordinating colors to your existing features.
Prepping for Paint
Once you have your paint selected, you will need to prep your kitchen. For the best results, you should remove your cabinet doors and drawer fronts before you paint them. As you remove them, it is important to label everything. This way you can ensure that the correct hinge and screws are with each door.
You will also need to protect any of your surfaces that will not be painted. You can use painter's tape, dope clothes, or rolled plastic for this.
Lastly, be sure that your workspace has proper ventilation. This helps in two ways. The first is that it keeps air flowing which helps with drying time. The second is that it can help keep dust and debris from settling on your freshly painted doors.
---
Benefits of a Two-Tone Kitchen
As was hinted above, giving your kitchen cabinets a two-tone paint job has an unexpected benefit to homeowners. Depending on the color configuration, a two-tone paint job can actually make a small kitchen feel larger, or a large kitchen feel centered.
Large Kitchen
Sometimes, large open-concept kitchens can feel too spread out or ungrounded. Painting your cabinets in a two-tone finish can help with this. To accomplish this, you simply paint your wall cabinets a darker color than your base cabinets. Opting for a two-tone look can also help you add interest to your space.
Small Kitchen
If you have a small kitchen like I do, then you are likely always on the lookout for ways to optimize the space. Opting for a two-tone look in a smaller kitchen can actually make the space feel bigger. To accomplish this, you simply need to paint your upper cabinets a lighter color than your base cabinets.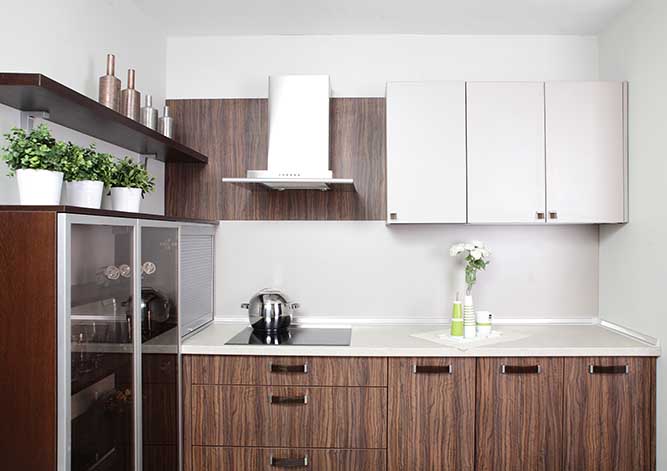 Painting the wall cabinet lighter can make your ceiling seem taller, which makes the room feel larger. To amplify this effect, go for bright, light colors and add in some new lighting. Proper lighting can help you take this two-tone effect to the next level.
---
Cabinet Door Style and Color Coordination
It is likely that the size of your kitchen will determine the colors you choose. Unless you are buying new kitchen cabinet doors, you will also need to think about how that color will look when combined with your kitchen style. Ornate, raised panel doors tend to lend themselves more readily to traditional styles, which means darker colors.
If your cabinets are more minimalist, like the shaker style, then it likely makes more sense to go with brighter, more trendy colors. If you are interested in a modern look but would need to purchase new cabinets, one option are MDF doors. MDF can be a cost-effective option that paints extremely well. In fact, MDF has quickly become one of the most popular building materials because of its cost and durability.
---
Finishing Up
Hopefully, if you are looking for the next style for your kitchen this article gave you some good ideas. Painting a kitchen will take time to do properly, but that will still be less time than doing it twice. If you get in over your head, there is no shame in calling in professional backup. Either way, you will be delighted by how much of a difference a fresh coat of paint can make.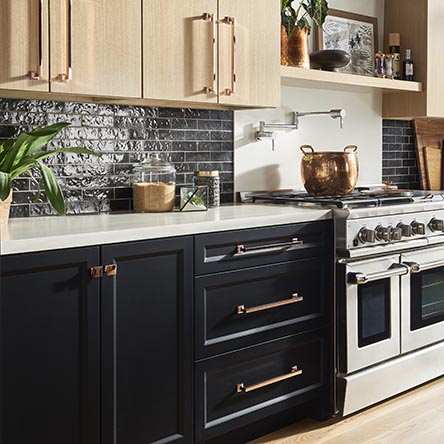 If you are ready to start ordering or if you need assistance, please feel free to call us at 1-855-669-5222 or send us an email at info@cabinetnow.com. Our team of cabinet experts is here to help with everything from measuring to ordering.