How To Update Your Kitchen With a Glass Front Cabinet
If you've imagined getting a kitchen makeover but are living in the reality of a tight budget, don't despair. You can still transform your kitchen into something fresh and new without going broke. While many DIY sites tell you to undertake the task of painting your cabinets, you don't have to go through all that work for a new look. A glass front cabinet completely changes the look of your cabinets without a major headache or price tag. You can even combine a DIY project with the glass features for an extra wow factor.
Disclaimer: This blog post contains affiliate links and we may receive a small commission for purchases made. These are products we highly recommend.
---
What Is a Glass Front Cabinet?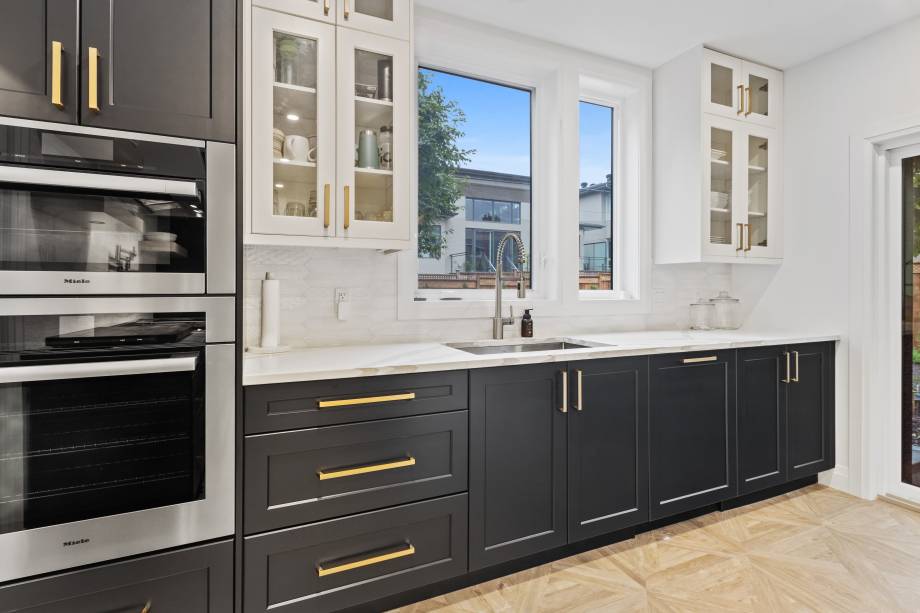 There are certain trends that will always be in style, and glass front cabinet doors are one of these looks. This is a great choice for homeowners who have extensive collections of colorful pottery or glassware, but it's also the perfect choice for creating a stylish kitchen. With a glass front, traditional cabinet doors are transformed by panes of glass. Transparent glass could be used, or a more muted look could include frosted, seeded, textured or leaded-glass versions. The center panel of the cabinet door is either replaced or removed, using the glass piece according to the mullion design or panel you choose.
---
The Benefits of Glass Cabinet Doors
Changing out the cabinet doors gives your space variety and a new look. It is an easy update with several benefits:
1. Enlarges the Room
If you are working with a small space, using a glass front for several of your cabinets can make the room seem larger. Glass doors produce a longer look to the cabinet box, creating the perception of an extended line of sight. An open-shelf design has a similar effect. Unfortunately, a clear line of sight to a cluttered, scattered mess will achieve the opposite effect you intend with your glass front cabinet.
2. Creates Excitement
You can bring visual interest to your kitchen by adding glass fronts to your cabinet doors. You don't have to add them to all your cabinets to achieve a unique look. Installing them on wall cabinets allows you to showcase family heirlooms or interesting patterns on your china. You can also change out what is featured behind these doors seasonally or as you feel the need to update the design.
3. Brightens the Space
A glass front cabinet can also be used to brighten your kitchen. Glass panes reflect light, so strategically placing these doors around the kitchen can bring additional light into the area. Increasing the light can make the room feel more spacious by removing shadows and extending visibility into corners.
4. Encourages Organization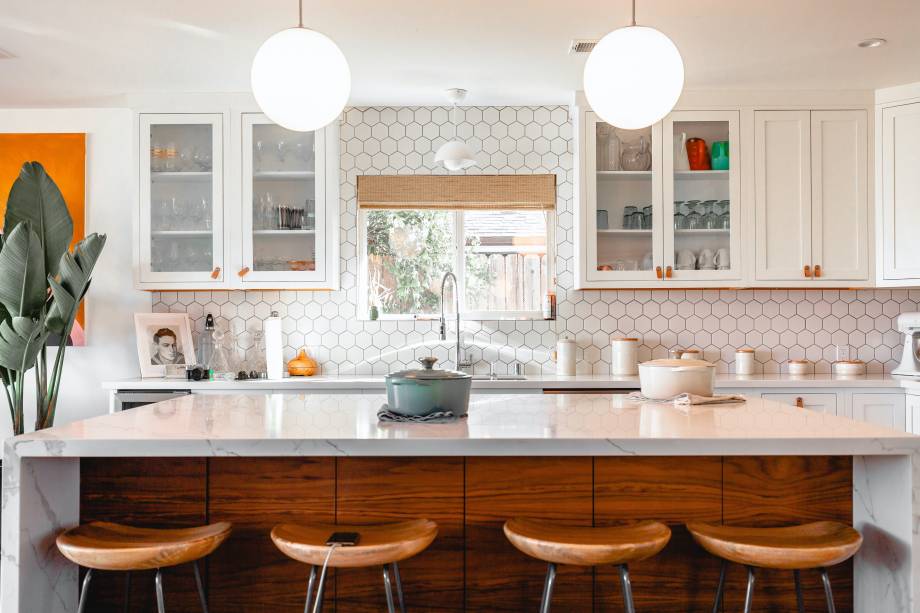 With transparent glass, anyone can see the clutter or organization you keep in your cabinets. There is a greater motivation to keep your kitchen space organized and clean when there is increased lighting and less chance for chaos to be hidden. You are also likely to clean more thoroughly to remove smudges or fingerprints from the glass.
---
How Can You Upgrade to a Glass Front Cabinet?
Changing out traditional cabinet doors for a glass front isn't hard if you have the right tools and materials. It is a lot harder to chisel out the panel of your existing doors, but it is possible. To be able to complete the transformation more quickly, consider ordering cabinet doors already prepped for a glass insert. You will need to measure your existing doors and style to ensure a perfect fit, but once this is done, you can move ahead with the upgrade. Check that you have the necessary materials on hand:
If you plan to router out your cabinet doors yourself to insert glass, you will need a wood chisel and circular saw. You will also want the proper safety equipment, such as safety glasses and hearing protection if using a saw.
Take Off the Existing Doors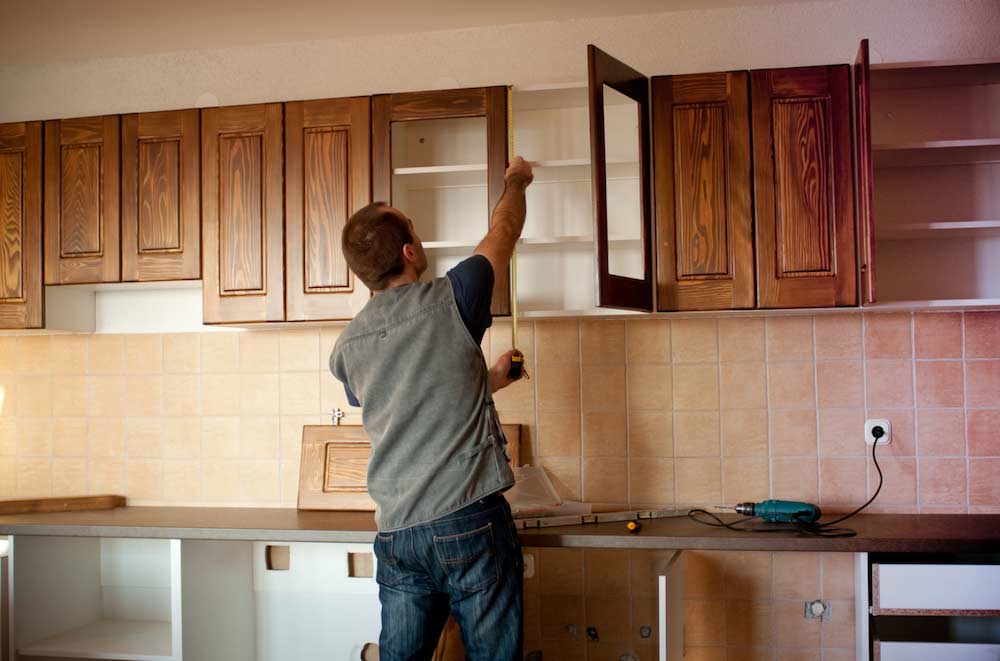 Start by removing the existing doors and placing the mounting hardware in a plastic bag. If the doors are being transformed to insert a glass panel, you should also label the doors and cabinets with painter's tape for easier re-assembly.
Measure the Doors
If you are replacing the existing doors, you need to measure them to ensure a good fit. In addition to ordering according to the height and width of your doors, you should also check the material the door is made from and the way the outside edge is constructed. Although you should look at the type of panel you have and consider the shape, you don't always have to match your current design. You can change it up to add interest if you are only doing the wall cabinets.
Sourcing a Glass Panel
If you have cut out the center panel of your cabinets, this serves as the template you use to measure the glass insert. If you have ordered glass front cabinet doors, you can use the door itself as the template. Many hardware stores will cut pieces of glass to size for you. Be sure to take down your exact measurements for the panel to ensure the glass fits properly.
Apply the Adhesive
Take the silicone and apply it to the interior doorframe. Carefully insert the glass into the frame, pressing firmly. You need to wipe away any excess silicone from the glass before it dries. Give the silicone at least 24 hours to dry before hanging the cabinet door with the proper hardware.
---
What Are Your Options With Glass Front Cabinet Doors?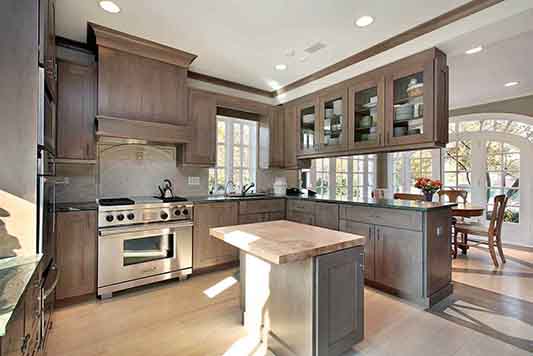 You can change out your existing kitchen design by ordering a completely different style than what you previously had or simply make a change for a few doors. You have the option to let your kitchen look unique and updated with door styles from CabinetNow. Order your glass front cabinet doors today.
If you are struggling with getting started, or you have a list and are ready to talk style and material, feel free to give us a call at 1-855-669-5222 or an email to info@cabinetnow.com. Our well-trained sales staff can help you with everything from measuring to ordering.