What Kind of Cabinets Look Best in a Galley Kitchen?
If you're feeling cramped in your galley kitchen, you might think it's time to start knocking down walls and overhauling everything. Before you invest in a significant remodel of your kitchen, however, consider upgrading your cabinets and shelves. With attention to the use of light, color and materials, you can brighten your space and feel comfortable cooking and working in your kitchen.
---
What Is a Galley Kitchen?
Galley kitchens are so named because they resemble the narrow galleys of railway dining cars. This kitchen style features services along both sides of a long and narrow space. Some are pass-through, while others may dead-end at a window or a wall. While they're much maligned for their tighter footprint, these kitchens are actually quite versatile and ergonomic. They're particularly well-suited for smaller homes or households with just one person in charge of the cooking.
---
How Can You Widen Your Galley Kitchen Without a Total Remodel?
You may prefer a galley kitchen's efficient design, or your budget or house size may preclude major structural changes. Redesigning your cabinetry and shelving to emphasize the benefits of this kitchen style and minimize the potential for crowding can save you money and highlight the room's aesthetics.
Refacing and Painting
You don't need to paint everything white to lighten your kitchen's walls and increase the sense of space. Instead, consider just refacing your cabinet doors and drawers with custom-painted fronts in other calming neutrals like gray or pale blue to reduce the close feeling of the cabinets. Along the same lines, you could opt for a more rustic look with clear-coated or unpainted pine fronts.
Refacing your cabinets saves money and time, as you'll be painting and repairing your existing cabinet boxes rather than installing new ones. Use the savings to purchase custom fronts in the colors, materials and style that suit your kitchen and your home's personality.
Style With Substance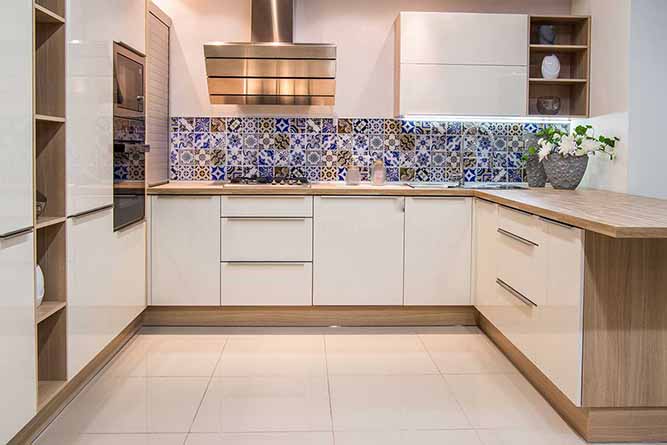 Minimalist design doesn't mean bland. With the narrow footprint of a standard galley kitchen, uncomplicated constructions open the space for light and provide a blank canvas for your personal touches. Consider these door style options:
Shelves That Recede
To effectively push the walls of your kitchen another one or two feet back from the center aisle, use floating shelves above and soft-close drawers below. Displaying your dishes makes it easier to retrieve as you're working in the kitchen, so you've increased your efficiency and comfort with one change.
---
We Can Help You Choose the Best Cabinets for Your Galley Kitchen
Even a tiny galley kitchen can be a light-filled and functional part of your home with the right combination of shelves and cabinetry. Check out the extensive collection of floating shelves and custom cabinets at CabinetNow.com and start planning for your comfortable and inviting kitchen. Contact us today so we can help you design the kitchen of your dreams!
If you are ready to start ordering or if you need assistance, please feel free to call us at 1-855-669-5222 or send us an email at info@cabinetnow.com. Our team of cabinet experts is here to help with everything from measuring to ordering.