For those that have a passion for woodworking, building custom kitchen cabinets can be fun yet tedious and challenging. With all the etching, routing, and engraving you need to do to develop beautiful results, it saves time to build your cabinets online through customized options. Cabinet doors are the most important part of your kitchen cabinets because they are what everyone sees, not to mention uses. Therefore, choosing the right cabinet doors for your custom kitchen cabinets is very important, especially since it will accent the room and the home, as well as increase real estate value.
Exploring Wood Cabinet Doors
Wood options for cabinet doors will depend on whether you have pre- existing cabinets or are replacing them altogether. You want to think about how much you want to spend and how long you want the beauty to last. Some woods blend well with each other, but others will stand out.
Oak and hickory are some of the strongest, most reliable wood species available for custom cabinet doors. They generally cost more, but they mix beauty with long-lasting reliability. If you want doors that resist impacts and warping, these two would be good choices.
Less expensive options like pine cabinet doors can last long too, but start to show their age easier than hardwoods. Having kids can also play a significant roll into what you choose. You don't want something that dents easy and you want to be able to clean it with less effort.
Medium-density fiberboard (MDF) cabinet doors are made of densely glued fibers and covered with a material to look like wood. If your budget is tight, this may be a good solution. However, keep in mind that they may experience more wear and tear over time from exposure to moisture, grease, and other elements.
Top Wood Cabinet Doors for Durability
As previously mentioned, oak and hickory woods are very strong and so they can handle lots of movement. Maple is hard and stiff to keep straight for a long time while cherry has lightweight advantages, in combination with good strength and a beautiful wood grain. Alder is a softer hardwood, but is harder than pine so it is commonly used as a cabinet door frame, but it can be used as the panel. Ridged Thermofoil (RTF) cabinet doors are NOT really wood, but look like it and have a higher price tag to reflect their dent and stain resistance, as well as not being able to peel or bubble.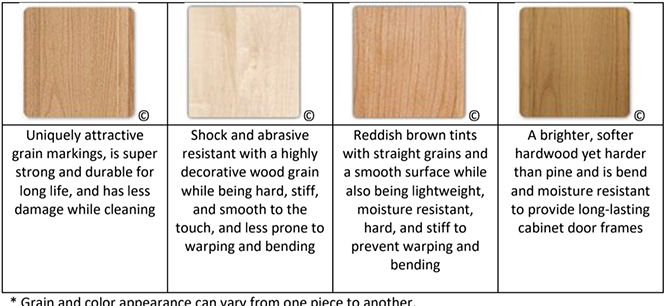 RTF cabinet doors are durable and constructed of MDF or other engineered wood products. They are reliable because they're covered with a plastic material (thermofoil) that becomes the MDF's finish—usually with a wood appearance.
Top Budget-Friendly Wood Cabinet Doors
MDF, high-pressure-laminate (HPL) cabinet doors are on the top of the list as budget-friendly alternatives. Pine (a softwood species) is very common and provides a beautiful grain appearance. But since it is a soft wood, it is prone to denting, warping, and chipping. Pine is still ranked higher than HPL doors because it is a solid wood verses the glued chips in MDF construction. Pine surfaces can also be repaired in many situations, but a laminated surface cannot.
High pressure laminate (HPL) cabinets are budget friendly and a type of MDF laminated cabinet. The engineered wood is covered with a resin or paper laminate finish. It is applied using high pressure and heat to ensure a strong bond.
Cabinet Door Design Options
Aside from the various wood cabinet door options, the design can make or break the theme of your kitchen.
Kitchen cabinet door designs include, but are not limited to:
Arched flat and raised panels
Squared flat and raised panels
Flat plank panel
Designs will vary, but the images above reference one example within each panel type. For a country- themed kitchen, plank panels and arched flat panels work great and include numerous curved styles to choose from. Choosing glass-paneled kitchen doors (flat panel design) is a great touch to country kitchen designs. For city kitchen themes, the arched flat or raised panels work great to mesh with existing, modern designs. When choosing wood options and finishes, lighter tones hide dirt and dust better the darker tones and colors.
Kitchen Door Overlay Options
When choosing kitchen doors, it is important to decide on how the doors will be positioned over the cabinet frame. There are 3 different overlay options and each one affects how the kitchen cabinets will look.
Door mounting options include:
Standard overlay cabinet doors: Covers a portion of frame
Full overlay cabinet doors: Covers the entire frame
Inset cabinet doors: Rests adjacent to the frame (in between the frame)
Kitchen Door Paint and Stain Options
Aside from cabinet designs, the cabinet color(s) or tint(s) play a huge roll in the room's theme and how well it correlates with existing colors. A lot of stains and poly coatings blend well with existing furniture. Paint is capable of meshing with countertops, appliances, floors, etc. When it comes to polyurethane coatings, the higher the gloss level, the easier it will be to clean and they cabinets will have a higher level of protection too. But you don't want too much shine/gloss if your tables and chairs, for instance, are rather dull.
Overall, selecting your kitchen cabinet doors requires knowledge of wood species, decisions on the grain's look, finding the right design style, determining the finish, and deciding how the kitchen door overlay setup will be. But most of all, you have to decide if you want limited matching options for existing kitchen cabinets or want to start over and get what you truly want.
For viewing samples and design ideas we offers a wide selection of wood cabinet door designs and options. Feel free to browse.