11 Sage Green Cabinet Door Trends
Trends are ever changing. The kitchen trend of the 60's and 70's green cabinets have managed to make a full circle to today in 2022. Do you recall the green cabinets in the Brady Bunch? What about in That 70's Show?
Well, they have officially made a comeback and we know because of their appearance in the celebrity homes of Dakota Johnson and Kendall Jenner. Also, the Pinterest kitchen inspo boards are overflowed with sage green cabinets. We have seen minty and avocado green as popular choices in the 20th century. Today, the sensation is sage green.
Sage green is a lighter green that has a gray undertone to it. Better Homes and Garden describes sage green as a duller shade of green that has a calming and soothing ambience that mimics wilted sage leaves.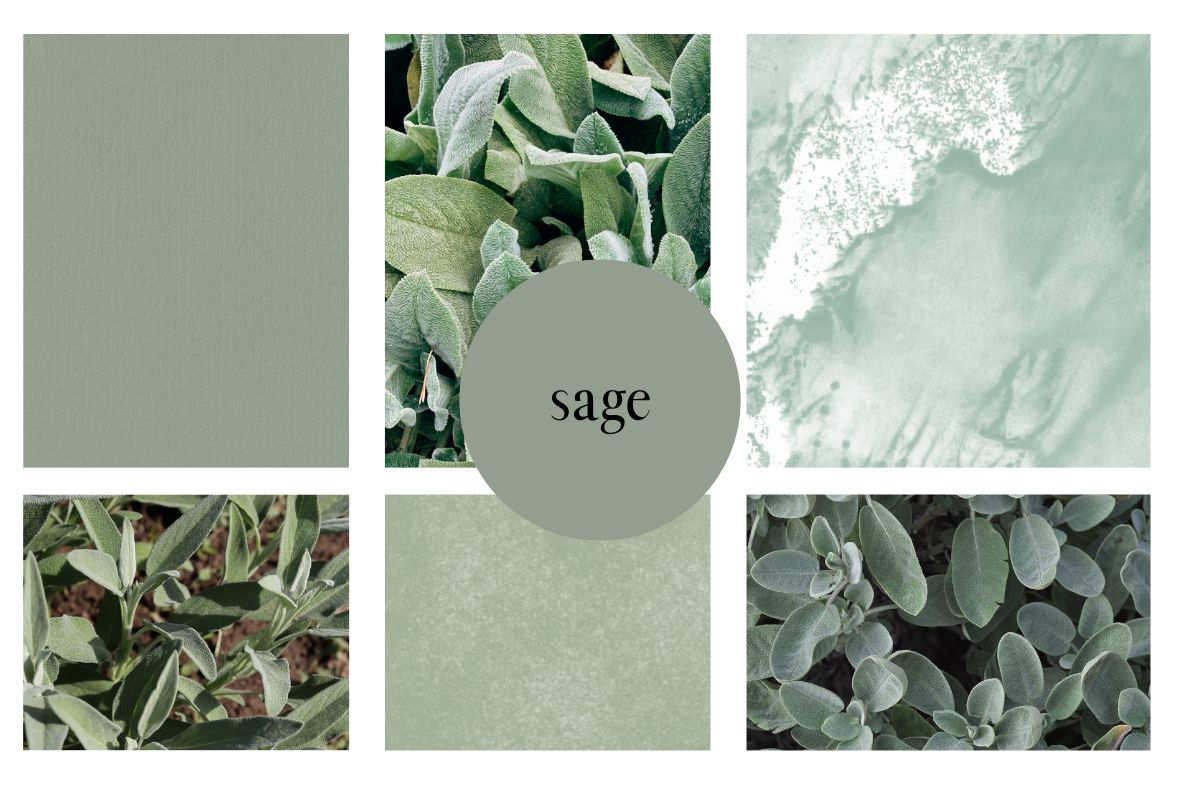 Sage is an extremely versatile color that can be used in a wide range of applications. In this blog, we are going to take a look at our 11 favorite uses for Sage Green design!
---
1. Contemporary, Minimalistic
If you are wanting a more modern, sleek kitchen with a hint of color, the Modern Turino thermofoil cabinet door in sage is a great fit for a minimalist kitchen. The Modern Turino door is a slab door with no grooves or detail. To achieve the minimalist kitchen, go for an inset or full overlay design to create a seamless look. An inset design means your cabinet doors to fit flush inside the cabinet box opening, while a full overlay design measures your cabinet doors to to fully cover the cabinet box frame. Both create an illusion of smooth cabinetry. The type of cabinet box you have will help you determine the overlay method for you.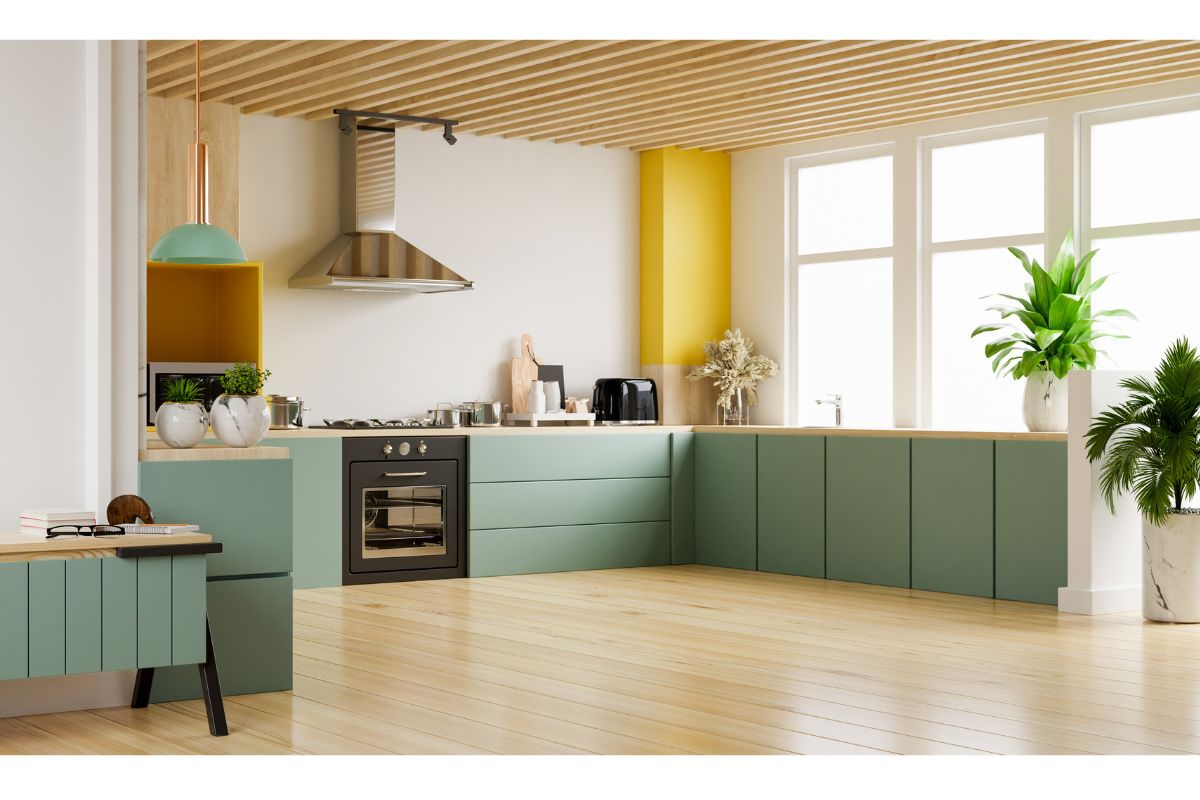 A contemporary, minimalistic kitchen with sage cabinets should be paired with a simple, neutral wall. Sage green pairs exceptionally well with cream or light beige colors.
---
2. Cottage Design
A cottage inspired kitchen is designed using elements that create an open and airy aesthetic. What better way to incorporate sage green than in a cottage style kitchen where it will add some color, but still keep it fresh and light.
The Modern Shaker Elite thermofoil cabinet door in sage green adds a modern dazzle to the original shaker style door and has the perfect amount of vertical beaded detailing for a cottage inspired kitchen. This cabinet door paired with black hooded handles and a butt hinge could give you the perfect aesthetic of a cottage home.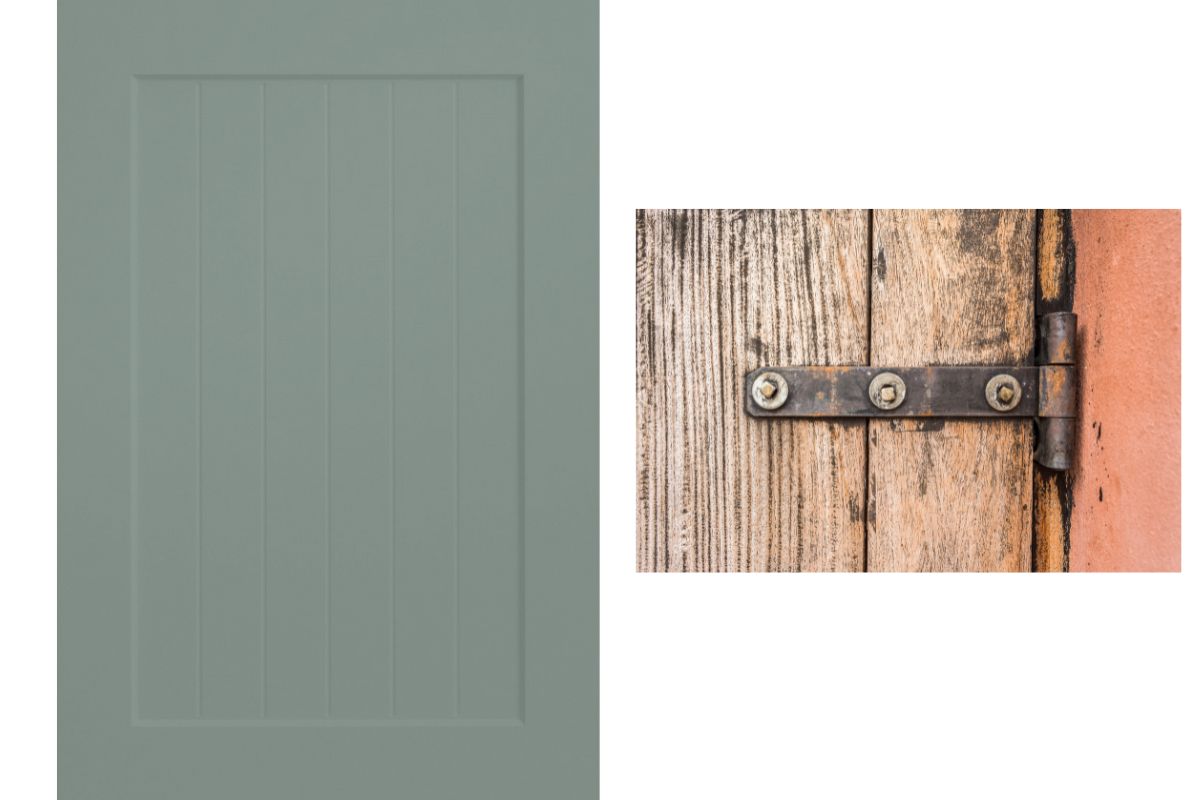 HGTV suggests other features to include in your cottage kitchen are wooden countertops, a farmhouse sink, and muted cream colored accents for decor such as floating shelves.
---
3. Create a Vintage Appeal
Vintage kitchens are always trendy, especially today. Rather than a contemporary kitchen where the focus is to keep elements minimal, vintage kitchens enhance patterns, color, and texture.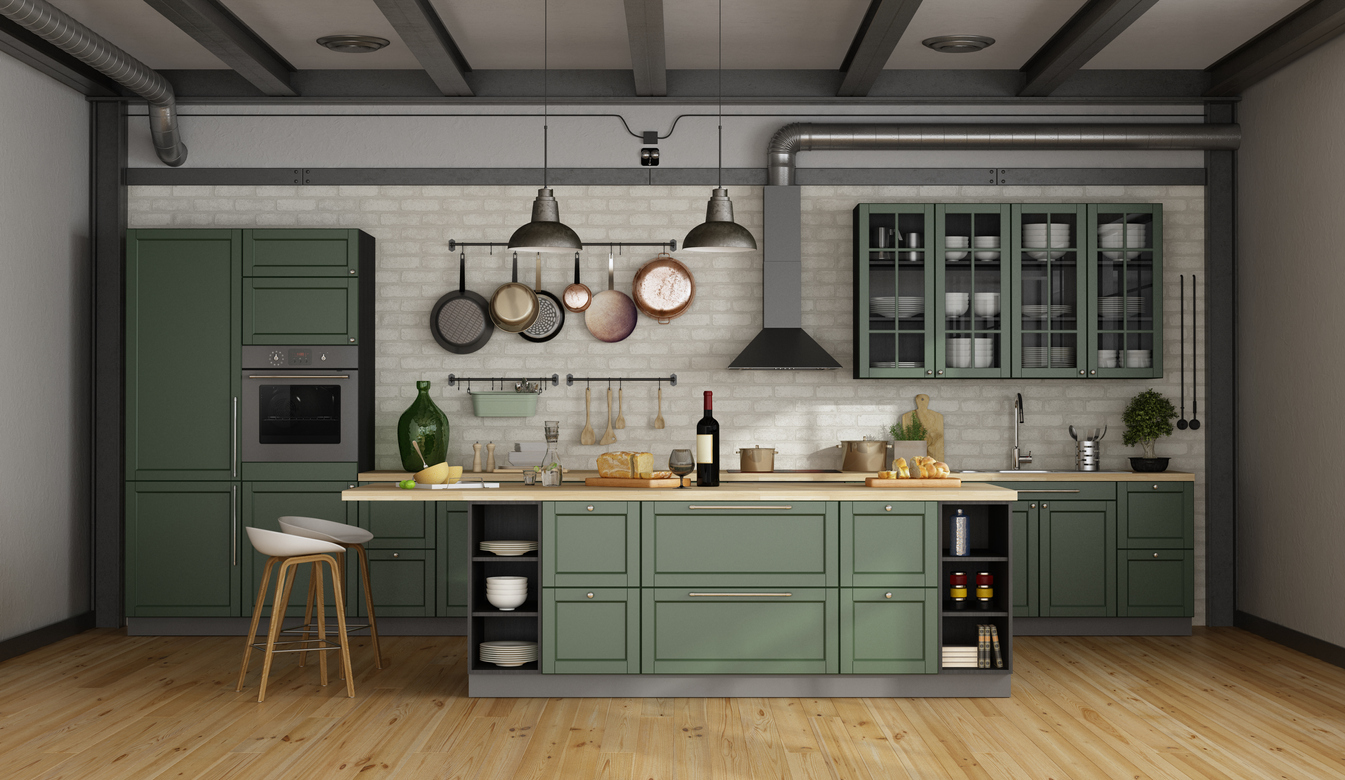 Sage green cabinets are the perfect addition to a vintage inspired kitchen, as green cabinets were a popular choice throughout the 60's and 70's. Specifically, sage green sets an antique tone to cabinets because of its muted shade.
The Modern Shaker Louvre cabinet door in sage green has a horizontal, beaded panel that creates a vintage aesthetic by adding character and texture to the classic shaker cabinet door. Another feature that adds a lovely antique appeal is a hint of gold. Gold is a timeless element in any decor and compliments sage green exceptionally well. So to complete the cabinets, why not add a hint of gold through the cabinet door knobs and handles!
Additional decor you can include in a vintage sage green kitchen are elements like plants on floating shelves, Persian rugs with reds and cream, an antique light fixture, or maybe even hanging pots and pants.
---
4. Italian Inspired
When we think of an Italy inspired kitchen, we often think of a Tuscan-style kitchen, which was a trend of the 2000's. HGTV describes an Italian-style kitchen as a warm and inviting area which is why we see warmer tones such as red, cream, orange, and sage green.
For a traditionally Italian look, go with the Modern Classic thermofoil cabinet door in sage green. Sage green cabinets compliment that Italian style warmth because of its muted shade. You can also add gold or wooden accents such as golden knobs and handles for your cabinet doors or wood flooring to enhance the comfort of a Tuscan-style kitchen. To really top off an Italian inspired kitchen, add terracotta tiles to the backsplash!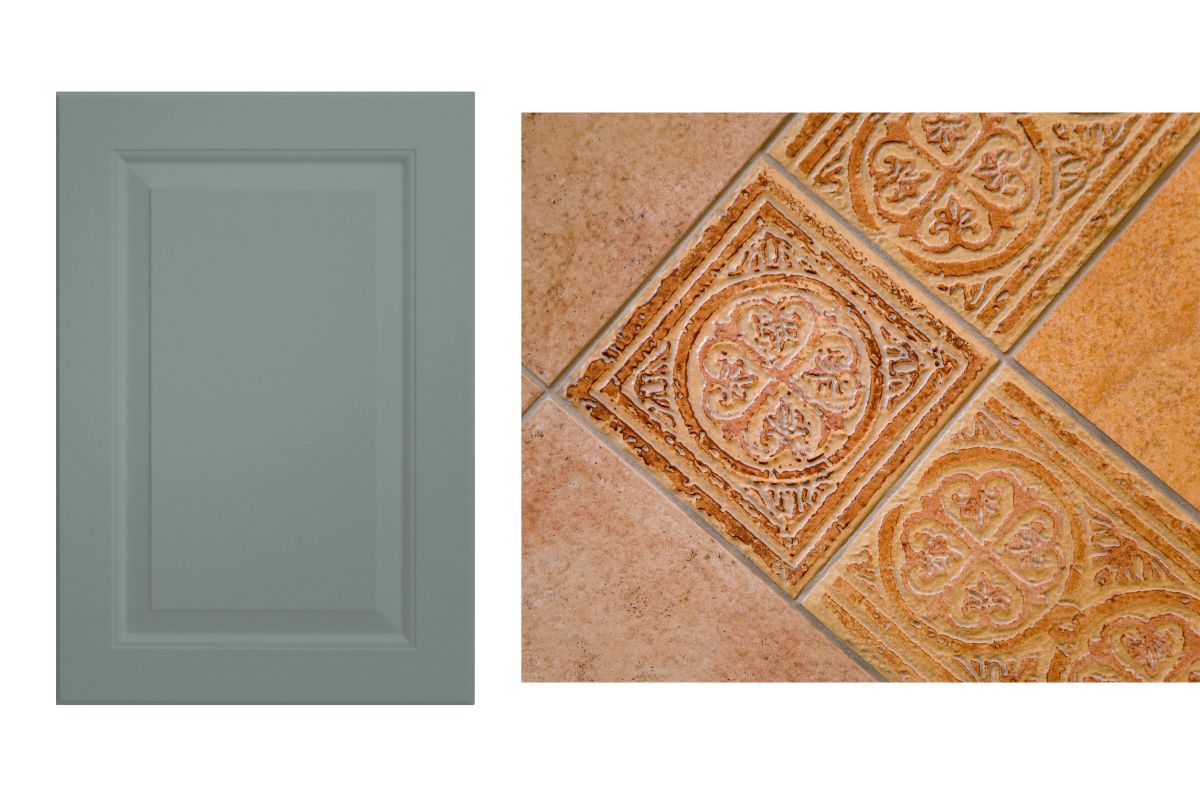 ---
5. Keep It Classy
A kitchen doesn't have to be painted all white to be classy. You can make sage green cabinets look polished and classy by pairing them with sleek white countertops, chairs, walls, and curtains.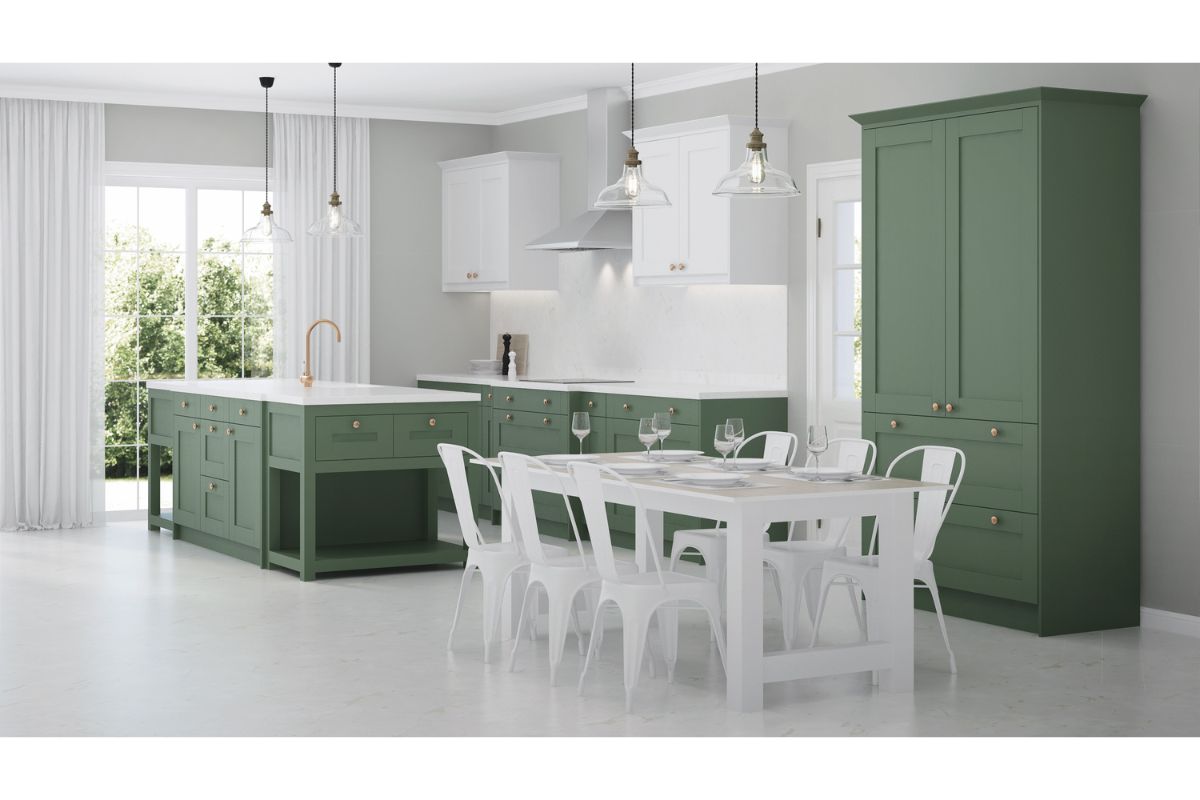 The Modern Turino thermofoil cabinet door or Modern Shaker Slim cabinet door in sage are simple styles that can give a sophisticated look. The modern turino cabinet door is a slab style door and the modern shaker slim is a shaker style with much thinner rails.
A classy kitchen is centered around a clean and polished finish so adding a modest style door with an inset design is the perfect choice to create that sleek and minimalist look. Not to mention, The Spruce says that sage green is not an overshadowing shade of green that will dominate your kitchen. In fact, it is a light and airy color that can brighten and open up your kitchen space when paired with white.
---
6. Bohemian Touches
It is no secret that the trend of home design is leaning towards a more comforting atmosphere since the pandemic has kept so many of us indoors for so long. According to the Cambridge Dictionary, the term "Bohemian" refers to someone who has interests in arts and creativity such as people who live an unconventional lifestyle. The name Bohemian has transitioned into a design term that people often refer to as "boho."
A Bohemian kitchen style has a calming and welcoming ambience that many people are attracted to. The color of sage green has that same soothing effect.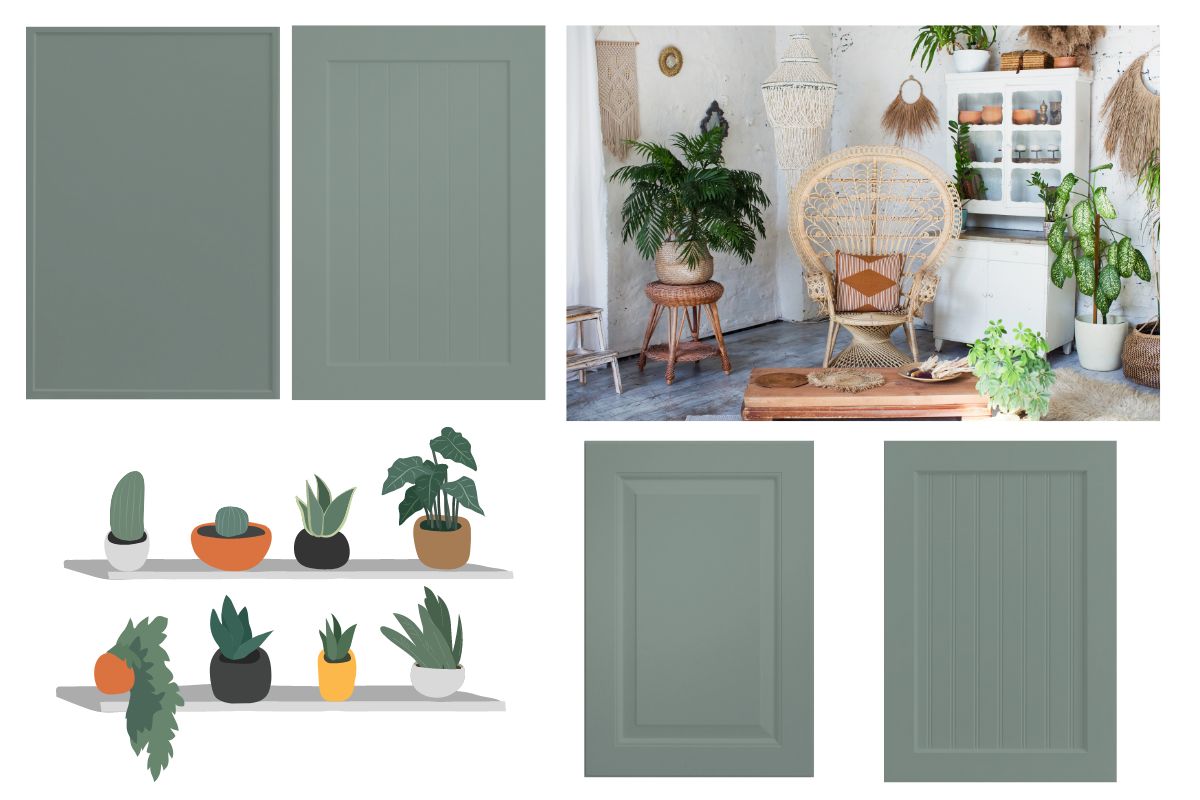 Features of a boho kitchen include plants, string lights, layered patterns, open shelving for eccentric decor, and woven materials for wall decor, seating, and rugs. Any textured style of sage green cabinets are an ideal choice for a boho style kitchen because of their earthy and serene tone.
---
7. Rustic Details
If you are unsure what style of kitchen to go with for sage green cabinets, just remember wood pairs with just about anything, especially greens. Better Homes and Garden says that sage green pairs the best with a light color wood because their neutral tones balance each other out.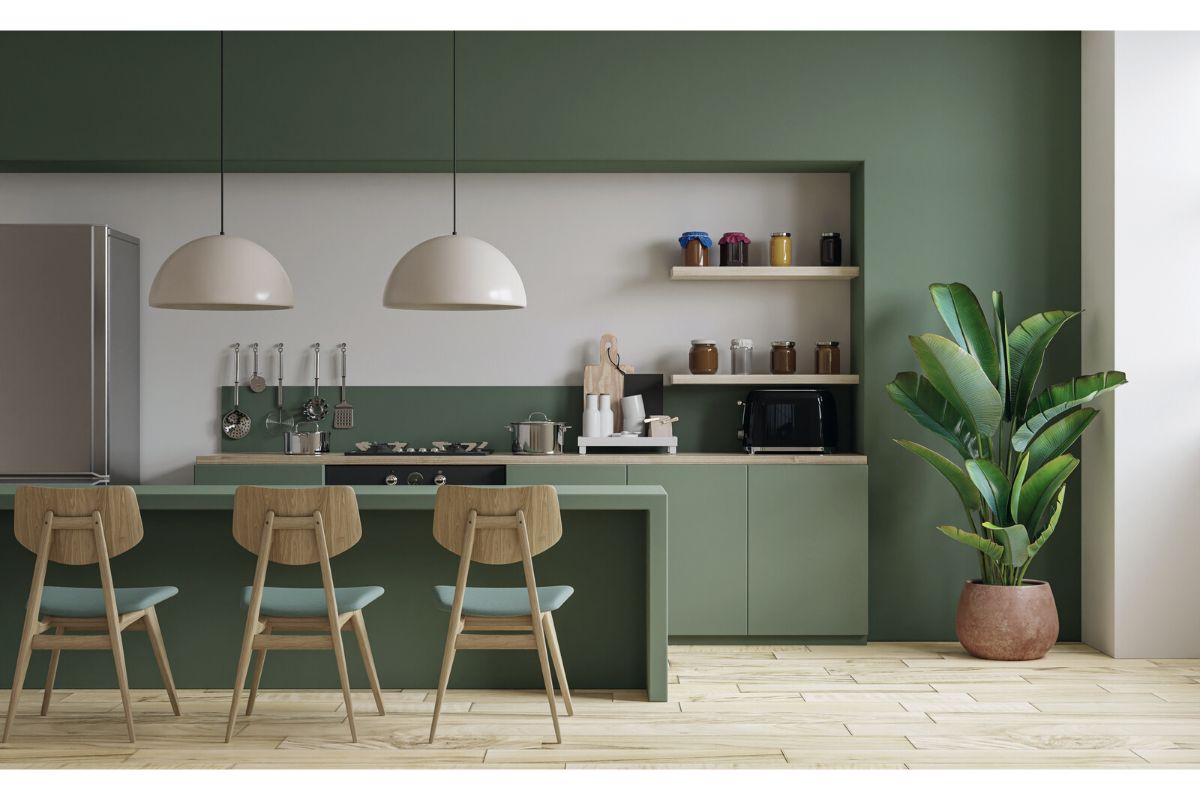 There are many ways to incorporate rustic details with sage green cabinets. You can add wood floating shelves, flooring, countertops, and decor such as wood cutting boards, wall art, chairs, or containers.
---
8. Cozy Farmhouse
Nothing feels cozier than a farmhouse kitchen. This design is timeless and can bring that southern comfort inside your kitchen. Farmhouse kitchens have a country-style charisma but at the same time have a comfortable feeling for family and friends to gather. Sage green is soothing to the eye, which is why it would be an ideal addition to a farmhouse kitchen.
The Modern Bradford thermofoil cabinet doors are a great pick for farmhouse cabinet doors, because they have the perfect amount of detail of horizontal beaded patterns that add a southern charm. Other must haves for a farmhouse kitchen are rustic features such as wood beams, butcher blocks, and wood cutting boards. And of course, a farmhouse sink!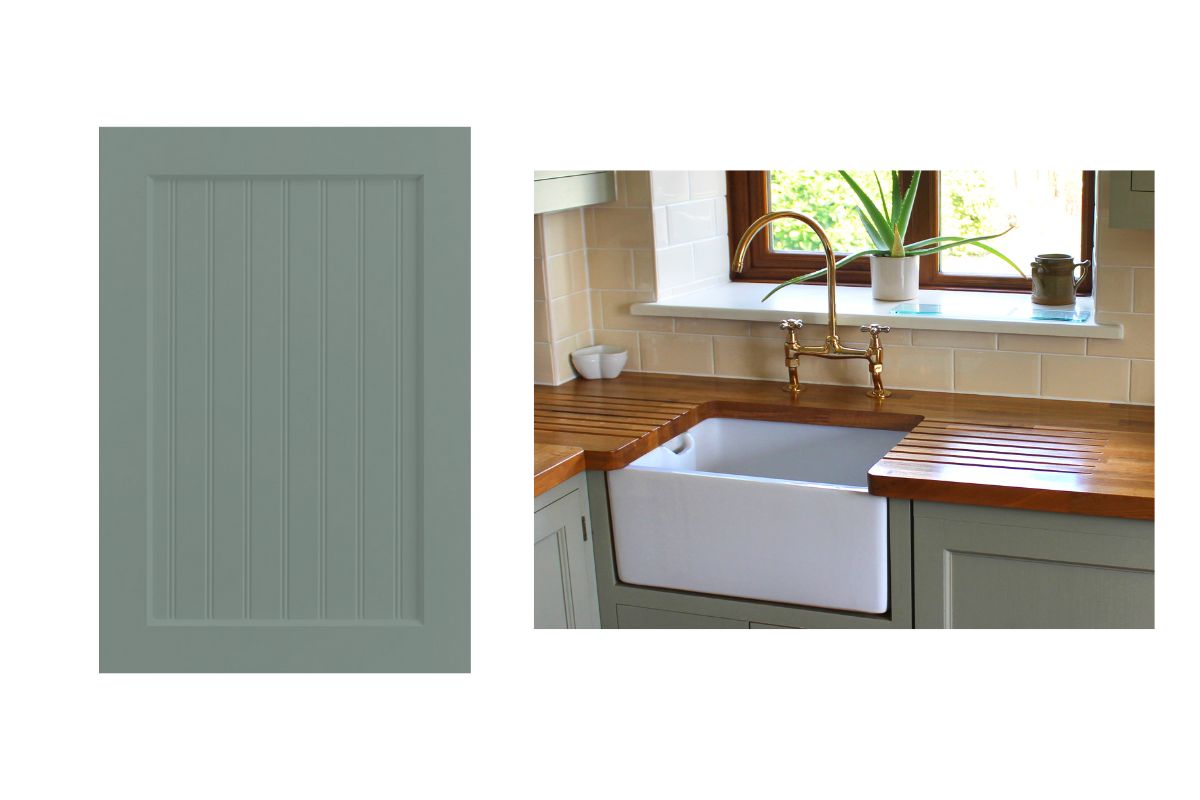 ---
9. Two-tone Charm
Two-tone cabinets have been trendy since the the 19th century, but in recent years they have gained even more popularity. The sage green color pairs very well with many colors since it is considered a neutral tone of green. The color pairs exceptionally well with cream, white, and wood grains.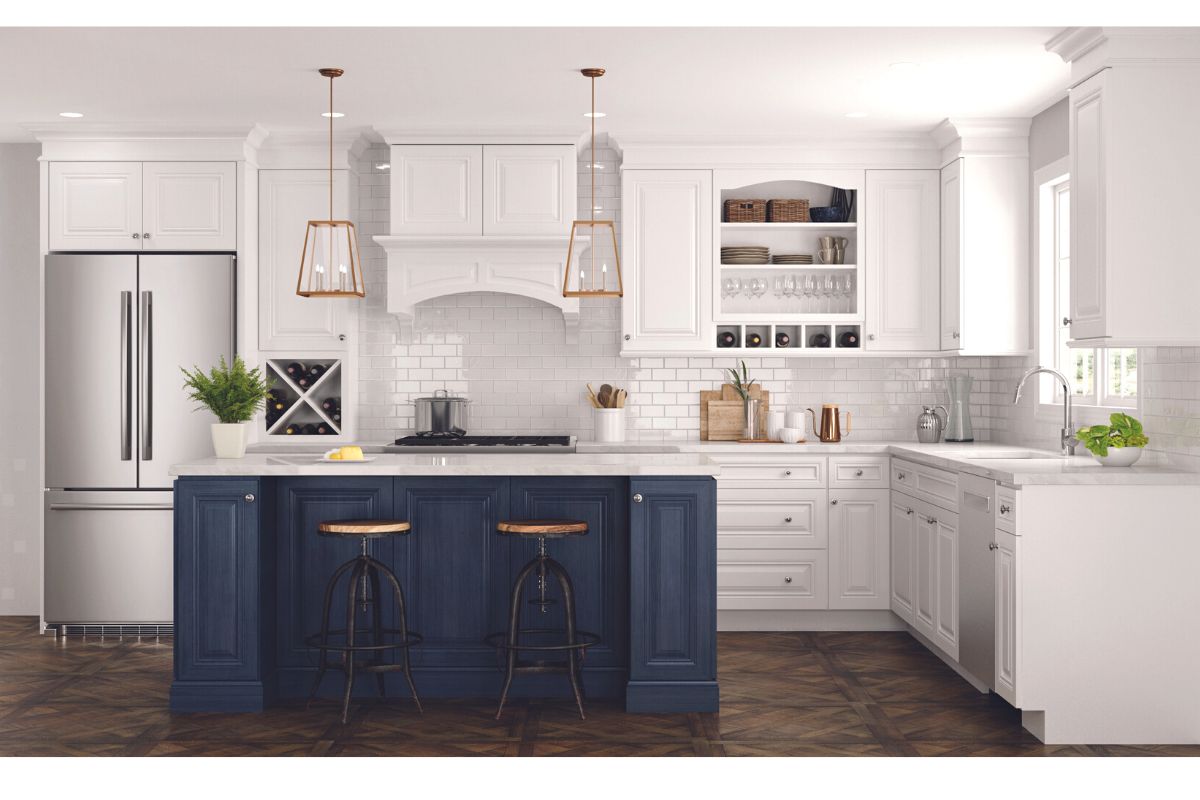 You can add a two-tone charm by doing either all upper cabinets white or sage green and vice versa for the base cabinets. Or if you want a more rustic feel, blend in some natural wood cabinet doors with the sage!
---
10. Green Galore
Mixing greens may seem intimidating, but two tones of green can actually compliment each other very well. If you are feeling bold, you can do this by taking a two-toned cabinet approach that blends two shades of green. Other ways to mix two tones of green are by painting the walls a different shade of green than your cabinets.
Sage green can complement both lighter and darker shades, it all comes down to personal preference. A lighter shade such as aloe would be ideal for brightening up a kitchen since both shades are on the lighter end of the green spectrum, while a darker shade such as a forest green would deepen the kitchen's ambience and enhance the sage green since it is fainter.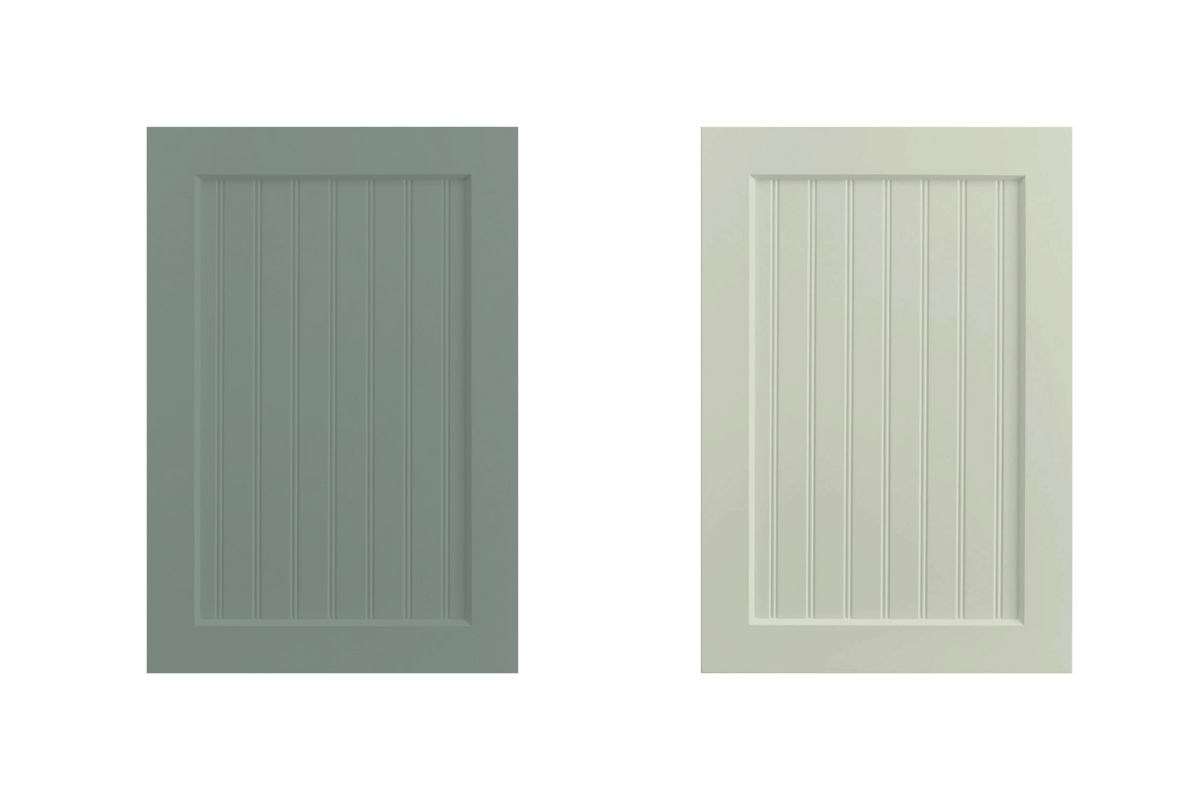 ---
11. Coastal Kitchen
A coastal kitchen design has features that make it feel light and airy. Common colors in coastal kitchens resemble beach hues such as light blue, white, cream, light beige, light greens, and pale yellows.
An ideal choice for a coastal inspired kitchen are sage green cabinets. These can pair well with the calming aesthetic of the beach. After all, a coastal kitchen is supposed to make you feel like you are on a relaxing vacation.
Sage green cabinets paired with a white countertop can add to the light and airy aesthetic of a beach kitchen. Other elements to include are palm tree plants and a pop of color like coral.
---
Wrapping Up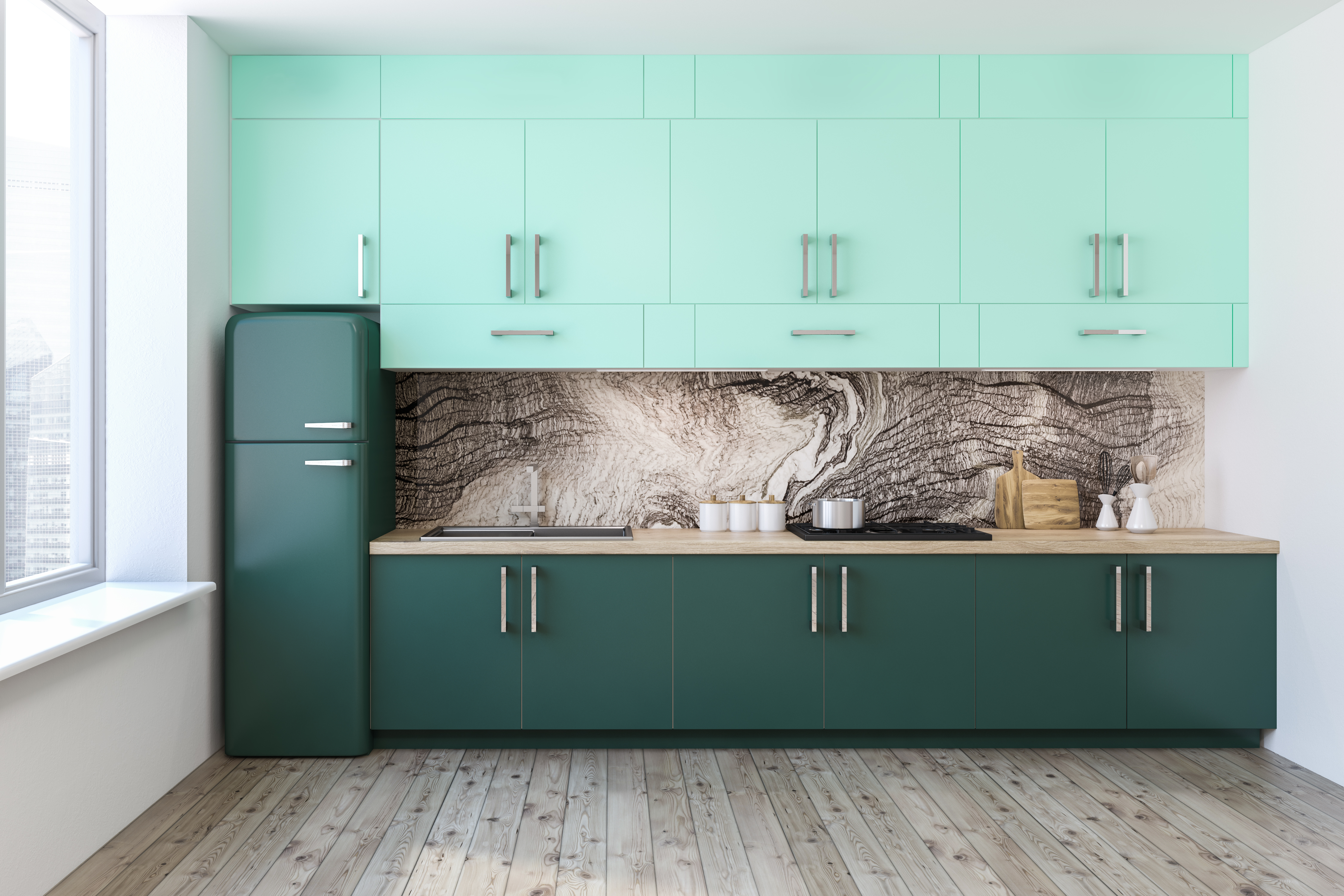 Sage green cabinets can be used in any style of kitchen because of their neutrality and compatibility with other colors. This trend of green cabinets, specifically sage green, is timeless so don't be afraid to indulge in your green kitchen dream.
If you are ready to start ordering or if you need assistance, please feel free to call us at 1-855-669-5222 or send us an email at info@cabinetnow.com. Our team of cabinet experts are here to help with everything from measuring to ordering. You can also fill out our custom cabinetry request form for a free quote which includes a 3D render and layout design from our professional designers!