How to Transform Your Space With Floating Shelves: 20 Design Layouts With Floating Shelves That Will Surprise You
Floating shelves are trendy, stunning, and easy! The open floating wall shelving gives you the ability to maintain organized shelves while also giving you that Pinterest aesthetic to any room in your home. And the best part about them is they are easy to hang.
Whether you are creating a long display of items or adding depth to your walls, floating wall shelves can transform your space effortlessly and the versatility of design and functionality is endless. This gives you many opportunities to mix and match, layer, display, organize, and decorate!
CabinetNow offers a variety of colors and materials for our floating shelves, so that you can match any project.
---
CabinetNow Floating Shelves
One of CabinetNow's newest additions is floating shelves. We offer veneer and thermofoil open wall shelving. Each is a great option for any room in your home because we offer many different colors, styles, and wood species to match your walls, furniture, and home decor. They are easy to hang and metal brackets are included with each floating shelf.
VeneerFloating Shelves
Veneer floating shelves are made from a veneer wood material. Veneer wood is wood that is thinly sliced and glued together onto the core of MDF (medium-density fiberboard). Veneer wood is highly durable and lightweight making it perfect for hanging up and storing durable objects.
Compared to solid wood, veneer wood is much more affordable and you can purchase higher quality wood species for a lower cost. Veneer wood is also much lighter than solid wood making it a great option for floating wall shelves so you can avoid the wear and tear on your walls.
Horizontal vs. Vertical Ends
When deciding which veneer floating shelf to choose from, you can choose between vertical or horizontal ends. Simply put, the vertical end runs perpendicular to the top grain and the horizontal end runs parallel to the top grain.
Wood Species of Veneer Cut Floating Shelves
The versatility of floating wall shelves is what makes them special. With CabinetNow there are so many options of materials you can choose from. We offer 8 wood veneer shelf material options.
For our wood veneer shelving material, we offer maple paint grade, red oak plain sliced, maple plain sliced, red oak rift cut, maple quarter cut, cherry plain sliced, cherry quarter cut, and white oak rift cut.
Hood Distribution describes how wood is sliced and what the grain resembles once cut.
| | |
| --- | --- |
| Cuts/Slices of Wood | Description |
| Plain Sliced | When sliced, the log is rotated a couple of inches leaving a cathedral pattern look inside the grain |
| Rift Cut | When sliced, the log is cut at a 15-degree angle leaving a striped pattern in the grain but without the flakiness seen in quarter cut |
| Quarter Cut | When sliced, the veneer is cut perpendicular to the "growth rings" leaving a striped pattern in the grain with some flakiness |
Modern Thermofoil Floating Shelves
Whether you are looking to add a modern ambience or simplistic traditional aesthetic to your home's walls, the thermofoil floating shelves are wonderfully perfect. We offer over 20 colors of modern thermofoil you can choose from ranging from sage green, to a creamy white.
Thermofoil is a vinyl laminate that is heated and pressurized onto an MDF core. This type of material is durable and trendy for any home improvement project. Not only is thermofoil trendy, but it is also a cheaper option for any cabinetry project making it very affordable.
---
Designs and Functionality
Are you tired of only hanging up pictures or mirrors? If you are anything like me, you may have some trouble shopping for wall decor. If you have run out of ideas, don't you worry! We have you covered with 20 inspirational designs that you can use with floating wall shelves to instantly spice up your home.
Designing with floating shelves is vastly versatile. You can mix and match colors, length, height, and symmetry. Floating shelves can be designed in numerous ways for each room in your household creating an exceptionally stunning aesthetic for your home.
Designing can be flexible and so can the functionality of floating shelves. Not only can they up your wall decor game, but floating shelves are amazing for having items organized by keeping surfaces decluttered and showcasing personal favorite items.
When designing your floating shelves, it is important to keep in mind where each item is placed. The beauty of floating wall shelves is that they are open, giving them the function of easy access to items you may need. For example, placing items you need to grab and go on the bottom shelf and more decorative items on the top shelf.
---
20 Design Layouts for Floating Shelves
Stuck on inspiration? We have curated some designs that would be stunning and useful in any home. Check out these 20 design layouts for your kitchen, bathroom, living room, and bedroom to inspire your next project!
---
1) Kitchen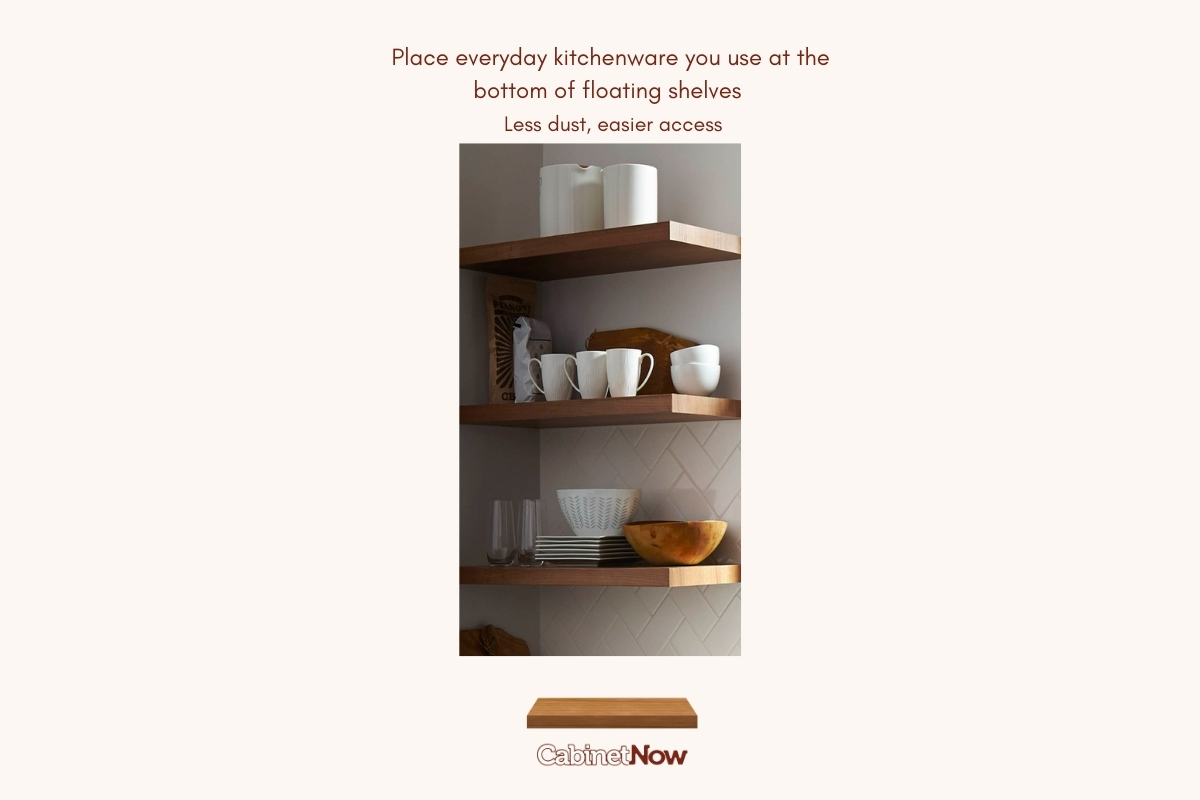 Your kitchen is the centerpiece of all memories in any home. You probably can picture exactly what your grandparents' kitchen looks like. Where they kept all the junk food, where each of the families sat around the table, and what their dishes looked like. Food brings us together, literally.
The way we design our kitchens in our homes creates an aesthetic that is forever remembered. Whether you like to showcase your kids' artwork, blooming plants, favorite dishes, family pictures, or cookbooks, floating shelves are an incredible kitchen feature to do so.
Floating Shelves Above Countertops to Save Space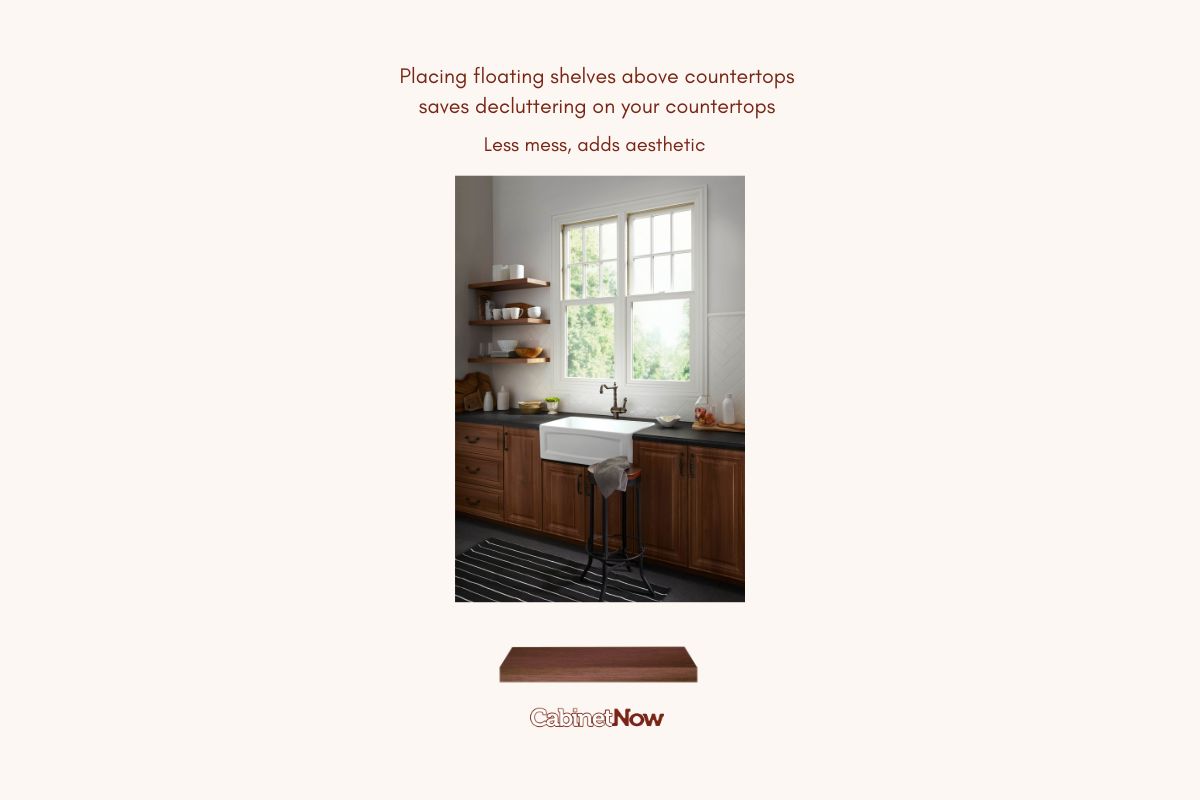 Floating shelves for your kitchen can eliminate clutter from your kitchen countertops and create space for more cooking and cleaning. The open shelving can give you easier access to essential items needed to function better in your kitchen while keeping you organized.
Floating Shelves For Every Day Kitchenware
Have a set of favorite dishes you use for guests or just yourself? Instead of scrambling around your cupboards, keep them on the bottom of your shelf to grab and go and replace them after you clean them. Placing everyday kitchenware on the lowest floating shelf is not only easy access, but it also stays dust-free rather than placing them on the top shelf.
Floating shelves by your sink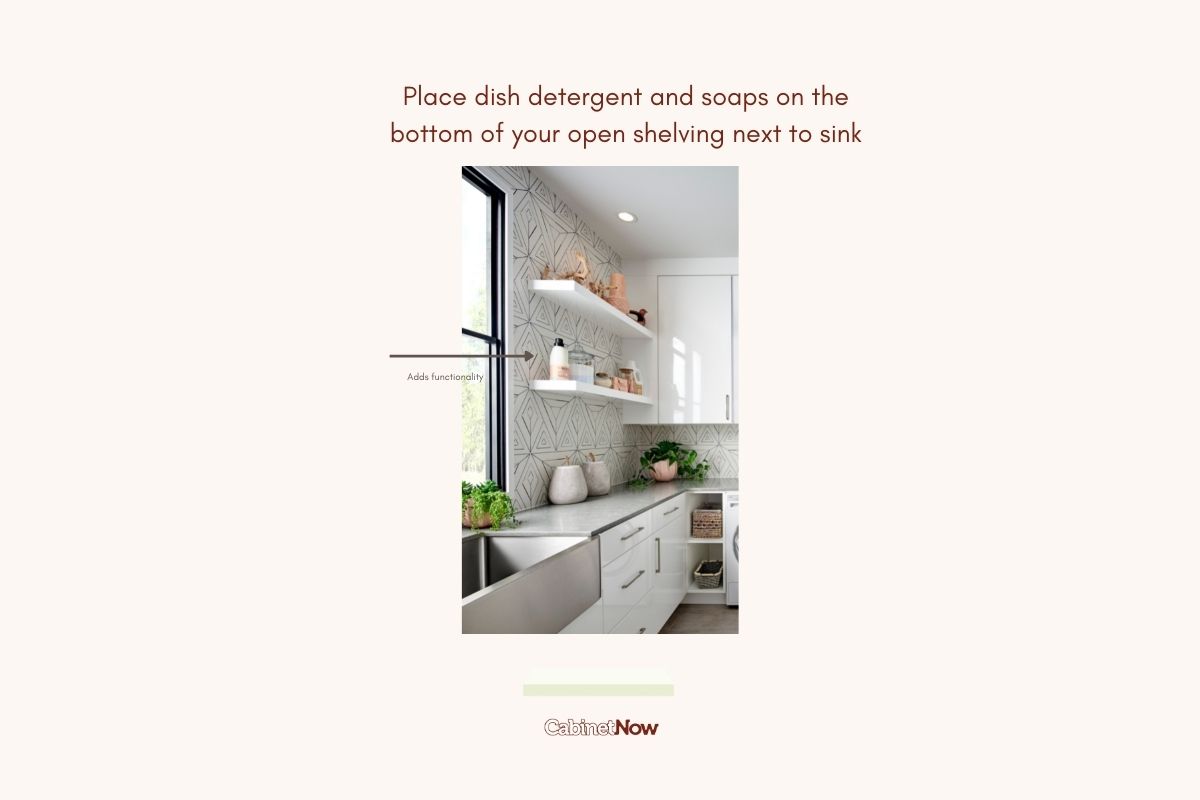 Adding functionality to your kitchen is a no-brainer. The kitchen can get hectic as is if you have a family or roommates who cook.
The placement of floating shelves can really help you out when needed. Like the white floating shelves pictured, you can place your open floating shelves next to your sink where you can store cleaning supplies such as dish soap, dish detergent, and hand soap to keep the countertops mess-free. If you are feeling extra artsy, you can even purchase or reuse cute containers or jars for your soaps and detergent to add to the aesthetic.
Floating Shelves For Cooking Essentials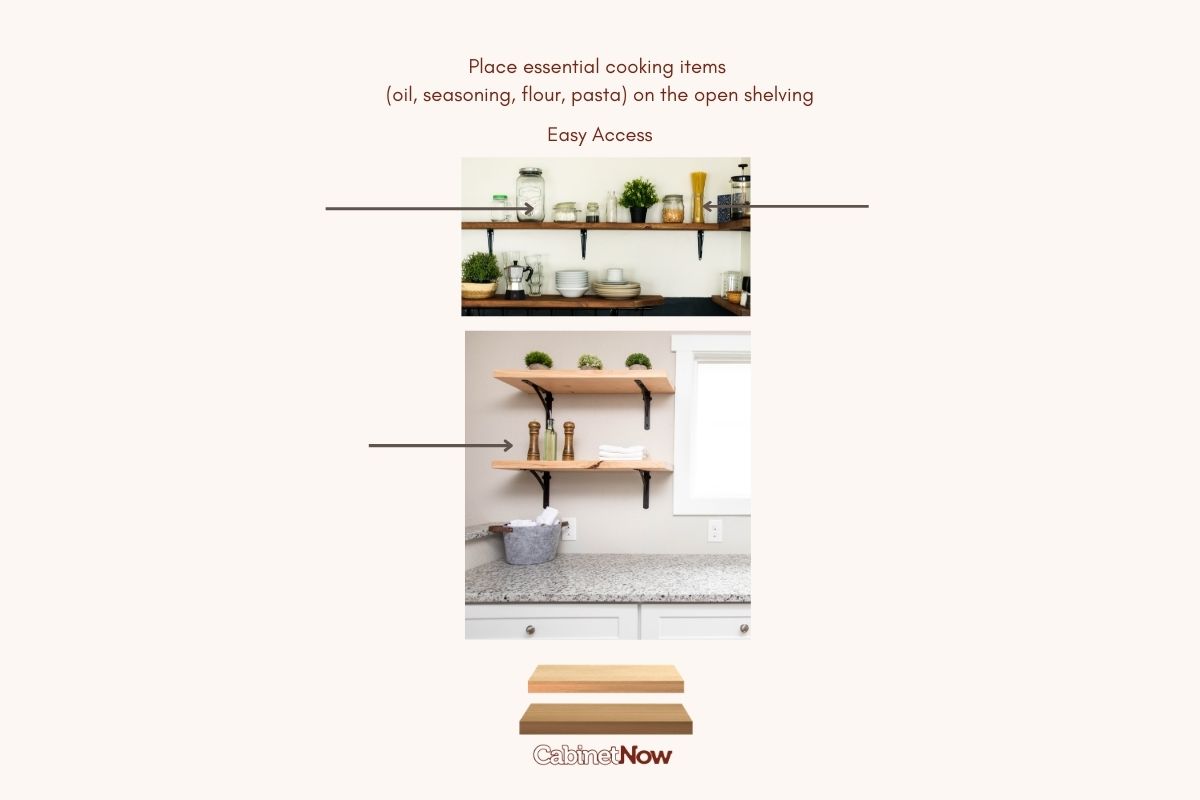 When it comes to cooking, it can feel overwhelming to have to pull out every single ingredient leaving your kitchen a mess. Placing floating wall shelves above where you cook on your countertop can save you time and energy.
Having open shelves gives you the ability to place essential cooking items such as your favorite cooking oil, salt, pepper, flour, rice, and pasta in an easily accessible place for cooking. You can even take your design skills up to the next level by placing flour, rice, and pasta in stylish jars or by upgrading your salt and pepper shakers.
Creating Symmetry on Either Side Of the Sink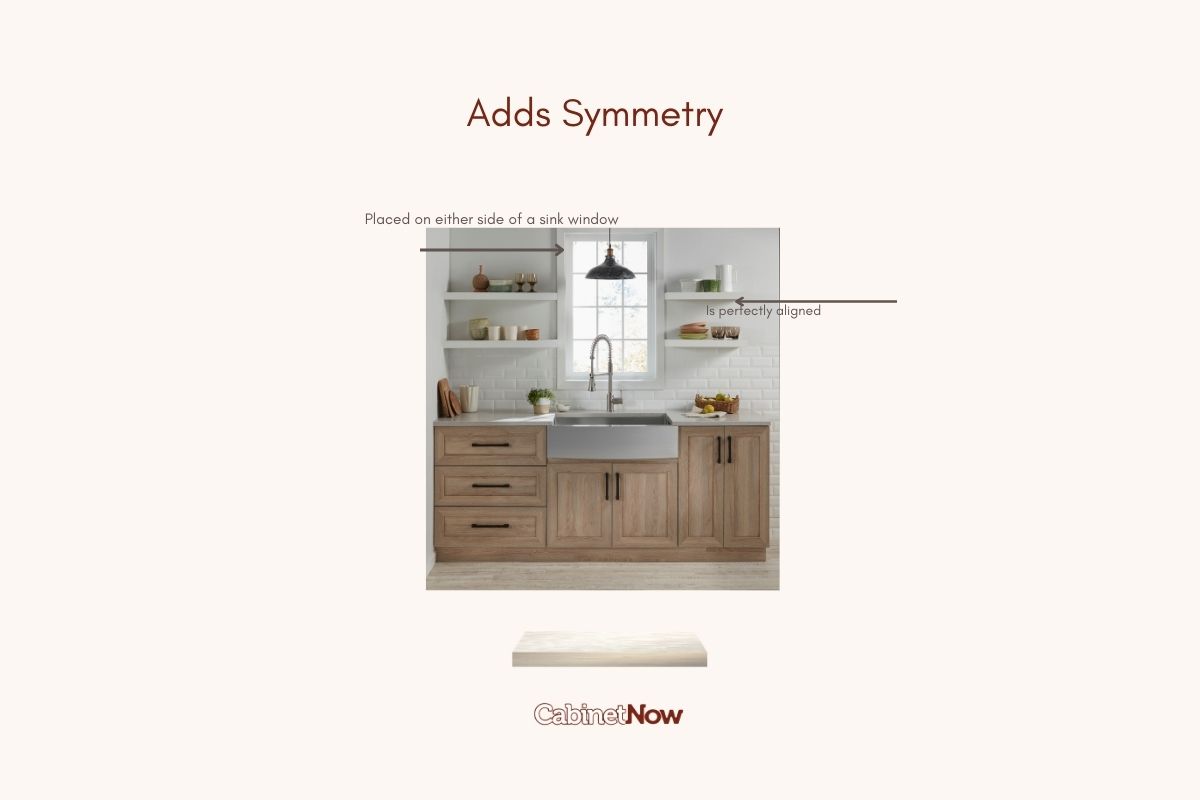 Let's talk about the design of floating wall shelves. Sometimes a kitchen simply lacks the right design layout such as symmetry. If you have a centerpiece such as this window, adding symmetry on either side can add a stunning feature and layout to your kitchen. Not to mention, it adds depth to your kitchen right above the white oak cabinets that also stick out.
Our white floating shelves are a perfect pair for white oak cabinetry.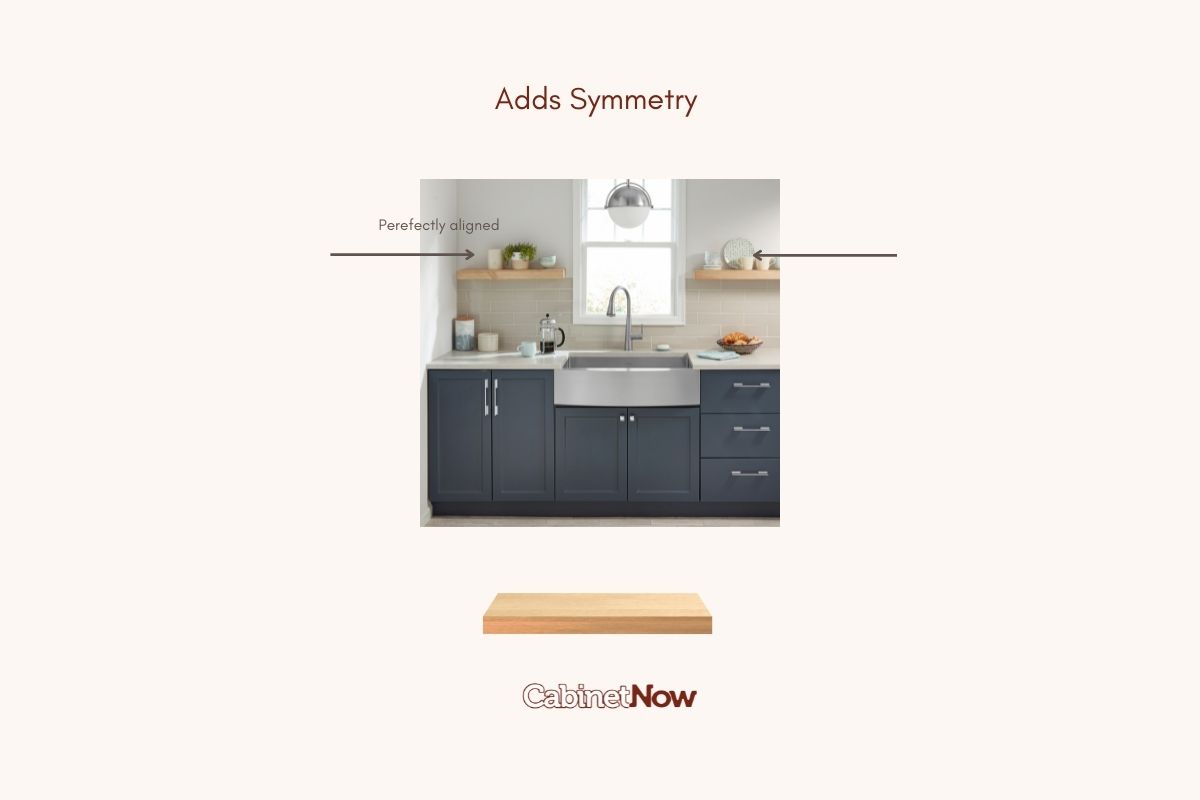 This design uses the same concept by adding symmetry to either side of the window. Each shelf is perfectly aligned on either side of the window and adds slight depth above the navy blue cabinets. The light brown floating shelves are complemented by the darker blue cabinets by adding opposite tones.
Floating Shelves for Bar Essentials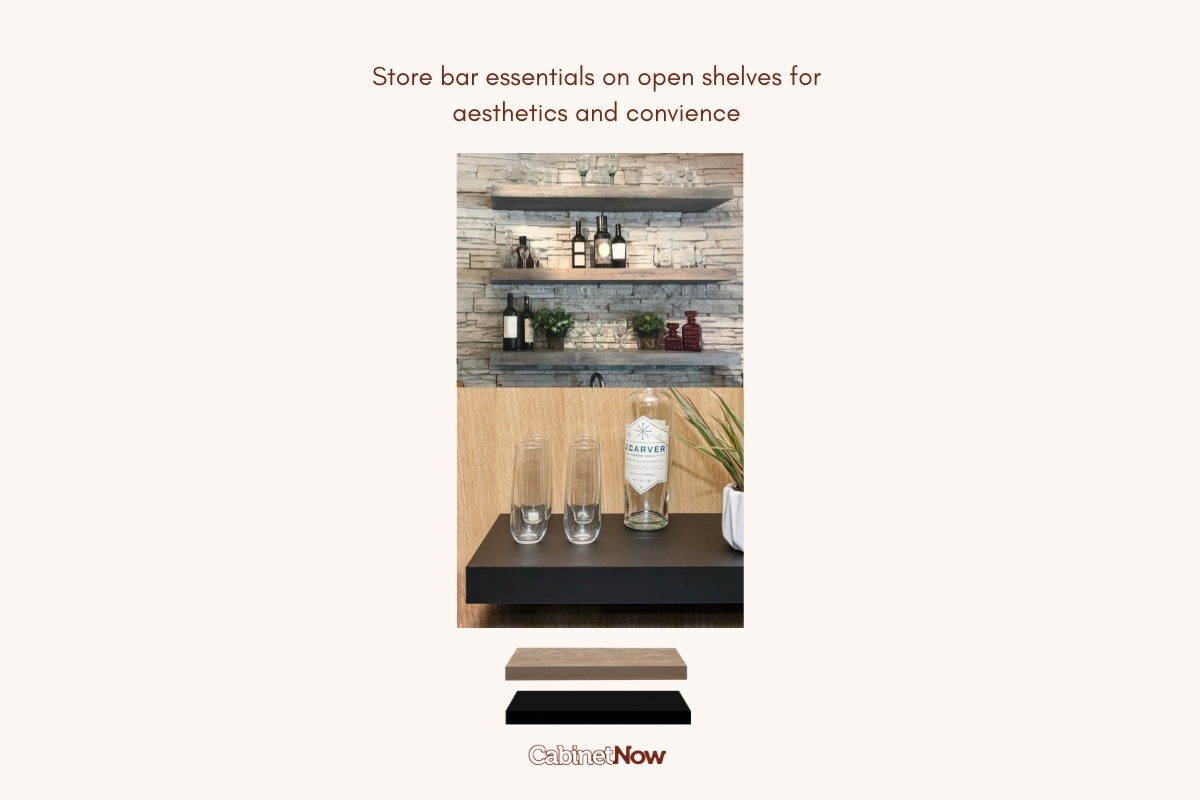 Not sure what to do with your limited edition liquor or anniversary wine?
Why not add open shelving for all your bar necessities! If you have expensive liquor or wine bottles you would like to showcase, floating shelves are perfect for displaying them with your favorite liquor and wine glasses adding a stunning aesthetic to your kitchen design. On the other hand, if you have a favorite alcoholic beverage you drink often, open shelving is an easy-access way to not only showcase, but grab and go. Salud!
2) Bathroom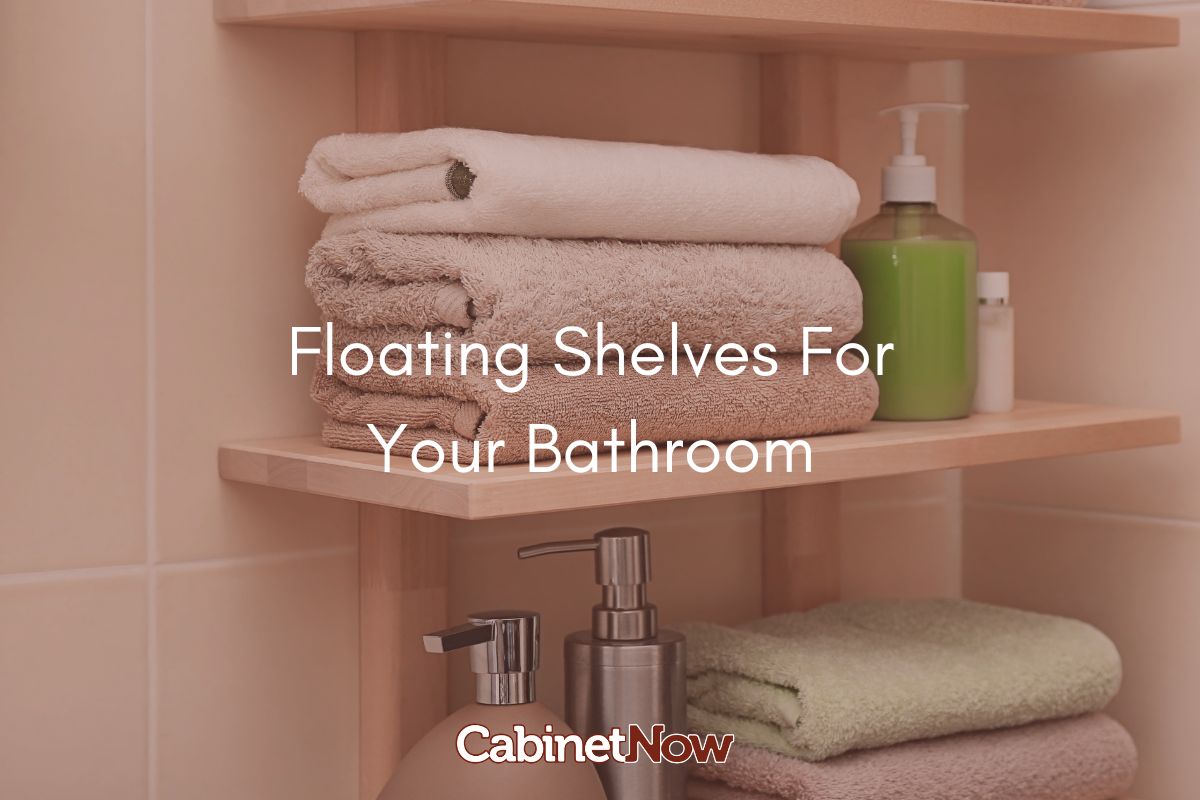 Bathrooms get messy. You get ready in there, you clean yourself, dare I mention the rest. It's inevitable that your bathroom is always clean. But, floating shelves can make your bathroom feel less of a mess and can make your life much easier. These floating wall shelves are open and easy to access giving you the ability to grab an essential item and easily place it right back.
Floating shelves are a professional organization hack for your bathroom. There are many different ways you can use floating shelves in your bathroom to improve functionality.
If you are anything like me, you may have difficulty designing your bathroom space, because there is only so much you can do, or so it seems in smaller spaces. That is why floating shelves are amazing because they don't take up any floor space, but still add a stunning feature where you can add bathroom decor and bathroom essentials.
Floating Shelves For Behind Your Toilet For Functionality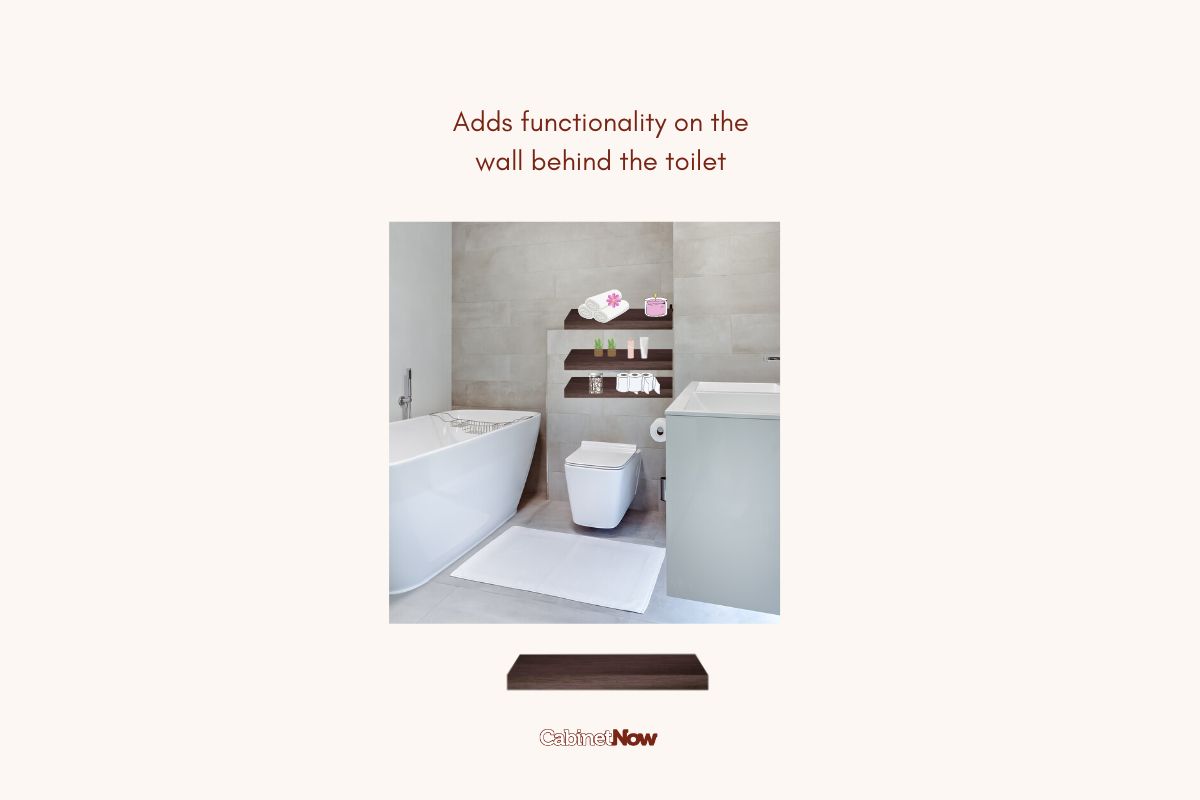 Over-the-toilet organizers are smart and savvy but can look bulky and take up unnecessary space around your toilet. Floating wall shelves over the toilet can save space and provide great storage space for toiletry items and sprays for after use, mainly for guests.
The floating shelves above the toilet add functionality so you don't have to worry about getting up and walking across the bathroom to grab any toiletry items. You can also decorate it to make your toilet space look classy and accessible.
Floating Shelves Next to Toilet For Toiletries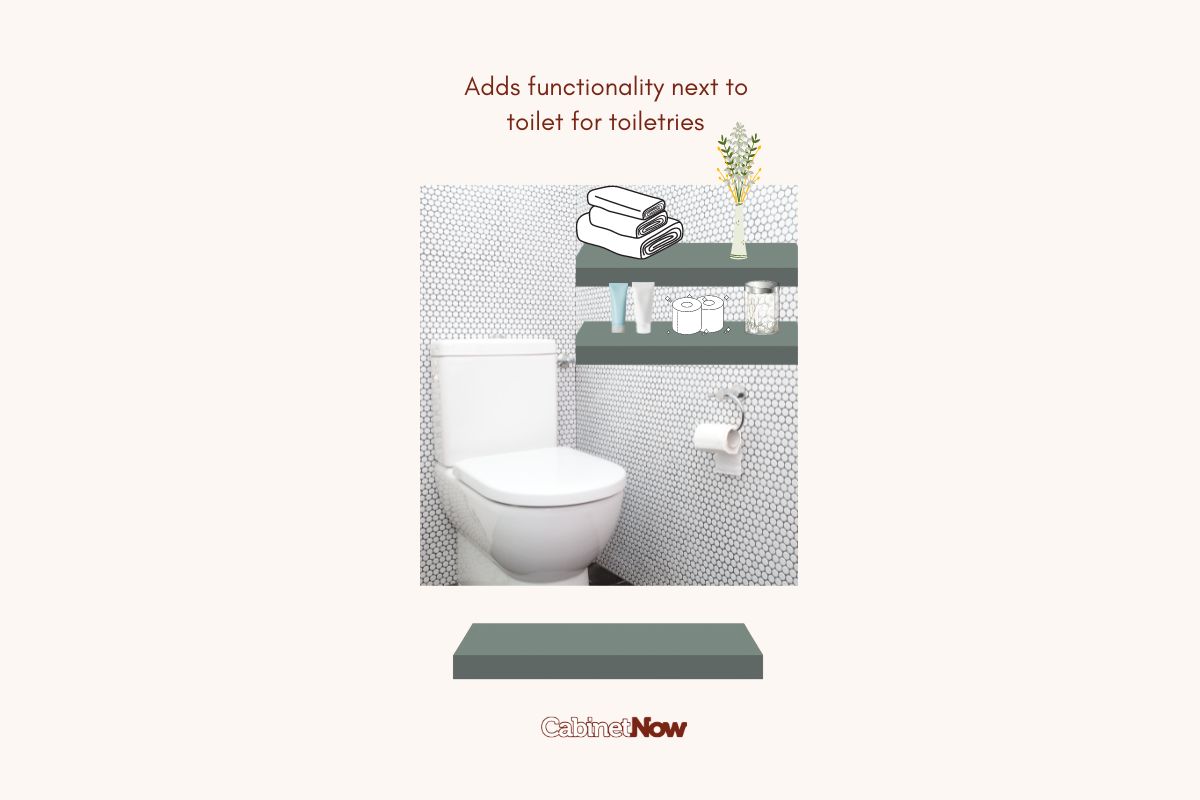 If you want to add even more functionality you can add the floating shelves on a wall next to the toilet if it is a convenient space. This way it is in bird's eye view of whatever you may need and may be less of a hassle if you need to do some maintenance inside your toilet.
Floating Shelves Next to Sink to Save Vanity Space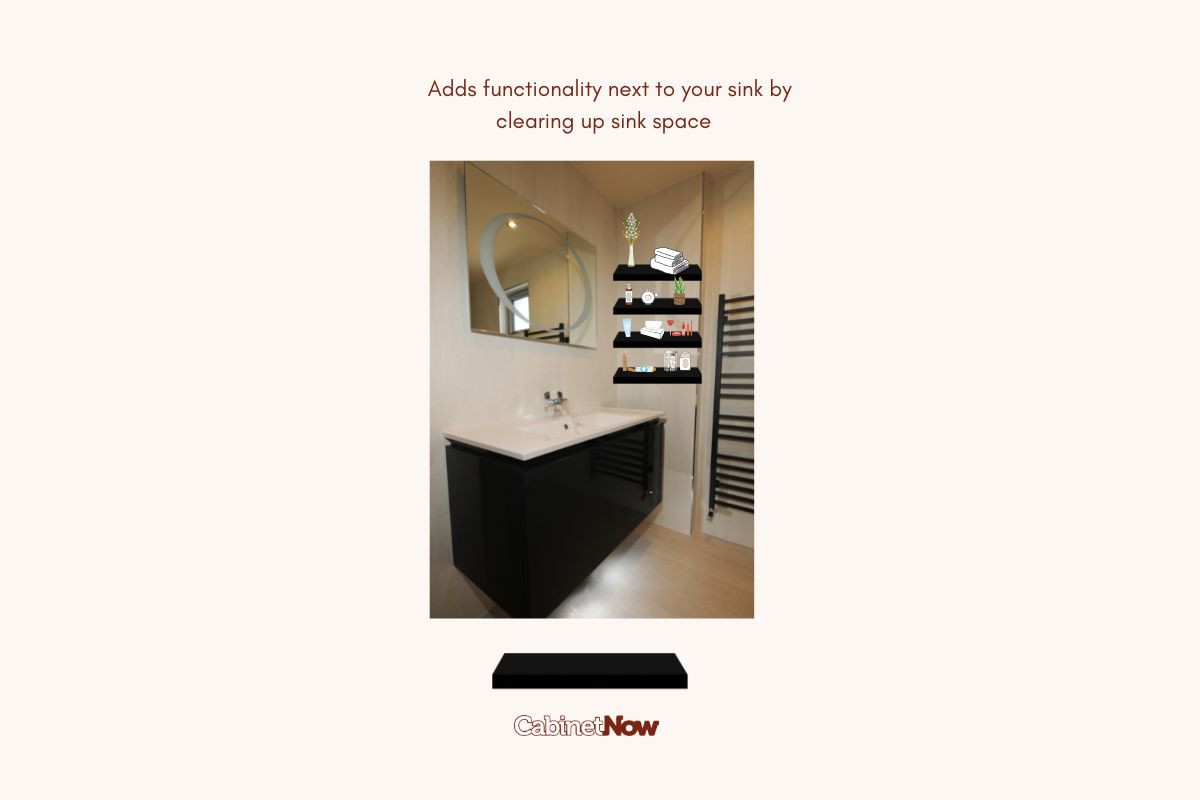 Picture this. You are sharing a bathroom with a significant other, brother, sister, or messy roommate who always leaves their stuff on the bathroom counter. Not to mention, they always leave the cap off the toothpaste leaving leftover toothpaste to dry. Or maybe it's a habit YOU are trying to fix.
Not having any countertop space on your vanity is a pet peeve because we use it daily. We brush our teeth, get ready, wash our face, etc. The feeling of a cluttered bathroom vanity can be overwhelming, to say the least, especially if you feel like you are straightening it up on a daily basis.
One of my favorite ways to add floating shelves in the bathroom is to add them right next to your vanity. Any wall that is open near your vanity is a great choice to add up to however many open shelves you need. It adds functionality and is a great way to spice up your bathroom with decor. You can store your toothbrushes, cosmetics, soaps, towels, and colognes to grab and quickly put back leaving no clutter on your vanity. Now, there are no excuses for having dried toothpaste build up on your vanity countertop!
Floating Shelves Outside Of Your Shower For Shower Essentials
One thing my mom always used to tell me is to put things back where I found them. This applied mainly to the nice shampoo I would always steal from her shower. She could always tell because it was never placed on the "shower shelf."
Having a floating shelf outside of your shower is a brilliant idea to store your shower essentials in your bathroom, keeping the essentials on the bottom shelf like towels, everyday soaps, and razors. Then keeping once-a-week deep conditioners, body scrubs, body oils, and other bathing toiletries on a higher shelf. See, I have already planned it all out for you!
Floating Shelves Inside Of Your Shower For Shower Essentials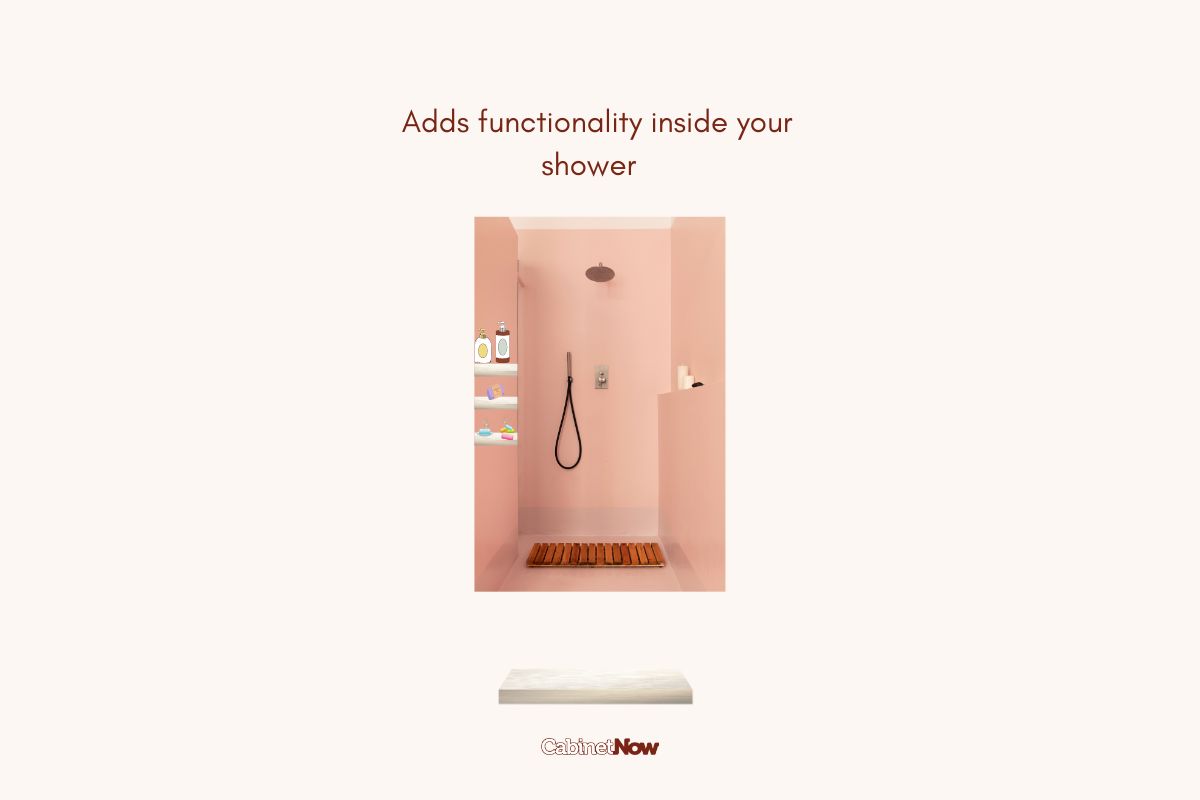 Floating shelves inside your shower are the ultimate game changer. This way you have everything inside your shower and can keep everything off the floor or around your shower ledges to prevent your razors from rusting and losing half your soap bars. Not to mention, keeping your shower ledges clean from product build up.
---
3) Living Room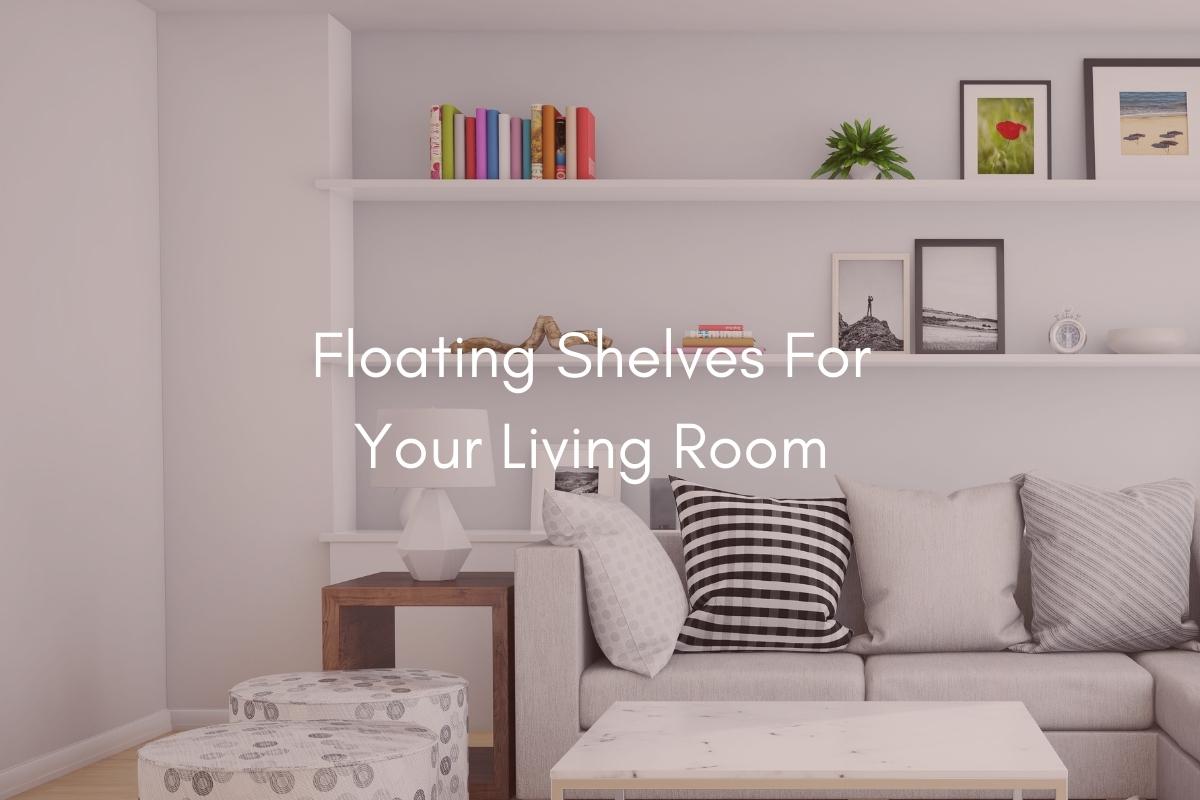 Movie nights, quiet reading, family time, game night with friends, holidays. The living room is exactly what it sounds like. It's a room you get to relax and just live in. Decorating your living room is something that should be exciting because you get to design it how YOU want to relax and live.
Although, if you are feeling stuck, we have got you covered with some ideas to add some zest.
Floating Shelves For That Awkward Corner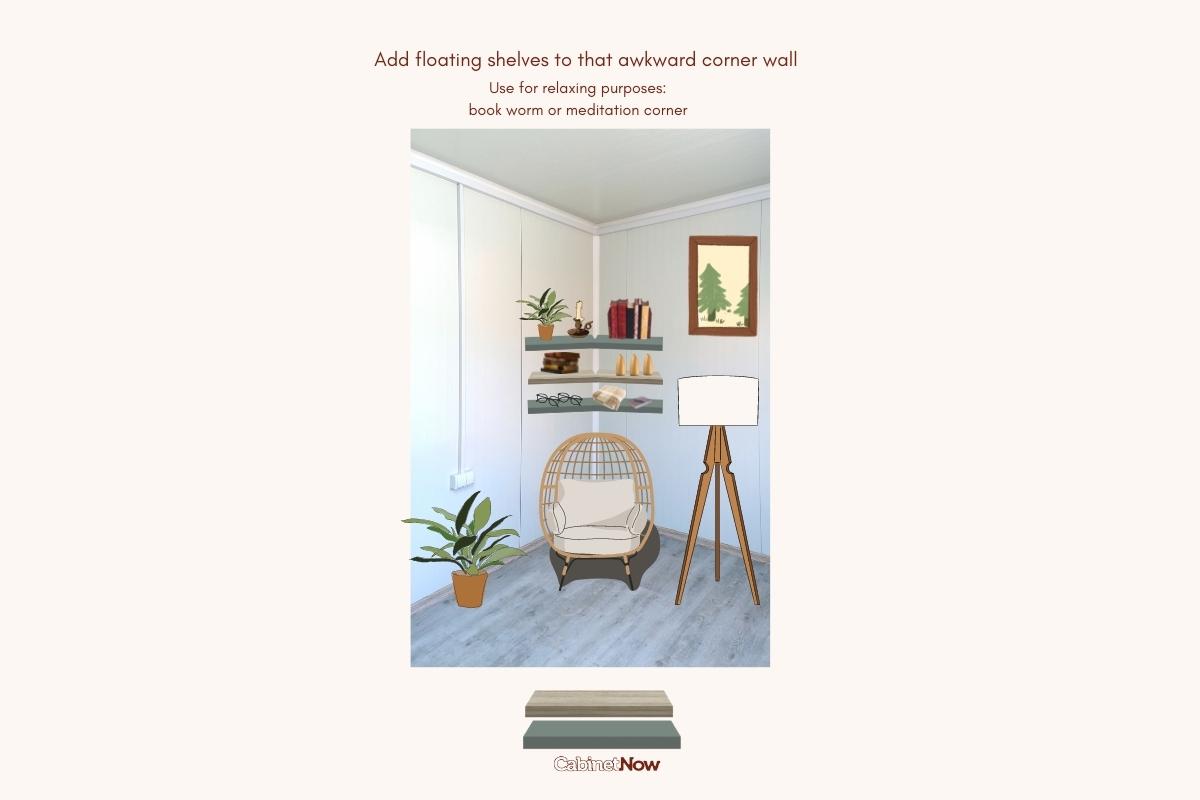 If you have an awkward corner in your living room one of our favorite ways to design this space is by adding floating shelves that run perpendicular to each other on either side of the wall.
This is a perfect way to add a zen corner to your living room for all the bookworms, meditators, and journalists. You can place pictures, books, journals, and candles.
Floating Shelves Above Your Couch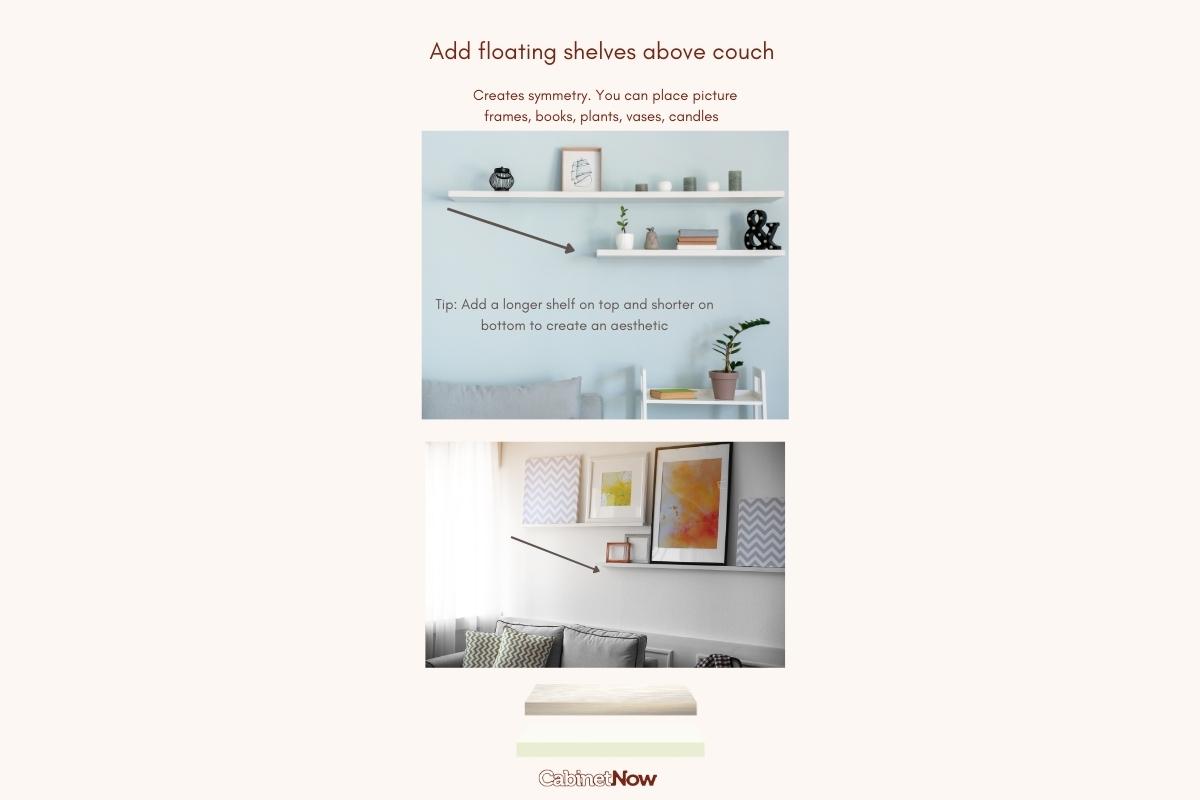 Decorating above your couch is another great way to fill blank wall space and add spice to your living room area. The cool thing about floating shelves is that you can switch up the symmetry with them. Instead of having the floating shelves run exactly parallel to each other, you can shorten one on the bottom while keeping the top shelf elongated to create a diagonal effect.
This can create space for you to add a picture shelf and align pictures or align the shorter shelf to a side table while extending the top shelf to add a unique symmetrical vision above your couch.
Creating Triangular Symmetry Above Your Couch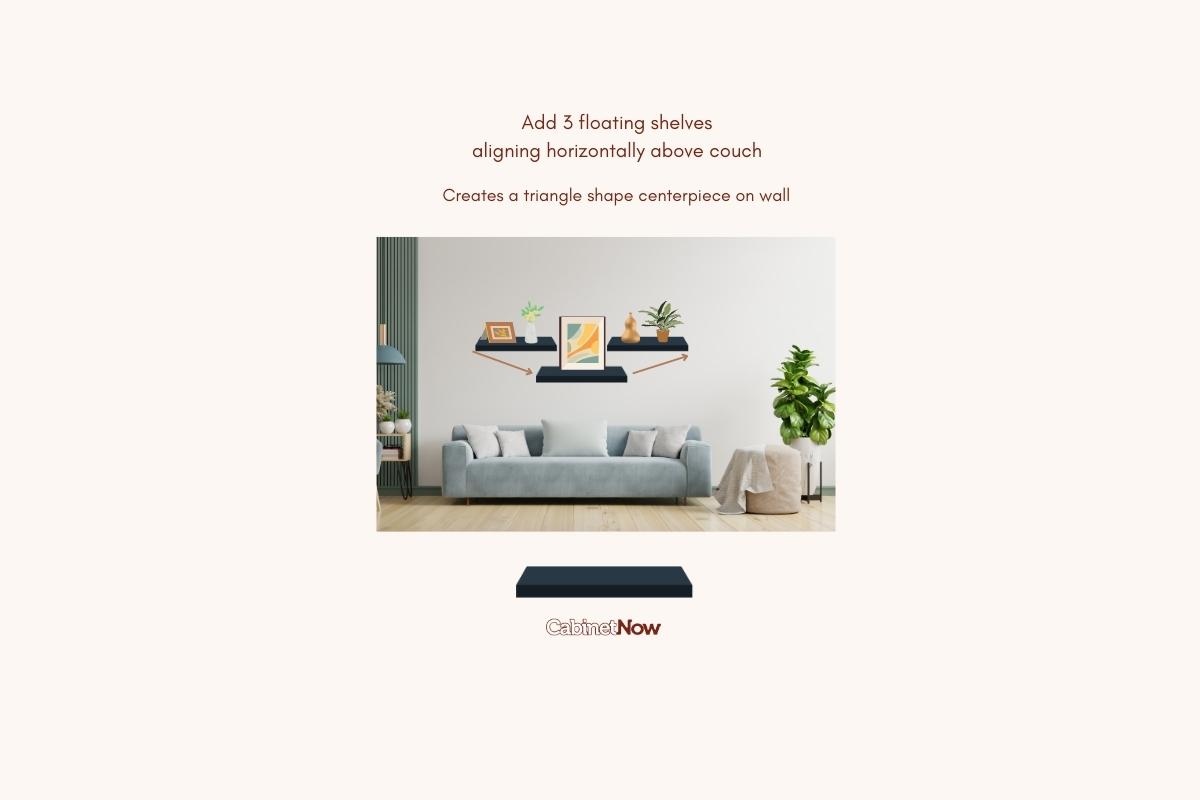 Another design we strongly recommend is creating a triangle shape with the floating shelves as you can see pictured. This creates a symmetrical centerpiece right above the most important place in your living room.
Placing a taller picture or painting on the lower center floating shelf and smaller objects on either side of the other two floating shelves creates an alignment among all three floating shelves that will bring a stunning aesthetic to your home.
Floating Shelves On Either Side Of the TV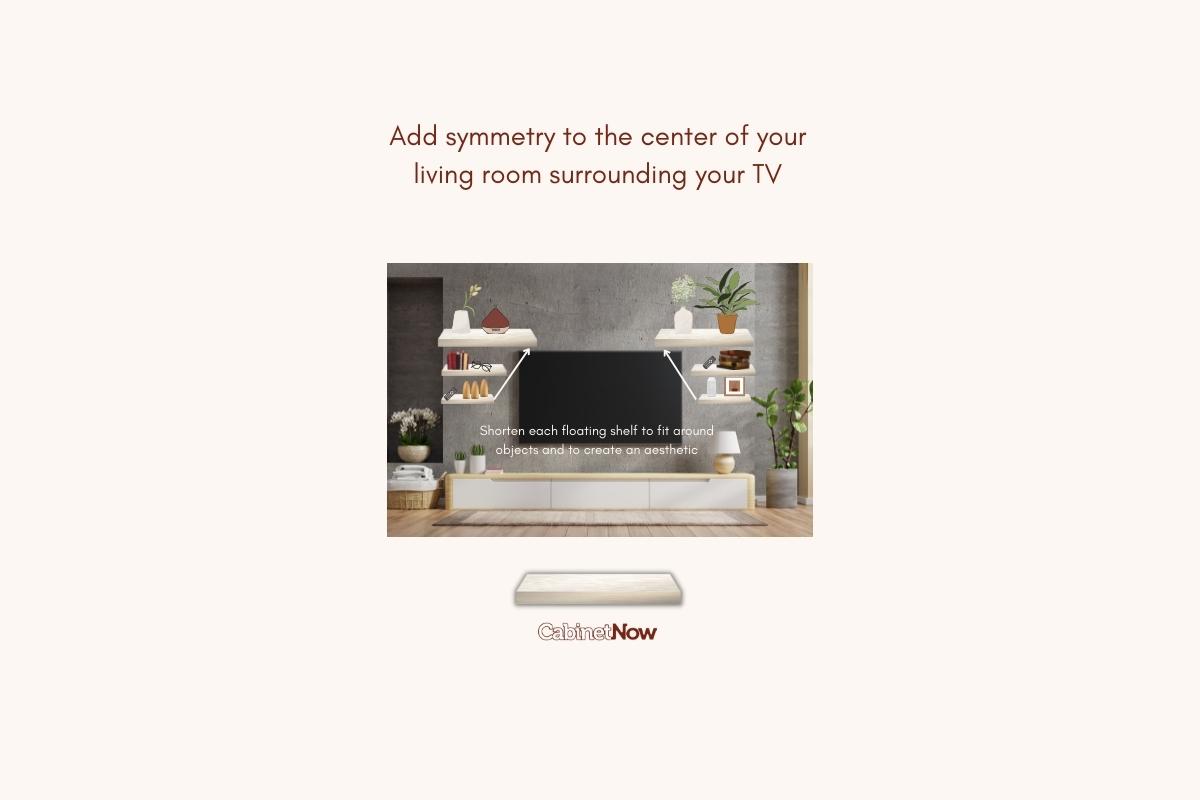 Just like the kitchen brings friends and family together, so does the TV. If you are getting bored of staring at your TV with a blank wall, it may be time to upgrade your TV wall with floating shelves. This is a perfect way to spice up your living room and add some depth to your walls.
In this design, the floating shelves are surrounding the flat-screen TV with each floating shelf shortening downward to fit around it. This can create a beautiful symmetrical aesthetic, while also improving functionality for extra storage of TV remotes and gaming. Or displays such as family pictures and decor.
Creating Symmetry On the TV Wall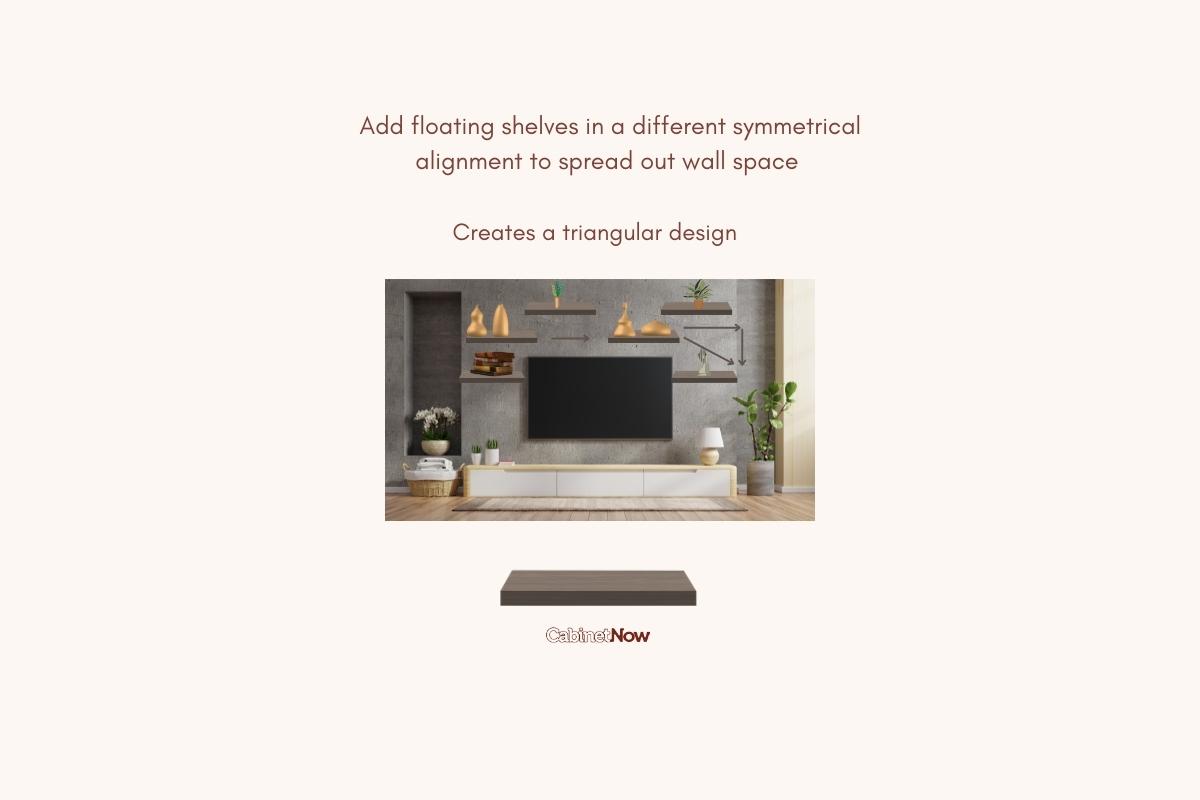 Have high ceilings or extra space above your TV?
Placing floating shelves above the TV in a calculated way can make your TV wall stand out. In this design, the shelves are aligned horizontally but are spaced out to spread out the decorations. This is a great way to design a room that has a blank wall, especially if you have taller ceilings. It can be so simple, yet looks professionally designed.
---
4) Bedroom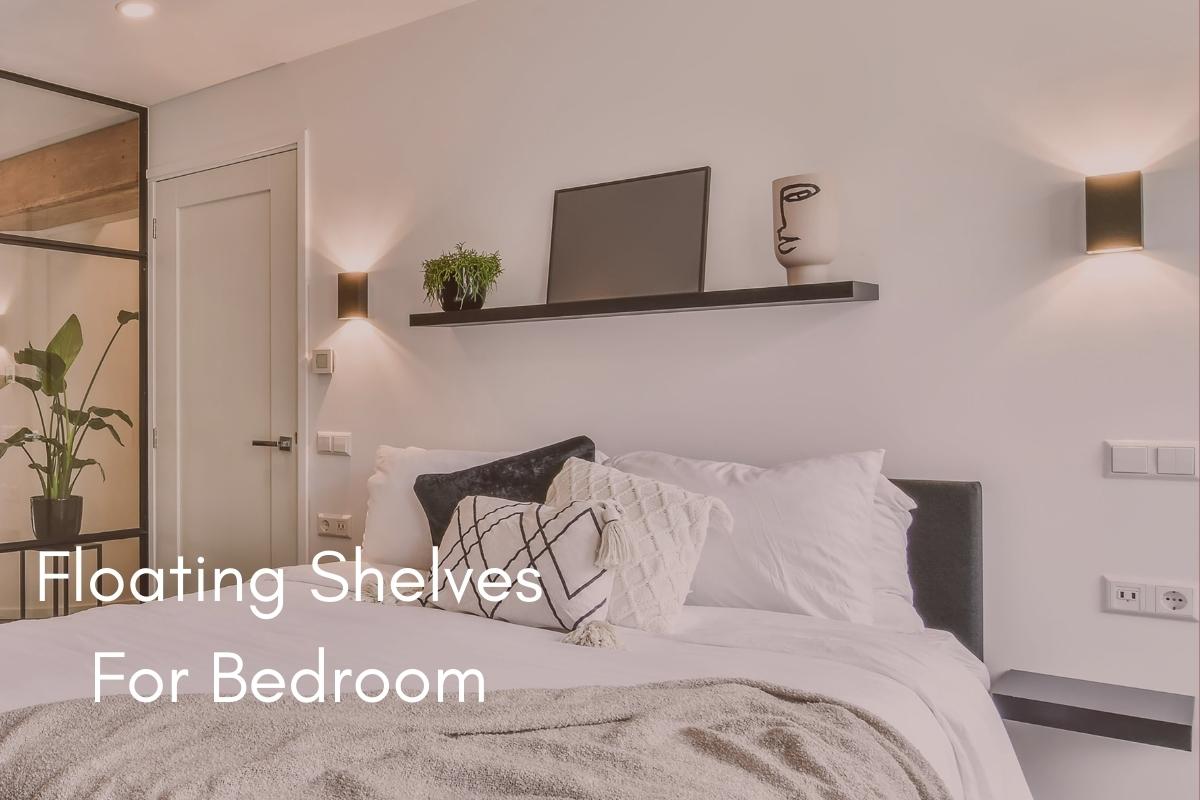 Your bedroom is your safe space. You start and end your day in the same spot, staring at the same walls. The cool thing about having your own safe haven is that you can customize it to look and feel what you desire based on your imagination and interests.
Floating shelves can not only be used for aesthetic purposes in your bedroom but also to improve functionality such as saving space. I remember my first apartment. My bed took up the majority of the room leaving me no space for extra storage. As much as I felt sometimes suffocated in my own bedroom, I also found it to be extremely cozy, and floating wall shelving saved my life when it came to storing extra items.
Floating Shelves Above Your Bed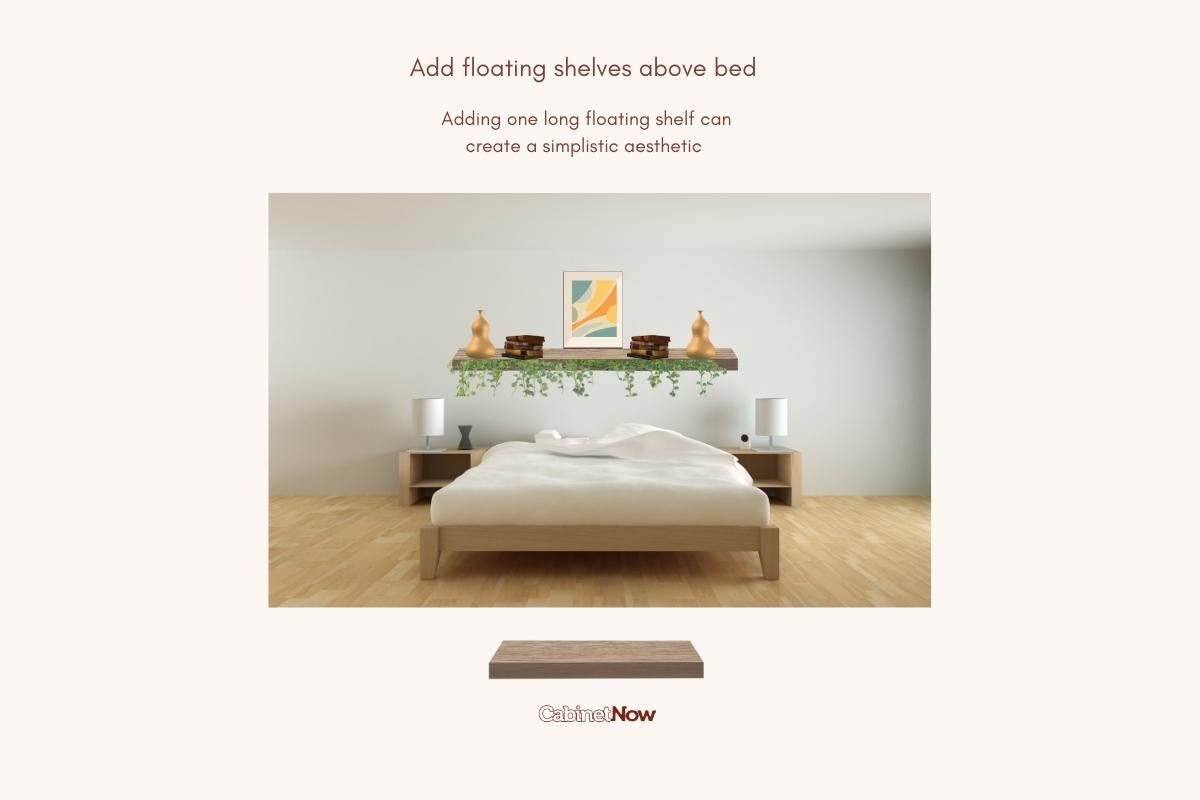 Much like placing floating shelves above your couch, adding floating shelves above your bed is the perfect way to fill in that blank space that many of us don't know how to fill. And you can customize it to your own unique taste and needs.
This design has placed a vine with leaves to add that modern earthy aesthetic that has grown popular in the last few years. There are countless approaches to take when adding floating shelves above your bed depending on how intricate you want the space above your bed to be.
Designing floating shelves can be versatile which may include stacking floating shelves, altering the length of stacked floating shelves, creating symmetrical patterns such as a triangular shape, or just keeping it simple like pictured above for a simplistic aesthetic.
Floating Shelves to Display Items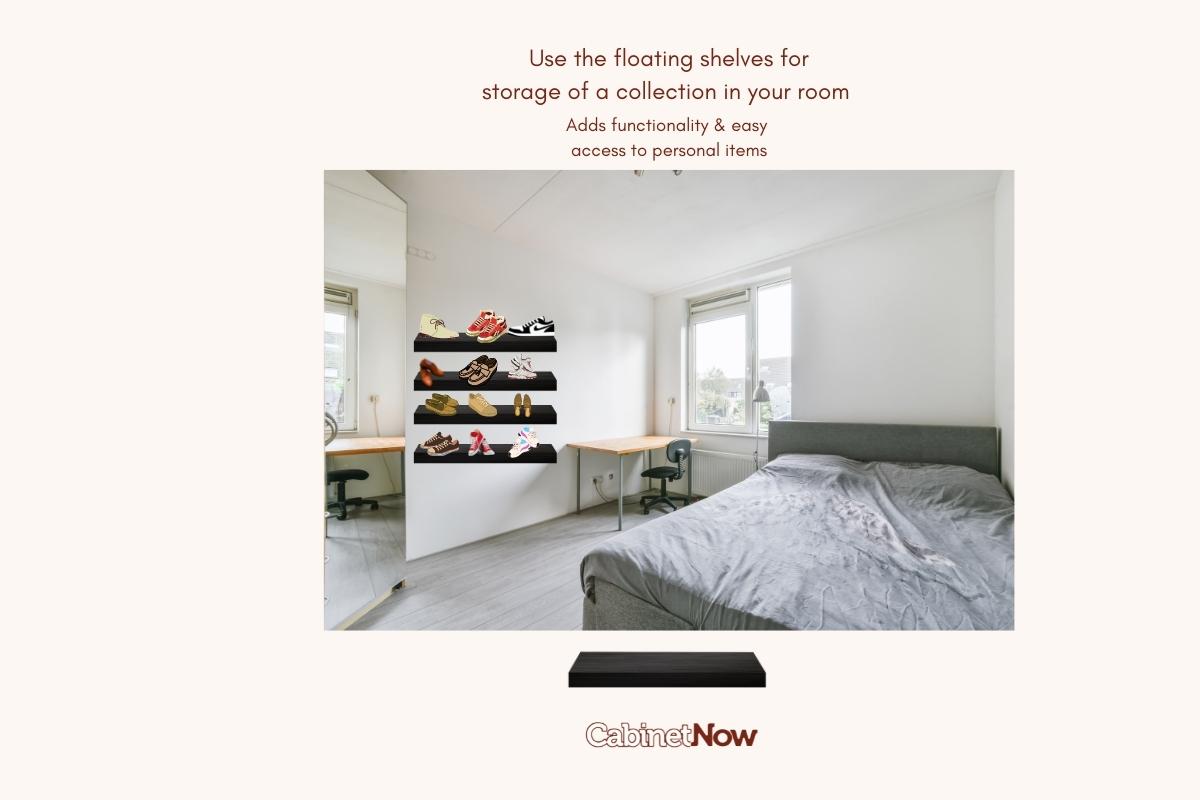 The functionality of floating shelves varies from person to person. At a young age, we form our independence in our rooms. Floating shelves are the perfect way to express ourselves even as adults.
Open shelving is a great way to display personal items you are passionate about whether that be trophies, music, shoes, art, or simply pictures of you and your loved ones.
Floating Shelves Above Your Desk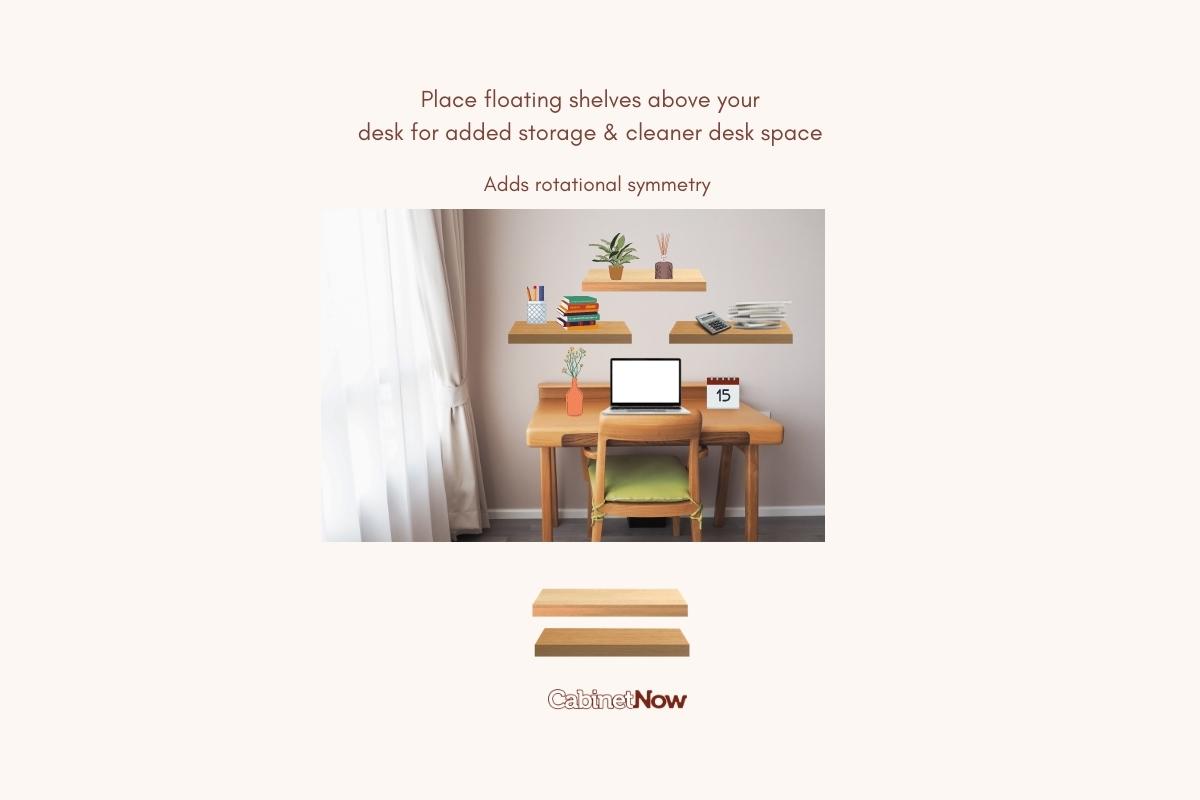 Are you tired of your desk feeling cluttered?
It can be an annoyance trying to answer emails when your desk is occupied with various items and nowhere to place them.
If you have a desk or vanity in your room, floating shelves can save a lot of desk space by placing the open shelves right above it in arm's length. They are the perfect spot to place notebooks, pens, and books leaving you space to write out your to-do list.
In the design above, we have designed the floating shelves to be in a symmetrical triangular shape giving you easy access to place items needed on the lower shelves and more decorative items on the top shelves for aesthetic purposes.
---
How to Hang Floating Shelves
Floating shelves are a great addition to any project because they give your space a huge upgrade without the costs of a larger kitchen refresh.
Once your shelf has arrived it's time to decide where to install it.
All of our floating shelves come ready to install with a medal bracket included! All you'll need is a stud finder and a few screws to begin. Follow these simple steps and your floating shelves will be ready in no time!
Begin by locating all the studs on the area you plan to mount it on and mark them as you go.
Then use a straight edge or a ruler to mark out where you want your bracket to go.
Next, mark where you want to place your anchors so that you can predrill those holes.
Once your holes are drilled in, place your anchors in the wall and gently tap them into place with a hammer. Repeat this process on the other side.
Then grab your bracket, line your screws up with the anchors and screw them gently into place. Note: be careful not to drill these screws all the way in case you need to adjust the bracket.
Then use your level to check if this bracket is straight and once you see it is level it's ready to go!
Once everythings nice and straight, tighten those screws down. Note: If needed you can always pre drill extra holes for extra screws for added support if you plan on placing a lot items on your shelf.
Once the bracket is in place you will match it up with the holes on the back of the shelf and slide them right in!
And that's it! The added character of this simple shelf enhances any room in your home. I hope you found this helpful in your own project journey!
How to Order Floating Shelves
To order the floating wall shelves on CabinetNow, go to the accessories section and select the floating shelves category. From there you scroll down a bit and select the material which would be either modern thermofoil or a specific wood species veneer.
All shelves come in lengths of 24", 36", 48", 60" and 72" inches with a standard Height of 2" inches and a standard depth of 10" inches.
If you are choosing the wood veneer material you will either select if you want a horizontal end or vertical end. You may be wondering about the difference between the vertical and horizontal end, this is the direction of the grain pattern on the 2 end panels of the shelf.
Finally, you add to cart and proceed to checkout!
These shelves have a lead time of around 10-14 business days in production before they arrive directly to your doorstep and ready to install.
If you are ready to start ordering or if you need assistance, please feel free to call us at 1-855-669-5222 or send us an email at info@cabinetnow.com.
Our team of cabinet experts are here to help with everything from measuring to ordering. You can also fill out our custom cabinetry request form for a free quote which includes a 3D render and layout design from our professional designers!