Small Kitchen, Big Impact: Brilliant DIY Cabinet Refacing Guide + Before and After Customer Highlight!
If you're looking to give your kitchen a makeover but are on a budget, don't worry! There are many small DIY projects that you can do to give your kitchen a fresh new look. One of the most common ways to give your kitchen a fresh makeover is by updating your cabinets. On a budget, this may seem impossible but with CabinetNow's replacement cabinet doors we make it possible for you to replace your cabinet doors by choosing custom sizes, styles, and materials to perfectly match your existing cabinetry and personal needs called cabinet refacing. In this article we discuss everything you need to know before DIY cabinet refacing. Stay tuned until the end where we highlight our valued customer, Thomas, who refaced his old kitchen cabinet doors to illuminate and modernize his kitchen space with a cost-friendly price tag.
Why Choose Cabinet Refacing?
Cabinet refacing is a great choice if you want to update your kitchen cabinets without the expense and hassle of a full replacement. It's a cost-effective and time-saving option that allows you to achieve a fresh new look for your kitchen. By reusing the existing cabinet boxes and simply replacing the cabinet doors, drawer fronts, and hardware, you can save money and avoid the disruption of a lengthy renovation. With a wide variety of styles and finishes available, you can easily customize your cabinets to match your personal taste and give your kitchen the look and feel you desire. Here are some reasons why cabinet refacing may be the choice for you:
Cost-effective: Cabinet refacing is typically much more affordable than replacing your cabinets entirely. You can save up to 50% of the cost of a full replacement.
Time-efficient: Refacing your cabinets takes much less time than replacing them, usually taking only a few days to complete, which means you can get back to using your kitchen sooner. Not to mention, you can do it yourself!
Customization: With cabinet refacing, you can choose from a variety of styles, finishes, and materials to give your kitchen a fresh, updated look that matches your personal style.
Less Chaos: Less chaos equals less stress. Cabinet refacing produces much less mess than a full cabinet replacement, which means less disruption to your home during the installation process.
Eco-Friendly: If your cabinet boxes are in good shape, refacing your cabinets can help to reduce waste and preserve natural resources.
Less DIY Tools: When refacing your kitchen cabinet doors, you generally need fewer tools because you are not removing and replacing the entire cabinet structure. Not only do you need fewer tools, but cabinet refacing DIY tools are far less complex and more accessible to any homeowner.
You Like Your Current Kitchen Layout: If you have no issues with the functionality of your current kitchen layout, then cabinet refacing is the perfect choice to upgrade your cabinets while leaving your cabinet boxes in place.
Overall, if you are looking to update the look of your cabinets, DIY cabinet refacing is a great choice for a small kitchen makeover on a budget. It offers an affordable, fast, and flexible solution that can revitalize the appearance of your kitchen or bathroom.
What is the Cheapest Way to Reface Kitchen Cabinets?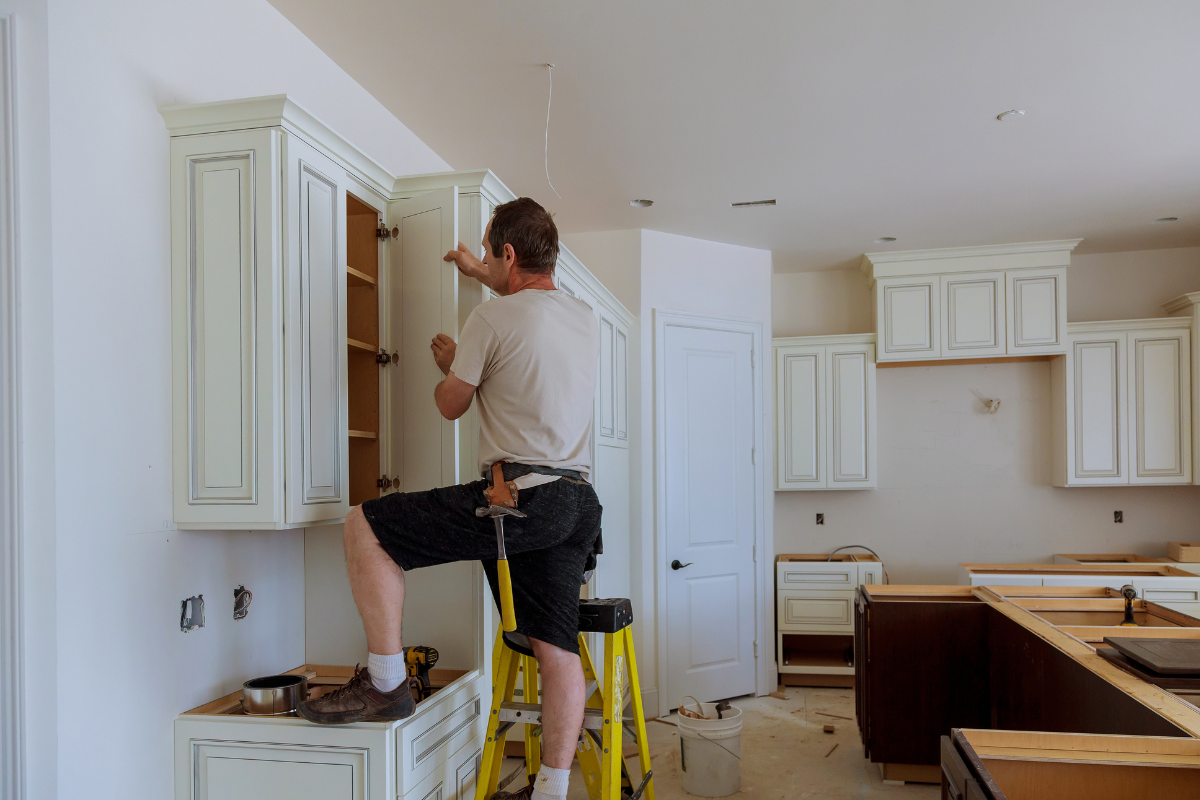 When choosing new cabinet doors for your existing kitchen, it is important to do your research to understand what ultimately affects the price. There are many cost factors to consider including the style, material, finish, sizes, and labor.
Cabinet Door Style
The style of cabinet door you choose can have a significant impact on the overall cost of cabinet refacing. By choosing a door style that fits within your budget and preferences, you can achieve the look you want for your kitchen while also staying within your budget. Here are a couple reasons why the style of cabinet door ultimately affects the cost.
Complexity: Cabinet door styles that have more intricate designs or require more labor to manufacture will generally be more expensive. This is because they require more time and skill to produce. CabinetNow's Milwaukee cabinet door has a higher price due to its gorgeously crafted design with its raised panel and intricate detailed edging. On the other hand, Shaker cabinet doors have a far more simple design which is why it is a great affordable cabinet door to choose for a cabinet refacing DIY project on a budget.
Customization: If you want a custom cabinet door style, the cost may be higher because it requires a higher level of customization and skill to produce. Customizations such as adding lites for glass cabinet doors, a matching back color, pre boring for hinges, routed finger pulls, and custom outside edge profiles all increase the cost of a cabinet door.
Cabinet Material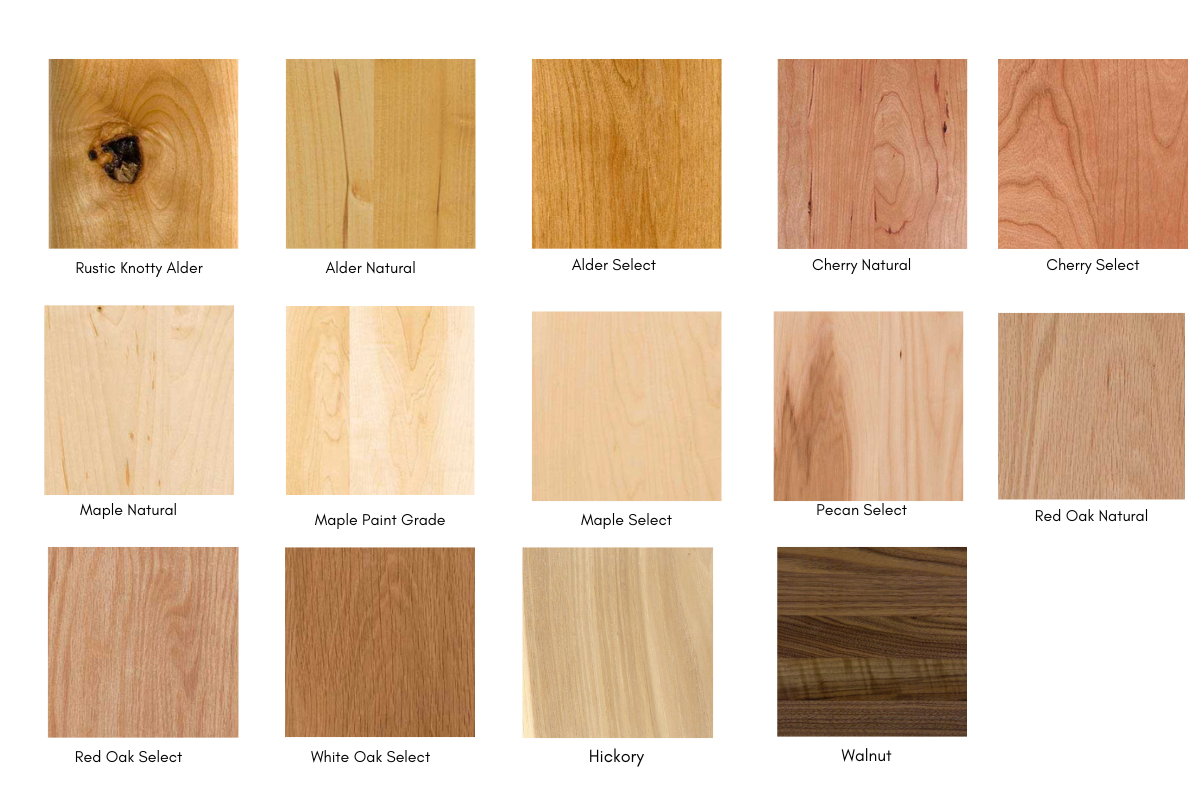 The material of your cabinets can significantly impact the price of cabinet doors due to the quality, aesthetic appeal, and labor costs.
Different cabinet materials have varying costs. For example, solid wood is typically more expensive than engineered wood such as MDF (medium-density fiberboard). The higher the quality of the material, the higher the cost. Solid wood cabinet doors are often considered a premium option for cabinetry due to the labor cost of sourcing natural wood, while MDF is a composite material made of wood fibers and resin.
Solid Wood Cabinet Doors: Solid wood requires more expertise, time, and tools such as sourcing, milling, and finishing natural wood from trees. Not to mention, solid wood is much more durable and long-lasting than engineered wood such as MDF. Solid wood cabinet doors are the highest quality material you can purchase for your cabinetry making them the highest value in price. At CabinetNow, we offer 8 durable wood species to choose from with Red Oak being the least expensive and Pecan and Cherry on the higher end.
Thermofoil Cabinet Doors: Thermofoil cabinet doors are a popular choice for homeowners who want to achieve the look of solid wood cabinets without the high price tag. This type of cabinet door is made by heating and pressurizing a vinyl laminate onto an MDF (medium-density fiberboard) core. The resulting product is a durable, easy-to-clean surface that closely mimics the look of wood grain. Since thermofoil cabinet doors are made using a synthetic material rather than solid wood, they are generally more affordable than their natural wood counterparts. This makes them a great option for budget-conscious homeowners who still want high-quality cabinets that look great in their kitchen or bathroom.
MDF Cabinet Doors: MDF (medium-density fiberboard) cabinet doors the most cost-effective cabinet solution for diy cabinet refacing. MDF is made from wood fibers that are mixed with glue and then compressed under high pressure to create a strong and durable material. MDF cabinet doors are highly versatile and can be painted. While MDF cabinet doors have its drawbacks in terms of durability, if handled with care these cabinet doors can last you for years.
Custom Cabinet Finishes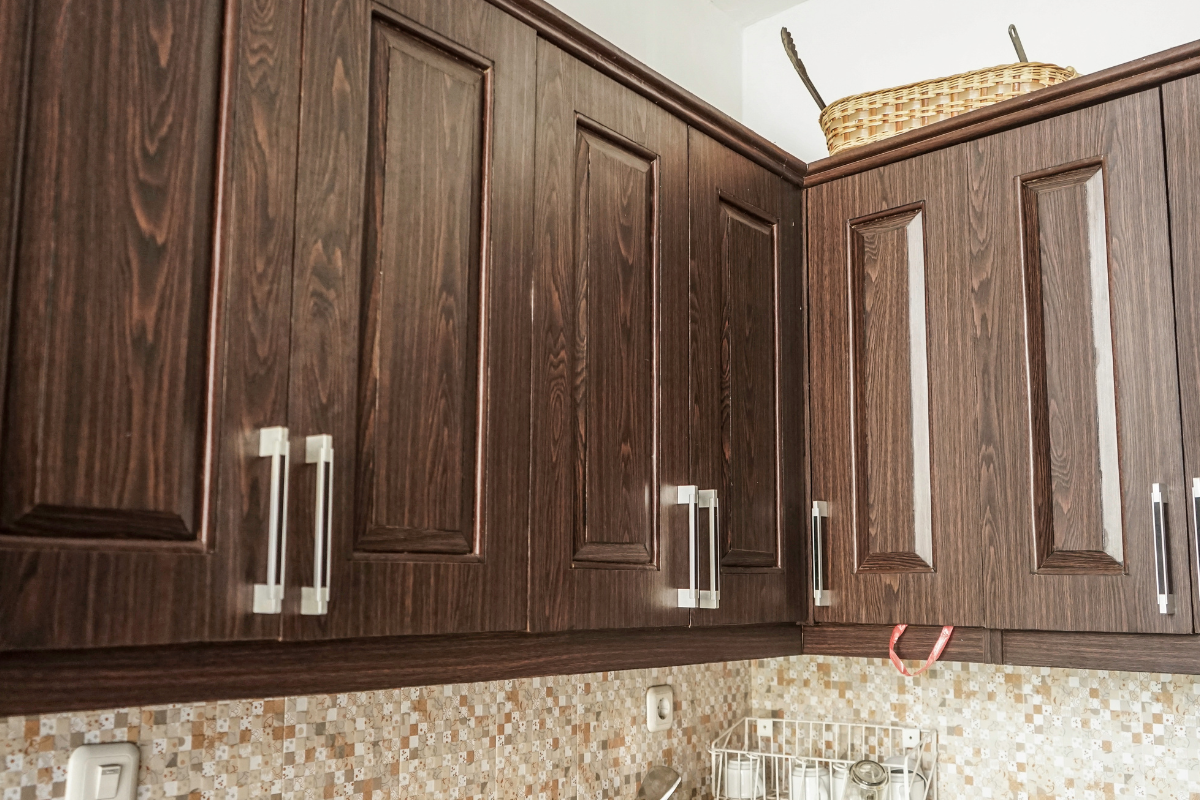 Although the cost of material does affect the overall cost of cabinet doors, the finish you choose does also plays a huge factor in the cabinet refacing DIY cost. The finish of the cabinet door has a significant impact on the cost of cabinet refacing because it affects the materials and labor required to achieve the desired look. Different finishes require different materials and techniques, which can affect the overall cost of the project.
For example, a natural wood finish may require more expensive wood veneers or solid wood doors, as well as additional labor to stain and seal the wood. On the other hand, a laminate or thermofoil finish may be less expensive because these materials are typically less expensive and require less labor to apply.
In addition, certain finishes may require more maintenance or be more prone to wear and tear, which can affect their long-term durability and overall cost. For example, a high-gloss finish may require more frequent cleaning and may be more prone to scratches and chips than a matte finish.
At CabinetNow, we offer a variety of cabinet door finishes including unfinished, painted, clear coat, thermofoil, and pre-primed. From least to most expensive here are some choices:
Custom Cabinet Sizes
Custom sizes for cabinet doors can significantly impact the cost of cabinet doors. When cabinet doors are produced in stock standard sizes, they can be mass-produced in large quantities, which makes them more affordable to produce. However, when custom sizes are required, the production process becomes more complex and time-consuming, which can drive up the cost of the doors depending on the size.
If you need larger cabinet doors, custom-size cabinet doors will require more materials and labor to produce, and they often require specialized machinery or equipment to ensure precise cuts and dimensions. This increases the overall cost of the doors, as well as the time required to produce them. Although, a major benefit of CabinetNow is the flexibility of custom sizes you can choose from because each cabinet door can be custom cut to fit any existing cabinet sizes.
DIY or Hire a Professional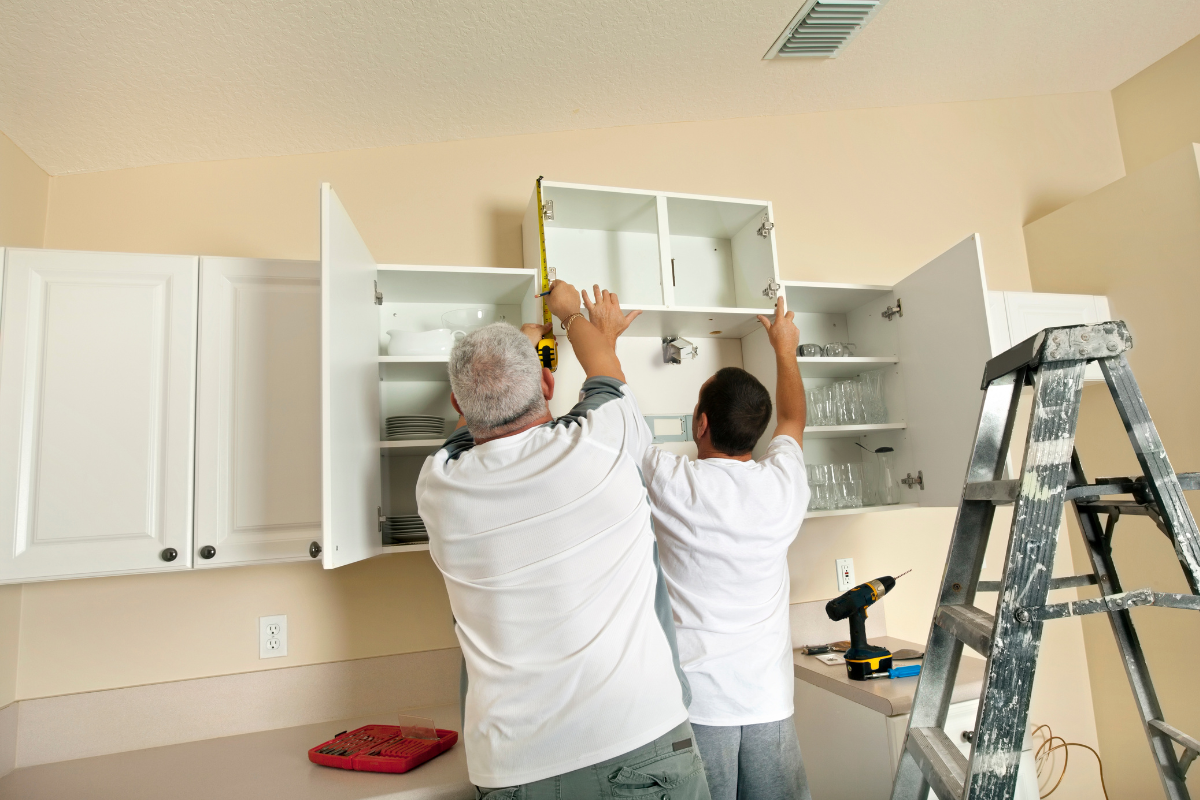 Although custom sizing can impact the cost, choosing to DIY over hiring a professional can save you a lot of money and time. You can save up to $55-$200 per hour by not having to pay for cabinet installers. With helpful guides and the support from CabinetNow's designers, it is possible for anyone to install their own custom cabinet faces for a DIY cabinet refacing project. Here's a quick rundown of how to reface your kitchen cabinets:
Measure the cabinet openings: Measure the height and width of the cabinet openings to determine the size of the replacement doors you need.
Purchase replacement doors: Once you know the size of the doors you need, choose your custom cabinet doors and drawer front styles made to fit your specific measurements.
Remove the old doors: Use a screwdriver to remove the screws holding the old doors onto the cabinet frames. Gently lift the doors out of the hinges and remove them.
Finish the doors: Once your new cabinet doors have arrived, you can finish the new cabinet doors with paint, stain, or other finishes to match the existing cabinetry. If you are painting or staining your cabinet doors, be sure to paint your cabinet face frames the same. It is recommended that you finish your cabinet doors before installing to avoid messes.
Install the new cabinet doors and drawer fronts: Place the new doors onto the hinges and attach them to the cabinet frames with screws. Be sure to align the doors properly and adjust the hinges as needed to ensure they hang straight and level. Check out a step by step guide on how to install drawer fronts.
Install hardware: Attach the hardware to the new doors, including knobs, handles, or pulls. Be sure to align them properly and tighten them securely.
Adjust the cabinet doors: Adjust the doors as needed to ensure they open and close smoothly and sit flush with the cabinet frames.
Overall, the cheapest way to go about a DIY cabinet refacing project is to do it yourself, choose a simple style, cheaper material, and either unfinished or thermofoil finishes. It is important to remember that it is not just one factor that determines the cost of your DIY cabinet refacing project. Be sure to weigh your options and get a free quote to compare the differences! The style, finish, material, custom sizing, and labor work will all be factors in adding up the total cost of your new cabinet doors.
Cabinet Refacing DIY Supplies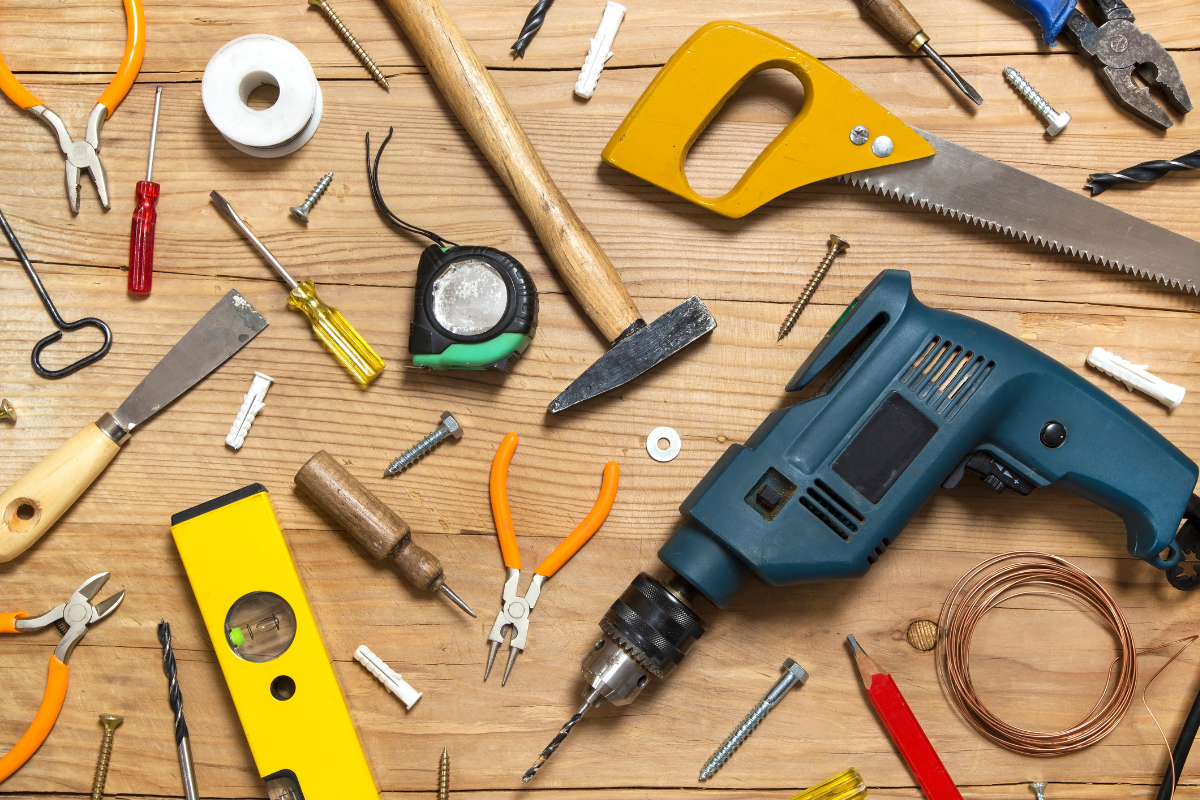 If you're looking to replace kitchen cabinet doors as part of a DIY cabinet refacing project, here are some supplies you likely have in your home that you will need to have accessible:
Cabinet Doors: The first thing you'll need is the new cabinet doors themselves. Make sure you measure your existing doors accurately and order the correct size and style.
Cabinet knobs or handles: If you're changing the style of your doors, you may also want to replace the knobs or handles. Make sure you choose hardware that fits the existing holes or be prepared to fill in old holes and drill new ones.
Hinges: If you choose to not use your existing hinges, you'll need to purchase these separately. Make sure you choose the correct size and style of hinge for your cabinet doors and existing cabinet frame. Be sure to choose the correct prebore pattern for your hinges as well. If you need assistance please contact us.
Screwdriver and drill: You'll need a screwdriver to remove the old cabinet doors and install the new ones. If you need to drill new holes for the hinges or hardware, you'll also need a drill.
Sandpaper and wood filler: If you order unfinished cabinet doors to paint or stain, you'll need to sand them down and fill in any imperfections with wood filler before painting or staining.
Paint or stain: Depending on your desired look, you may need to purchase paint or stain for your new cabinet doors.
Safety equipment: When working with tools or sandpaper, make sure you wear appropriate safety gear such as goggles and a dust mask.
Overall, these cabinet refacing DIY supplies you may need will depend on the specifics of your project and the style of your new doors. It's always a good idea to plan out your project ahead of time and purchase all necessary supplies before starting.
Thomas's Cabinet Refacing DIY Project
CabinetNow's valued customer, Thomas, understands the process of refacing kitchen cabinets because he recently completed a small kitchen upgrade project that included ordering new cabinet doors, updating his appliances, painting his walls, and adding custom storage cabinets in his kitchen. After years of putting off this project, he finally decided it was time to update his kitchen. On his search for custom cabinets, Thomas discovered the perfect cabinet door style with us!
Thomas removed his orange 90's beadboard cabinets and replaced them with CabinetNow's Revere cabinet doors. For an affordable price, he ordered them unfinished and painted the doors a bright white to illuminate his new retro red walls.
The Biggest Challenge
Home renovations projects are never simple. Facing challenges and making mistakes is very common even amongst the most experienced DIYers and professionals. Sometimes even out of your control. Thomas faced only one major issue in his project with supply chain issues. In addition to new cabinets, Thomas also upgraded and ordered new appliances online and they ended up taking over 4 months from order to delivery. This was a major setback in his project.
Pro tip: To prevent an issue similar to this, it is important to always order and install your appliances far in advance before you order new cabinets which is often overlooked.
Thomas's DIY Experience
Thomas is a highly experienced handyman around the home so tackling this project was not intimidating to him. Even to inexperienced individuals, it is possible to DIY cabinet refacing with the help of an extra hand and helpful refacing guides.
"I can handle almost any home improvement project."

Custom Cabinets for Extra Storage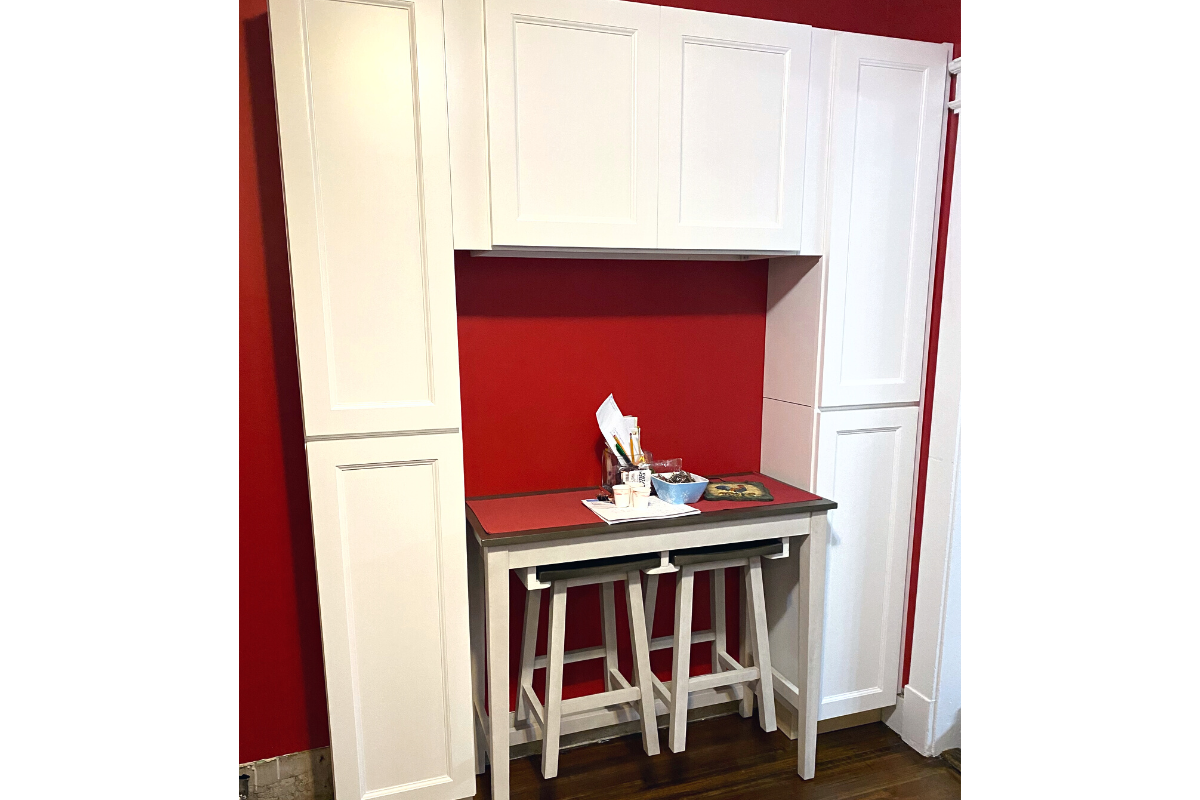 In addition to his DIY cabinet refacing project, Thomas also ordered new cabinets for desperately needed storage. On a blank accent wall, he transformed it into a kitchen pantry to store kitchen essentials.
When it comes to needing extra storage in your kitchen, custom cabinets are especially valuable as they can be tailored to fit the unique needs and layout of the space. A custom pantry cabinet allows you to maximize storage space while keeping items organized and easily accessible. With features such as pull-out shelves, spice racks, and built-in bins, a custom pantry cabinet can help keep your kitchen clutter-free and ensure that everything you need is always within reach. Whether you're renovating an existing kitchen or building a new one, investing in custom cabinets for your pantry is a smart choice that will pay off in terms of both functionality and style.
Overall, Thomas was very pleased with the results and he thanks CabinetNow for accomplishing his DIY cabinet refacing project at a reasonable price.
Choose Your New Cabinet Doors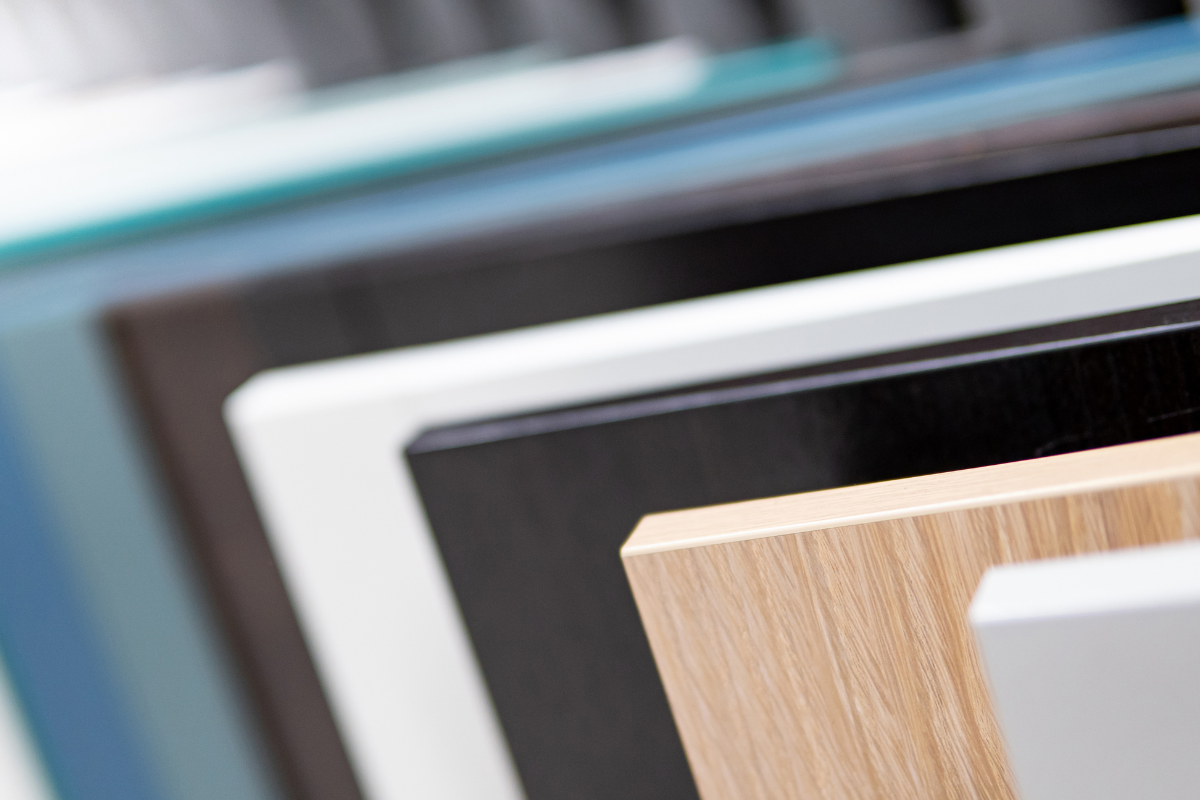 Like Thomas, you can upgrade your cabinets on a budget too! DIY cabinet refacing is a great project for a small kitchen upgrade because it is cost-effective, time-saving, and less disruptive than a full cabinet replacement. By reusing the existing cabinet boxes and replacing the doors, drawer fronts, and hardware, you can achieve a fresh new look for your kitchen without spending a lot of money or time. DIY cabinet refacing is also a great way to customize your cabinets to match your personal taste and with the use of custom cabinets, you can amplify your storage space. With careful planning and attention to detail, you can achieve professional-looking results that will make your kitchen look and feel like new again.
If you are ready to start ordering, fill out our custom cabinetry request form or contact us for any questions! Our cabinet experts will help you with everything from measuring to ordering.