Cabinet refacing refers to the process of removing your old cabinet doors and drawer fronts, replacing or refinishing them, and refinishing the cabinet boxes. This project is highly DIY-friendly and can be accomplished by many motivated homeowners. The best part about choosing to reface over replace is that you don't have to worry about the mess and hassle of tearing out your old cabinet boxes. A perk of this is that your kitchen will not be a work zone for long. This means you won't have to worry about breaking out that camping stove to cook your meals and being without your kitchen for weeks.
Now that you have seen a few of the benefits of choosing to reface your cabinets, you may be wondering how to get started. If so, you are in the right place. Read on to learn more about the benefits of refacing your cabinets, as well as how you can take on this project yourself!
---
Making the Decision to Reface Your Cabinets
The first step in this process is deciding if refacing is right for you. Luckily, there are only two requirements for cabinet refacing. The first is that you want to give your kitchen an update. The second requirement is that your cabinet boxes are still in good condition. This means that they are free from any water damage, cracks, splits, or any other kind of damage that compromises their structural integrity.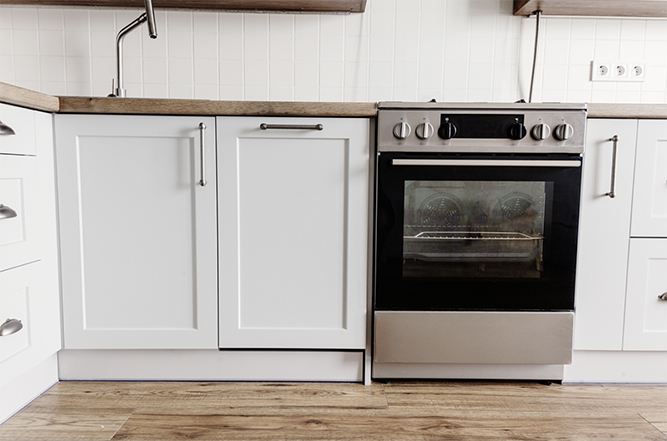 And so, if you are considering this project, you should head over to the cabinets you want to reface. You may need a flashlight depending on your lighting, but you should inspect the interior of your cabinet boxes for any signs of damage. If you don't see anything, then you are ready to get started. If you do find water damage, mold, or other problem areas, then you may need to replace the cabinet boxes as well. The last thing you want is to waste money refinishing them when they really need to be replaced.
Once you have verified that your cabinet boxes are still in good working order, it is time to move on to the fronts.
Quick Note on Painting
A fresh coat of paint is one of the quickest and easiest ways to completely transform your kitchen. If your cabinet doors and drawer fronts are a style you like and are still in good condition, you may consider repainting them instead of replacing them.
This way, all you need to do is pick out a new color for your cabinets and paint! The process of painting your cabinets can be a bit more difficult than painting a wall, so it is recommended that you do your research. Check out our guide on how to finish your cabinets like the pros!
---
Cabinet Doors and Drawer Fronts for Refacing
In terms of the planning stages, you will likely spend most of your time picking out your new styles and colors. There are hundreds of different styles and countless customizations available for cabinet doors and drawer fronts. If this is your first time considering a cabinetry project, you may even be surprised to learn how much variety exists.
Luckily, you won't have to comb through every single style, as your personal preferences can help you reduce the number of options. Broadly speaking, most interior designs can be broken down into three categories: traditional, transitional, and modern. Let's take a look at how cabinet door and drawer front styles fit into these categories.
Traditional Kitchen Design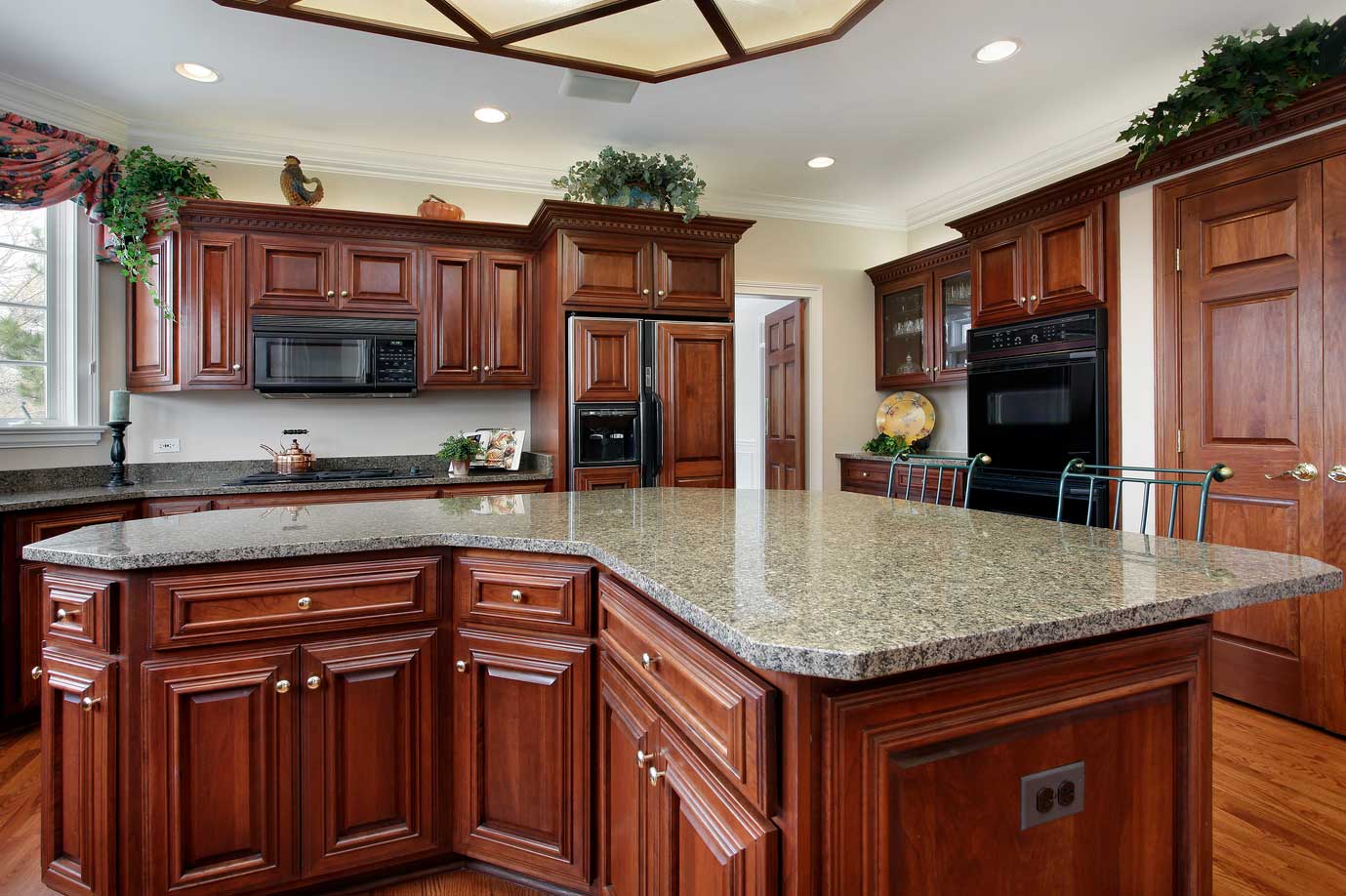 Taking your design in a traditional direction can be a great way to create cozy, sophisticated spaces that highlight the quality of both the styles and materials used. Typically for traditional cabinet doors and drawer fronts, we find raised panels and intricate woodworking. When it comes to finishing, traditional kitchen design favors darker stains that highlight the natural beauty of the solid wood used.
Other notable features include:
Decorative Detailing and Accents
Ornate Lighting
Applied Moldings
Luxurious Countertops
Transitional Kitchen Design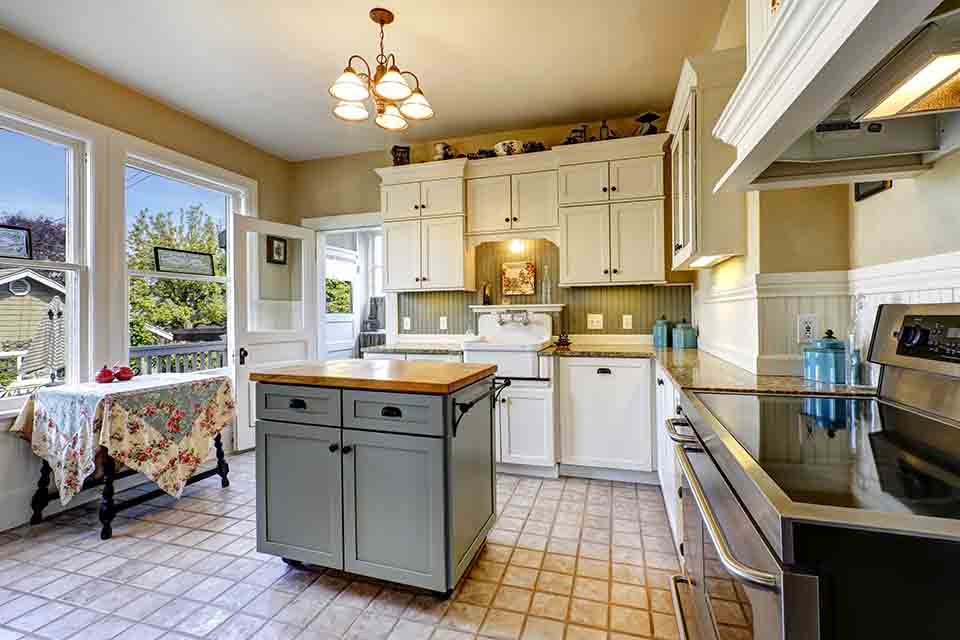 A transitional approach is perfect for those who have a hard time deciding between a traditional or a modern approach. This approach thoughtfully draws from both classic design elements and contemporary ones to create a unique blend. And so, this approach relies on your creativity to arrange the elements to fit your space and personal style. A popular cabinet door style for this approach is the shaker cabinet door.
Common transitional design elements include:
Minimalist Cabinet and Hardware Styles
Subtle Accents
Texture and Natural Elements
Modern Kitchen Design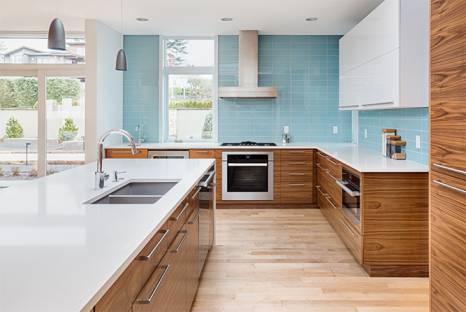 For those looking to create cutting-edge designs, you will likely be going taking your design in a modern direction. This means you will be focusing on creating clean lines that are free from overly decorated designs or ornate stylings. In addition, you may also be upgrading your appliances to modern models, many of which are available as panel-ready options. This means that you can easily install a cabinet front onto the refrigerator or dishwasher and blend it into your cabinets.
Other features of modern kitchen design include:
Seamless Cabinetry
Bright, Trendy Colors
Slab-Style Cabinet Doors and Drawer Fronts
Minimal Detailing
---
Sizing Your New Fronts
Once you have your style and finish picked out, all you need to do is get your sizes. This part of the process is very important, as improperly sized fronts may not line up correctly or fit the hardware properly. So, we recommend measuring at least twice before you place your order. The size of your fronts will depend on how much overlay you want them to have, or how much of the cabinet frame you want to be covered. If you like the current way your doors sit on the face frame, then all you need to do is measure your existing doors and drawer fronts to order the exact same size. You should measure from the outside edge to the outside and record the measurements in width x height format to the nearest 1/16 of an inch.
If you need to size new fronts, don't worry, the process is not too difficult. The first step is to get a measuring tape, paper, and something to write with. Then, head over to your cabinet box and measure the width and height of the opening the door or drawer front will cover. Next, you will either add for partial or full overlay or subtract for inset installation.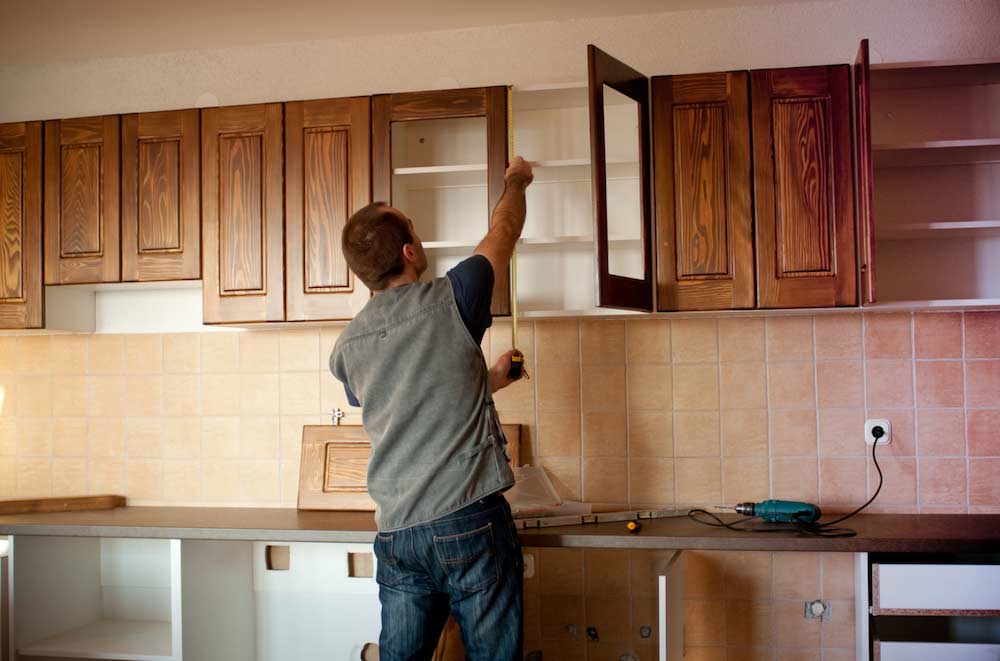 For example, if your cabinet box opening measured 16" wide and 22" tall and you wanted to add a ½ inch of overlay, then you would need to add 1" to both the width and the height. This way, you are accounting for both the left and right side for width, and the top and bottom for your height. To learn more about measuring and sizing cabinet doors and drawer fronts, check out our complete guide!
---
The Cabinet Boxes
Once the doors and drawer fronts are taken care of, you will also need to refinish your cabinet boxes. If you paint your fronts, then you will likely be painting the cabinet boxes to match. Be sure to take your time as you work, as it is important to apply the paint with even strokes and pressure. Again, you can see our full guide on finishing cabinets to learn how to tackle this project from start to finish.
Alternatively, another way to refinish your cabinet boxes is using sheets of veneer or a laminate, which would be decided by the cabinet fronts you choose. These sheets commonly use a peel-and-stick application method, but sometimes they require an adhesive to be applied.
---
Finishing Up
Cabinet refacing is a great way to upgrade your kitchen cabinetry for a fraction of the cost of a complete remodel. You would be shocked how much a motivated homeowner can change the look and feel of their kitchen with a couple of new fronts and some paint. If you aren't ready for a refacing project, try giving your kitchen walls a new color. This is much easier than painting your cabinets, and it still will have a big impact. Plus, changing your wall color from a darker color to a bright white can help the space feel larger since the white will help reflect light around the room.
Check out Deb and Chuck's cabinet refacing project in our most recent customer success spotlight to see how impactful a refacing can be!
If you are struggling with getting started, or you have a list and are ready to talk style and material, feel free to give us a call at 1-855-669-5222 or an email to [email protected]. Our well-trained sales staff can help you with everything from measuring to ordering.