Are Thermofoil Cabinets Durable?
Picking kitchen cabinetry is a fantastic opportunity to showcase your personal style while creating a functional cooking and family-friendly space. Whether you're remodeling or adding cabinets to your new home, your cabinetry is the most visible thing in your kitchen. Not only does upgrading your cabinets offer a great return on investment, but it gives your kitchen character like no other appliance or decor feature can do. Because your kitchen cabinets cover such a large area of your wall space, it is essential that you pick them first so you can coordinate your countertops, hardware, flooring, fixtures, and faucets accordingly.
Unfortunately, high-quality cabinets can cost a small fortune. But with the invention of engineered wood and other materials, you can get durable, functional, and sturdy cabinets for a fraction of the price. One of the most cost-effective options is Thermofoil cabinets, which come in various colors, finishes, or styles. Like all other cabinets, no matter what the price tag, Thermofoil cabinets are both functional and stylish choices for your kitchen. Many homeowners know nothing about Thermofoil cabinets, especially when it comes to their durability. In this blog post, we break down everything you need to know about Thermofoil cabinets, including whether it is durable or not.
---
What Are Thermofoil Cabinets?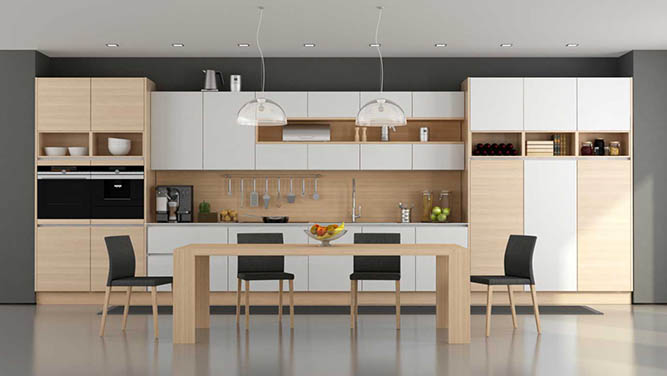 Thermofoil cabinets are a unique type of cabinetry made using vinyl laminate that is heated and pressurized onto an MDF core. Used for making cabinet doors and drawer fronts, Thermofoil cabinets come in many colors, styles, and finishes — even made in textures that resemble solid wood.
---
Benefits Of Thermofoil Cabinets
For a trendy, minimalist look for your kitchen, Thermofoil cabinets are an affordable and beautiful option. Perfect for first-time homeowners, rental homes, and those on a budget, this type of cabinetry has a variety of benefits, including the following.
Cost-Effective
Thermofoil cabinets are some of the most affordable cabinets on the market. If you're opting for stock Thermofoil cabinets with no customization, you can pick up cabinets for less than $100 per linear foot. For semi-custom or custom Thermofoil cabinets, you can pay around $350 per linear foot. The price tag of Thermofoil cabinets is very reasonable compared to hardwood cabinets, which will set you back at least $500 per linear foot.
Completely Finished Product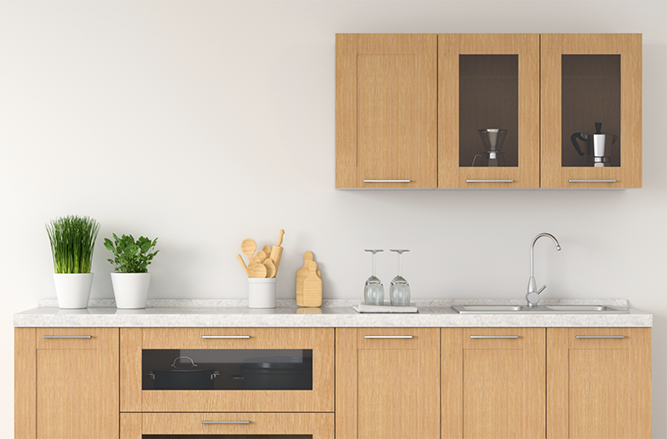 Is the burden of staining, painting, or sealing your cabinet doors keeping you from updating your kitchen? Thermofoil might be the best option for you. Thermofoil products come completely finished and do not need to be resealed, touched up, or finished in any way. If you also opt to get your cabinet doors pre-drilled for hinges, your doors will come completely ready to install.
Easy To Maintain
Because Thermofoil cabinets have a smooth vinyl surface, they resist the buildup of dust and grime. Whatever does stick to your cabinet is easily removed with the occasional wipe down with a damp cloth or soapy water for tougher dirt. They are also stain-resistant, making coffee, wine, and even tricky sauces easy to wipe away. Compared to wood cabinets, which require frequent and more careful cleaning, this type of cabinetry is a breeze to maintain.
Trendy Look & Feel
The appearance of Thermofoil cabinets is simple but beautiful and on-trend. This type of cabinetry is mostly available in white or off-white with simply designed fronts. The look and feel of white Thermofoil cabinets are perfectly paired with almost any style of decor. With its smooth, glossy finish, Thermofoil cabinets give any kitchen a modern, minimalistic look and feel. This is perfect if you like a clean, simple-looking kitchen.
For modern design approaches, slab-style thermofoil cabinets with a full overlay create stunning, seamless kitchens that will impress any guest.
Design & Color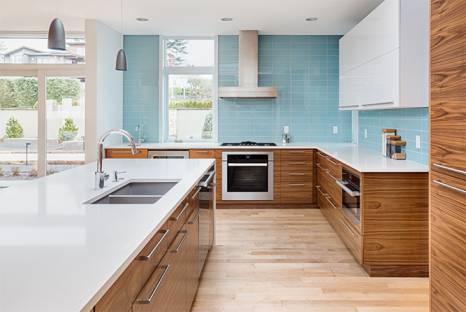 One of the significant benefits of Thermofoil cabinets is that it comes in a wide range of colors and pattern options. The vinyl surface of these cabinets can be molded into various shapes and patterns. This gives homeowners the choice of basic flat cabinets or cabinets with embellished designs. When it comes to color choices, you can get Thermofoil cabinets in various colors from simple whites, to wood textures, and even metal. Depending on the look and feel you're going for, you can find your perfect match in color and design with this type of cabinetry.
---
The Durability Of Thermofoil Cabinets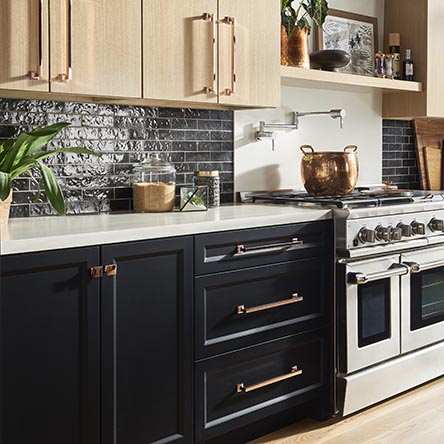 Thermofoil cabinets are known for many things, including being to withstand wear, pressure, and damage. But with all the things Thermofoil cabinets can withstand, there are also a few things that they can't. Here is a breakdown of the durability of this type of cabinetry.
Pros:
Moisture Resistance: Known for its superior moisture resistance, Thermofoil cabinets are perfect for both kitchen and bathroom use. However, they are not entirely waterproof, so be aware of damage to avoid water seeping into the core MDF and causing irreversible damage.
Warping Resistance: Unlike solid wood, Thermofoil cabinets do not warp when exposed to high humidity levels, which are common in most kitchens. Because the core of these cabinets is made of MDF, it expands and contracts in one direction, allowing it to better hold its shape in humid conditions.
Delamination: The technology and materials used for Thermofoil have vastly improved in recent history, lessening the threat of delamination. Delamination is often caused when the core MDF swells, and the Thermofoil begins to peel away from the surface of the cabinet. The easiest way to repair this is to replace the cabinet door or drawer front completely.
Cons:
Heat Resistance: Unfortunately, Thermofoil cabinets are not heat resistant. If installed too close to a heat source like an oven, the vinyl coats may pull away from the core. However, this issue can be avoided by installing heat shields between your cabinet doors and the heat source.
Chipping: One of these disadvantages of Thermofoil cabinets is that it can chip, especially along their edges. Unfortunately, these types of chips are hard to repair without replacing the entire cabinet door.
Discoloration: With age, Thermofoil cabinets—specifically white or lighter colored ones—take on a dull yellow color. Additionally, letting grease build up on your cabinets can make discoloration happen faster. Yellowing is less noticeable with colored cabinets, but it can still occur. Fortunately, Thermofoil cabinets are easy to clean and maintain, which will prevent discoloration.
Lifespan: Thermofoil kitchen cabinets remain in pristine condition for around ten years if it is properly maintained. For the average cabinet, this lifespan is relatively short, but if you're looking for something trendy that you're willing to replace or upgrade in a few years, then Thermofoil is the perfect option.
---
Finishing Up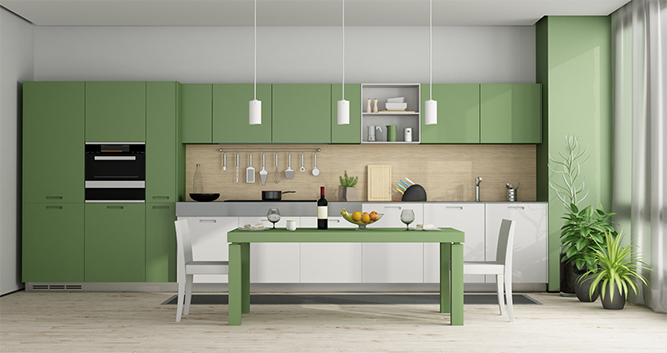 Thermofoil cabinets are perfect for giving your kitchen a new look. Our thermofoil cabinet doors arrive fully finished, so you won't have to worry about painting or staining. And if you have your doors pre-bored for hinges, they will be ready to mount!
If you are ready to start ordering or if you need assistance, please feel free to call us at 1-855-669-5222 or send us an email at info@cabinetnow.com. Our team of cabinet experts is here to help with everything from measuring to ordering.