Small kitchens can cause major headaches for homeowners and renters alike. Kitchens are one of the rooms where there is never enough space, and if you already have a small kitchen making room is even more challenging to create a functional space.
When your kitchen is bright and welcoming, you are more likely to use it and others will feel more comfortable in it. In this guide, we will explore some ways that you can turn your claustrophobic kitchen into a space you won't want to leave.
---
Bright Colors for Kitchen Cabinets
You will be shocked how big of a difference you can make with some paint and a weekend. A fresh coat of paint is one of the fastest ways to change the look of your kitchen. Depending on how much natural light your kitchen enjoys throughout the day, you will likely want to opt for bright, glossier finishes. Let's take a look: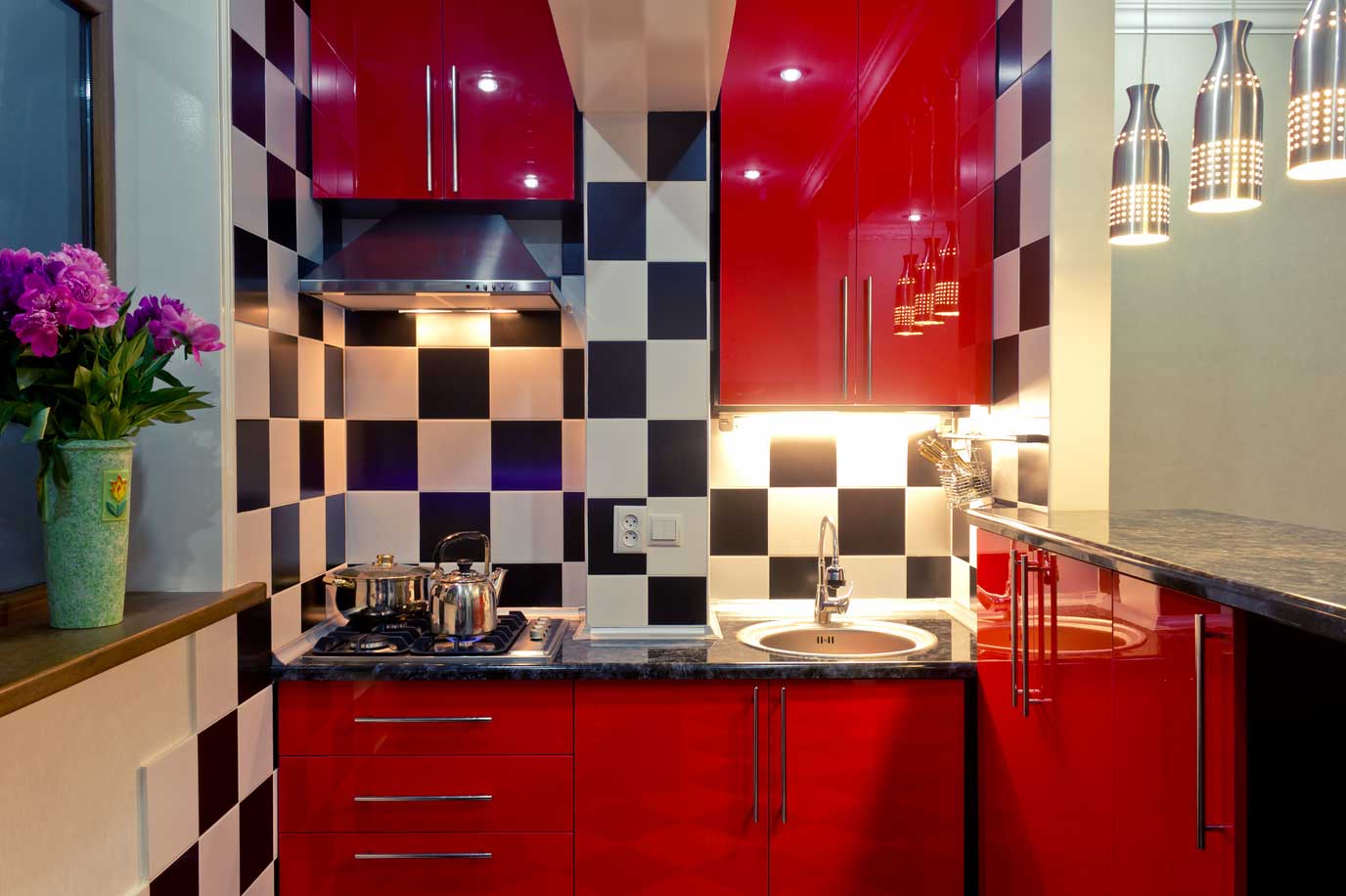 Classic White: Bright white cabinet doors are a look that will probably be around as long as there are kitchen cabinets. Not only are they trendy, but bright white cabinets can help to brighten up the room.
Bright Colors: Much like white cabinets, bright colors like yellow will help reflect light and brighten your space. This helps illuminate all of the lines of the cabinets and countertops so that it creates the illusion of more space.
Two-Toned Cabinets: Another trendy solution that will also help open your space is giving your cabinets a two-toned paint job. To achieve this, paint your lower a darker color than your upper cabinets.
---
Create An Optical Illusion With Reflective Surfaces
Much like high-gloss paint on your cabinets, adding other reflective surfaces is another great way to make your kitchen feel bigger. Adding things like mirrors will help reflect light and brighten the area, which as we have said is a great way to extend lines and make the space more welcoming. Here are a few ideas for some reflective surfaces you can try:
Mirrors: You don't often see mirrors in the kitchen, but they can be great statement pieces that also help open you small kitchen. With so many options available, it is no doubt that you can find the perfect mirror for your kitchen that is unique and personal.
Shiny Floors: If you can, giving your floors a coat of high-gloss paint is another way to add brightness from the bottom up.
Stainless Steel Appliances: If you are thinking of getting new appliances, go for stainless steel. Not only is stainless steal stylish, but it also reflects light.
---
Glass-Front Cabinet Doors and Open Shelves
Opening shelving and glass cabinet doors are a great way to extend the lines of sight throughout your kitchen, which will give you the feel of more depth. It is important to think strategically about the placement of these cabinets and cabinet doors. You want to choose cabinets that can be kept clean and free from clutter.
Think Minimalism For Your Small Kitchen
Minimalist designs are perfect for smaller kitchens since all available space needs to also be functional Here are some tips for achieving a minimalist design in your kitchen:
Avoid Detailing: Go for subtle, clean lines in your kitchen and do your best to avoid highly decorative detail.
Declutter Your Kitchen: This may be a difficult process, so making a list of items you absolutely have to have in your kitchen can be a great start. Once you know what you can't live without in your kitchen, then you can start donating things or moving them to other rooms.
Keep It Clean: While nobody wants to have a dirty kitchen, with a minimalist look it is even more important to stay on top of regular cleaning.
---
Add The Right Lighting
Lighting is vital for creating a seemingly larger kitchen. The more lighting, the bigger your space will look and feel. Opt for any of these option to light up your kitchen:
A darker kitchen will always feel smaller than a kitchen with proper lighting. The brighter you can make your kitchen, the bigger your small kitchen will look and feel. Here are a few ways to increase the brightness of your kitchen:
Natural Lighting: If you have the ability, adding natural light is the best way to really brighten your kitchen. You can do this by adding features like skylights or glass doors to help let in more sun light.
Under Cabinet Lighting: This type of lighting will illuminate the dark corners on your countertops, which will extend their lines and add depth. This can also be accomplished with lamps.
---
Wrapping up Your Small Kitchen
No matter your budget, there are always ways to open up a small kitchen space. If you have a larger budget, then you can explore new appliances, cabinets, or storage options. If you need something more budget-friendly, you can try a new coat of paint, decluttering your kitchen, or adding more lighting.
Small kitchens can be difficult to work with. Hopefully this guide has given you some ideas that you can do open up your space. No matter how large your budget is, there are solutions for your small kitchen. If you are having difficulty getting started, or you have questions, feel free to give us a call at 1-855-669-5222 or an email at info@cabinetnow.com.