If you want to give your kitchen a quick and easy makeover, consider changing the look of your cabinet doors. Unlike a full remodeling job, changing just your kitchen cabinet doors allows updates to the look and feel of the space in a lot less time, money, and effort. Whether you're a beginner or a moderate DIYer, there is a way to give your kitchen cabinet doors a new look to suit your expertise. And if you're not the do-it-yourself type, you can hire professional help for a day or two of work.
From painting to refacing, there is so much you can do to give your kitchen cabinet doors a fresh look. If you're on the fence about how to change your cabinet doors look, we're here to help. In this blog post, we share the benefits of changing your kitchen cabinet doors. Plus, we break down our top three ways to change the look of your cabinet doors.
---
Benefits Of Changing Your Kitchen Cabinet Doors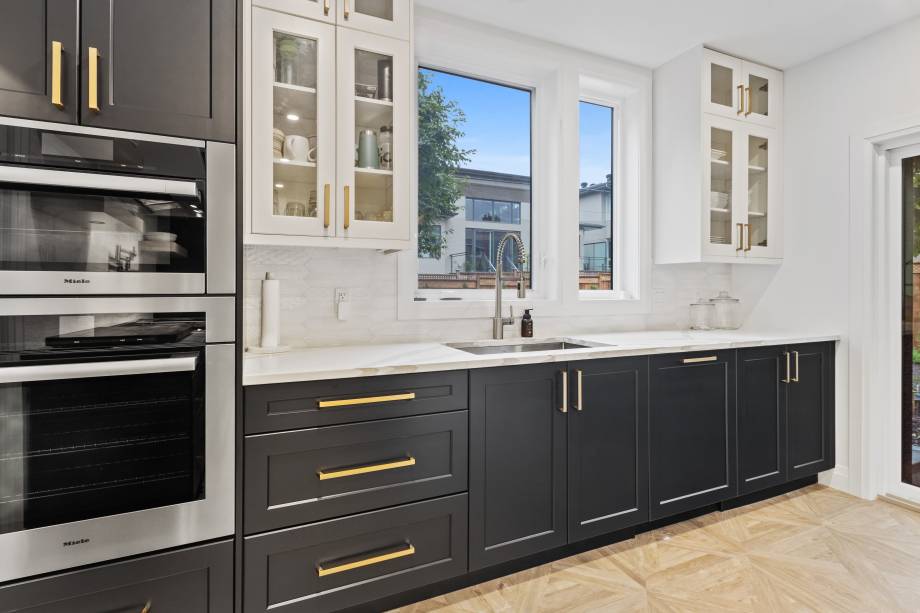 Compared to remodeling your entire kitchen, changing the look of just your cabinet doors has plenty of benefits. From the duration of the project to how much it costs, here are the biggest benefits:
Time to DIY: Forget the contractors that can come with a high price tag and get stuck into a DIY project. If you have little DIY experience under your belt, changing the look of your cabinet doors will be an easy project. For the novice, this type of project may be slightly more challenging but still doable. You may need a little more time to get right, but it will be well worth it.
Two-Day Project: If you are looking for a quick makeover, changing your kitchen cabinet doors is the way to go. Remodeling your entire kitchen can take between three and five months to complete, but changing the look of your cabinet doors will take no longer than two days. From start to finish, you can transform your kitchen over a weekend with ease.
Cost-Effective Makeover: Give your kitchen a new look and save yourself thousands of dollars by merely changing your cabinet doors. Unlike replacing your cabinetry and remodeling, which can cost up to $24,000, refacing or painting your cabinet doors can cost as little as $300 per door.
Keep the Functionality of Your Kitchen: If you desperately want a kitchen makeover but love its functionality and layout, simply change your cabinet doors' look. By only changing your kitchen cabinet doors, you get to keep the space's flow and functionality, while still getting a fresh look and feel. Plus, this process can be as easy as a fresh coat of paint, no new doors are required!
---
Our Top 3 Ways To Change Your Kitchen Cabinet Doors
1. Reface Your Kitchen Cabinet Doors
Refacing your kitchen doors means you are replacing your doors and drawer fronts with new ones. Whether you opt for a new color, type of wood, or door style, refacing your cabinet doors can entirely change your kitchen's look and feel.
How To Reface Your Kitchen Cabinet Doors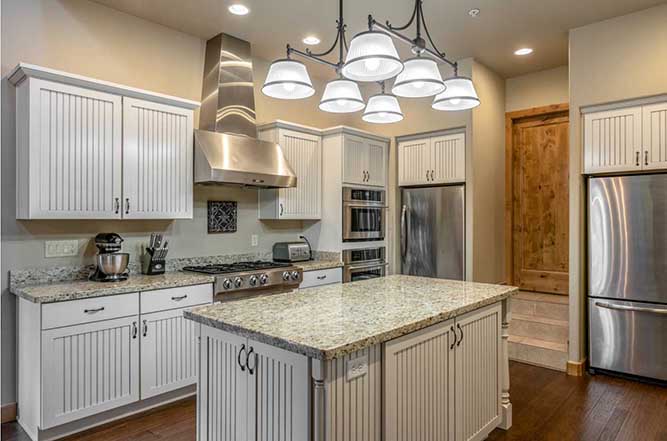 Even though refacing seems like a simple job, it does take some skill, and you'll need to pull out your toolkit or hire the required tools. In a nutshell, refacing your cabinet doors can be done in the following way:
Remove your cabinet doors, drawers, and hinges. Be sure to label any pieces that you plan to reuse so that you can easily reassemble them.
Measure your cabinets to ensure you get the correct size for the doors and drawers.
Pick and order your new doors, drawer fronts, and hinges that work with your kitchen.
Do a quick deep clean of your face frames and end panels.
Hang the new cabinet doors and attach the new drawer fronts.
To ensure a beautiful finish, you can also replace the molding where needed and add new hardware.
---
2. Replace The Hardware Of Your Cabinet Doors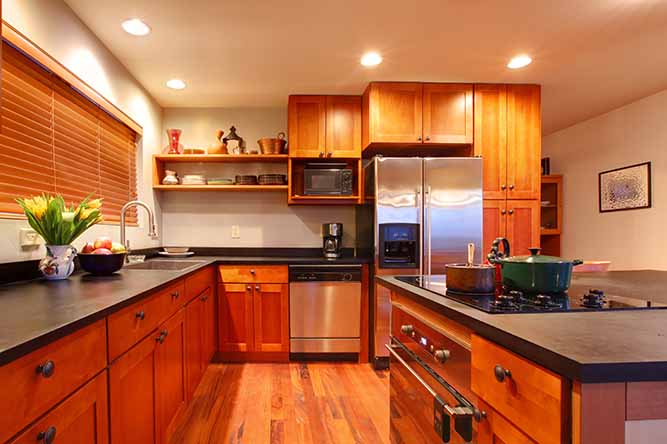 For a super simple makeover, replace the hardware of your kitchen cabinet doors. Hardware refers to the knobs, pulls, hinges, and slides used for your cabinetry. Replacing the hardware of your cabinets will add character to your kitchen and can also help improve functionality. Many interior decorators refer to cabinetry hardware as the jewelry of cabinets as it finishes the look. If you have outdated hardware, adding a new knob or pull can help to update your kitchen. From colored glass and chrome to artsy and rustic, you can also match your hardware to your kitchen decor.
How To Replace Cabinet Hardware
This by far the easiest way to change the look of your kitchen cabinet doors. Plus, it can be done by almost anyone. To replace the hardware, do the following:
Remove existing hardware from your cabinet doors.
If you are changing the mounting position, fill holes with wood-filling putty, preferably in the same shade as your cabinet door, before drilling new holes.
Attach new hardware.
---
3. Paint Your Kitchen Cabinet Doors
The most cost-effective way to change the look of your kitchen cabinets is by painting them. This easy, DIY project will take you a day to complete and can be done by a beginner. All you need is a few standard tools: sandpaper, primer, paint, paint brushes, and painter's tape. Depending on your cabinet door wood, you might need to seek some advice regarding materials you'll need and products to use from your local paint retailer.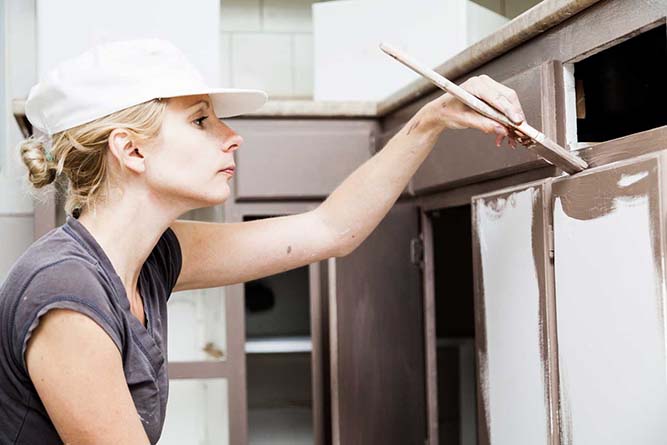 One of the most important parts of painting your cabinet doors is picking the right paint. Together with your local retailer, you'll be able to find the best primer, paint, and color for your cabinets. Depending on your needs, there are two types of paint you can choose from, including the following:
Acrylic or Water-Based Paints: This type of paint has lower fumes making it safer to use in the house. It is also be cleaned easily with water.
Alkyd or Oil-Based Paints: For a stronger finish, opt for alkyd or oil-based paints. Unfortunately, alkyd or oil-based paints contain solvents that can cause lung irritation, so adequate ventilation is required. For the clean-up with this type of paint, you'll need to purchase mineral spirits.
How To Paint Your Cabinet Doors
Painting your cabinet doors is a fun DIY project that you can enlist the whole family to do. With some precision and paint, you can end up with a beautiful new look for your kitchen cabinet doors. Here's how to paint your cabinet doors:
Remove your cabinet doors.
Remove dirt and grease from your cabinet doors on both sides.
Sand your cabinet doors.
Prime your cabinet doors.
Paint your cabinet doors.
Allow doors to dry overnight.
Reattach your cabinet doors.
---
Finishing Up
If you are ready to start ordering or if you need assistance, please feel free to call us at 1-855-669-5222 or send us an email at info@cabinetnow.com. Our team of cabinet experts is here to help with everything from measuring to ordering.