How Can I Remodel My Kitchen For Cheap?
Are you dreaming of a beautiful new kitchen, but don't have the budget to match? We have the answer to giving your kitchen a makeover without breaking the bank. With the average cost of a complete kitchen remodel around $40,000, it is easy to get discouraged and put your kitchen remodel on hold. From finding the best price on materials to simple tips to save money, there are plenty of ways to do a cheap kitchen remodel that looks expensive. In this blog post, we share our tips and tricks to do a kitchen remodel for cheap.
---
Before You Start Your Kitchen Remodel
Get inspired and find precisely what you want your kitchen to look like before opening a can of paint or breaking down walls. From color scheme to cabinet design, make sure you pick and buy everything you need. Once you have your supplies, do a little research to find a licensed contractor to help you with your kitchen remodel. Start looking for a contractor on platforms like Facebook, Yelp, and Google that allow past clients to rate and review the work done at their homes.
After choosing a cost-effective contractor to work with, ensure that you have everything you need on-site before you start your kitchen remodel. This is essential as one of the biggest budget breakers is a homeowner picking products during renovations. If specific items are out of stock, it may delay the remodel, and you'll need to pay for additional hours of work. Alternatively, if you do not want to postpone the project, you'll need to pick a more expensive item to replace the one that is out of stock. Keep your budget under control by being fully prepared.
---
Tips & Tricks To Remodel Your Kitchen Cheaply
Together with your contractor, you can now start your kitchen remodel. Save hundreds of dollars by using some of these remodeling tips and tricks:
Cabinets
Completely replacing your kitchen cabinets can take up almost 35% of your kitchen remodel budget. But there are other solutions to give your cabinetry a new look and feel without breaking the bank. Here are a few affordable options: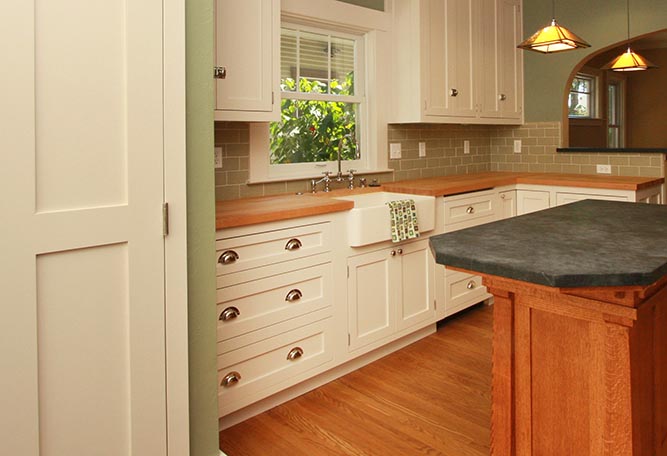 Refacing Your Kitchen Cabinets: If your cabinet boxes are still in great shape, you'll have the option of just replacing just the cabinet doors. Replacing just your cabinet doors is known as refacing and could save you up to 70% of what a full replacement will cost. All you need to do is ensure that your cabinets are in good shape, take precise measurements, and find a door style you like. By refacing your cabinets, you can give your kitchen a new look for a fraction of the price.
Paint Your Cabinets: If replacing and refacing your cabinets is out of your kitchen remodel budget, another great solution is painting your cabinets. This works exceptionally well if your cabinets are in great shape, and you already love the flow and functionality of your kitchen. Painting your cabinets is also an easy DIY project that you can take off the contractor's hands. A beautiful light grey or bright white is always an excellent choice for any kitchen.
Replace Your Cabinet Hardware: Upgrade your cabinets even further by adding new hardware. With your cabinets upgraded, you can finish the look by adding new knobs and pulls. It's an easy update that can make all the difference with minimal effort. There are so many choices out there and it can be overwhelming. To make the choice simpler, decide on which type of hardware to install. Knobs pair best with doors and pulls with drawers. Once you've settled on the kind of hardware, pick a style that you like. For a modern kitchen, you should go with crisp, clean lines for your hardware. For a more traditional kitchen, opt for hardware with finer details and curves.
Countertops
One of the big purchases for most kitchen remodels is replacing your countertops. You can easily save on this expense by simply shopping around. By not settling on the first countertop you find, you'll be able to shop around and get the best price. Here are some common and cost-effective materials that you choose from:
Laminate: In a wide variety of colors and patterns, laminate is a really affordable option costing between $5 and $25 per square foot. Plus, it is easy to install. Unfortunately, laminate scratches easily. On the downside, it scratches easily.
Solid Surface: Made of acrylic, polyester, and a blend of the two, the solid surface is stain resistant and available in various colors. Like laminate, it scratches easily but can be sanded down. Solid surface countertops costs between $15 and $50 per square foot.
Butcher Block: Made from thin strips of wood bonded together into a big slab, butcher block countertops are visually beautiful. These types of countertops are easy to install and add warmth to a kitchen. However, it is vulnerable to scratches and stains and costs between $20 and $60 per square foot.
Granite: For a durable countertop, opt for natural granite. Granite is heat, cut, and scratch-resistant. Each slab has a unique pattern and has to be sealed to resist stains and chips. Granite costs between $20 and $60 per square foot.
Flooring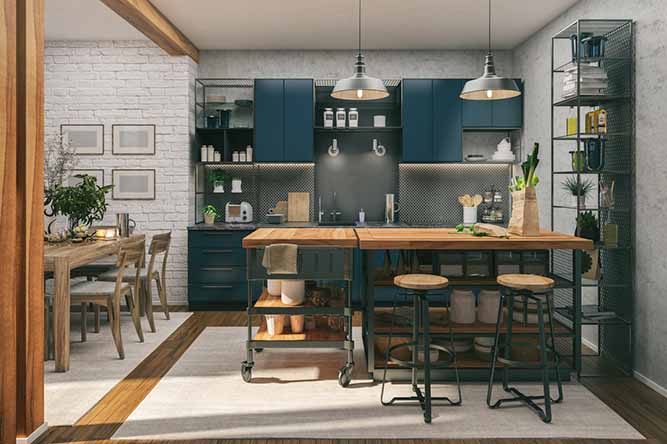 It's time to tackle your kitchen floor. Flooring for a mid-range kitchen can cost between $1,800 and $2,800, but there are a few ways to save money:
Keep Your Old Flooring: If you love your current flooring, then keep it. During the kitchen remodel, you should ensure that your floor is covered and protected to avoid damage.
Use Peel-And-Stick Tiles: Easy to apply and affordable, peel-and-stick tiles are great options to save money. Plus, it is another job that you can do yourself to save on labor costs.
Lighting
Lighting up a room correctly can give it a lot more life. During your kitchen remodel, you may want to consider changing the room's lighting to create warmth and comfort. Lighting usually makes up 5% of your kitchen remodel budget. Shopping for lights should be easy as most home improvement stores have a wide variety of options. Plus, you can find great deals online too. Here are tips regarding lighting for your kitchen:
Don't Go Too Bright: Too much light can be as bad as too little light. Instead of lighting the entire kitchen, target the light in places you use the most, like the countertops where you prepare food.
Install Under-Cabinet Lights: Under-cabinet lighting won't break the bank but will significantly impact your kitchen. You can pick up a great deal on inexpensive battery-powered puck lights for around $30.
Check Out The Outdoor Fixtures: If you're looking for a bargain, check out some outdoor fixtures. You'll find some stunning sconces and pendant lights for less than $100. These types of lights are well-suited for rustic- or industrial-style kitchens.
Go Green & Save: For a long-term save, opt to replace your regular bulbs with some energy-saving LED bulbs. For around $20, you can get an eight-pack of lumen bulbs, which last longer than incandescent bulbs and bring down your energy bills.
Functionality & Flow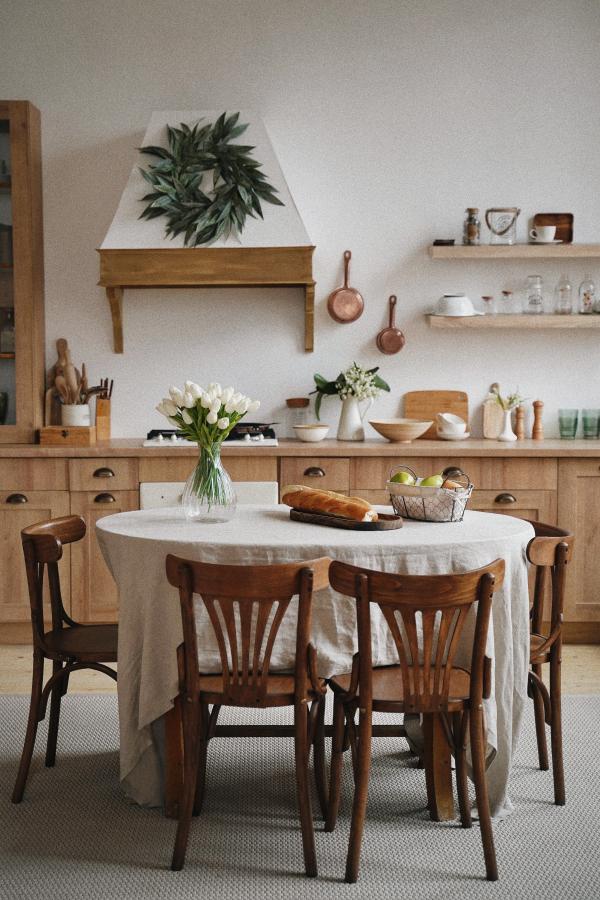 One of the most important elements of a kitchen remodel is ensuring your kitchen's functionality and flow are to your liking. But changing the layout of your kitchen can cost a fortune. Instead of redoing the entire space, keep everything where it is and do the following:
Use The Existing Pipes: Using the existing piping and utility layout, you'll save thousands of dollars. Moving an appliance like a dishwasher, sink, or gas stove will cost you around $5,000 per appliance.
Update The Faucets: If you have an older home, you probably still have the old, ugly kitchen faucets. Simply replacing these faucets with something more modern will give your kitchen an immediate makeover. Plus, your kitchen will have better functionality since modern faucets tend to have features to make cleaning and cooking easier. Along with more modern faucets, you can also change the material it's made of. You can now opt for brushed brass, black, or simply stainless steel.
Rethink Your Appliances: Allocate 15% of the cost of a kitchen remodel for appliances. But you can also save by not replacing everything in your kitchen. If you can still work with your old appliances and they are in good shape, then keep them. If you want to replace everything, opt for buying a set that includes everything you need.
---
Finishing Up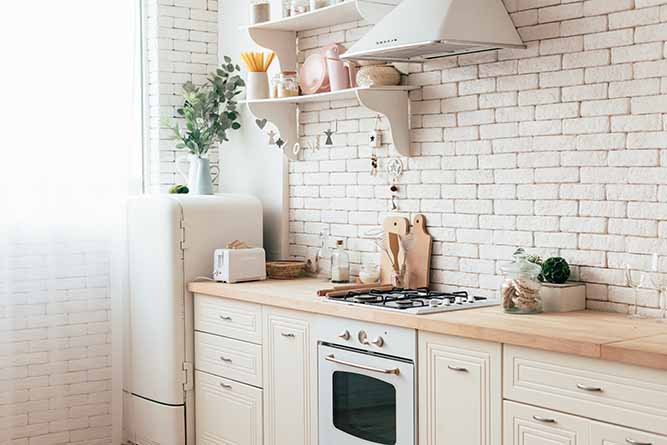 If you are ready to start ordering or if you need assistance, please feel free to call us at 1-855-669-5222 or send us an email at info@cabinetnow.com. Our team of cabinet experts is here to help with everything from measuring to ordering.