Cabinetry can be a huge investment when it comes to remodeling your home. Cabinets play an important role in the value of your house, whether you're preparing for sale right now or not. From solid wood cabinets to laminate and thermofoil options, there are specific aspects that make each type stand out from the rest. So, choosing what is best depends on things like quality and price point--but don't forget about functionality!
---
Does Cabinet Material Matter?
If you're looking for a material that will last and increase your resale value, opting for premium quality cabinet materials like solid wood is the way to go. The amount, however, of value that these cabinets will add varies based on the type of wood you chose and your housing market.
People often think that laminate kitchen cabinets are not worth the investment. However, this is beginning to change as more designers acknowledge their benefits. Two of the main benefits that new laminate cabinets offer are affordability and flexibility with color.
---
How to Determine What Material You Have
There are a few key factors to consider when determining the type of cabinets your home has. The material that makes up the cabinet can be identified by one or more distinctive features, and these will help you determine if it is made from solid wood, plywood, medium-density fiberboard (MDF), or another particleboard. Some distinctive features include grain patterning on its surface as well as joint construction. Solid wood cabinet doors will have noticeable joints where the frame was constructed. Laminate doors, on the other hand, will have a smooth, seamless finish.
---
Thermofoil Cabinets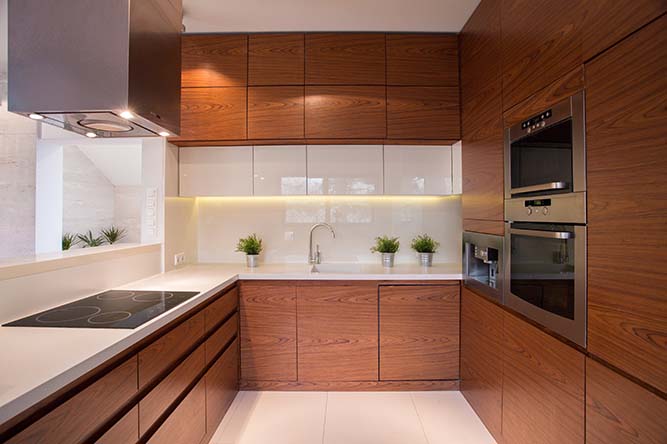 Laminate cabinets are one of the most common, budget-friendly options for kitchens. You have several different types to choose from that will suit your style and needs. At CabinetNow, we carry Thermofoil cabinet doors.
Thermofoil is a vinyl laminate that is heated and pressurized onto a medium-density fiberboard (MDF) core. A heat shield may be needed if you plan to install thermofoil cabinets near high-heat areas.
MDF Core: Since it is both strong and affordable, MDF is currently one of the most sought-after building materials.
Appearance: Because thermofoil is a manufactured material, it comes in a wide variety of colors and textures. Thermofoil can be made to replicate grain patterns and textures or can come in trendy colors like sage green.
Arrived Finished: Whether you choose solid wood or not, you will need to finish your doors. Whether it is paint or stained, your cabinet doors will need a protective seal to keep out moisture. Thermofoil cabinets arrive fully finished, so you don't have to worry about matching paints or stains.
---
Solid Wood Cabinets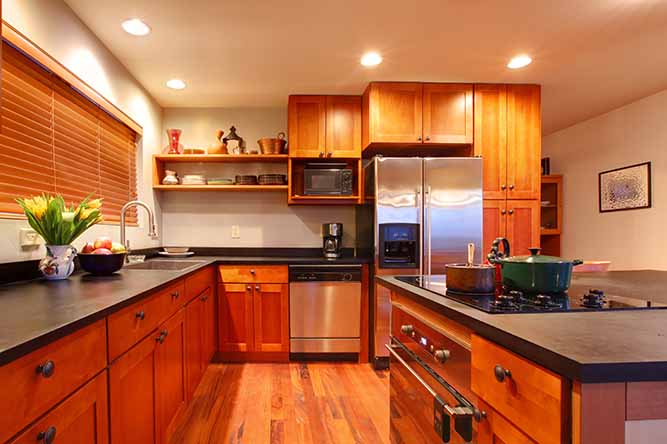 Solid wood cabinets are one of the most valuable investments you can make in your home. They also have a variety of characteristics that set them apart from other types of kitchens, including durability and beauty with their natural warmth to match any style.
Cabinet Boxes: For the most part, your cabinet box will be constructed with hard plywood for the bottom, back, and sides. The "face-frame" of the cabinet box, where the doors are mounted, will be solid wood.
Durability: One of the biggest benefits of solid wood cabinets is their durability. With proper care, solid wood cabinetry can last you 25 or more years.
Beautiful To Look At: Unlike MDF, solid wood can be stained to highlight the natural beauty of the grain pattern.
---
Medium-Density Fiberboard (MDF) Cabinets
MDF is a type of composite material used to make furniture like desks and tables. MDF is made from combinations such as veneer, resin, and wax that are heated and pressurized into panels with an epoxy-acrylic adhesive. One noticeable difference between MDF is its weight which can be heavier than solid wood depending on the thickness.
Finishes Well: MDF is an ideal material if you are looking for painted cabinets. When properly painted, MDF cabinet doors will have a smooth surface and you might even mistake them for solid wood at a glance.
No Warping or Twisting: Another benefit of MDF is that it does not warp or twist at larger sizes like solid wood. This means you will not require battens on larger doors that use MDF.
---
Wood Veneer Cabinets
Veneers offer a cost-effective option for your kitchen's cabinet doors, with added durability and easy cleaning. Veneer cabinets are created by bonding thin layers of wood to less expensive composite materials in the back. To finish them off, they have banding that wraps around the sides. Here are five benefits of veneer:
Particle Board Core: Wood veneer cabinets use a particleboard core, which makes them cost-effective.
Veneer Can Be Replaced: One benefit of veneer doors is that the veneer can be removed and replaced when needed.
---
How it All Adds Up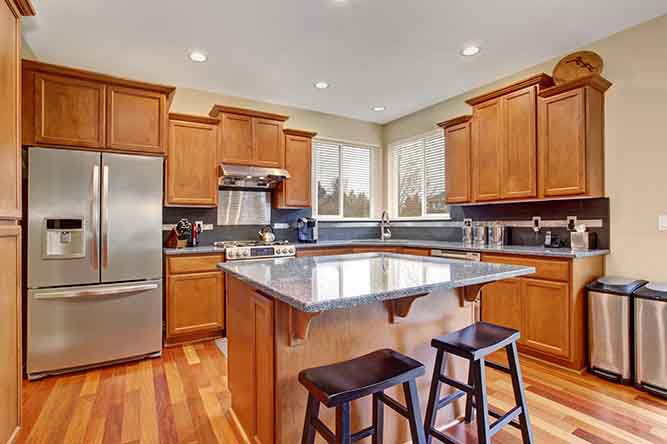 If you're not sure about remodeling your kitchen or bathroom but still want to make it feel new and updated, there are a few things you can try. One of the easiest ways is painting—paint will give your space an instant refresh without costing much money at all. Updating countertops in either room also adds freshness with little cost; for example, installing smart light switches that turn off when someone leaves as well as outlets with USB ports help keep up-to-date tech accessible while making them safer too!
If you are ready to start ordering or if you need assistance, please feel free to call us at 1-855-669-5222or send us an email at info@cabinetnow.com. Our team of cabinet experts is here to help with everything from measuring to ordering.