Posted by CabinetNow on 2020-10-16
Even though laminate and wood cabinet doors perform the same function, the choice between the two can impact the project and the final result. Neither is superior to the other but come at different costs, maintenance, longevity, and durability. Whether you're looking to remodel your kitchen or you're in the market to buy a home, knowing what type of cabinetry you are buying is essential. In this blog post, we help you tell the difference between laminate and wood cabinet doors.
Look & Feel Of Cabinet Doors
The look and feel of the cabinet doors you choose will set the mood of your kitchen. When it comes to laminate and wood doors, the look and feel of these two unique materials is the single most differentiating factor. Both laminate and wood doors are both functional and durable, but here are a few ways you can tell them apart by appearance and feel:
Laminate Cabinet Doors
Even though laminate cabinet doors can be purchased in a variety of designs, including imitation wood grain, it does not have a natural wood look that solid wood has. Some high-quality, imitation wood laminate doors are very similar to solid wood, and can often be hard to distinguish from a distance. However, up close, you can see the reflection and lack of depth in laminate doors. Additionally, laminate doors have sharp edges with a smooth feel that creates a utilitarian or clinical appearance. Depending on what type of laminate you choose, you'll have the following look and feel:
Matte Finish: For a moderate reflectiveness that gives your kitchen an elegant look, go with a matte finish laminate.

Gloss Finish: With a mirror-like sheen, gloss finish laminate has both a luxurious look and feel and will add a brightness to your kitchen.

Textured Laminate: Adding depth and dimension, textured laminate cabinets can simulate various materials such as solid wood and stone.

Color Laminate: You can add vibrancy to your kitchen with color laminate. These come in almost every color, so you'll have plenty to choose from.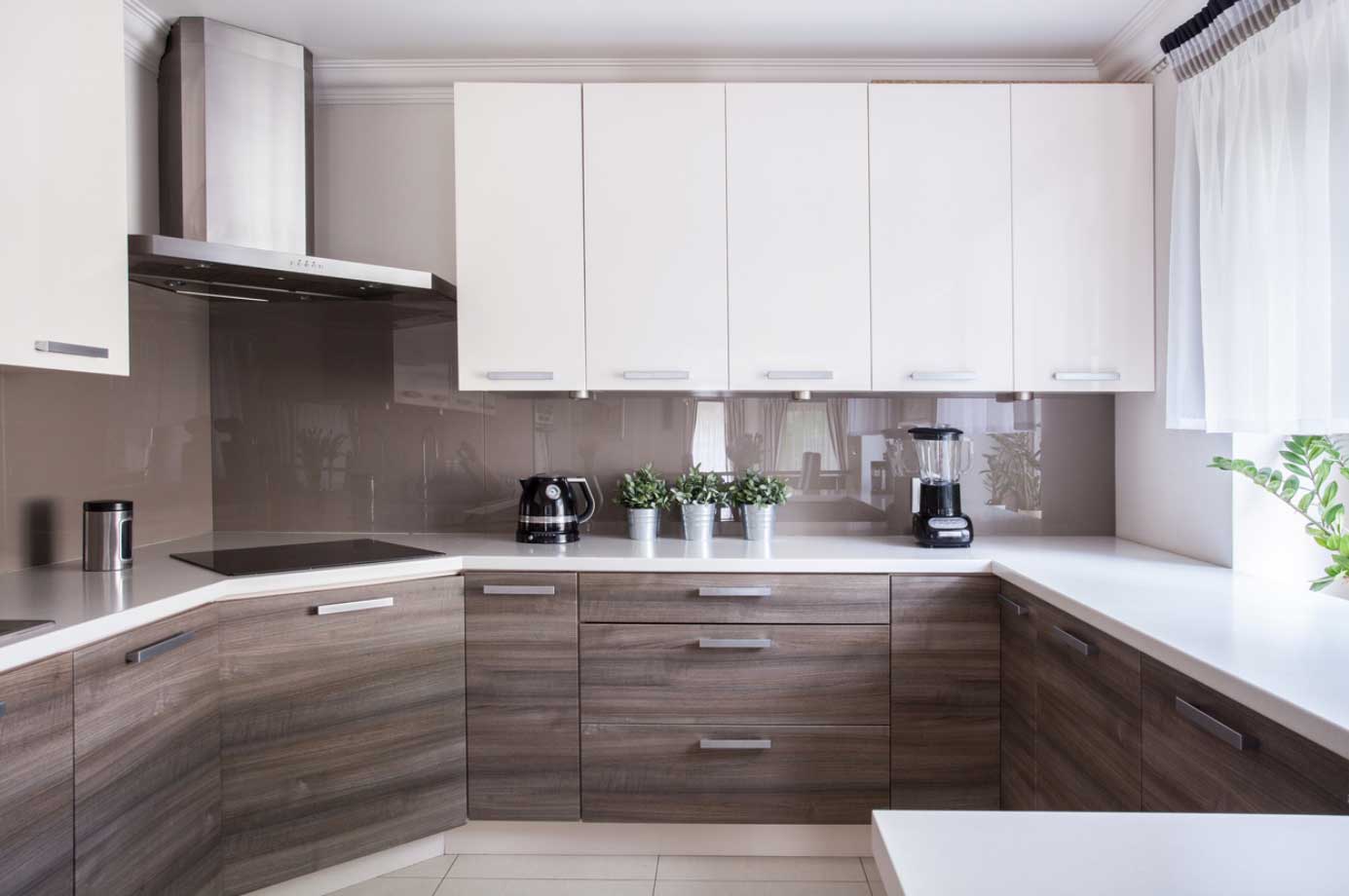 Wood Cabinet Doors
The beauty of solid wood cabinet doors is undeniable. Wood doors reflect warmth and a homely atmosphere with its traditional look and style. Depending on what type of solid wood cabinetry you get, your kitchen will have a different look and feel, some of which may include the following:
Red Oak: Opt for red oak if you're looking for a mostly straight-grained with a coarse texture, and is pinkish-red in color.

Birch: With a satin-like sheen, Birch is a beautiful wood that is fine-grained and pale in color.

Cherry: Coming in a variety of colors including yellow, white, red, and dark brown, cherry is perfect for those looking for rich color and smooth grain.

Beech: Go with European beech if you want a wood that is white, pale cream, or pale brown in color. By steaming European beech, you'll get a pinkish-red color.

Maple: If you're looking for a nearly white to off-white cream color, opt for maple. Sometimes this wood comes with a reddish or golden hue.

Pecan: With straight or sometimes wavy grain, and medium texture, pecan is beautiful wood. Maple has a light to medium brown with a reddish hue.
The visual elements are not the only thing that differentiate laminate from wood cabinetry. From the cabinet doors' longevity to the cost, there are a few non-visual aspects that come into play too, including the following:
Longevity & Durability
For most homeowners, longevity and durability two essential factors that are taken into account when buying cabinet doors. Both laminate and wood cabinets have a life that can be extended with the right care. Here are the most common differences in longevity and durability for these type of cabinets:
Laminate Cabinet Doors: Laminate is a tough material that is hard to dent or scratch, but once it does get damaged, it is almost impossible to repair. A big problem with laminate cabinets is that all surfaces' edges and corners start to lift slightly due to the glue under the laminate loosening. Unfortunately, this problem is challenging to reattach with any real success.

Wood Cabinet Doors: Even though wood cabinets have a longer lifespan than laminate cabinets, they are not problem-free. Wood cabinets expand and contract with changes in humidity and temperature, causing warping and cracks. Luckily both warps and cracks can be taken care of with the right finish. Wood corners and edges can break or become blunt with wear and tear, but it can easily be sanded down and repaired.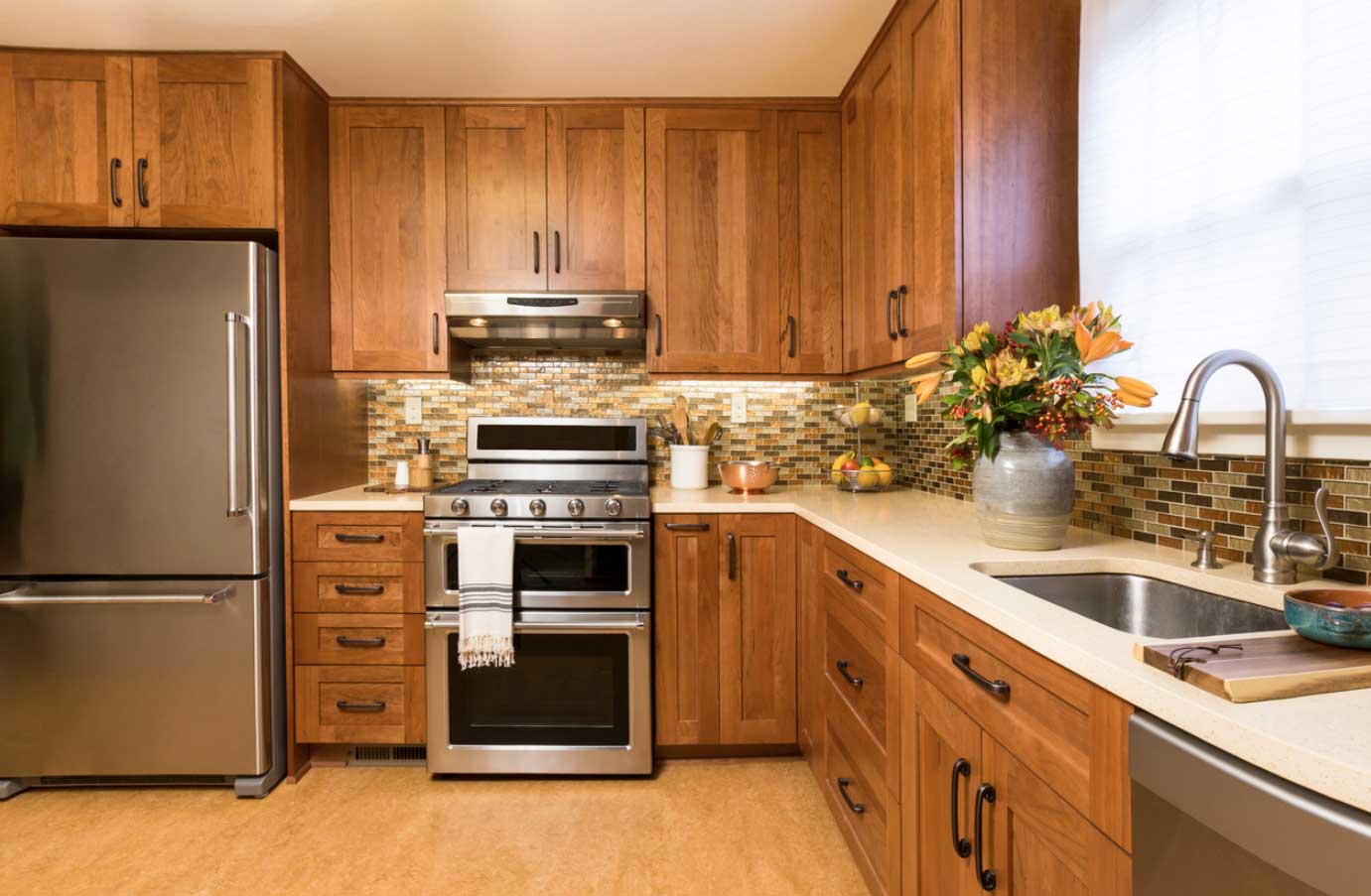 Cost
If you're looking for value for money, both laminate and wood cabinets are great options. Even though laminate cabinets are more than half the cost of solid wood cabinets, both are equally durable and functional. Here is the cost difference between laminate and wood cabinets:
Laminate Cabinets: The average cost for laminate kitchen cabinets is between $5,000 to $8,000. For high-quality laminate cabinets, you can pay between $10,000 and $15,000. If you're looking for a cost-effective option, you can purchase more budget friendly laminate cabinets for as little as $4,000.

Wood Cabinets: If you're looking to add resale value to your home, opt for solid wood cabinetry. The average cost for a set of solid wood kitchen cabinets is between $10,000 and $15,000. For a lower range of solid wood cabinets, you can find cabinetry for between $5,000 to $7,000. If you're looking to add high-end wood cabinetry to your kitchen, you can easily spend between $15,000 and $25,000.
Maintenance
Maintenance is one thing that homeowners almost never take into account. Once your cabinetry has been installed, the maintenance begins. You'll need to ensure that your cabinets are in good condition continually. If you do not maintain your cabinetry, it may cause further problems. Here are specific differences that you need to keep an eye out for when maintaining laminate and wood cabinets:
Laminate Cabinet Doors: With its slick, hard surface, laminate doors are the easiest cabinetry to clean. By simply using a damp cloth and any cleaning product, you can easily clean any dirt, grime, or food spills.

Wood Cabinet Doors: Wood doors are more difficult to clean and need special products designed for wood cleaning. Deep first and grime is difficult to clean without sanding. Additionally, because wood is a natural material, it can become infested with bugs, but this can be prevented with a special finish.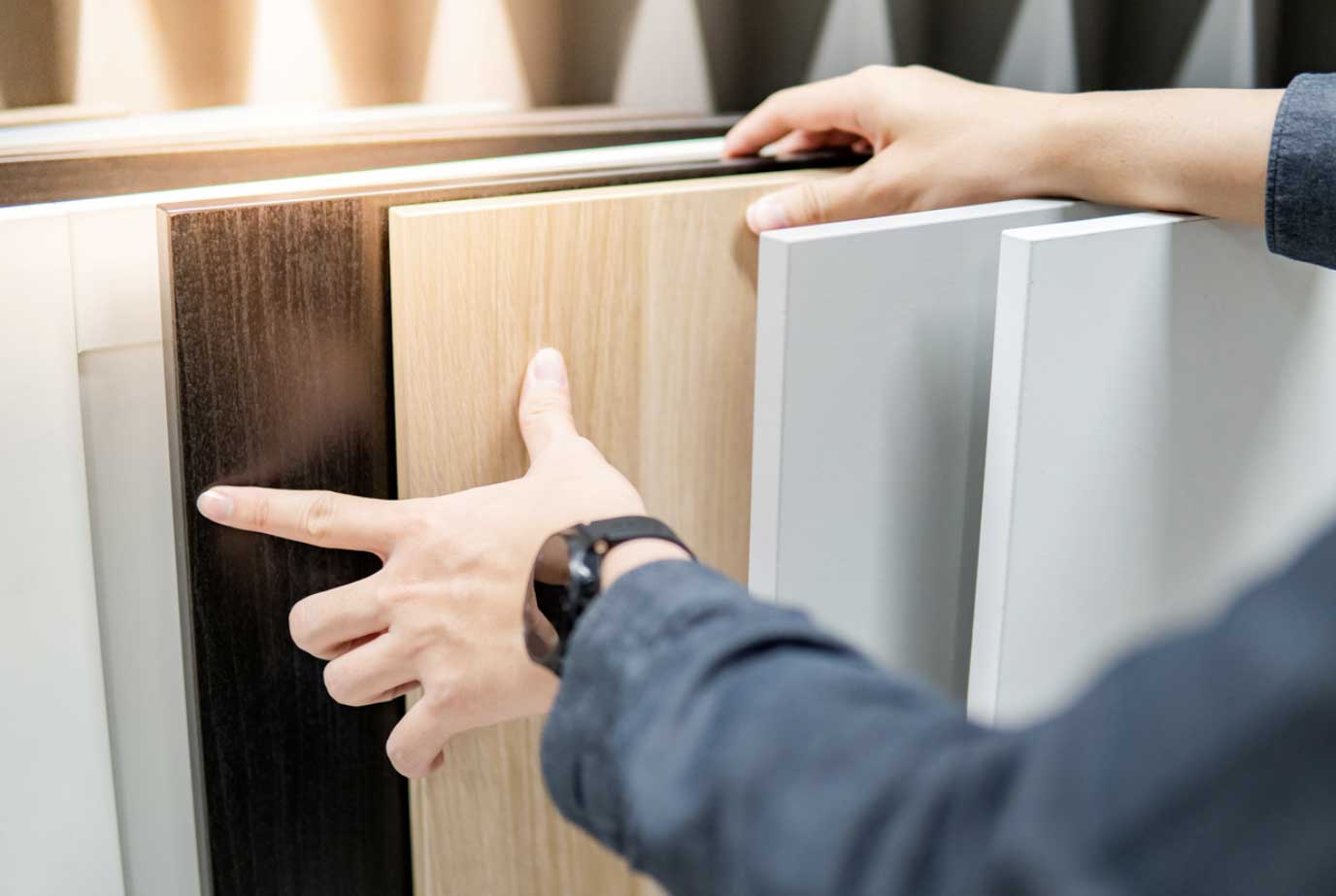 How to Decide?
Now that you understand the difference between wooden and laminate cabinet doors, how do you decide what to choose? The first step is choosing the style of cabinet door that interests you, because some styles are exclusive to either the wooden or laminate material. Once you have your style, you need to decide what color or look you are going for with your cabinet doors. If you are looking for colors that are more trendy and modern, thermofoil is more likely to fit your aesthetic. If your tastes are more rustic or natural, a wooden cabinet door with a coat of stain will likely be the answer. Either way, taking your time and considering the material of your cabinet doors will help you create a personal and unique feeling to your space.