4 Shaker Door Cabinet Styles and How To Install Them
Your taste leans towards clean lines and minimal ostentation, so you've decided to start refacing your cabinets in a Shaker door style. Now that it's time to begin your project, you need to choose which of the top style options will fit your home's personality and your budget. We've explored the various designs for Shaker doors and chosen five styles that will suit a variety of décor types.
Disclaimer: This blog post contains affiliate links and we may receive a small commission for purchases made. These are products we highly recommend.
---
What Is a Shaker Door?
In the mid-19th century, the United Society of Believers in Christ's Second Appearing, commonly known as the Shakers, began making furniture to become a fully self-sufficient community. Their principles of honesty, utility and simplicity reflect in their work and resonate with modern sensibilities of minimalism and efficiency in design.
Shaker doors typically feature a flat center panel with squared edges. Although some designs use color to add brightness or various handles and pulls for a slight accent, they have little to no ornamentation. The five versions here tend towards a more minimalist approach, with a few modern touches.
---
What Home Decorating Styles Use Shaker Doors?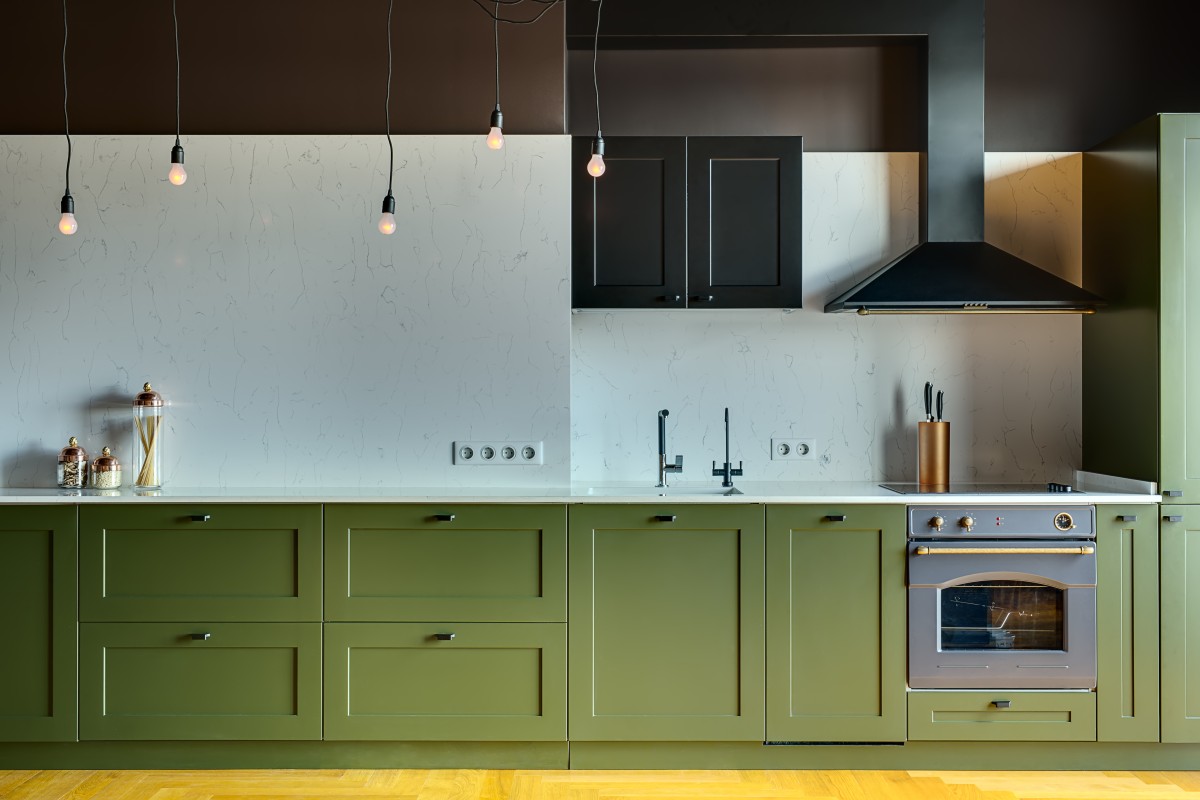 The trend of farmhouse kitchens has increased the appeal of simple Shaker cabinetry, although the classic look has rarely gone out of style. Transitional décor also pairs well with Shaker doors, providing a blend of traditional and contemporary design and a unified, timeless backdrop.
---
How Do I Replace Cabinet Doors Myself?
Tools and Supplies
Refacing your cabinets will take some time, so plan on spending a messy weekend in your space. Be ready to order takeout if you're replacing the doors on your kitchen cabinets! To DIY this project, you need specific tools, in addition to the doors and hardware:
Gather the following materials before you begin to make the job easier:
Basic Step-by-Step Process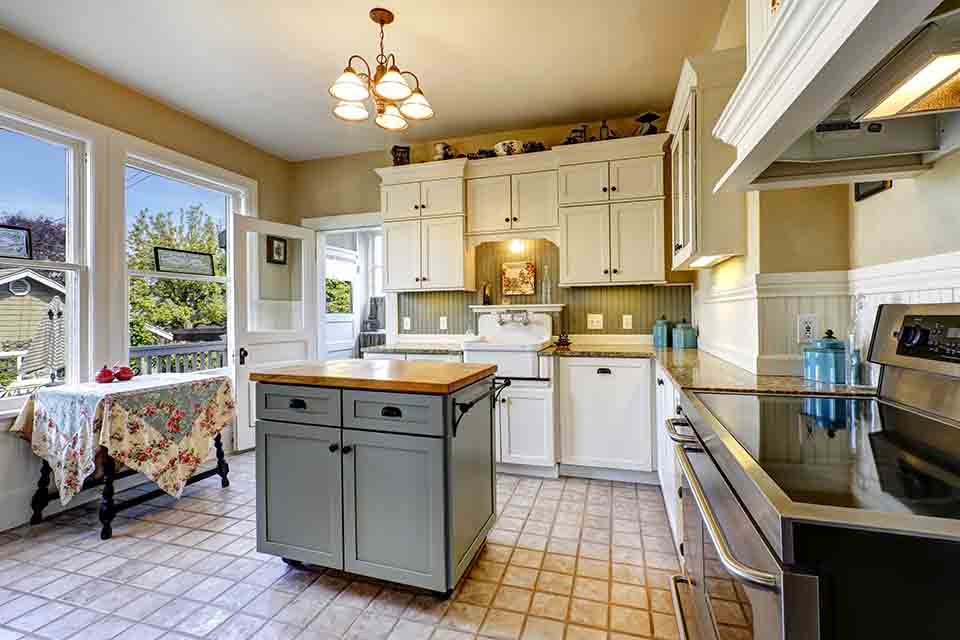 Remove current cabinet doors, hardware and trim.
Repair any defects in the new cabinet doors with wood putty.
Sand the doors carefully, and wipe away sawdust with a rag.
Situate the end panels and press them firmly into place with adhesive and a brad nail gun.
Place new material on the stiles, rails and cabinet faces, using the appropriate application method.
Use a veneer applicator to smooth the bond with the veneer.
Put your doors back in place, ensuring that all parts line up.
---
Popular Shaker Door Styles
As you know, your kitchen and bath designs are crucial for your home's aesthetic appeal and overall value. More importantly, however, these frequently-used rooms should be comfortable and attractive for you while you reside in your home. The timeless quality of Shaker designs, no matter which style you choose, will enhance the beauty of your most comfortable spaces.
1. Unfinished Wood or Finished Clear Coat
Many cabinet manufacturers offer unfinished wood Shaker door fronts to DIYers who want complete control over paint and hardware design. You can choose from several kinds of wood for your door, typically including alder, birch, cherry, pecan, maple and oak.
Once you've chosen the type of wood, you can select the degree of knot visibility and shine. You might even choose a variety, such as natural cherry, that works well even if you leave it unpainted, but covered with a clear coat finish. Finished clear-coat cabinet doors work well in a modern farmhouse décor style, especially when you add iron or bronze hardware and wood countertops.
2. Pre-Primed or Painted Wood
If you'd prefer to paint your cabinets but don't want to deal with sanding and priming the wood, pre-primed fronts are your best bet. Alternatively, if you'd prefer to let the professionals handle the painting, too, you can find painted wood cabinets to fit the style of your home.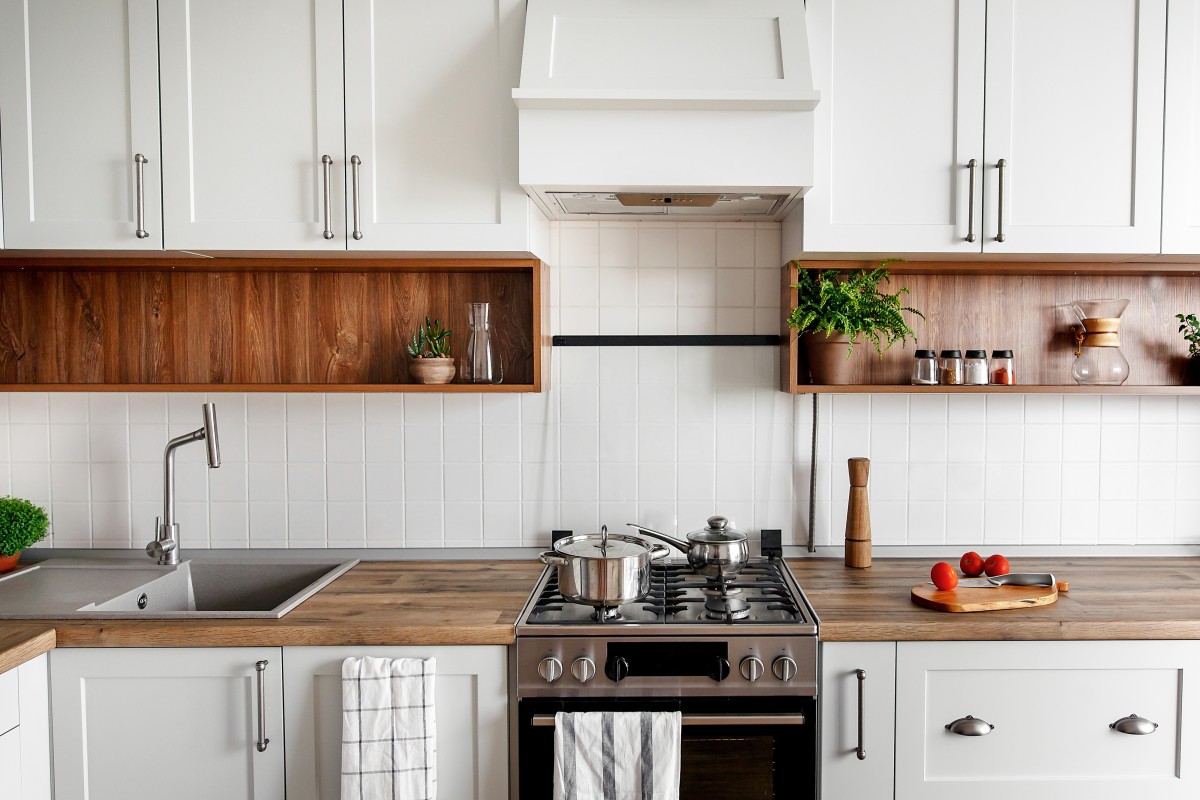 Traditionally, most Shaker door cabinet fronts are white, but many cabinet companies sell these doors in a range of soft colors. You can also find doors painted in various shades of antique white, beige and gray.
3. Glass-Fronted
Glass fronts present a more formal style, especially when paired with mullion molding. Despite the more elegant impression glass affords, a bright white kitchen with natural wood countertops and a neutral color scheme maintains an atmosphere of simplicity and calm.
Glass-fronted cabinets expose the contents of your cabinets, so organization is key! Additionally, keep your kitchen looking elegant by using glasses and dishes that either match the Shaker door minimalist style, or add pops of color to the streamlined backdrop.
4. Modern Thermofoil
Modern thermofoil, while not a Shaker door style per se, is a new type of cabinet door made of a vinyl laminate. The laminate is heated and pressurized onto a core of MDF. The fronts are glossy and modern but retain the clean lines of Shaker sensibility. Using thermofoil cabinet doors will allow you to experience the simplicity of traditional design in the context of a modern space.
Thermofoil Shaker door cabinet fronts work especially well in laundry rooms or bathrooms. The low-maintenance, water-resistant materials help prevent mildew and stay cleaner in damp environments, so your Shaker doors stay beautiful for the long term.
---
Shaker Door Designs Are Simple, Timeless and Beautiful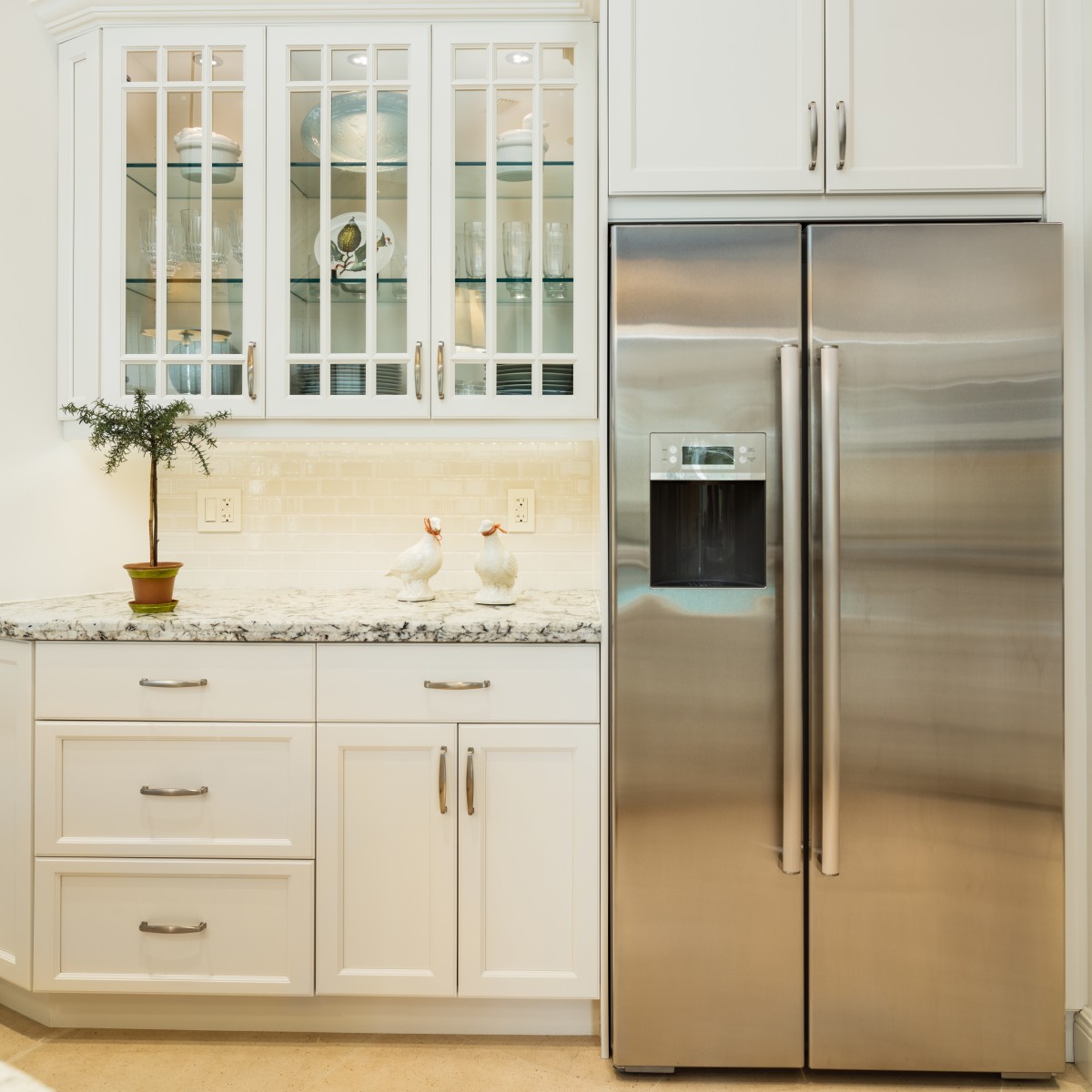 Far from utilitarian, the clean and simple aesthetics of Shaker design provide your space a sense of calm and beauty that transcends shifts in décor trends over time. Whether you're renovating your family's farmhouse or updating the look of your modern home, you can find Shaker door options to fit your home's personality at CabinetNow.
If you are struggling with getting started, or you have a list and are ready to talk style and material, feel free to give us a call at 1-855-669-5222 or an email to info@cabinetnow.com. Our well-trained sales staff can help you with everything from measuring to ordering.