The bathroom is an important space in your home that everyone uses. Due to this high level of traffic, these spaces can often become dirty, damaged, or otherwise in need of repair. The worst part of all this is that bathrooms are typically better-lit rooms, and so all the imperfections will be on full display.
However, bathroom remodels can be pricey, which may make people feel they are forced to endure their outdated or drab bathroom. Luckily, there are several bathroom remodeling projects that can be accomplished by an earnest DIYer without costing an arm and a leg. In this blog, we are going to take a look at a few of these projects, what you will need, and how you can use these ideas to give your bathroom a breath of fresh air.
---
Bathroom Remodel With Paint
One of the quickest and easiest ways to give your bathroom, or any room for that matter, a brand new look is with a fresh coat of paint. If your bathroom also features cabinets like a bathroom vanity, then you should consider painting these as well.
To get started you will need to first clean the walls using warm water and a sponge. If you have a lot of grease on your walls, then you may need to mix a grease-cutting detergent in with the warm water. Once the walls are clean and dry, you can begin applying your primer. Some paint manufacturers offer two-in-one paint and primer products, however, using a separate paint and primer typically produces better results. Once your first coat of primer is fully dried, apply the second coat of primer.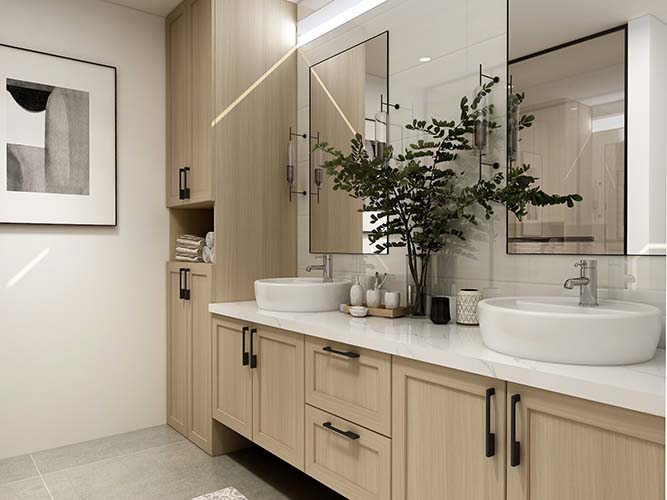 When it comes to paint colors for your bathroom remodel, whites and off-whites can be a great choice, especially for those who do not have a lot of natural light. Painting your walls and bathroom vanity in bright whites will help reflect natural light around the room making it feel brighter and larger. This can be a great "hack" to open up that small bathroom.
---
Remodel Your Bathroom With Wallpaper
Another quick and easy way to change the look and feel of your bathroom is to use wallpaper. While not as popular as it has been in the past, wallpaper designs are enjoying a bit of a resurgence. While typically associated with more traditional styles, there are many creative ways to mix retro and contemporary styles to create unique, modern bathroom designs with wallpaper.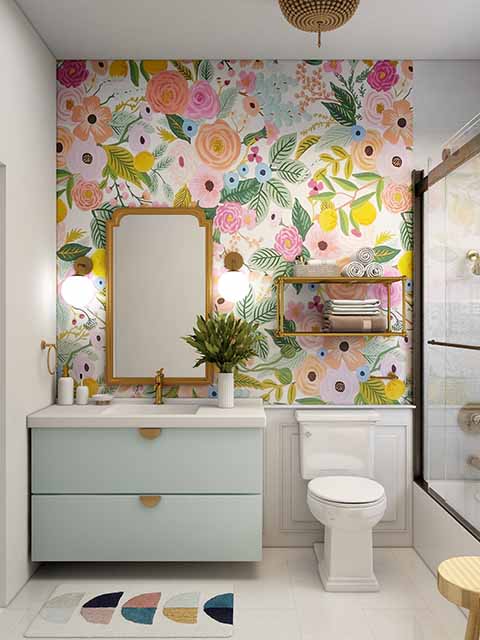 The first step to creating a new wallpaper design for your bathroom is to prepare the walls. This means removing any existing wallpaper, cleaning the walls in the same way as above, and then applying a primer. It is recommended that you use a primer that is specifically designed for bathroom applications or one that is mold and mildew resistant. Once your walls have been sealed with the primer, you can apply the wallpaper of your choice. Be sure to have an edge or other instrument to smooth out any air bubbles.
If you really want to get creative with your wallpaper, try adding stencils to create a border around the top or bottom of the walls.
---
Smaller Touches
However, if you have already painted or do need to, then you may be looking for other bathroom improvement projects. One quick project is to add glass shelving to your bathroom design. Glass shelving can be a stylish way to increase your bathroom storage space, and they can even help to brighten up the room as well. If you have a window in your bathroom, then you can install your glass shelves in front of the window. This will help reflect light around the room helping it to feel brighter and larger.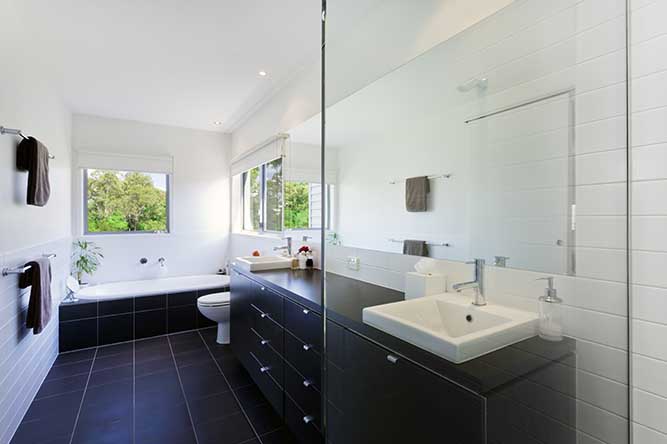 Another project that can be a great complement to a new paint or wallpaper color is to upgrade your fixtures and bathroom hardware to match. Browse showrooms and hardware stores to get an idea of what is on trend, Whether you choose a matte black or a glossy gold, upgrading your hardware for your cabinet doors and drawer fronts, as well as new fixtures could be just what your bathroom needs for a luxurious look.
Finally, if your bathroom remodel budget has the room, adding or upgrading your bathroom vanity can make a big difference in the functionality of the space. With the wide variety of size and configurations available, finding the perfect bathroom vanity won't be too difficult.
---
Wrapping Up
Making your bathroom more comfortable to use does not have to break the bank. With a little bit of creativity and a DIY attitude, you can give your bathroom a makeover that will impress all your guests. Before you start, you should create a solid plan and schedule to follow to ensure that your bathroom remodel projects come out perfect the first time.
If you are ready to start ordering or if you need assistance, please feel free to call us at 1-855-669-5222 or send us an email at [email protected]. Our team of cabinet experts is here to help with everything from measuring to ordering.