Measuring your kitchen for custom cabinets is a process that requires accuracy and specific details. If a measurement is off by even an inch, it could create big problems for the entire kitchen cabinet installation. Everything must integrate seamlessly to have smooth, even results.
Part of preparing for new cabinets includes creating a drawing and mapping out obstacles, as well as recording specific measurements. This helps determine cabinet sizes and placement within the room. Tall items like refrigerators can alter cabinet sizes that will be located above. Doors and windows can determine whether cabinets will fit or not, as well as their potential size if they can fit. Here are the steps to measure for kitchen cabinets.
Draw Your Kitchen

The first step involves creating a line art diagram of your kitchen.
1. Draw lines for the walls of your kitchen and include any protrusions or angles that branch out. Your diagram should reflect what the actual walls are like. For example, if a portion of one protrudes out to cover a duct in the wall, you'll need to show that angle on your diagram.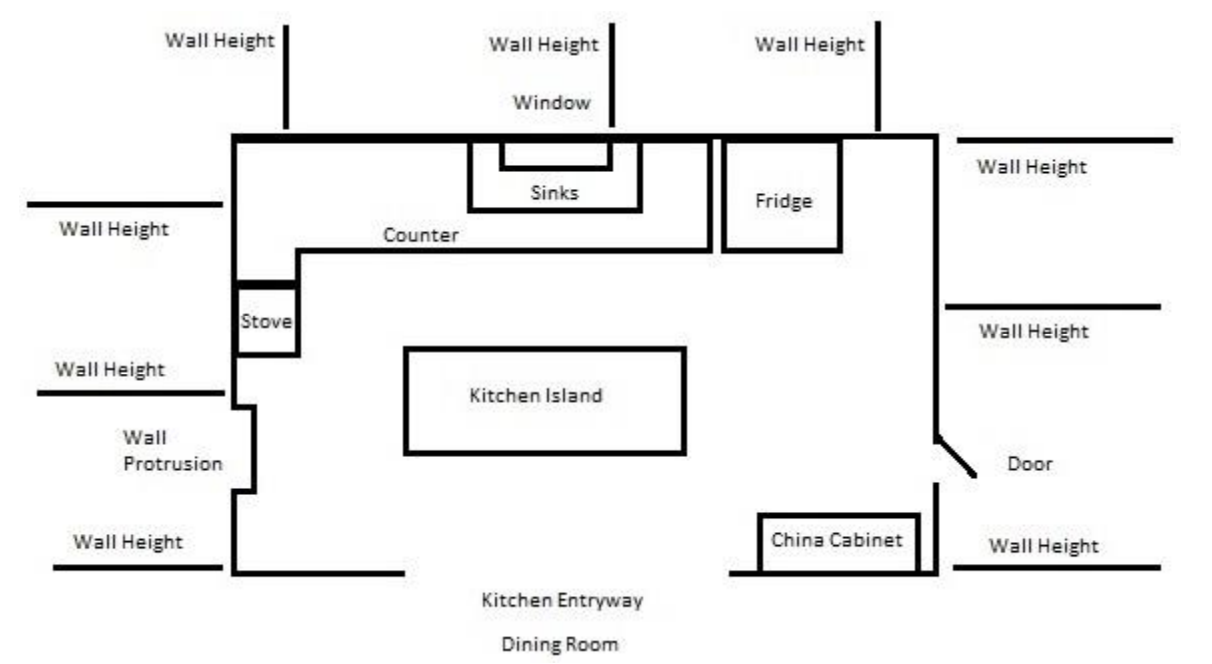 2. Mark any wall obstacles in the drawing.
3. Mark and label open spaces like windows and doors.
4. Measure floor to ceiling in several clear sections. Mark measurements on your drawing.
5. Measure wall widths corner to corner. Mark measurements on your drawing.
6. Check all wall corners for squareness. - Measure 3 ft. out from corner of one wall and mark it on the wall. Measure 4 ft. out from corner of adjacent wall and mark that wall too. Measure between the two wall marks. If it measures 5 feet, then it is considered square. Shims can be used for the new cabinets if any unevenness exists.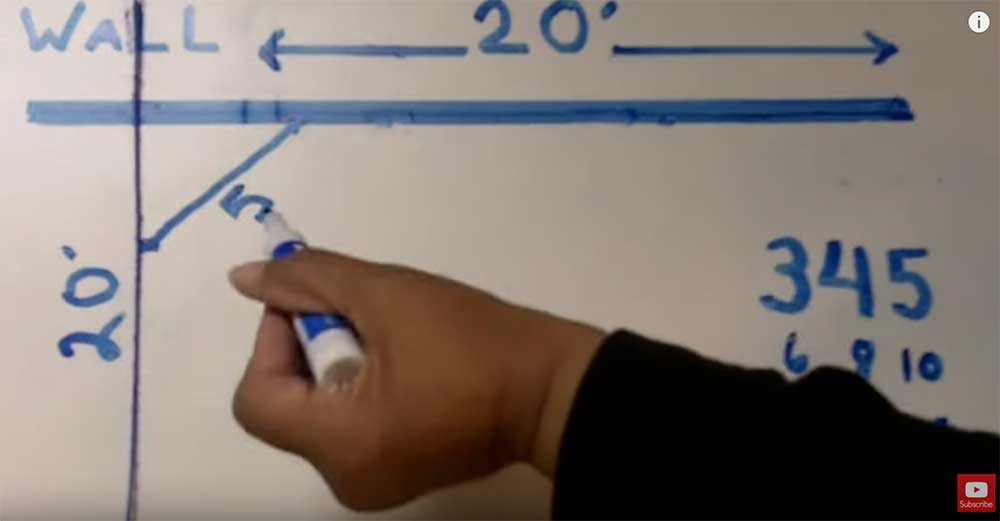 7. Measure and mark any plumbing and electrical wall areas on your drawing, including wall vents, drain pipes in wall, light switches, ceiling fans, ceiling lights, outlets, phone jacks, etc. Measure their width and height, and then measure their location on the wall (width on both sides, height on both sides).
8. Measure and mark any freestanding appliances or other items like kitchen island, stove, etc. on your drawing.
Once you have drawn up your kitchen fixtures and measurements, you will be able to determine cabinet sizes more appropriately.

Notes on Measuring Your Kitchen for New Wall Cabinets and Base Cabinets
Due to the complexity of kitchen cabinet measuring, you may find that you need several kitchen drawings to avoid a jumbled-up mess and confusion.
You'll have a sketched overlook drawing of your kitchen with wall details, fixtures, appliances, door, windows, etc.
You may need a vertical drawing for height information on the cabinet wall that includes wall obstacles and their precise measurements.
You may need another drawing to include cabinet sizes and their placement based on the other drawing details.
Aside from diagrams, windows should be measured from outer edge to outer edge. Items like electrical outlets or lighting can be moved by an electrician if necessary to make space for the new wall cabinets, tall cabinets that sit on the floor, and any base cabinets.
Choosing Kitchen Cabinet Sizes
Once you have your kitchen layout diagrams/drawings, you can decide on the depth you want for your cabinets. The depth of the counter should be considered when planning those dimensions. Look at your wall widths and decide on how many cabinet doors you will want so you can determine cabinet widths accurately. You may find that you need double door cabinets with single door cabinets on the ends, but that is not always the case. It just depends on your wall lengths and your cabinet needs. Corner wall cabinets may be something you want as
well, in which case they would wrap around the corner(s) at a right angle with two doors or wrap diagonally with one or two doors.
Overall, you will be able to utilize the wall widths to determine wall cabinet dimensions. Base cabinets will be determined in accordance with electrical outlets, counter measurements for those that will go underneath it, kitchen island dimensions for those underneath that, and counter height for those that will sit next to the counter.